The SEO industry has a lot to thank Moz for. Started under the name SEOMoz in 2004, the company brought SEO into the marketing mainstream with its educational content. It has also developed industry standard metrics still used in boardrooms today.
As the marketing technology industry exploded, Moz developed a number of SEO tools to help marketers attract more traffic. The market then shifted toward end-to-end SEO software that could handle everything from technical crawling to content management, leaving Moz in an identity crisis.
After a few experimental forays into social media and content marketing, Moz has doubled down on its Pro suite of SEO solutions. It retains its reputation for bringing SEO to the masses without dumbing it down, but can Moz's tools still compete with the new industry leaders?
---
Who is Moz Pro for?
Moz Pro delivers a comprehensive suite of SEO tools for small businesses that want to manage their organic search within one interface. Some Moz Pro tools allow limited free use, so freelancers will find a lot to like here too.
Larger businesses may still wish to invest in a Moz Pro package to use the platform's standout features, Keyword Explorer and Link Explorer. As an overall package, however, Moz Pro may lack the level of detail needed to manage sprawling domains.
Moz Pro covers the core areas of SEO, but offers less depth on technical SEO than it does on link analysis and keyword research.
---
Moz Pro's features
Moz Pro contains a wealth of features. Below, we round up the Moz tools that stand out from the pack.
Keyword Explorer
Moz Pro excels at taking the complexity of the SEO landscape and serving it up in a digestible manner for a broad audience.
The Moz Keyword Explorer does this well for the sometimes bewildering world of keyword research. It takes a huge amount of SEO data and calculates metrics that will have meaning for marketers. For example, it shows how popular a search query is, how difficult it will be to rank for the query, and several related queries you should consider.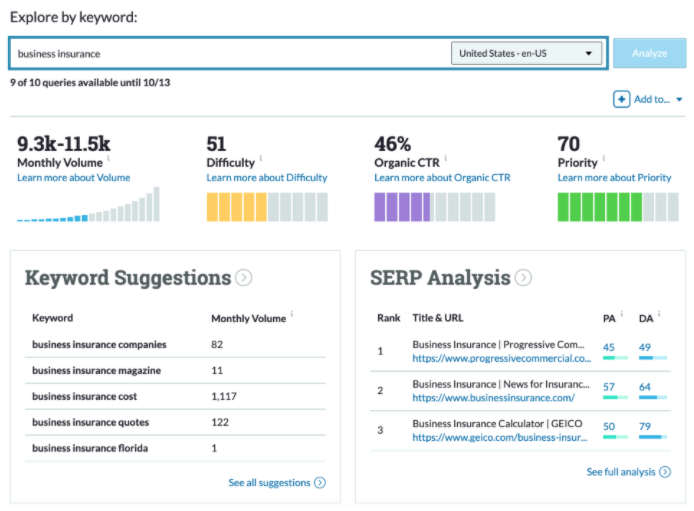 There is also a Priority score listed for each keyword you enter. This helps quantify the keyword's importance for your business. A Priority score close to 100/100 would mean the keyword has high search volume, high CTR (click-through rate), and low competition.
You can modify this by adding further details about your business, under what Moz calls My Score. This judges whether the keyword relates to your products and services.
It's a complicated undertaking and no objective metric can pin such a subjective notion down, but it clearly demonstrates Moz Pro's dedication to understanding what their customers want to see in an SEO tool.
The Keyword Suggestions feature is fantastic, too. It will take a source keyword and recommend new topics to target, which you can then add to your keyword list and track over time. After their 2018 acquisition of STAT Search Analytics, this tool is now powered by a more robust data set.
Keyword Explorer is the feature that will draw most users to the Moz Pro suite. It's one of the best keyword research tools on the market today.
Link Explorer
Moz's Link Explorer contains an index of over 40 trillion links, so you're guaranteed an in-depth assessment of your site's backlink profile here.
This feature is superb for tracking new links and brand mentions, which will help you understand your site's ranking performance. These insights also feed directly into content planning and link prospecting. Unlike SEMrush and SpyFu, Moz Pro does not offer its own tools for managing link outreach.
The Moz link building suite is easy to use, but has a steeper learning curve for novices than Keyword Explorer. Moz has developed a number of proprietary metrics, including Domain Authority and Page Authority, which may be unfamiliar to new users.
These metrics reflect the SEO "strength" of a domain and its pages, based on their reputation and authority. In short, a link from a higher authority site will pass on more SEO value to your site than a lower authority link. They are not a direct representation of how Google views each domain, but they are still useful when trying to select backlink targets.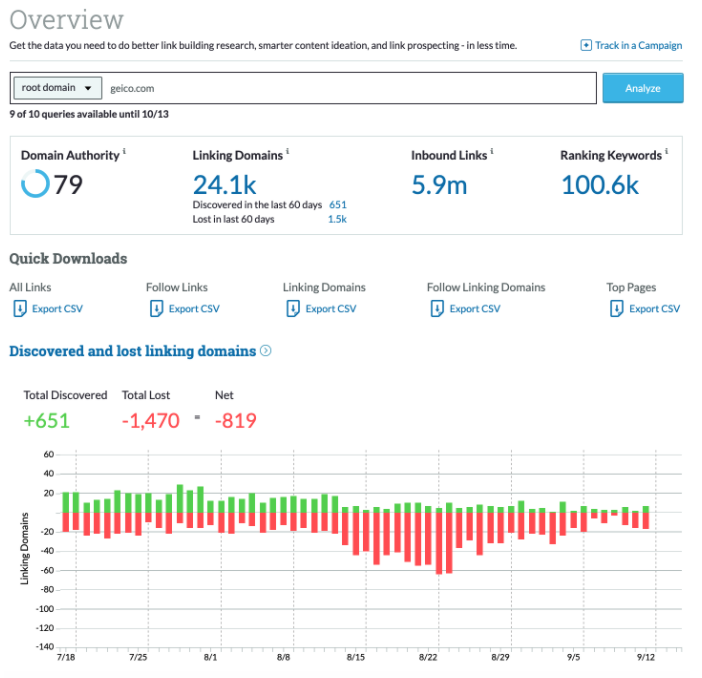 Link Explorer is great for mining competitor domains for new links, too. If you notice a high authority site links to most of your competitors, it's likely they will also link to your content. This tool has handy visualizations to help you spot these opportunities.
Site Crawl
Technical SEO is the foundation of any successful organic search marketing strategy. If Google can't crawl and index your content, it can't return your pages in response to user queries.
Moz Pro offers its own site crawler, and it's effective for spot checks and routine crawls. It does not provide the forensic detail you will find in specialist technical SEO tools, but that's not its purpose.
Moz Pro Site Crawl will highlight a large number of serious technical issues, including response code errors, missing title tags, and faulty redirects. Fixing these errors can lead to dramatic improvements in SEO performance, so this tool will prove valuable to Moz Pro customers.
Links to guides and tips alongside many of the recommended fixes are great for users who've never implemented technical SEO changes before.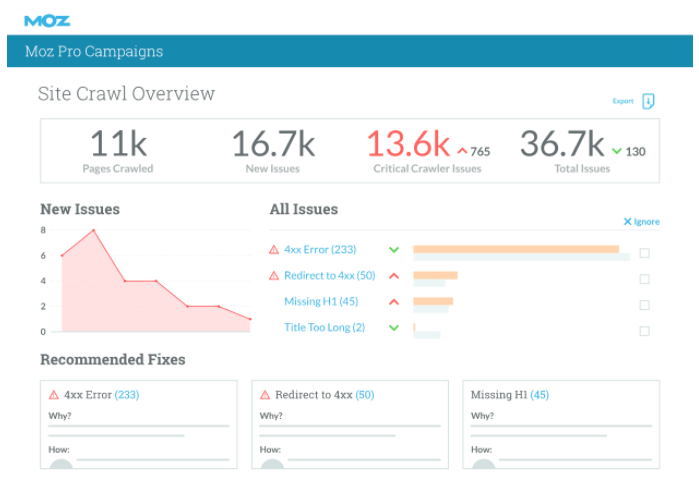 Businesses with large and complex domains will want to couple Moz Pro with a dedicated technical SEO crawler, but for most businesses, Moz Pro will cover the bases well. It also contains automated alerts to highlight any significant changes in your domain's status.
---
Moz Pro's ease of use
The main Moz Pro interface is clean and simple to navigate. It can be disjointed in other places, with tools such as Open Site Explorer offering a different user experience despite still being within the Moz Pro suite.
The excellent MozBar Chrome extension brings Moz Pro's tools into your browser, overlaying data on Google search results while you browse. The Moz SEO toolbar is a standard download for any new initiate to the world of organic search.
Overall, Moz Pro is one of the most approachable tools on the market for novices that want an overview of important SEO metrics. On further examination, however, Moz Pro is less cohesive than the likes of Ahrefs and SEMrush.
---
Moz Pro's pricing
Moz Pro offers four core pricing options, plus an additional option to negotiate an Enterprise subscription.
The cheapest plan is the Standard option at $99/month for one user. This will allow you to crawl 100,000 pages per week in a technical SEO review, which should be plenty for smaller businesses. The Standard plan imposes even more limitations when it comes to keywords and competitor research. You can only track 300 keyword rankings and keyword queries are limited to 150 per month.
The Medium plan at $149/month for one user increases the limits significantly on keyword searches and lists. You can track 5,000 keywords per month in this subscription, compared with just 150 at the Standard level.
It feels as though the Standard plan is there to nudge slightly bigger businesses toward the Medium subscription. A price tag of $99/month compares directly to similar options from SEMrush and Ahrefs, but the limitations in the Moz Pro entry-level package make it less viable for most businesses.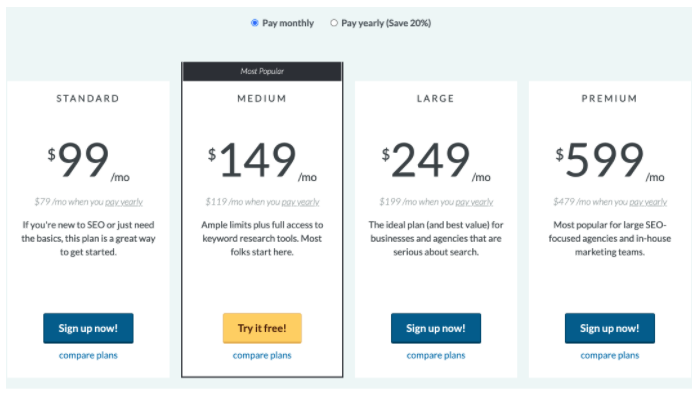 The Large subscription is $249/month and offers access to three users. You can add an additional user to any subscription level for an extra $49/month, we should note. The Large plan ups the number of keyword lists to 60, from 30 at the Medium level, and offers 750 keywords per list. This makes it a good option for businesses with multiple product lines, especially across international markets.
The Premium plan comes in at a hefty $599/month for five users and offers data access to match the price tag. The data limits are increased significantly across keywords, crawling, and backlinks, and this plan provides access to a much faster technical SEO crawler.
All plans come with a complimentary, 30-minute onboarding session, which is a very welcome addition. Typically, lower subscription prices don't include this offer.
You will need a separate subscription for Moz Local, which helps businesses monitor and improve their performance through local search engines.
---
Moz Pro's support
Reading the Moz SEO guide is a rite of passage for newcomers to organic search. It's a detailed and comprehensive guide that retains a friendly tone, inviting marketers to engage with the SEO industry. The Moz blog remains one of the most trustworthy resources for up-to-date marketing insights, while the Moz Academy now offers SEO certification.
The Moz Pro platform offers a help hub with 24/7 email support, but no phone number or live chat, which compares unfavorably with SEMrush and Ahrefs.
---
Benefits of Moz Pro
Moz Pro is easy to use for novices and offers some powerful tools, some available for free on a limited basis. The Keyword Explorer and Link Explorer are great, and always improving. Moz Pro's educational content is thoughtful and still leads the market, while the MozBar Chrome extension is superb.
---
The original, and still among the best
Moz Pro has refocused its efforts on pure-play SEO, and it has developed a wide range of excellent tools. It's a great option as an all-in-one SEO solution for smaller businesses, as it covers everything from technical SEO to link building.
Overall, Moz Pro covers the core areas of SEO well, without delving into areas such as blogger outreach, content marketing, or paid search marketing. As a package, it will do everything a small business needs, but larger businesses may find better value elsewhere for their requirements.
---
Frequently Asked Questions for Moz Pro
How much does Moz Pro cost?
A Standard subscription costs $99/month and comes with a 30-day free trial.
Do I get Moz Local as part of Moz Pro?
No, Moz Local requires a separate subscription to Moz Pro.
Can I add new users to my Moz Pro plan?
Yes, you can add another user to any plan for an extra $49/month.

If you are looking for industry-leading keyword and backlink research, try Moz Pro's SEO software today.
If you are looking for industry-leading keyword and backlink research, try Moz Pro's SEO software today.
The Motley Fool has a Disclosure Policy. The Author and/or The Motley Fool may have an interest in companies mentioned.