Online security is a process, not a one-and-done project. Once upon a time, a good firewall and strong password policies were sufficient, but not anymore. Your company's network and data are increasingly vulnerable every time employees — especially those working remotely — are online.
One solution is a virtual private network (VPN), which encrypts your data on public networks and hides your IP address. The NordVPN rating for its consumer VPN is high, and it recently released a multi-user version for small businesses. We'll examine its pros and cons, pricing, and support so you can answer the question, "Is NordVPN good for my company?"
---
Who is NordVPN Teams for?
Founded in 2012, NordVPN released its first consumer VPN app for Android and iOS devices in 2016. It has since added desktop applications for Windows, macOS, and Linux, and extensions for Chrome and Firefox browsers. Features include multiple encryption protocols, a kill switch, split tunneling, and up to six simultaneously connected devices per user.
NordVPN launched NordVPN Teams in December 2019. It includes multi-user management via an admin control panel, centralized billing, and dedicated account managers. In this review, we'll focus on NordVPN Teams instead of its consumer products.
---
NordVPN Teams' features
NordVPN creates an encrypted "tunnel" connected to remote servers that secures incoming and outgoing user online data, even on public Wi-Fi networks. It also hides users' IP addresses to mask their physical location.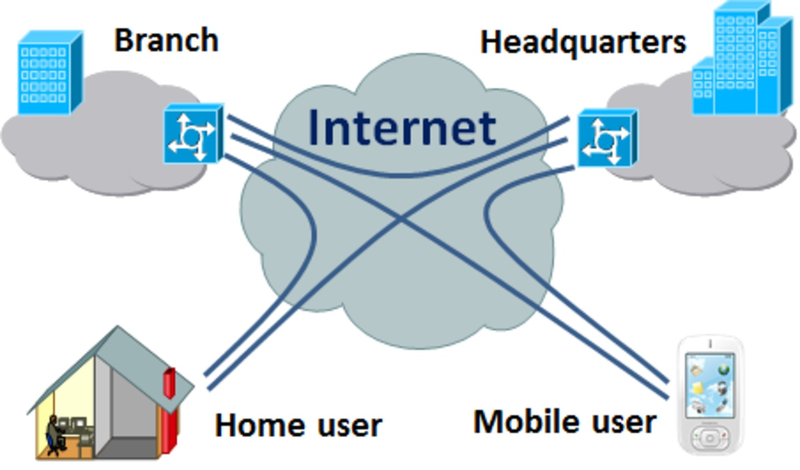 VPNs allow businesses to protect proprietary data and communications from hackers and other third-party intruders. Beyond online security, consumers often use VPNs to access geo-blocked content on streaming services such as Netflix, whose catalogs vary by country due to licensing restrictions.
We'll take a closer look at NordVPN Teams' core features: encryption protocols, applications, kill switch, split tunneling, and multi-user management.
VPN protocols
Multiple VPN protocols, each with its own strengths and weaknesses regarding speed, security, and other factors, exist to create encrypted online connections. NordVPN uses three:
OpenVPN: This open-source protocol provides strong security and cross-platform functionality.
IKEv2/IPsec: This offers connection stability for users switching between networks and quickly reestablishes dropped connections.
NordLynx: Based on the open-source Wireguard protocol, NordVPN's proprietary protocol further increases speed and security.
Encrypted connections are as useful as the access to them is protected, and NordVPN Teams includes multi-factor authentication (MFA) and single sign-on (SSO) functionality to increase login security.
Applications
For maximum protection, a VPN should operate across multiple platforms and devices. NordVPN Teams includes:
Desktop downloads: Windows, macOS, and Linux
Mobile apps: Android and iOS
Browser extensions: Chrome and Firefox
Other devices: Android TV and routers
When you and your employees are on the go, the NordVPN Teams app lets you easily choose a secure server and other options to protect your online data, activities, and location.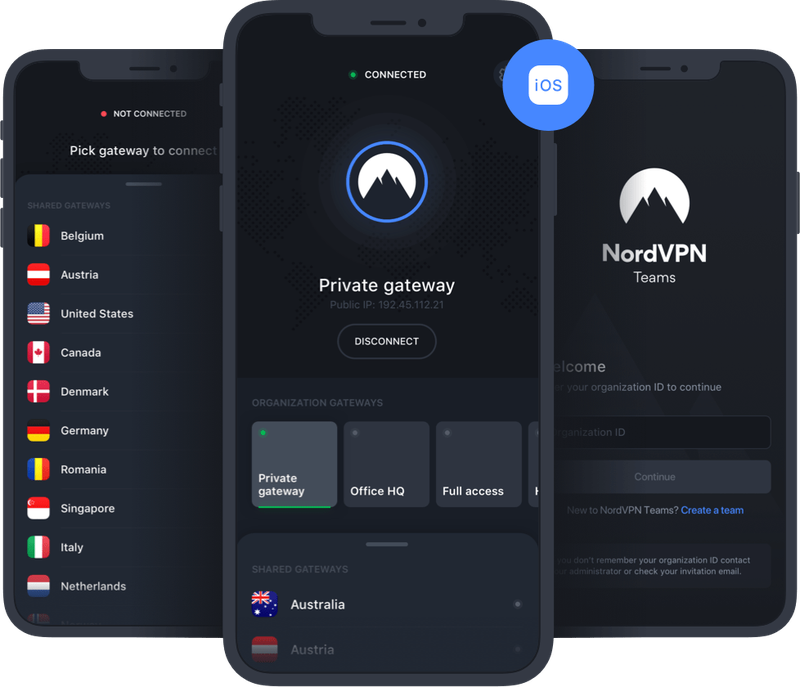 Another useful feature is NordVPN's CyberSec ad blocker. It keeps ads from overrunning you when you're online (a pet peeve of mine at news sites), and it protects you from malware threats and phishing attempts.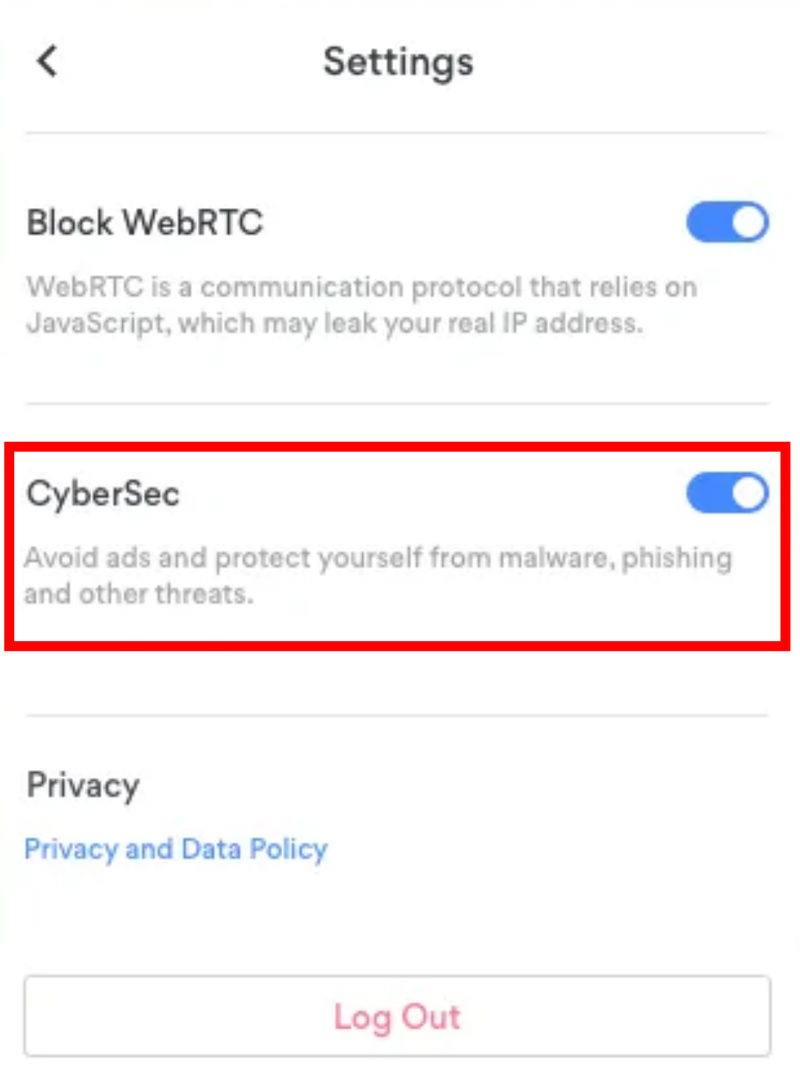 CyberSec doesn't block ads if you download the Android app from the Google Play Store, but you can still use it by downloading the app from the NordVPN website.
Kill switch
Even the best VPN can cut off due to an unstable internet connection, specific apps or websites that don't allow VPNs, or a network failure. Even if this is for a few seconds — and many times you won't realize it's happened — your personal information, data, and location could be discoverable.
The NordVPN kill switch blocks internet access when your VPN drops until it's reestablished. If you're a journalist or social activist working in a country like China or Iran with restrictive internet policies, you may leave it on all the time. Or, you can activate it on a case-by-case basis depending on the level of required security.
Split tunneling
If you don't want to manually switch your VPN off and on, use NordVPN's split tunneling feature. This allows you to designate which apps do or don't use your VPN.
For example, when I use Slack for company communications, a VPN is essential. But for my personal Twitter account? Not so much, plus it will conserve company bandwidth and increase NordVPN speed by avoiding data bottlenecks.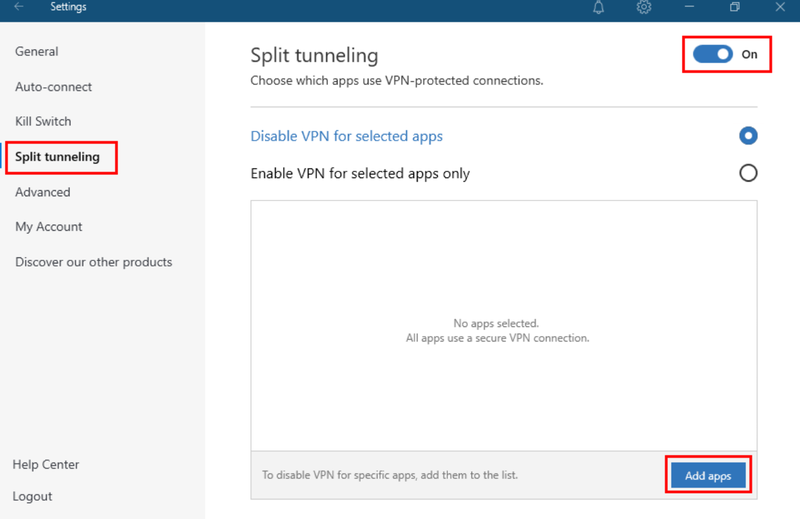 A key part of your IT risk management is creating a clear-cut policy about when to use split tunneling so no one accidentally exposes company data.
Multi-user management
Many VPN providers focus on the consumer sector, and their applications lack the multi-user management features businesses need. Sure, you can share a login for a VPN account with a small team or workgroup, but once you have more than a handful of users, this is too cumbersome.
NordVPN Teams includes an admin user management dashboard and centralized billing. As an admin, you can invite new users, assign them to teams, and check or set their status. Unfortunately, admin functionality is limited to the web portal and is not available — yet — on the NordVPN Teams app.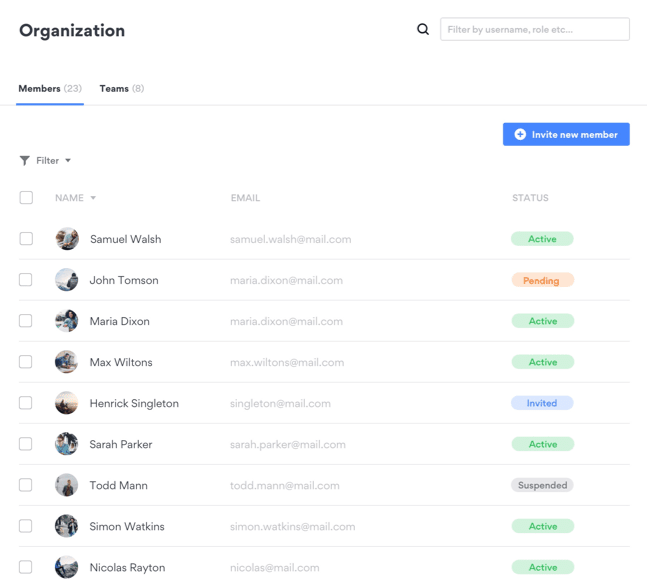 NordVPN Teams allows you to reassign existing user licenses as employees come and go instead of managing multiple individual accounts. You also have access to dedicated account managers, which is essential as little documentation about NordVPN Teams is available in the online knowledge base.
---
NordVPN Teams' ease of use
NordVPN Teams serves two constituencies: your IT department and everyone else.
Instead of having employees use a shared login for one or more VPN subscriptions, your IT help desk will appreciate the multi-user control panel. Select a user to see the last time they logged into NordVPN, reset passwords, suspend or delete accounts, and send links to invite new users.
If you have a security operations center (SOC), NordVPN Teams will be an integral tool once it adds advanced features, such as allowing admins to set system-wide security policies on endpoint devices.
Other users judge the success of a VPN based on how little effort is required to use it. For them, NordVPN Teams will quickly recede into the background of their day-to-day online activities. Multiple desktop downloads, apps, and browser extensions provide easy VPN access, and NordVPN's technical infrastructure provides reliable, fast, and secure connections.
---
NordVPN Teams' pricing
NordVPN Teams pricing includes:
Basic: $9/month per user — Includes six simultaneously connected devices per user; cloud VPN; control panel; kill switch; auto-connect; MFA; SSO with Google, Azure AD, and Okta; centralized billing; license transferability; shared access to 33 server locations; and 24/7 customer support.
Advanced: $11/month per user — Adds dedicated account management, custom gateways, priority support 24/7, and the option to purchase a dedicated server with a fixed IP address for $50/month.
Enterprise: Quote-based — Adds centralized management, site-to-site VPN, LDAP Active Directory, API access, on-premise dedicated servers, and 24/7 phone support.
You can save 22% on the NordVPN price for the Basic plan, or 18% on the Advanced plan, with an annual subscription.
NordVPN's consumer plans let you install its VPN software on routers, which protects all devices on a network while counting as one of the six allowed connections. According to NordVPN customer support, NordVPN Teams has not been tested on routers, but, in most cases, if the router supports OpenVPN, it should work.
---
NordVPN Teams' support
NordVPN pricing includes 24/7 live chat and email help requests. The Advanced plan offers priority support with responses to inquiries within three hours. The Enterprise plan adds 24/7 phone support.
I must give a shoutout to NordVPN's live chat support. I used it several times to ask technical questions and received quick, informative responses on the spot. This contrasts with other companies' live chat interfaces that often prompt you to submit an email help ticket or steer you toward a sales rep.
Your primary self-service resource is an online knowledge base with articles and tutorials for setup, billing, and troubleshooting. However, search terms such as "teams," "control panel," and "multi-user management," produced few or no useful results.

The NordVPN Teams blog has the latest release notes, product updates, and more general information about preventing cyberattacks and related cybersecurity issues. NordVPN's consumer YouTube channel has more than 350 videos in multiple languages, but the NordVPN Teams channel has six videos, and the most recent ones were uploaded in May 2020.
---
Benefits of NordVPN Teams
Answering the question "Is NordVPN safe?" must include the company's privacy policies and legal protections. NordVPN has a strict no-logs policy, so it won't track or store online user activities or data. As noted above, the company is incorporated in Panama, which doesn't share information with global surveillance alliances.
The NordVPN Teams technical infrastructure uses secure servers in 33 locations around the world. You can also buy dedicated on-demand servers, whitelist a fixed IP, and create custom gateways for different teams. Further increase login security with MFA and SSO functionality.
Other NordVPN products to increase your cybersecurity include NordLocker, which provides secure online file storage, and NordPass, an enterprise-level password manager.
---
Enhance user management with NordVPN Teams
If you want to manage multiple users on your VPN, NordVPN Teams is a good place to start with its user management dashboard, centralized billing, and extra features to increase login security. As a relatively new product, however, online technical documentation is lacking, so be prepared to figure out its finer points on your own.
---
Frequently Asked Questions for NordVPN Teams
NordVPN started as a consumer VPN provider but began offering multi-user business plans in 2019. NordVPN Teams features include multi-user management, a kill switch, split tunneling, and extra sign-on security via MFA and SSO. NordVPN is incorporated in Panama, which has no laws requiring user data retention or information sharing with global security alliances.
How much does NordVPN cost?
NordVPN Teams has three options — Basic ($9/month per user), Advanced ($11/month per user), and the quote-based Enterprise plan, which lets users have up to six devices connected simultaneously to their VPNs. No free or trial plans are offered.
What kind of support can I expect?
NordVPN has 24/7 live chat support or allows you to submit email help requests. The NordVPN Teams Enterprise plan includes telephone support. Self-help resources include an online knowledge base — albeit with few articles about NordVPN Teams — and a Teams-specific blog with the latest product news and related information.

Ready to move beyond a login shared among employees for VPN protection? Want a kill switch, split tunneling, and an ad blocker? NordVPN Teams has all this and also lets you manage multiple users, create teams, and assign access gateways. However, if you need advanced features, such as system-wide security policies, check out VPN reviews of other providers.
Ready to move beyond a login shared among employees for VPN protection? Want a kill switch, split tunneling, and an ad blocker? NordVPN Teams has all this and also lets you manage multiple users, create teams, and assign access gateways. However, if you need advanced features, such as system-wide security policies, check out VPN reviews of other providers.
The Motley Fool has a Disclosure Policy. The Author and/or The Motley Fool may have an interest in companies mentioned.