Your company's enterprise network protects multiple high-value digital assets including customer information, proprietary knowledge, and financial records. Every device connected to your network is a potential security threat, especially when employees log into multiple accounts using weak and reused passwords like abc123 or qwerty.
The solution is enterprise-level workplace identity management software. Not only do these applications increase network security, but they also reduce your information technology (IT) department's workload from routine password-related requests.
Two of the best identity management software solutions are Okta and OneLogin. We'll compare them head to head — features, pricing, support, ease of use, and more — so you can decide which one is best for your business.
---
Okta vs. OneLogin: An overview
Workplace identity management software has two constituencies: your IT department and everyone else.
IT departments use these applications to increase access security while reducing routine service requests like password resets. If your business has its own security operations center (SOC) to address advanced persistent threats, workplace identity management software is a key contributor to enterprise network protection.
Other users want easy access to their local and online accounts — including email, project management, and customer relationship management (CRM) software — without getting lost in a rat's nest of complex passwords and login processes.
The best identity management applications balance these groups' needs — security versus usability — so let's look at how well Okta and OneLogin succeed.
Who is Okta for?
Okta has identity and access management (IAM) solutions for workplaces and consumers. Its primary product is a web-based, single sign-on (SSO) application that allows users to log into a centralized interface to access third-party software, such as Gmail, Office 365, and Salesforce.
Okta's individual products range from $2/month per user to $15/month per user, but its minimum contract is $1,500/year, which could put it out of reach for smaller businesses. Customer support plans, whose prices are based on total users, cost extra.
Who is OneLogin for?
OneLogin also supplies cloud-based IAM solutions for companies and individuals that include SSO and MFA for endpoint security.
More than 2,500 companies, including Airbus and Tesco, use OneLogin, but its tiered pricing plans make it affordable for smaller companies. All plans include a basic support plan, but most businesses will likely need one of the quote-based support packages.
---
Okta vs. OneLogin: Features
Okta and OneLogin have a similar features set and are platform-agnostic, unlike competitors such as Azure Active Directory, which is Windows- and Linux-centric. Users have easy access to linked SSO accounts via a web-based dashboard, browser extensions, and mobile apps. Enterprise-level management and security options streamline user provisioning and activity tracking.
We'll take a closer look at their core functionality: SSO, MFA, and advanced security features.
What Okta offers
Beyond SSO and MFA, Okta workplace identity management products include:
Life cycle management
Universal directory
Application programming interface (API) access management
Automated user provisioning
Okta was an early entrant in the IAM sector, so its suite of products has an established track record.
Single sign-on (SSO) portal
Okta's core feature is an SSO portal and user dashboard. Users log in once to access linked accounts and websites via the web-based interface or mobile app. You can also manage multiple settings for each application from the dashboard.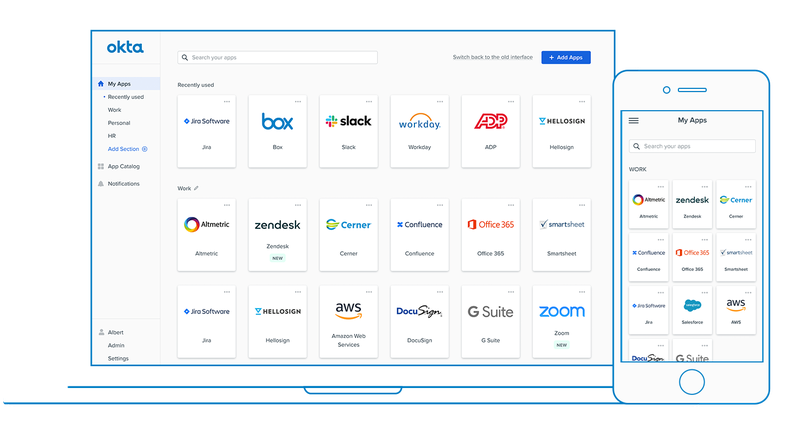 The Okta dashboard is a useful resource for employees, but they can more quickly use the applications and websites there via extensions and plugins for the major browsers. Okta's Mobile app for iOS and Android devices also provides fast SSO access when your employees are away from the office.
Multi-factor authentication (MFA)
Using a password alone for logins is inherently risky because bad actors with enough time and computing power can crack any password. MFA adds a second login step, including a security question, one-time password (OTP), or response to a push notification, separate from your username and password.
Okta has a wide range of authentication options, including its own Verify authenticator app. These varying levels of security are designed to better protect your network while causing minimal impact on the user experience.

Okta also offers contextual access management, which requests more authentication factors based on varying risk levels. For example, if you log into your work computer at your office, standard login credentials are sufficient. Logging in from a new device, public network, or unexpected location, however, can trigger MFA.
ThreatInsight
One advantage Okta has due to its large IAM market share is the breadth of customer information about suspicious and malicious IP addresses. Okta's ThreatInsight collects and analyzes this information so potential attacks are thwarted before the authentication process begins.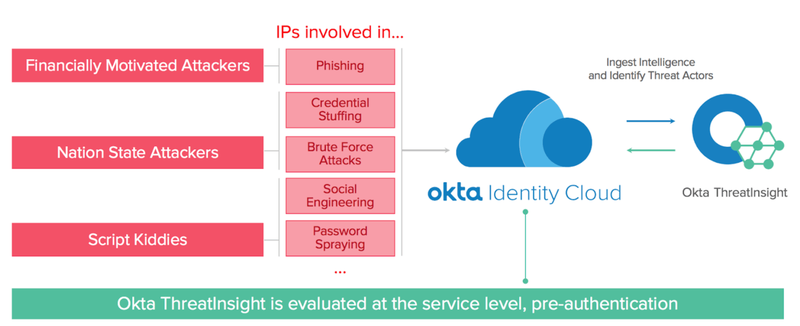 ThreatInsight proactively protects your network from different intrusion methods, including phishing, credential stuffing, brute force attacks, and distributed denial-of-service (DDoS) attacks.
Additional features
Other Okta features to help secure your network include:
Security reports: Usage information is categorized and analyzed by user activity, security, and system log queries.
Passwordless authentication: Move away entirely from passwords with options such as mail-based magic links, factor sequencing, and personal identity verification (PIV) smart cards.
Unlike some IAM vendors that began with consumer software before moving into business applications, Okta has consistently focused on employers' needs, which has resulted in robust and well-integrated workplace products.
What OneLogin offers
OneLogin also has multiple IAM products for businesses, including:
User provisioning
Life cycle identity management
Adaptive authentication
Cloud directory
We'll take a look at its core functionality: SSO, MFA, and advanced security features.
Single sign-on (SSO) portal
OneLogin's SSO portal is like Okta's: Users log in once to access linked accounts laid out in a grid. OneLogin's Portal password manager mobile app and extensions for all major browsers let users access their accounts or add new ones without logging into the full interface.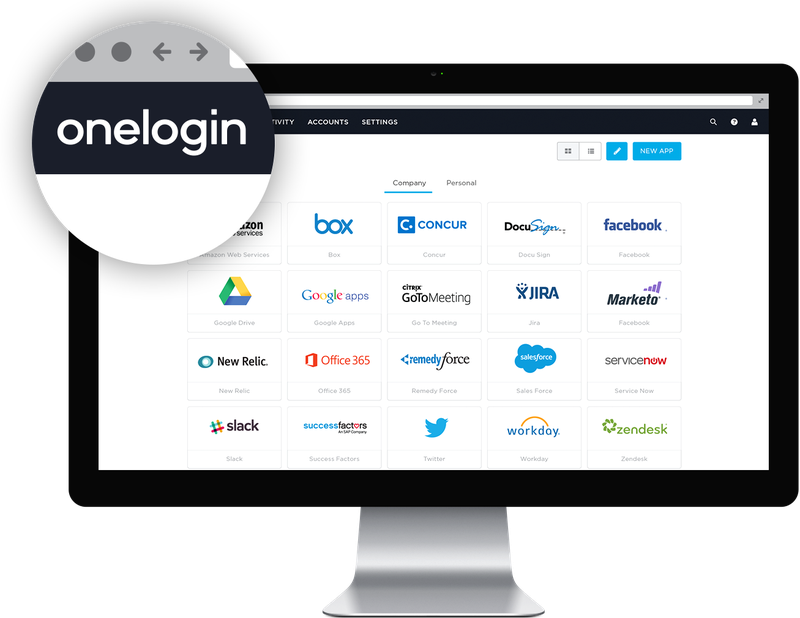 User provisioning lets account admins choose multiple setup options when adding and configuring apps. They can manage all apps from a single page, deploy apps company-wide, and define app-specific permissions by user role.
Multi-factor authentication (MFA)
OneLogin's MFA also addresses the inherent weakness of relying on a single password. Different identification factors include using a one-time password (OTP) sent to your phone and biometrics such as a fingerprint.

OneLogin's Protect authenticator app is available for Android and iOS devices to support MFA logins, including OTPs.
SmartFactor Authentication
OneLogin's SmartFactor Authentication uses artificial intelligence (AI) that calculates a risk score for each login to determine the appropriate login credentials or even block high-risk logins. Factors include location, device, and user behavior.

SmartFactor Authentication helps your IT department get buy-in from employees. While everyone agrees network security is critical, limiting the use of MFA to high-risk logins streamlines the user experience in trusted environments.
Additional features
OneLogin's advanced features provide more protection for your enterprise network:
Security reports: OneLogin's four report types — users, apps, events, and logins — analyze aggregated user management and activity data to identify suspicious behaviors and weak passwords.
Passwordless authentication: A user's Windows or OS X password acts as the first authentication factor, while secondary authentication is via a OneLogin-installed certificate specific to the user and device.
Like Okta, OneLogin's long-time focus on workplace applications means it has a well-developed and integrated set of IAM products.
Results
Okta edges out OneLogin despite comparable baseline functionality and advanced security features. Each one also has its own password manager, authenticator apps, and browser extensions. Okta's ThreatInsight feature, however, adds an extra layer of security to protect your digital assets.
---
Okta vs. OneLogin: Support
Unlike some applications with robust customer support options — telephone, chat, or email — in their baseline price, the same is not true for most identity management software solutions. Timely, one-on-one help costs extra, so choosing the right package depends on your exact needs and the expertise of your IT department.
What Okta offers
Okta's four customer support plans include:
Basic: Has a 24-hour response time for support requests by phone or email.
Premier: Upgrades to a one-hour response time for support requests.
Premier Access: Adds a customer success manager (CSM) and periodic virtual meetings.
Premier Plus: Adds a VIP support line and onsite meetings.
The Basic plan has 12/5 support Monday through Friday from 9 a.m. to 9 p.m. ET, but the others have 24/7 support. Pricing is quote-based and depends on your number of users.
Okta's online resources include a knowledge base, online training and webinars, and community forums.
What OneLogin offers
OneLogin has three support packages:
OnePlus: Includes 12/5 phone and online support, access to technical documentation, and discounted training.
OnePrime: Adds 24/5 phone and online support, dedicated support and escalations teams, and a quarterly deployment overview.
OneVIP: Adds 24/7 priority phone and online support, an annual technical health check, and a dedicated enterprise customer success manager.
OnePlus support is included with all workplace plans. OnePrime and OneVIP cost extra, but no pricing information is available at OneLogin's website.
Results
Okta and OneLogin tie here. Neither is forthcoming about the pricing for their support packages, nor do they offer timely help via lower-level plans.
---
Okta vs. OneLogin: Ease of use
The disparity between the two groups that use IAM software — IT personnel and other employees — is reflected in how each thinks about ease of use.
Your IT department will like the default enforcement of password policies, automatic provisioning of new user accounts, and security reports that inform your network diagram. These boil down to one factor: time. Reducing time spent on repetitive tasks frees up techs to work on higher-level issues, such as preventing cyberattacks.
Other users are not so sanguine. While an SSO portal and dashboard saves time during the day, thanks to fewer logins, navigating different MFA options is often a hassle, especially for tech novices.
No matter which IAM application you deploy, successful implementation requires educating users about the benefits it creates and how to use it. I've worked at a couple of places where identity management software was dropped on the rank and file unannounced, which made learning its ins and outs very frustrating.
What Okta offers
IT personnel report Okta works equally well on a company's network and remote Wi-Fi connections. Some comment the technical information could be better organized because support documentation is split between two locations on Okta's website, and problems sometimes occur when third-party vendors update their apps.
Employees at companies using multiple applications like having them aggregated in the Okta interface without having to log into each one individually. Most user issues revolve around nuts-and-bolts topics, such as updating passwords across multiple applications, password length, and the frequency of required Okta logins.
What OneLogin offers
IT departments like OneLogin's automated password management that results in fewer password-related help desk tickets. The biggest issue on the IT side was third-party app connections not updating as soon as vendors changed configurations, but with more than 6,000 apps in the OneLogin catalog, this is no surprise.
Users like OneLogin's clean SSO interface, and adding apps and logins via the web browser extension is handy, too. The complaint most users report is repeatedly logging in after sessions time out. However, this illustrates a different issue: the too-common lack of communication between IT departments that choose timeout settings and users.
Results
Okta gets another narrow win here. While both Okta and OneLogin have similar ease-of-use profiles, Okta users generally report a more streamlined experience.
---
Okta vs. OneLogin: Pricing
Determining the true cost of your identity management solution is often confusing because some vendors, like Okta, price each product separately, while others, such as OneLogin, have more traditional tiered plans that add successively more features. Support packages are priced separately, so be sure to account for their cost when putting together your budget.
What Okta offers
Okta pricing for a la carte workplace identity products includes:
SSO: $2/month per user — Includes integration network, ThreatInsight, desktop and mobile SSO for cloud and on-premise apps, basic MFA, and third-party MFA integration.
Adaptive SSO: $5/month per user — Adds contextual access management and risk-based authentication.
MFA: $3/month per user — Includes possession factors, such as one-time passwords, push notifications, texts, and Universal 2nd Factors (U2Fs).
Adaptive MFA: $6/month per user — Adds contextual access management, including location (new city, state, or country, and impossible travel patterns), network, device, and risk-based authentication.
Okta requires a minimum $1,500/year contract but offers deep discounts to larger organizations adding more users. The SSO plan has a free trial, while customer support packages are sold separately.
What OneLogin offers
OneLogin pricing includes three workplace plans:
Starter: $2/month per user (minimum 25 users) — Includes unlimited app integrations, desktop SSO, single language support, and standard reports.
Enterprise: $4/month per user (minimum 10 users) — Adds MFA, custom app connectors, security policies, multiple language support, and virtual private network (VPN) integration.
Unlimited: $8/month per user (minimum 5 users) — Adds directory and user provisioning, custom fields, HR integrations, and on/offboarding checklists.
Quarterly subscriptions get a 5% discount, and annual subscriptions get 10%. A 30-day free trial of the Enterprise plan is available. All workplace plans include the OnePlus support package, while OnePrime and OneVIP cost extra.
Results
OneLogin comes out on top here for two reasons. First, unlike Okta, it doesn't have a minimum yearly contract amount. Second, its workplace identity management pricing is more transparent.
---
Okta vs. OneLogin: Integration with other software
Identity management software is only as good as the number of integrated third-party applications. These vary by IAM vendors, which are continually adding new app connections and updating existing ones.
What Okta offers
The Okta Integration Network (OIN) catalog has more than 7,000 third-party integrations with cloud, on-premises, and mobile apps in multiple categories:
Application programming interface (API) management
Cloud access security broker (CASB)
Customer data integrators
Directories and HR systems
Endpoint security and management
Security analytics
Virtual private network (VPN)
If you need an integration not in the OIN, use Okta's App Integration Wizard (AIW) to create one and assign it to users in your organization.
What OneLogin offers
OneLogin's App Catalog has more than 6,000 pre-built integrations, including major third-party software vendors such as Salesforce, Office 365, and Slack. The OneLogin Google Apps integration allows you to access a wide range of Google apps instead of adding them one by one.
Unlike Okta, you can't view all available app integrations until you set up an account. Like Okta, however, OneLogin allows you to create custom connections for apps not in its catalog.
Results
Okta and OneLogin tie again here. Both integrate with major software applications, and if you use one that doesn't have a pre-built integration, the process to create a custom connection is straightforward.
---
How They Compare: Okta vs. OneLogin
| | Okta | OneLogin |
| --- | --- | --- |
| Features | | |
| Support | | |
| Ease of use | | |
| Pricing | | |
| Third-party software integration | | |
---
Okta wins by a nose
In this race, Okta ekes out the win over OneLogin. Both companies have established track records with enterprise workplace identity applications, but Okta's advanced features, such as ThreatInsight, get it to the finish line first.
Still, their comparable functionality means OneLogin could still be your best bet in a head-to-head analysis based on your small business's specific needs.