If you've never heard of OneUp, you're likely not alone.
This affordable, easy-to-use small business accounting software application is designed to grow along with you. OneUp can be used on desktops, laptops, and mobile devices, letting you take charge of your business from anywhere.
---
Who is OneUp for?
OneUp is a small business accounting application that is suitable for sole proprietors and freelancers, as well as growing businesses.
It offers a surprisingly robust set of features in such an affordable application, including lead management for tracking potential customers and an excellent inventory module.
---
OneUp's features
OneUp offers complete accounting functionality, with the option to connect your financial institutions to the application.
One of the nice things about OneUp is that, unlike other similar applications, such as Wave Accounting or Xero, you also have the choice to enter accounting transactions manually.
Other features in OneUp include sales and vendor quotes, purchase orders, and credit memos. While you can track vendor payments in OneUp, there is no method to pay vendors directly from the application by check, though you are able to record any payments made and which bank account they were made from.
OneUp offers a six-step setup process, allowing you to get onboarded quickly.
Initial company setup (required): This includes entering your business details, whether you sell products or services, adding multiple currencies, and adding your company logo, which will then be used on any sales or purchase orders, when you write an invoice, or create a customer statement.
Enter sales tax information: If you'll be charging sales tax, you will need to set up sales tax rates or VAT rates, if you sell outside the U.S.
Set up products and services: New businesses can enter products and services, while existing lists can be imported using one of OneUp's import templates. If you wish to track inventory, you will need to enable tracking by setting the Tracking Inventory option to Yes during setup.
Enter customers: Like products and services, you can set up customers manually or import them using a template if a list already exists.
Enter vendors: Vendors, like customers and products and services, can be manually entered or imported using a OneUp template.
Link bank accounts: You can connect any or all bank accounts in OneUp.
Aside from the initial company setup, which is required, you can add what you wish and return at a later date to complete the setup process.
Here are some of the other features that separate OneUp from the competition.
Inventory Management
Though not every small business has inventory management needs, if you do, you'll appreciate OneUp's very sophisticated inventory management feature, which easily competes with those found in more powerful applications.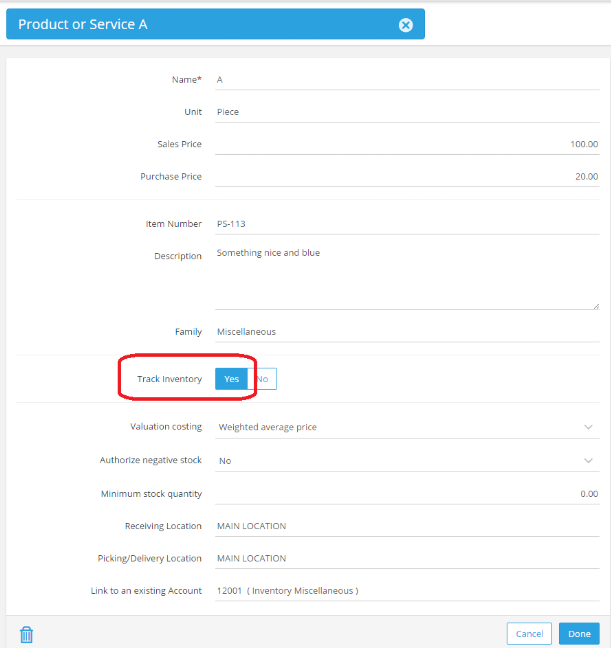 When entering an inventory product, you can assign both a sales price and a purchase (cost) price, assign an item number, and enter a minimum stock quantity, which enables the system to send out a reminder when inventory drops below the assigned number.
OneUp can also manage inventory in multiple locations, and when used with a pick list, will reserve items in inventory, eliminating possible overselling. When purchasing inventory, you can easily convert a purchase order to a receiving note, which will automatically update your inventory totals.
Sales & Invoicing
Sales & invoicing options are also excellent in OneUp. The sales dashboard displays a variety of graphics that detail sales activity for any given period as well as invoiced amounts for the period, including invoices for follow-up and past due invoices.
OneUp lets you provide customer quotes, either from an opportunity, or by creating the quote directly. Once a customer commits to a quote or a sale, a sales order can be created. To save time, quotes can also be converted to a sales order if desired.
If your customer makes a prepayment, you can easily record it in OneUp, where it will be displayed on the invoice that is created for the balance of the order.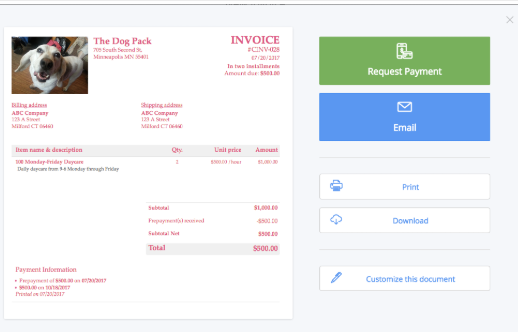 The invoice creation process conveniently provides you with a link to request payment from your customer, as well as an option to email, print, or download the invoice. Invoices can also be customized by simply clicking on the Customize button at the bottom of the invoice screen.
Opportunities
If you spend a lot of time and money advertising your products and your business, shouldn't you also be tracking potential leads? With the Opportunities feature in OneUp, you can track all potential sales, attach the potential sales to a product, and even stage the opportunity to show how much progress has been made.
Opportunities can also be converted directly into quotes.
Accounting
OneUp offers complete business accounting software, including the option to sync your banking institutions, enabling OneUp to process the majority of your accounting transactions automatically.
If you're not comfortable syncing your bank with the application, you can choose to enter accounting transactions manually. Another option lets you manually import bank statements, which offers a nice compromise between complete automation and manual journal entries.
OneUp provides you with a default chart of accounts, which is typically suitable for most small businesses, though you can add additional accounts if desired. OneUp also tracks sales tax as well as VAT rates, with a tax report created for easy reporting and remittance to the correct tax jurisdiction.
In addition, OneUp also manages fixed assets, recording the purchase and calculating any depreciation on the asset.
Reporting
OneUp offers good reporting capability, with a variety of reports available, including:
Accounting and financial reports: These include profit and loss, balance sheet, G/L, and trial balance reports.
Expense reports: Expense reports include both paid and unpaid expenses reports, as well as an expenses report that can be downloaded from your financial institution.
Inventory reports: Inventory reports track a variety of details including stock levels, deliveries, orders, and all deliveries.
Both purchase order and project reports are also available in OneUp.
---
OneUp's ease of use
OneUp uses an interview process that allows you to quickly set up your business by simply answering a number of questions. The entire process takes about a minute or two, depending on how much additional information, such as business address or sales tax rates, you need to enter.
The main user interface is easily navigated, with giant, colorful tiles providing access to system features such as Opportunities, Sales, Purchasing, Inventory, Accounting, and Reports. Each time you access a feature for the first time, you will be provided with options to continue setting up that feature. For instance, when you access Accounting for the first time, you will be prompted to link your bank accounts to OneUp.
The Accounting feature also includes a financial dashboard that displays current account information such as Profit or Loss, Cash Flow, Income Breakdown, and Expenses Breakdown.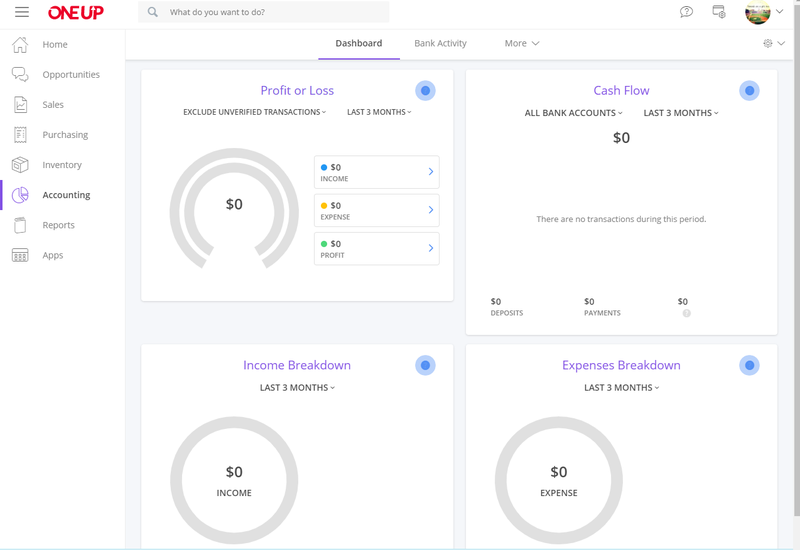 OneUp's main user interface also includes an accounting dashboard that provides a summary of financial details about your business. Along with the dashboard, you can also set up and manage bank activity and access additional accounting features such as your chart of accounts, accounting transactions, and any accounting receipts.
---
OneUp's pricing
Rather than features driven, OneUp pricing is based on the number of users. This means that whether you purchase the Self (single user) plan at $9 per month, or the Team plan at $69 per month, you'll have access to the same features, so you'll only have to scale up if you need to add users, not in order to access more powerful features.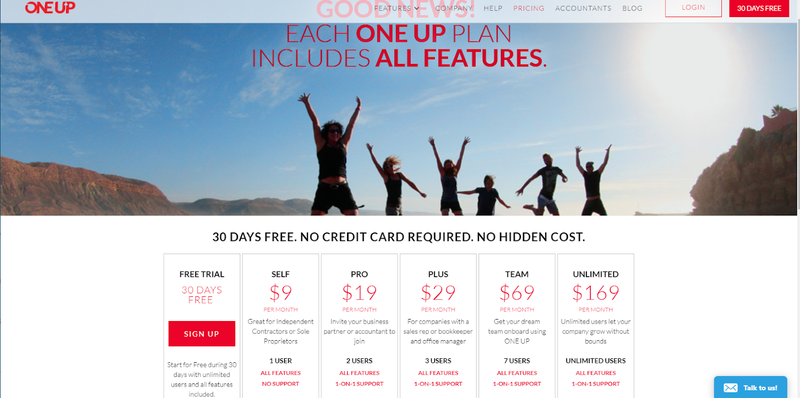 ---
OneUp's support
OneUp offers email support for Pro, Plus, Team, and Unlimited subscribers, with support available via email or chat. The Knowledge Center provides a good selection of resources for OneUp users including a getting started option, as well as a comprehensive product overview.
Benefits of OneUp
By far, the biggest benefit of choosing OneUp as your accounting software is the ability to have access to all features immediately, whether you purchase the Self plan or the Unlimited plan. That means that the application can grow along with you, something that's not always possible with many small business accounting applications.
---
Is OneUp in your future?
Small businesses often struggle with getting the features they need in an accounting software application at a reasonable price, often forced to choose between the features they really need and the features they would like.
Until OneUp. This easy-to-use, affordable software includes excellent inventory, CRM, and solid accounting capability. If you're beyond bookkeeping basics and ready to switch to full-featured accounting software, take a look at OneUp, particularly if you sell products. OneUp also offers a free 30-day trial, so you can explore its features on your own to see if it's right for you.
---
Frequently Asked Questions for OneUp
I sell a lot of products. Is OneUp a good choice for me?
Yes. OneUp offers one of the best inventory management features available in any small business accounting application on the market today.
Is there a mobile app available?
OneUp offers a mobile app that is compatible with both iOS and Android devices. And the mobile app offers the same functionality as the desktop version.
What kind of reporting is available?
OneUp offers an excellent selection of reports, and all can be exported to Microsoft Excel or saved as a PDF.
The Motley Fool has a Disclosure Policy. The Author and/or The Motley Fool may have an interest in companies mentioned.