On March 23, 2010, President Barack Obama signed the Affordable Care Act (ACA) into law. Part of this legislation required the U.S. Department of Health and Human Services to create a Health Insurance Marketplace where consumers could shop online for affordable healthcare plans. The ACA mandated the launch of this website by October 1, 2013.
While the resulting HealthCare.gov site did go live by that date, it lasted all of two hours before crashing, and only six Americans signed up for health insurance that first day. This happened because it was launched without confirming operational readiness.
The ACA had been under intense public scrutiny given partisan tensions in Washington. This environment meant that rollout of the law and its technical infrastructure needed to be flawless. Instead, its fraught beginning brought embarrassment to the White House that had been its cheerleader for the many months leading up to it.
It also meant a frantic scramble to fix the website so Americans could sign up for health insurance before the end of the open enrollment period. That rush affected the project's cost management, ballooning the website's initial $93.7 million budget to around $1.7 billion.
Learn how to define operational readiness and detail its key elements so you can assess whether your project has reached it. You can use this information to ensure smooth rollouts and well-maintained operations that stay within your budget and timeline.

---
Overview: What is operational readiness?
Operational readiness implies your product is ready to deploy, operate, and maintain without significant issues. Why do projects fail? Because they're designed without consideration for how they'll actually function in their intended environment.
A key component of project cycle management is ensuring operational readiness goals are included throughout the project life cycle. Your project scope should include enough time to ask questions about operational readiness throughout your project's initiation, design, testing, launch, and beyond.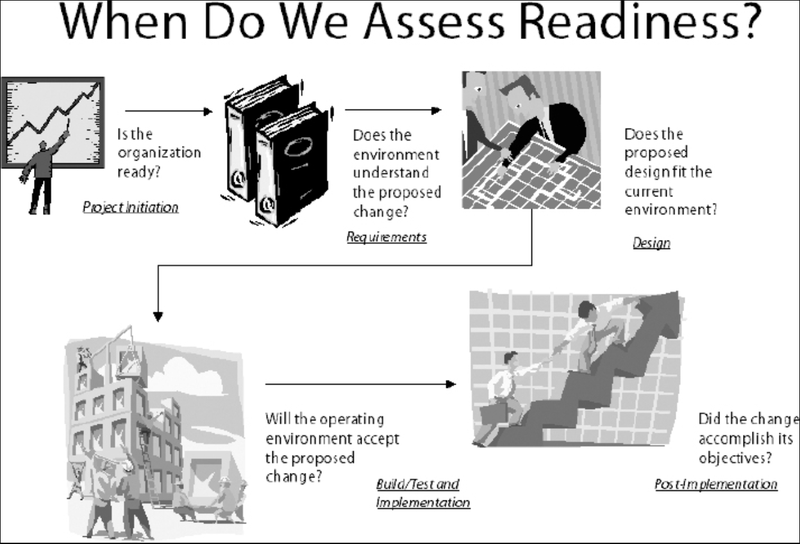 ---
The 5 key elements to assess operational readiness
Operational assessments take time. Create a project schedule that accounts for a full test and review of your product before launch. You can use the five questions in this section as an operational readiness checklist.
1. Are your staff ready?
When assessing operational readiness, consider whether your staff are ready for the launch. Given the project's expected time commitment, make sure you have enough people to cover the roles you need to fill for launch, operation, and maintenance. Take time to also review whether those staff members bring the right skills to the table, or whether there is some expertise you need to add to your team.
Develop training materials and resources and clearly define channels of communication. Your team needs to understand the standard operating procedure to minimize errors.
How to prepare your staff
Using the launch of HealthCare.gov as our example, staff preparation would include asking questions such as:
How many people should we have operating our help desk on launch day?
Do our staff know the communication channels for reporting errors to developers quickly?
Are our staff trained in this platform to explain it in plain language to others?
Have we coordinated with contract and government staff partners to ensure we're all operating from the same procedures for launch day?
2. Is your environment ready?
Making sure your operational environment is ready requires a lot of testing and a lot of listening. During this phase, be humble. Lay users might not interpret your design as you intended them to or might not like a feature you included.
Ignoring their feedback because "they just don't get it" isn't the right option here. Put pride aside, and remember operational readiness is about how your product will operate for others, not for you or your internal team.
Your developers shouldn't be the only ones doing end-to-end testing of your product. Since they've been working so closely with the product, they're more likely to overlook an issue that might stand out to someone new to it.
Use a sample of testers from your real-world intended audience and ask them to provide detailed notes, not only on product glitches but also areas where instructions were unclear or where they think their experience could have been more user-friendly. If your end users don't understand something now, they won't on launch day either.
An operation readiness test for your environment should also analyze data related to your product. Check whether load times, reading comprehension, and other elements meet your operational targets.
How to prepare your environment for launch
With the launch of HealthCare.gov, some questions the team could have asked to assess the readiness of their operational environment might have included:
Are all elements of the website fully built? Have we checked all drop-down menus, clicked all links, and reviewed all text for completeness?
What is our site load time? How does this vary given different scenarios and user levels?
Has anyone on our team, any contractors, or any external testers, raised any flags about the environment's operational readiness?
If there are still fixes we need to make, what is a reasonable timeline for incorporating those fully?
Have we tested this outside of our development environment and within the user environment?
3. Are your end users ready?
Before launching a product to an audience, that audience first needs to know your product even exists. Part of operational readiness involves reviewing your user communication channels for effective marketing of the product. Let customers know when they can expect your product, what it will do for them, and where they can learn more about it.
Your end users will also need training resources. Consider what kind of training materials would be valuable for your end users, develop them, and know how and when you'll distribute them. These materials could include a user guide, one-pagers, frequently asked questions, webinars, or short how-to videos.
How to prepare your end users
Again using HealthCare.gov as our example, preparing end users for the site's operation could include questions, such as:
Have we created training materials for our users? Are there features to our site that aren't covered in these materials?
Do our users know when they can use the site?
Have users been able to create their login information prior to launch?
Do our users know what the basic functions of our site are and what types of healthcare coverage it will not include?
If our users need to purchase their plans through a state-based marketplace, have we communicated to them how they can do so?
4. Have you considered and planned for your risks?
Project risk management anticipates what could go wrong with the launch or maintenance of your product, and plans potential solutions should those events occur. As you consider the operational readiness of your project, think through a variety of scenarios that could affect your project's success.
Think about user habits, site capacity, communication channels, and staff schedules. The more you can anticipate challenges upfront, the better equipped you'll be to pivot and flow with needed changes.
How to gauge and prepare for risks
To be prepared to quickly address any launch day issues, the HealthCare.gov team could have asked questions such as:
What is the maximum number of users our site can handle? What can we do if we unexpectedly experience five times that amount?
What is the likelihood we won't be able to build all site components by the mandated deadline? How can we prioritize site features accordingly, and then how would we roll out additional updates as we're able?
Will we have enough staff on the help desk for launch day to respond to consumer questions within our ideal timeframe? How can we triage consumer issues to speed up response times?
Do some of our pages have different user capacity levels than others? Do those differences make sense, or should we update them prior to launch?
5. Do you have a maintenance plan?
Operational readiness goes beyond your launch day. It considers whether your project is ready for ongoing operation. Part of checking for operational readiness should include reviewing the maintenance plan for your project's operation. Having a maintenance plan helps with scope management.
Your team knows what its ongoing responsibilities will be and what updates are considered regular maintenance versus a new undertaking or major change. You can build out a maintenance plan in your project management software, assigning recurring tasks to the right team members for review.
How to create a maintenance plan
Some questions the HealthCare.gov team could have asked about the operational readiness of its ongoing site maintenance:
Is the site in a state where no further major updates are expected? Are we ready to think about maintenance rather than development?
How will we triage consumer feedback about the site?
Who will ensure dates, times, health insurance options, and other site content are updated yearly, as needed? When will those updates be made?
How will we monitor page loading times, and how often will we make updates to improve those?
---
Assess for operational readiness to ensure smooth rollouts and ongoing maintenance
Doing a readiness assessment for your project is critical. You may have all the world's enthusiasm about your work and want to keep it on schedule, but if you notice red flags, it's much better to pump the brakes than to go full speed ahead and launch a product that's not ready. In the end, checking for operational readiness can save your time, money, and reputation.