HTML emails have become the norm, and most companies spend significant time and effort designing HTML emails complete with all the bells and whistles. The fierce battle to get customers to read and click on your emails largely centers on ever-more complex design.
Yet, sometimes less is more. Occasionally, your customers may just want to receive the information in a simple, no-frills format that is quick and to the point. That's where plain-text emails come in.
The difference between HTML and text emails is like the difference between sending a beautiful card or writing a letter, but for the digital age.
---
Overview: What is a plain-text email?
Plain-text emails are made up of the copy you write. There are no images, no videos, no GIFs, no buttons, and no other graphical or interactive components.
Plain-text emails are a rare breed. When scrolling through my emails, the only message I could find that was in plain-text format was the one below from Strength Running fitness community.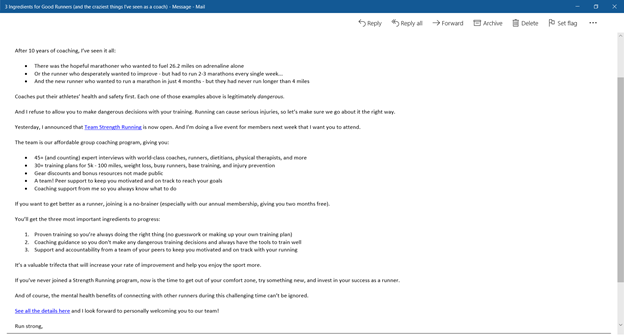 ---
4 benefits of sending plain-text emails
You should always send a plain-text version of every email; otherwise, customers who can't view HTML emails will see the raw HTML code. Here are more benefits of sending plain-text emails.
1. Improve email deliverability
Even with comprehensive testing both with email marketing software and by sending a message draft to your coworkers to review, it's impossible to predict how the email will show up in a user's inbox, or if it will even make it past the spam filter. If images don't display or there is an issue with your HTML code, then your email is more likely to end up in your recipient's junk folder.
Some users have blocked images from showing up in their emails, and some opt for text-based email clients, which means your messages will look strange or the recipient won't be able to see key parts of the message.
Delivering a poor user experience is sure to get recipients to hit the unsubscribe button or worse, report your message as spam.
Email providers view plain-text messages as more likely to have a legitimate sender than emails filled with images and videos and GIFs, which means these messages have more chance of getting delivered to the recipient's inbox.
2. Quicker to create
You can spend hours putting together a beautifully designed email only to see a low open and click-through rate, which means you gain no real benefit from the message. Instead, you can focus on creating copy that converts and spend much less time on the design to potentially get the same (or better) results.
3. Support new devices
We're carrying around more technology and devices than ever before. These devices have different ways of displaying information. Take wearables: If a subscriber opens a text email on their smartwatch or fitness tracker, they will get a better experience than if they try to open one with images and GIFs.
That's why it's important to give your subscribers the option to choose between receiving emails in HTML or plain text, allowing them to consider which device they normally use to read their emails.
4. Create a personal connection with your customers
Text emails sound more natural than all-singing, all-dancing graphical emails. Plain-text emails are more effective at making it seem like you're just talking to that one recipient and are sending a personalized message.
HTML emails are great for mass marketing efforts, but plain-text emails are useful if you want to show customers how much you value them as individuals.
---
When should you use plain-text emails?
Plain-text emails can play an important role in your overall marketing strategy if used at the right time and in the right context. Here are a few examples.
When subscribers ask for them
Everyone has different preferences when it comes to how they like to read their email. When a customer signs up to your email list, ask them whether they would like to receive your messages as plain text or HTML.
Make sure you have a subscriber center where your customers can easily change their preferences whenever they need to.
When email servers reject HTML emails
If an email server rejects an HTML email and your email marketing software can't deliver it, then you need to make sure this information is updated in your system. Next time, you should send those customers a plain-text email to ensure the message makes it into the recipient's inbox.
In addition to HTML email campaigns
We're not recommending that you only use plain-text email campaigns. They have their place, but you should mix the format of your messages according to the type of campaign and subscriber preference.
It's also good to send a variety of different messages, so you stand out and provide something unexpected.
---
How to format and send plain-text emails
Plain-text email formatting requires a different approach than you use when sending HTML emails. HTML emails grab people's attention with eye-catching visuals, whereas plain-text emails rely much more on the copy.
1. Keep it short
Don't overdo the text or you'll overwhelm your audience. Keep your copy short, snappy, and concise. As you have to rely entirely on your copy to draw readers in, you need to work hard to find hooks and write engaging copy that will guide them toward taking the desired action.
Don't cram your email with all the information you want to convey. Instead, add links and calls to action (CTAs) so recipients can read more if they are interested in a topic.
2. Use plenty of white space
If a recipient is an avid fan of your company, then they might take the time to read the whole email from start to finish, but many readers will want to scan the message first to see if it's of interest.
Make sure readers can quickly ascertain the key points and the goal of your message by leaving plenty of white space in your emails.
3. Format your text
Just because you're creating a plain-text email doesn't mean you can't use any text formatting. Use bold or italics if you want to highlight text or parts of the copy. Just remember to use it sparingly or you'll lose the effect.
4. Highlight your CTAs
In HTML emails, you can add big, colorful buttons to your CTAs to make it obvious what action you want users to take. But bringing attention to CTAs is more difficult with HTML emails.
Here are some different ways to highlight your CTAs:
Test different positions
Bold the text
Add multiple CTAs
5. Use email marketing software
Email marketing software editors can help you create emails in different formats and track the performance of each message you send. ConvertKit's email editor is specifically designed to help you send plain-text emails with interesting and engaging copy.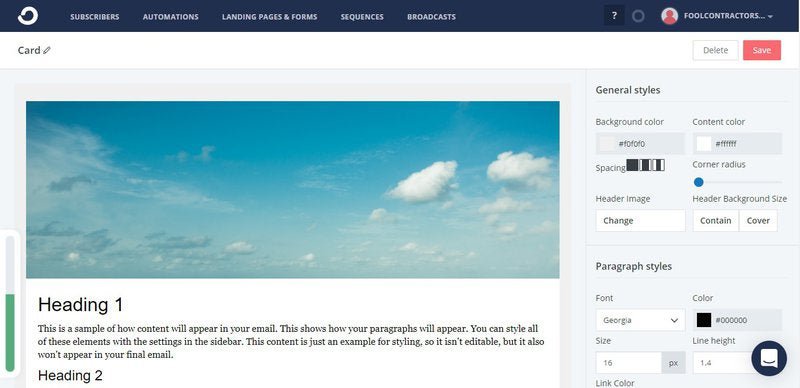 ---
HTML vs. text email: Which performs better?
Text-only emails might not work for every business and industry. That's why it's important to test the performance of HTML vs. plain-text emails to see which works best. Create two emails for the same campaign and monitor the different metrics for each.
You might find that text versions work better for certain types of campaigns, such as order confirmation and delivery information, while HTML email versions work better for announcing sales and promoting new product lines. Test the relative performance as much as you can if you want to get the best results from your email marketing campaigns.