---
Who is Podio for?
Podio is perfect for medium-sized to large project teams that have very specific needs not covered by the functions of other, more basic project management software options. Its application-building function puts it head and shoulders above the competition with endless customization based on whatever needs your team(s) might have. This includes custom reports, workflows, webforms, custom budgeting, and even Google Apps integrations.
Endless customization is not without its drawbacks, though. This platform is not easy to jump into without some instruction from Podio, which it's eager to provide. This PM tool is a blank canvas, and what you put into it will determine what you get out of it.
---
Podio's features
Podio offers all of the features you would come to expect from a project management software tool. Some of these features are available to users right from the start, such as task management and time tracking, whereas others can be built using the custom applications function.
With a little training and support from the Podio team, you'll be able to track, manage, and complete any project you put through this tool.
Management and planning features
Task prioritization and scheduler: Podio uses a standard task list and task creation system, but what makes it unique is the ability to create tasks from anywhere in the software. All you have to do is hit "T" on your keyboard to bring up the new task window.
Shared team calendar: Podio offers a very standard shared team calendar that displays new tasks and milestones in real time as they are added to the project.
Time tracking: Each user story in Podio allows users to measure planned hours vs. actual time spent on each task.
Documentation features
Document storage: Every task in Podio gives users the ability to store all kinds of project files, including documents, PDFs, images, spreadsheets, and so much more. These files can be uploaded from your computer or from online storage services like Google Drive and Dropbox.
Reporting: Podio's reports are built using the custom application system. They include time remaining on a project, budgets, pipelines, and more.
Collaboration features
File sharing: Podio's task file storage system doubles as a

file sharing system

between project users. Anything you need to send to other users can be attached to tasks and user stories.
Communication: Podio uses both a task commenting system as well as a direct message chat function so you can always get in touch with your team.
Team dashboards: Podio offers team and project dashboards that'll help you track your project from start to finish.
Mobile application: Podio offers a mobile version of its software for both iOS and Android users so you can remain in contact with your team and coordinate project tasks on the go.
Security features
Single Sign On (SSO) integrations: Podio integrates with multiple big-name SSO providers, such as Okta and OneLogin.
Two-Factor Authentication (2FA): Podio allows you to set up additional identity verification through 2FA.
Account permissions: Protect your assets by using granular permissions (task, team, and project) controls to restrict access to only the correct users.
Budgeting features
Budget reports and dashboards: As mentioned before, Podio's reporting system includes budget reports, which can be generated and exported whenever necessary, and dashboards.
---
Benefits of using Podio
The biggest benefit of Podio is the ability to endlessly customize it. If you're running multiple projects with different focuses and needs, Podio's versatility is perfect for your team. It'll track your projects, help you collaborate with your team, and even give you the flexibility to create your own custom functions using the application builder. It's great for projects with specific needs that your basic project management software doesn't cover.
Once you've tackled the somewhat steep learning curve, Podio can do everything you need it to do — and more. Want to track your budgets? You got it. Looking to create custom tracking fields? Not a problem; Podio can do it.
Since Podio is such a popular project management tool, it helps that there's a significant user community that can offer quick answers on YouTube and other online forums. If you don't have time to reach out to support, there are plenty of answers already on the web.
The second major benefit of Podio stems from the generous list of features offered at such an affordable price. I won't get into the weeds about the numbers since I've dedicated an entire section to the pricing, but at the rates Podio charges, most other platforms wouldn't offer half the functionality. This platform provides the standard project management features, such as task management and workflows, but it also gives you unlimited storage space, automations, and even personalized dashboards. What other product can say that at Podio's price point?
---
Podio pricing
I consider Podio the poster child for a good project management software pricing structure. So many other products price their products by number of users, available features, storage space, and lots of other factors. They also charge huge sums of money for the privilege of upgrading to higher tiers.
Podio keeps it simple and cheap. The only tier with a user limit is the free version; all other tiers allow unlimited users and unlimited tasks:
Free: includes 0-5 employees, task management, applications, workspaces
Basic: $9/month — includes all previous features plus unlimited users, unlimited items, additional user management
Plus: $14/month — includes all previous features plus automated workflows, read-only access
Premium: $24/month — includes all previous features plus visual reports, contact syncing, interactive dashboards, upgraded workflow features
As you can see, Podio is unbelievably affordable based on the features it offers. I typically appreciate lots of different pricing tiers so users can pay for exactly what they need, but that works best when a tool will cost you hundreds of dollars each month. Podio's prices are low enough that you can take on some extra features you may or may not need without busting your budget. If you want everything Podio has to offer, it will only cost you $24 a month! That's hard to beat when some vendors are putting thousand-dollar price tags on their software.
What's even better is the fact that Podio offers special pricing discounts for nonprofits, startup companies, and students. If you qualify under one of those three categories, then Podio will offer you the product with an additional 10% discount. Low pricing, plus an additional discount, makes Podio a difficult platform to beat in terms of value.
If Podio can offer its product for prices this low, why can't other software vendors? This project management tool earned a solid 10 out of 10 for pricing on our scoring metric.
---
Podio's ease of use
Podio has a lot to offer, but in order to take advantage of all of its features, there's a learning curve. Podio is not always simple to navigate, and certain functions are harder to pick up without some kind of training.
At first glance, navigating the main dashboard seems like a breeze. Above the activity feed are navigation buttons for project activity, Epics (project tasks), User Stories, Assets, Ideas, "High-fives" (congratulations for quality work), and project procedures. Finally, the connections, calendar, and task list icons are at the top of the screen. It seems pretty simple.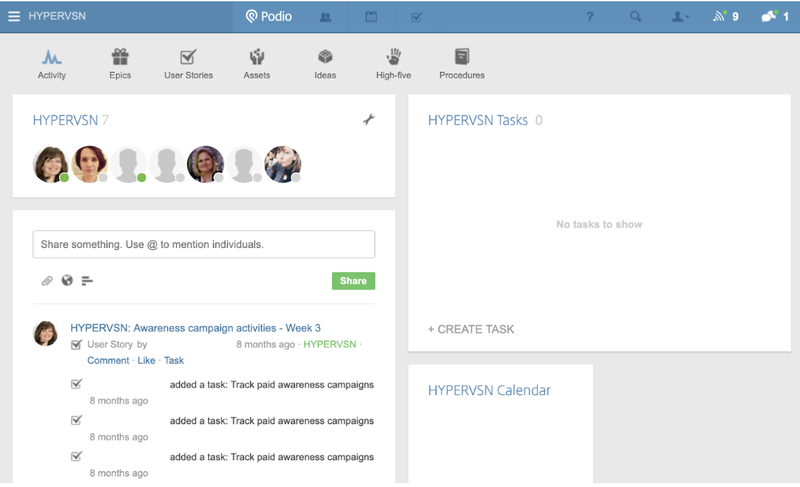 What about time tracking, project categories, or budgeting? Podio has these features, but where are they? They're all part of a custom application function, which is simultaneously Podio's greatest strength and biggest weakness.
Custom applications give Podio nearly limitless customization abilities. No matter your project needs, you can build it using Podio apps. These apps are created using a drag-and-drop interface, which seems easy enough. However, without proper organization and oversight, this customization has the potential to create overly complicated systems that either don't work well together or do not help guide you through the project management process at all.
Fortunately, Podio keeps it simple for task creation and tracking. Users can create tasks from anywhere in the software by hitting "T" on their keyboard. You don't have to worry about forgetting about a new task idea while you're working within another area of your project.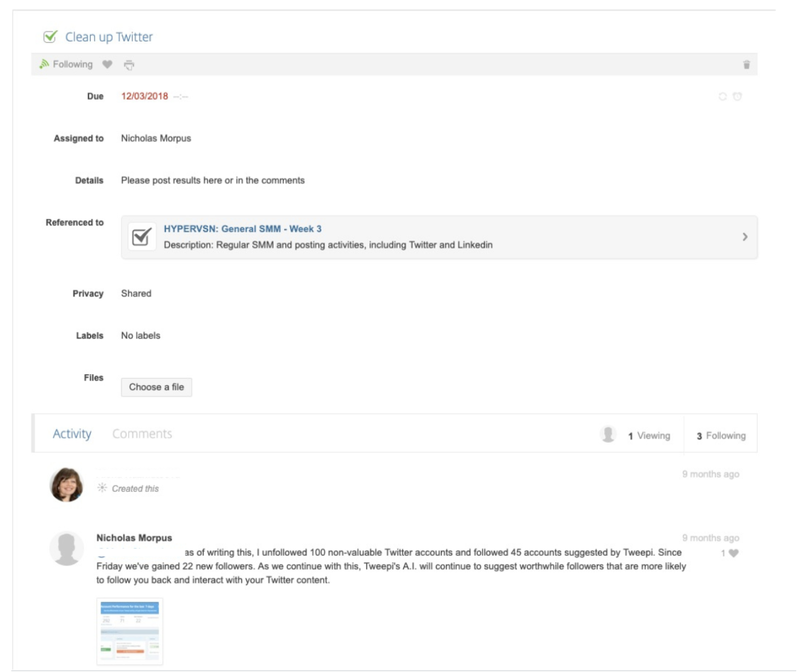 Once you create a task, you can assign it to someone on your team, add task details, schedule it under a user story, adjust privacy, add files, and communicate with the task assignee in the comment section.
If all you're looking for is a task manager, you won't have much difficulty learning to use Podio, but there are many other tools meant to help you manage tasks that are available for free. Podio is truly a blank slate with a world of possibilities, and using this tool as a simple task management and monitoring tool would be a big underutilization.
This tool is for an experienced professional team with unique requirements and plenty of project management software experience to boot. Finally, no matter your experience level, always keep the Podio customer service team close at hand in case you need help building a new function into your system.
---
Frequently Asked Questions for Podio
Is there a free version of Podio?
Yes. This is one of the better free project management tools out there, with full access to task management features and custom applications. The only real limitation Podio places on its free product is a 5-user limit, which isn't an issue for smaller teams.
You can upgrade the software for $9 a month for unlimited users and additional functionality. When it comes to saving money, Podio is definitely on the consumer's side.
What kinds of teams and projects work best with Podio?
While Podio offers lots of features and functionality for a very low price, it comes with a steeper-than-average learning curve once you venture outside of basic task lists. The software is somewhat difficult to navigate, and building custom applications to track reports or create other functions requires some training.
That's why I would recommend this software to experienced teams. This is not a beginner project management software, but if you have the experience and the time to learn everything there is to know, Podio is a very powerful tool.
What kinds of support does Podio offer?
Podio offers all kinds of support to its customers including tutorials, community forums, FAQs, startup guides, a support ticketing system, and most importantly, phone support so you can contact a live human at Podio when it really matters.

Podio is the perfect tool for the experienced project manager not looking to break the bank. Skimp on your budget, not on functionality, and give Podio a try today.
Podio is the perfect tool for the experienced project manager not looking to break the bank. Skimp on your budget, not on functionality, and give Podio a try today.
The Motley Fool has a Disclosure Policy. The Author and/or The Motley Fool may have an interest in companies mentioned.