Whether you're opening a new business or you want to swap out your legacy point-of-sale (POS) system for something more modern and cost-effective, you'll need to know what makes for the best POS system for your business.
Cloud-based systems have become the norm in the last few years due to their accessibility, reasonable price points, and reduced need for physical hardware or infrastructure.
We've put together this list of the nine best cloud POS systems to help guide you through your software choice. We'll cover the features and price points of all systems to help you decide which solution is right for your business.
Here are our top picks for the best cloud POS systems for small businesses:
---
What to consider when choosing a cloud POS system
Whether you're running a pop-up store, a restaurant, or stores in multiple locations, you'll need basic POS functionality — but what else? Each business has its own needs, and though POS features should be the most important aspect you consider, you'll also need to consider the platform's other attributes, too.
1. Feature set
This one's pretty simple: You need to work out what your core business needs are before you start evaluating POS systems. Make a list of must-have features, and when it comes to evaluating systems, be sure that they offer them.
Don't be tempted to forgo a certain feature just because the price is right. Similarly, if you only require basic POS features, don't be tempted into using a system with bells and whistles you don't need.
2. Pricing
There are a few free POS software solutions out there, but don't settle for a free tool that doesn't offer the functionality you need.
POS tools are priced according to a number of factors — some are free but charge transaction fees, some require that you use their POS hardware and charge per POS terminal, and others operate with monthly subscription rates.
The key is to figure out which pricing structure and tier you can afford, and which one suits your business best.
3. POS reporting functionality
For your business to thrive, your POS system needs reporting functionality. Reports are created from the POS data the system gathers and gives you a clear idea about your sales, profits, and inventory. This crucial information is what can help you make profit-popping adjustments to business strategies.
---
9 best cloud POS systems for small business
In this list of the nine best cloud point of sale platforms, we'll cover each solution feature set and pricing tier breakdowns.
---
1. Stripe Payments
Stripe Payments is primarily an online payments solution for online businesses, but it also supports those running physical stores. We recommend Stripe as a good option for merchants who operate both online and offline stores.
The solution is very developer-centric, and Stripe's free and straightforward API is the biggest lure for many users. Stripe has a very good reputation in the developer community for being an uncomplicated solution to work with.
Stripe Payments' features include:
Tools for accepting multiple online and in-store payment options
Fraud protection via Stripe Radar
Billing, invoicing, and subscription management
Reporting and analytics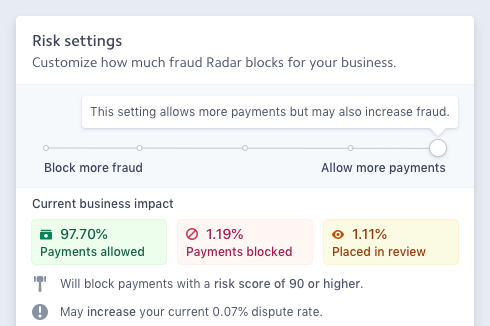 For online sales, Stripe's payment processing fees come in at 2.9% + $0.30 per online credit card transaction.
Stripe Terminal processes in-store and in-person payments, but users must purchase Stripe's card and chip readers. The fee for these transactions is 2.7% and $0.05 per transaction.
Read The Blueprint's full Stripe Payments review
---
2. Toast POS
Toast POS is an Android-based system designed for restaurants. The solution is suitable for businesses of all sizes and types, ranging from full-service restaurants to cafes, bakeries, bars, nightclubs, and others.
Toast POS must be purchased as an all-in-one package, which includes software, hardware, and a credit card processing contract.
It also offers an impressive number of add-ons, such as Toast Now for online ordering via mobile app or website, Toast Go for tableside ordering and payment via handheld device, and Toast Kiosk for customer ordering via self-service tablets.
Toast POS features include:
Front of house
Back of house
Back office. Toast POS inventory management allows you to track cost of goods sold and calculate the value of inventory on hand
Customer engagement
Toast POS pricing is complicated, but on the surface, costs are broken into four main categories:
Monthly software subscription ($75/month/terminal)
Payment transaction fees
POS hardware purchase and installation
Add-on features and integrations
Users must use Toast as a payment processor. We recommend you read our full Toast POS review for more detailed pricing information.
Read The Blueprint's full Toast POS review
---
3. Lightspeed POS
Lightspeed POS offers two POS systems: one for retailers (Lightspeed Retail), and one for restaurateurs (Lightspeed Restaurant).
With higher price points and a full feature set, Lightspeed Retail is suitable for mid size and larger businesses, while Lightspeed restaurant is suited to small and mid size, full-service restaurants, cafes, bars, etc.
Lightspeed Retail features include:
Inventory management
Multi-tender function
Purchase order management
Customer loyalty
Lightspeed Restaurant features include:
Menu management
Raw ingredient tracking
Floor plan management
Reporting and analytics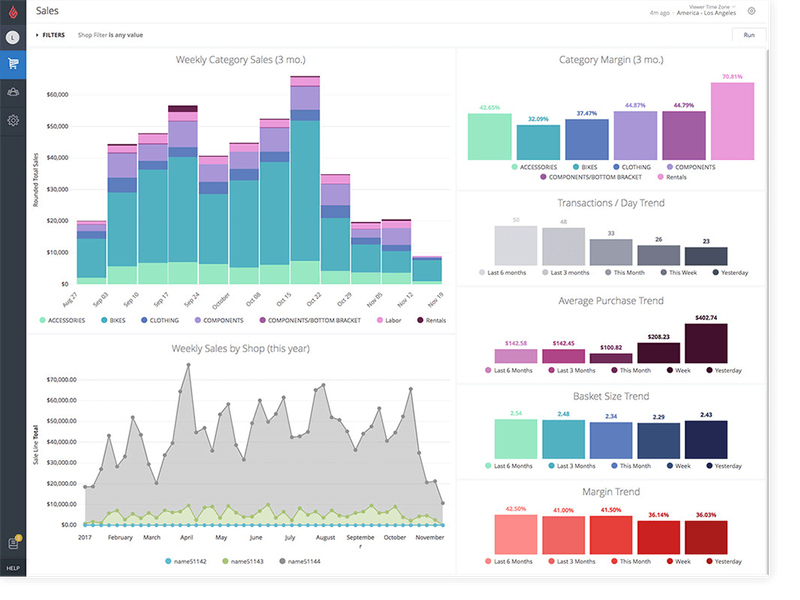 Lightspeed Retail pricing ranges from $69/month for the most basic features to $229/month for a pro account which includes e-commerce, accounting, and analytics features.
Lightspeed Restaurant costs $69/month for one POS register, and the vendor will provide custom quotes for multiple registers. If you want the full restaurant POS experience, add-on plans that provide customer facing display, kitchen display system and more are available for an additional $12 or $39/month.
Both Lightspeed Retail and Restaurant offer a 14-day free trial with no credit card information required.
Read The Blueprint's full Lightspeed POS review
---
4. ShopKeep
ShopKeep is a POS system designed for small to medium-size retail and food/beverage-based businesses. It's tailored for quick service businesses.
ShopKeep's features include:
Back office
Inventory management
Customer marketing
Employee management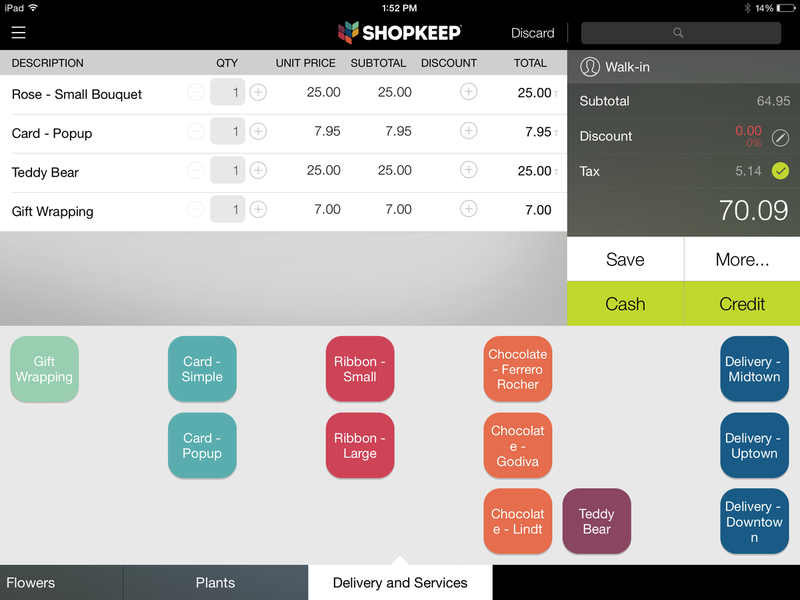 ShopKeep offers no-contract monthly subscriptions, but doesn't offer flat-rate pricing. To get a price quote, you can call or answer several questions online.
However, ShopKeep offers a free subscription plan to small businesses with a single location, single register, and single staff member, processing less than $5,000 per month.
Read The Blueprint's full ShopKeep review
---
5. Shopify Point of Sale
Most people know Shopify as an e-commerce platform, but its POS solution supports merchants' in-store sales operations. It's best for those looking for a platform that can support both online and in-store sales with seamless integration.
Shopify POS features include:
Inventory management
Customer management
Employee management
Sales analytics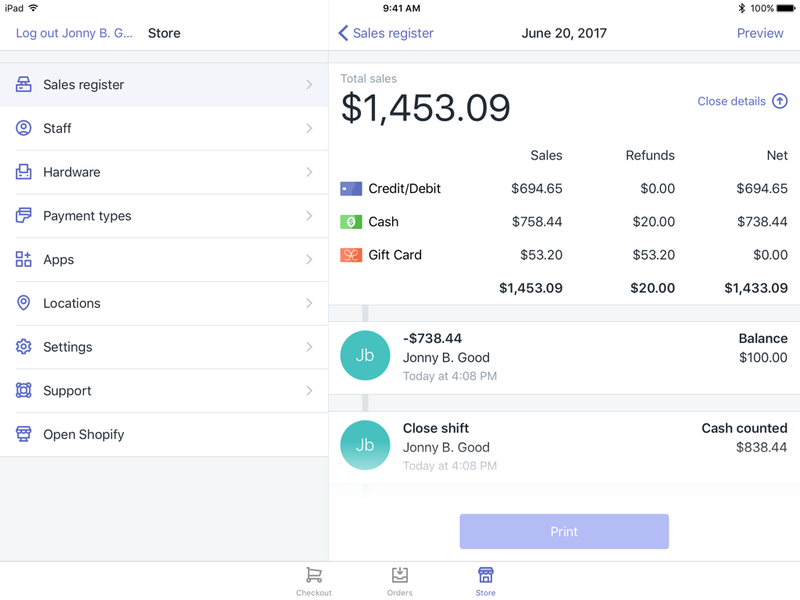 Shopify offers a number of pricing tiers, making it accessible to businesses of all sizes. Prices start at $9/month for its Lite plan, which supports both in-store and online payment processing. If you want true POS features. you'll need to choose a more expensive plan, ranging from $29/month to $299/month.
Read The Blueprint's full Shopify Point of Sale review
---
6. Square
Square is a free mobile POS app that requires no investment in hardware, making it a great option for businesses in their early days, and it also offers a rich feature set for mid size and larger businesses. Square also offers Square for Retail and Square for Restaurants solutions which come with specialized features.
Square's features include:
Customizable main dashboard
Sales analytics
Inventory management
Offline mode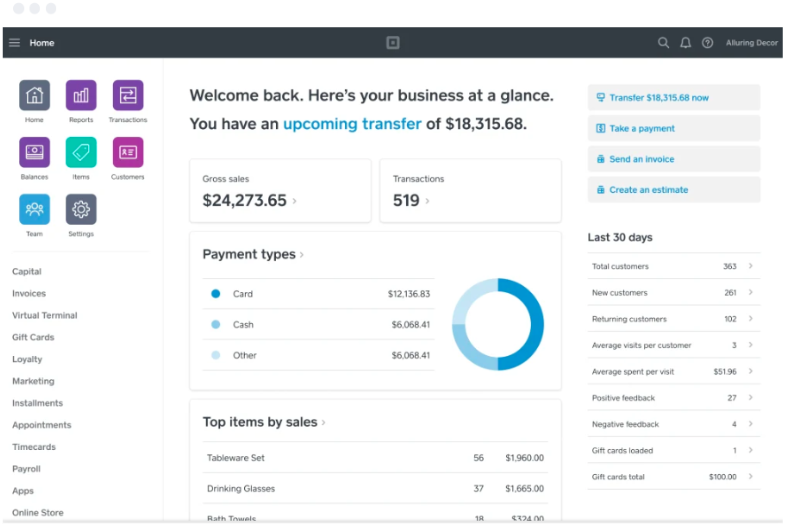 While Square's POS app is free, its payment processing fees cost a flat rate of 2.6% + $0.10 for each swipe, dip, or tap payment. Keyed transactions cost 3.5% + $0.15 per transaction, and online transactions cost 2.9% + $0.30 per transaction. Square provides all users with a free magstripe card reader.
Read The Blueprint's full Square review
---
7. PayPal Here
PayPal Here is a mobile payment solution that offers payment processing and basic POS features. It's a good solution for users who need to process payments from both in-store and off-site locations via a tablet or smartphone.
PayPal Here also offers card readers that process both magstripe and Europay, Mastercard and Visa (EMV) chip cards and mobile payments such as Apple Pay.
PayPal Here's features include:
Payment processing
Invoicing
Online payments
Inventory management
Customer management
Reporting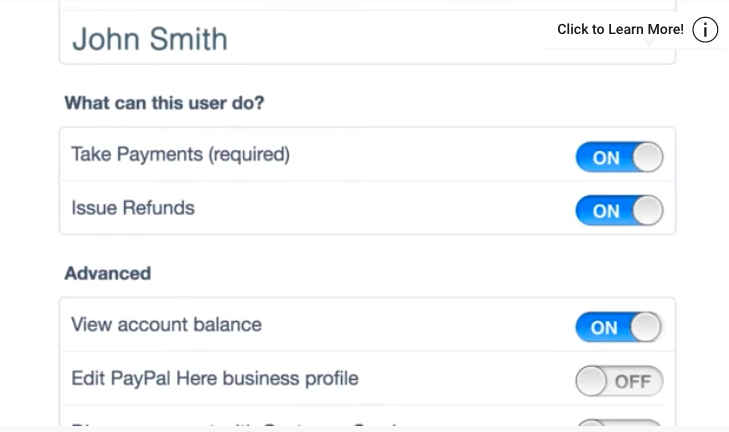 PayPal Here's payment processing charges: 2.7% per swiped or inserted card payment, 3.5% per keyed transaction, and 2.9% + $0.30 per online transaction.
Read The Blueprint's full PayPal Here review
---
8. Epos Now
Epos Now offers two distinct solutions for retail merchants and restaurant and hospitality businesses. Epos Now's software can be used on iPads, Android tablets, Macs, and desktop PCs. It's highly customizable and easy to use.
Epos Now's features include:
Inventory management
Reporting dashboards
Customer management
Employee management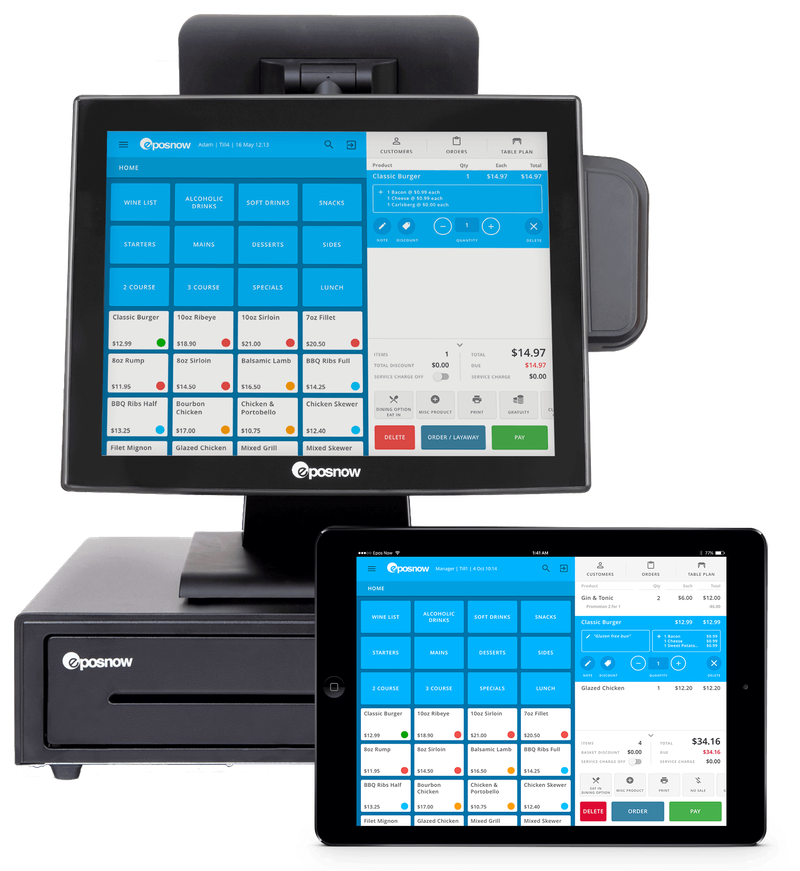 Retail and restaurant systems are priced the same and offer the same POS features. The basic option costs $39/month, and the premium offering is $69/month for the first POS terminal and account.
Additional terminals cost an extra $24/month/terminal on the basic plan and $45/month/terminal for the premium plan. Users who choose the premium plan can expect high levels of customer support. All Epos Now software plans offer a 30-day free trial.
Read The Blueprint's full Epos Now review
---
9. Clover POS
Clover POS is an Android-based POS solution. It serves the retail, service, and restaurant industries, but most of its users are in the food service industry.
Clover POS's features include:
Order management
Customer management
Sales reporting
Virtual terminal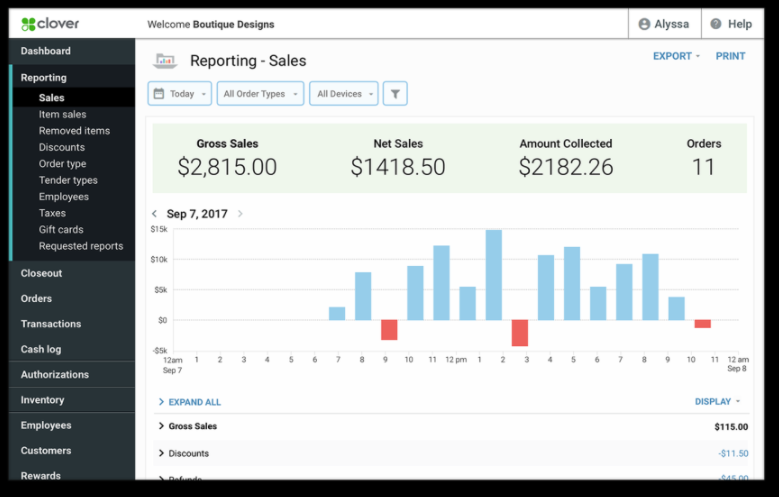 How much you pay for Clover POS depends on three factors:
Software
Payment processing fees
Hardware
Monthly subscriptions range from $14 to $70/month on top of payment processing fees, and users are required to use one of Clover's own POS hardware packages. Package prices start at $69 per card reader to $1,649 for one POS terminal.
We recommend you read our full Clover POS review for more detailed information on pricing.
Read The Blueprint's full Clover POS review
---
Final words on choosing a cloud POS system
Whether you're looking for a retail cloud POS system or a solution to help you run your restaurant or bar, the fact remains: You need to focus on the must-have features that will help you run your business smoothly and avoid spending a pretty penny on a system that has a ton of great features you don't need.
As always, we recommend you explore product demos and free trials to experience each tool's features before making a commitment.