You may not realize it, but your point of sale (POS) system has superpowers: Beyond processing credit card transactions, POS data informs business activities ranging from sales to marketing and more. Inventory management is another critical area where your retail POS system can improve efficiency and reduce costs.
Here are our top five picks for the best POS inventory management systems for small businesses:
---
What to consider when choosing a POS inventory management system
Online inventory management software that automatically updates stock levels with each POS hardware transaction saves time and increases inventory accuracy between manual counts.
All applications are not created equal, so factors to remember when choosing your POS inventory management system include features, reporting capabilities, and cost.
1. Features
Look closely at the inventory functionality each POS system offers, which can range from adding inventory items from your POS terminal to complex reports based on different inventory management formulas. Consider what you need now and for the future.
To identify the POS system with the inventory management features you want, you must choose your method(s) of tracking inventory. Common inventory management types include:
Periodic inventory counts: Update manually on a schedule.
Perpetual inventory counts: Update continually when inventory is received and sold.
Barcode systems: Manually update inventory using mobile barcode scanners to track stock.
Radio-frequency identification (RFID) systems: Automatically update inventory via RFID tags on individual items, boxes, or pallets.
None of these inventory management types is mutually exclusive; instead, use combinations depending on the current stage of your business's development.
2. Reporting
As you add sales locations, products, and transaction methods such as mobile payments, you'll require progressively more granular inventory data that's automatically generated to save time and increase accuracy.
Different inventory reports calculate:
Optimal stock levels
Safety stock levels
Inventory reorder points
Economic order quantity (EOQ)
Cost of goods sold (COGS) and inventory costing
The reports you require depend on the specifics of your business, but become familiar with your industry-related inventory formulas and benchmarks to ensure you're not operating in a vacuum.
3. Cost
Inventory management software is not a uniform set of features included with POS systems. Almost every POS plan offers basic inventory control, but advanced inventory management may require add-ons or integrations. This means you'll spend more on a monthly or annual basis for your POS application.
You may require inventory-related functionality not included with any off-the-shelf software. Research available third-party plug-ins and integrations that provide what you need, understanding these solutions will probably add to your costs.
---
5 best POS inventory management systems for small businesses
Choosing the best POS inventory system depends on your exact situation and needs: Do you have a single location or many? Brick-and-mortar sales, online, or both? How many products? How many suppliers?
While you might find standalone, free inventory software, you're better off with an integrated POS inventory system. Careful upfront research will help you find the best solution for your small business and avoid buyer's remorse.
---
1. Shopify POS
If you're a POS novice, Shopify POS is a good option with its easy setup process and in-person and online sales integration. The Blueprint rated it as having the best support thanks to 24/7 customer service and plentiful online self-help resources.
Shopify POS inventory features include:
Track and adjust stock levels
Import and export product information via CSV files
Accept supplier transfers
Move stock between multiple locations
Hide out-of-stock products
Shopify's inventory management is essentially a cash register with inventory control: Add products or create new customer accounts from the POS terminal sales interface.
For more in-depth reports, install the third-party Stocky plug-in, which also includes features such as demand forecasting for inventory purchase orders.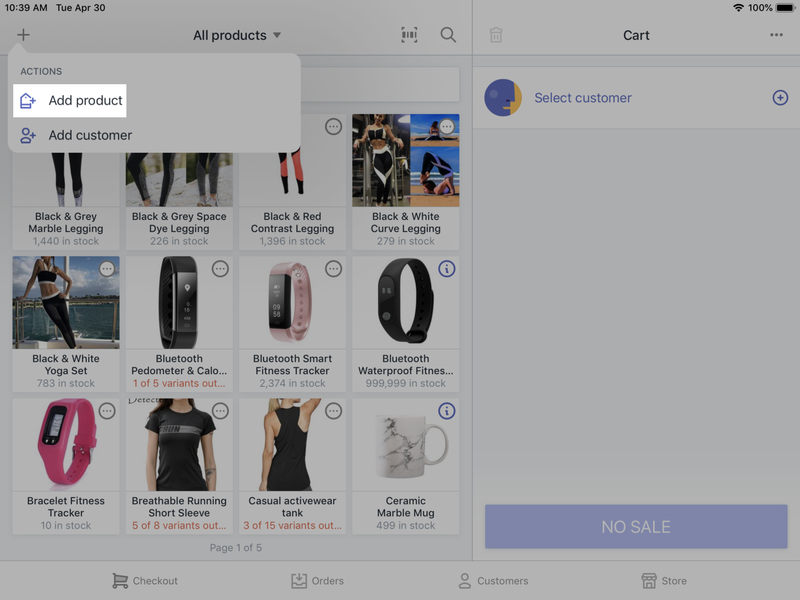 Shopify's two POS plans are bundled with Shopify's e-commerce software, so if you have — or plan on having — online sales, you can have a unified POS system. If you don't have e-commerce sales, consider another system for on-site, virtual terminal, and mobile point of sale (mPOS) transactions.
Shopify POS Lite comes as a free add-on to Shopify's three lower-level e-commerce plans: Basic Shopify ($29/month), Shopify ($79/month), and Advanced Shopify ($299/month).
Shopify POS Pro is $89/month, per location, with each of those three plans, and it's free with the top-tier e-commerce plan Shopify Plus (starting at $2,000/month). Each sale also incurs its own transaction fees, so account for those when breaking down your end-of-month costs.
Read The Blueprint's full Shopify POS review
---
2. Square POS
Square supports multiple business types and, thanks to its mPOS capability, is a viable option for sellers who don't have a brick-and-mortar location and work out of craft fair booths or food trucks. Square for Retail and Square for Restaurants offer more specialized features, depending on your specific needs.
Square's basic inventory control lets you manage individual inventory items, enable alerts, export inventory information, and view inventory history. Its upper tier plans have advanced inventory management features that include:
Inventory by category
COGS (cost of goods sold)
Sales by vendor
Projected profit
Stock transfers between locations
The advanced inventory report below provides a comprehensive overview of stock levels, inventory categories, and prices. If you need more functionality, Square integrates with inventory management software such as Shopventory, SKU IQ, and Stitch Labs.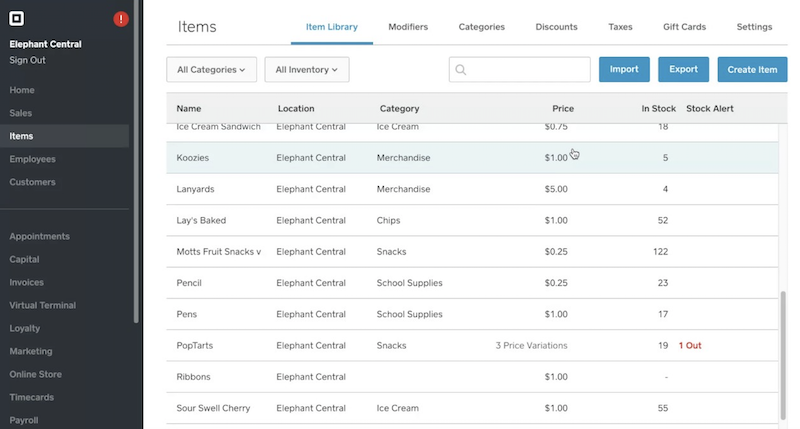 Square offers live telephone and chat support M-F from 6 a.m. to 6 p.m. PST, or email help requests, which have a two-day turnaround time. The Square Support Center has an in-depth knowledge base, guides, and video tutorials. You can also find help at the community forums.
The Blueprint rated Square as the best value largely because its lowest level plan is free except for transaction fees for individual credit card sales, and it includes basic inventory features.
Shopify's Plus ($60/month, per location) plan has advanced inventory management, and the Premium ($299/month, per location) plan adds payroll, account management, and marketing features.
Read The Blueprint's full Square POS review
---
3. ShopKeep
In 2008, Jason Richelson was a small business owner tired of problems with his PC-based POS system and created his own: ShopKeep.
True to its origin, ShopKeep makes doing business simple for small merchants and keeps them on top of sales management and sales processes for brick-and-mortar and online transactions.
ShopKeep inventory management tools and reports include:
Bulk SKU barcode importing
Inventory tracking
Reorder reporting
Sales trend reporting
Inventory value reporting
ShopKeep's sales by quantity sold and sales amount reports provide a thumbnail overview of your top-performing products. To drill down further, hover your cursor over a single entry in the report's bar graph to see the exact sale count and percentage value of total sales.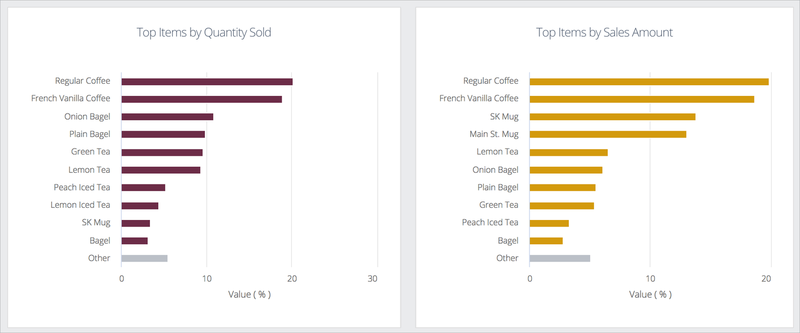 Shopkeep has 24/7 chat and email support. Self-service options include a detailed knowledge base, troubleshooting guides, and a FAQ.
ShopKeep has three plans: Basic ($69/month), Essential ($99/month), and Advanced ($199/month). The first two plans include a single register license, but the Advanced plan supports unlimited registers. Transaction fees are 2.5% plus $0.10 for each credit card sale.
Read The Blueprint's full ShopKeep review
---
4. Toast POS
Toast POS is designed specifically for the food-service industry, from cafes to fine dining to multi-location restaurant chains. Its specialized features support online ordering, front of house, back of house, and back office operations.
Toast POS inventory management features include:
Inventory value reports
COG and variance reports
Waste tracking
Menu engineering
Shelf layout mapping
A key restaurant industry metric is food cost percentage, which as a rule of thumb should be between 28% and 35%. Toast's food cost report below allows you to study menu profitability, assuming everything is correctly prepared and portioned.
This report automatically updates the food cost percentage when ingredient prices change on invoices.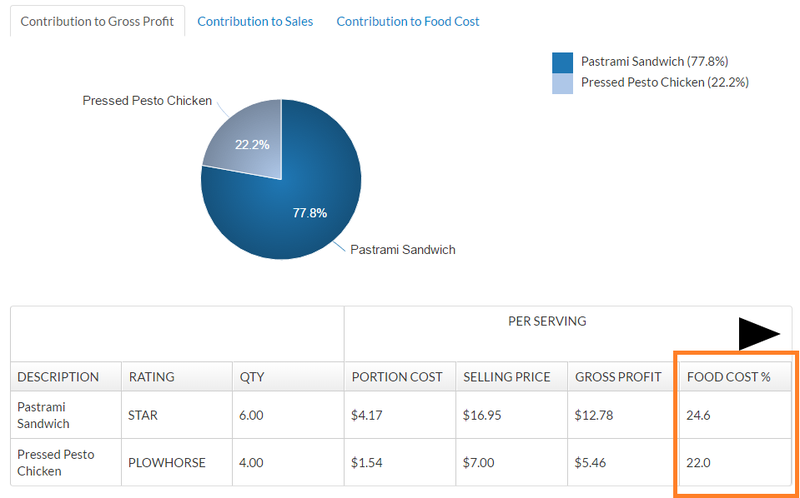 Toast pairs you with a customer support rep during onboarding and initial menu setup. More customer support is available via phone, chat, and email. Toast's online knowledge base covers topics including payments, reporting, labor management, and end-of-day processes.
The Blueprint rated Toast as having the best training, much of which you can obtain through Toast University, its online training portal.
Toast POS has three plans, whose costs include transaction fees, a monthly subscription, and its proprietary hardware. The Starter Kit ($999 plus $69/month) supports one location with two terminals.
For small and medium restaurants with up to 10 locations, the cost is $1,559 plus $75/month. The enterprise plan for restaurant chains is quote-based.
Read The Blueprint's full Toast POS review
---
5. Lightspeed POS
The Blueprint rated Lightspeed POS as having the best features, and it comes in two editions: retail and restaurant. Lightspeed Retail POS includes customer loyalty programs, purchase order management, and multi-tender functions.
Lightspeed Restaurant POS lets you create menus, track raw ingredients, and manage custom floor plans.
Lightspeed POS inventory management features include:
Create product variations using size, color, and materials
Identify each product with its own serial number
Bundle multiple items as a single sales package
Monitor stock levels across multiple locations
One advanced Lightspeed Retail POS inventory feature lets you import product information from third-party vendor catalogs instead of creating each entry manually. After selecting the relevant supplier catalogs, choose the products to add.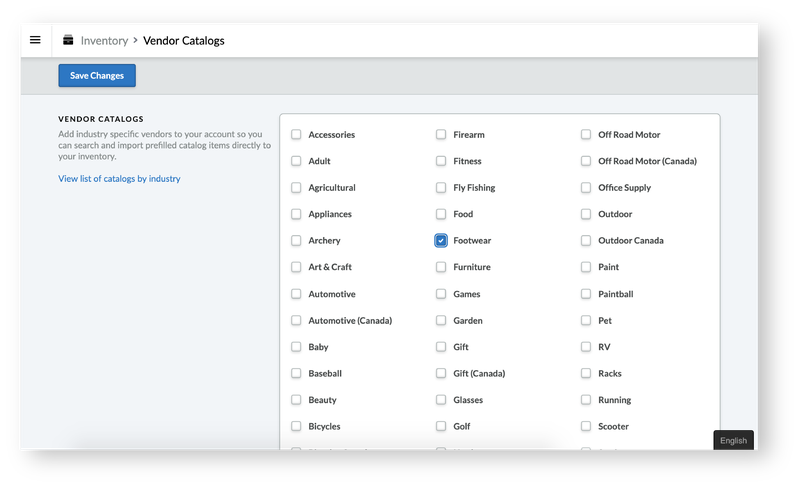 Lightspeed is more complex than other POS systems but provides 24/7 phone support,
live chat from 10 a.m. to 8 p.m. EST, and email responses with a one-day turnaround time. Self-service options include training videos, user guides, and community forums.
Lightspeed Retail POS offers five plans that range from $69/month to $229/month. Each supports a single register — each additional register is $29/month — and includes a free terminal.
A sixth enterprise plan is quote-based. Lightspeed Restaurant POS costs $69/month for one POS register. Pricing for multiple registers is available by quote. All sales incur individual transaction fees.
Read The Blueprint's full Lightspeed POS review
---
POS inventory management for the win
You can't afford unnecessary costs such as warehousing slow-moving products or losing sales due to out-of-stock items. Thankfully, you don't have to purchase a standalone inventory control and management system. Instead, leverage POS features to do this important job.