Project managers have a lot on their plates — managing stakeholder expectations, communicating with partners and suppliers, managing risks, ensuring the right resources are available at the right time, keeping a close eye on the project's budget and schedule, and many other things.
As such, it's easy to get overwhelmed and drop the ball at any point during the project.
In its 2018 Pulse of the Profession survey, the Project Management Institute (PMI) found that project management champions — organizations that employ proven project management practices — waste "21 times less money than [their] underperforming counterparts."
One such practice is using a project management framework — called the project life cycle — to divide a project into phases and then following a prescribed set of activities for each phase.
---
Overview: What is the project life cycle?
A project manager's technical expertise, people skills, and mastery of the project management basics are essential for completing a project according to plan.
Although preferred project management methodologies vary depending on the project or the company working on it, a successful project typically follows five major stages from beginning to end — also known as the different phases of the project management life cycle, namely:
Initiation
Planning
Execution
Monitoring and control
Closure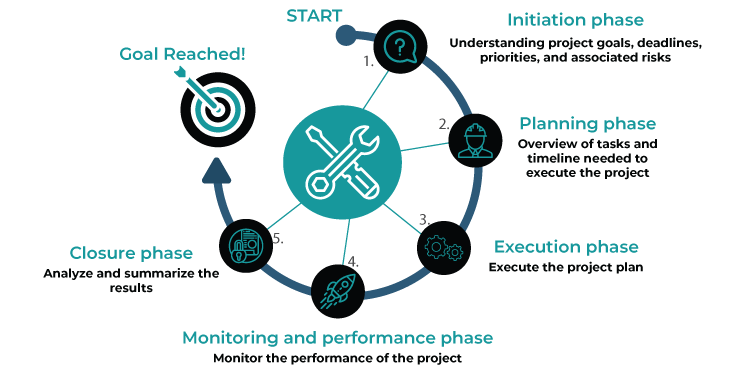 A phased approach to project management has noteworthy benefits, including being able to:
Clearly define the project's deliverables
Avoid costly implementation mistakes
Safeguard your project from both expected and unexpected risks
Better understand the amount of effort and resources required to deliver the project on time
Wield more control over your projects
Types of project management life cycles
All projects go through major stages, but there is no one way to accomplish a project. Projects typically use one of the project life cycle approaches (or methodologies) detailed below, depending on the project type, the industry in which you operate, or the environment surrounding the project.
Predictive (fully plan-driven or waterfall)
In this type of project management life cycle, the project's scope, time, and budget are determined early on, and plans are made around them.
Projects falling under this category include projects you've already done before or those requiring you to know what to expect during each phase, such as building a house or an aircraft.
Iterative/incremental
A project that is iterative starts with a product with basic functionalities, which is then refined in subsequent iterations, or development cycles, until the final product is complete.
The goal is to improve design quality and functionality. A project is incremental if designed, executed, and tested in increments — a little more is added every time — until all requirements have been satisfied.
Adaptive (agile or change-driven)
Used in projects where rapid and constant change is the norm, such as IT projects, the adaptive life cycle methodology requires project managers to adapt their approach based on customer feedback and changing project management timelines, scope, and assumptions.
---
5 phases of project management
Now let's discuss the five phases of project management in more detail.
Phase 1: Initiation
The project initiation phase establishes whether or not the project has a purpose that's in line with the company's direction and objectives. It's the stage in which you gather information for the initial project budget, the types of skills the project requires, and whether or not the company will benefit in terms of ROI.
Documents you may have to create during this phase may include:
Business case: A document that justifies the project's existence and outlines its benefits, including the profit potential.
Feasibility study: A study conducted to understand if your company should even do the project. It answers questions about funding, resources, timelines, how the project will be carried out, the risks, and so on.
Once the project is given the go-ahead, the next order of business is to create the project charter, which, when approved, formally authorizes the project manager to continue with project planning. The project charter typically contains the following information:
The name of the project manager spearheading the project and leading the project team
The project team and their individual responsibilities
The project's objectives
The project's scope
The project's deliverables, timeline, and budget
Phase 2: Planning
The project planning phase is one of the most important stages in a project's life. Here, you create detailed plans for the next phases of the project while keeping in mind the project's requirements and your organization's limits.
Activities in this phase include:
Gathering requirements to fully understand what the project entails and what stakeholders expect from the project.
Creating a project plan that outlines the actions necessary for the project to be a success.
Creating a final budget plan that details various project costs, including labor, material, and equipment expenses.
Identifying risks and how to mitigate their impact on the project.
Creating workflow documents, such as a PERT chart.
The project management plan may include subsidiary plans, such as:
Cost management plan: To establish how you'll keep the project within budget.
Scope management plan: To outline the work that needs to be done, including how it will be monitored and controlled.
Schedule management plan: To set milestones and deadlines, including how to keep the project on schedule.
Communication management plan: To document when and how to best communicate updates to stakeholders.
Resource management plan: To ensure the right resources are available when they're needed.
Risk management plan: To lay out steps you'll take to address both anticipated and unanticipated risks.
Other documents that may have to be created during this phase include:
Phase 3: Execution
The execution stage of a project is generally what people think of when they hear the phrase "project management." This is when plans you created in the previous phase are put into motion to build tangible deliverables.
Activities carried out in this stage of project management include:
Holding meetings to keep everyone on the same page, communicate relevant updates, and discuss bottlenecks, if any.
Assigning tasks to team members according to their skills and availability.
Procuring resources, so they're available exactly when and where they're needed.
Performing tasks to produce the required deliverables.
Testing deliverables against quality requirements.
Creating relevant project management reports so stakeholders know what's going on.
Managing risks and problems pertaining to schedule, scope, and budget.
Updating schedule and budget trackers.
Modifying the project's plans as necessary.
Phase 4: Monitoring and control
The monitoring and controlling phase usually occurs at the same time as execution and deals primarily with tracking and measuring the project's progress against relevant key performance indicators (KPIs).
The goal is to make sure the project is moving along as planned — particularly in terms of the project's scope, schedule, and budget — and to adjust as necessary if the project starts to veer off course.
Activities in this phase include:
Verifying and controlling the project's scope to prevent scope creep.
Employing techniques such as earned value management to measure the amount of work performed to date.
Measuring cost and time deviations, e.g., calculating schedule variance and cost variance, to adhere to timelines and stay within budget.
Creating project reports.
Conducting review meetings.
Phase 5: Closure
The final — and no less significant — phase of the project management life cycle is closure, which should occur whether the project is a success or not. Activities at this stage are all geared toward wrapping up the project:
Delivering the project's final deliverables to the customer.
Releasing resources to other projects.
Terminating contracts, if you employed contractors on the project.
Finalizing project documentation and updating relevant organizational assets.
Evaluating team performance.
Conducting a post-mortem analysis of the project to highlight its strengths and weaknesses, what went right, what went wrong, and what could have been done better — so the lessons learned can be applied to future projects.
Disbanding the project team.
---
Accomplishing every project successfully from one phase to the next
Project management can easily become overwhelming, especially with bigger, more complex projects. With the five phases of project management, you have a proven roadmap for how to tackle your projects more effectively from beginning to end.
To help you simplify project management even more (keep documents and communication in one place, create automated alerts and notifications, build visual tools for project monitoring, etc.), check out some of the best project management software tools The Blueprint has reviewed so far.
They're packed with features suited for various project management needs.