Redtail CRM is one of several products offered by Redtail Technology. It's a web-based platform aimed directly at finance industry professionals, and it appears to be ideally suited for small sales operations, whether that be direct to consumer or B2B sales (business to business).
The software features Redtail Imaging, which is the software's document management tool that helps you keep track of all images and create audit trails of all interactions between the user and the system.
And its Redtail email feature can help users retrieve and report on email correspondence. The simple dashboard keeps all vital information like contacts and calendar handy as you're making a sales pitch.
---
Who is Redtail CRM for?
Redtail CRM is geared toward financial professionals who are often on the go and need to access their CRM software wherever they are, hence its web-based functionality.
It is also meant for those who want a relatively straightforward dashboard that allows them to easily see the basic information they need, such as a contact list, calendar, and workflows, for example.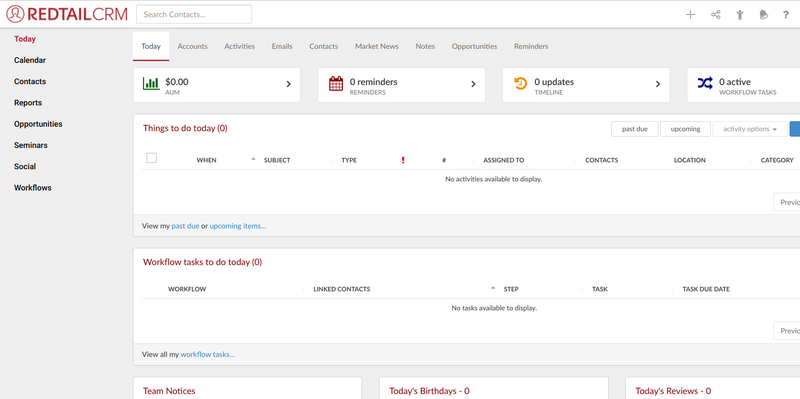 ---
Redtail CRM's features
There's a lot going on in Redtail CRM, but here are a few key features that represent its core abilities.
Simple dashboard
Redtail CRM has a simple dashboard, which is definitely one of its most important features.
As soon as you log in, you see the Today tab, which shows everything you need to know at this moment, such as upcoming appointments, workflow tasks to do, team notices, and even client birthdays.
This is a godsend for any salesperson who has been frustrated at wanting to quickly pull up some information about a customer and had to click through several screens to get there.
Calendar
The calendar is a vital part of this software, as it should be for any CRM, and the view can be changed from daily to weekly to monthly. A calendar entry includes the contact name, the subject, the importance, and other details.
You'll find that you spend a lot of time here mapping out your week and staying on track.
Contacts
The contacts list is sortable by name, status, category, source, and type, however you want to set those. You can also do an advanced search if you want to dial down to a specific contact.
There's a lot of info you can pack into these contact cards, from your client's spouse's nickname to birthdays, making this the ideal headquarters when it's time to do lead management and prospecting.
Reports
The software offers a host of reports, important to salespeople looking to improve their efficiency and effectiveness. There are activity reports, document reports, email reports, fiduciary reports, workflow reports, and many others.
I found the activity reports to be particularly interesting, as they show where a salesperson is spending their time which could help identify areas for improvement in terms of time management. That's huge for anyone in sales.
Mobile app
Because this software is cloud-based, you'd expect a lot of emphasis on the mobile app. While there is a mobile app, it's a bit lighter in terms of features than I expected.
You can see the "Today" snapshot to get you up to speed, and you have access to the calendar, contacts, and opportunities, but that's about it — there doesn't appear to be any way to access other things like reports and workflows. So you'll need to do most of your work on a computer and just use the app to check in.
Workflow processes
Workflow processes allow you to create a funnel for a contact and provide a quick snapshot on what step you are on and when that step is due, with a target date and an estimated completion date.
This ensures you are moving the client toward the end goal on schedule. It's a feature I found super helpful for staying organized.
Other features
There are a number of other features in this software.
It does the little things you need as a salesperson, like a red alert that pops up at the bottom of the page letting you know an appointment is coming up 30 minutes from now.
Additionally, it tracks and archives client email communications in a way that meets Securities and Exchange Commission (SEC) compliance standards — very helpful.
Customization options are somewhat limited, but there are workarounds.

---
Redtail CRM's ease of use
The software is very user-friendly for the most part, but you'll still face a learning curve to get the most you can out of all the features. It's not totally intuitive, but they have pretty good support and lots of information on their website to help you with any issues with navigation or using features.
There's also Redtail University, which travels the country and offers in-depth support to those willing to pay the $425 per person to attend each event. That, of course, is a significant extra cost on top of the software to consider.
---
Redtail CRM's pricing
Redtail CRM's pricing is straightforward, costing $99 per month unless you are affiliated with a broker dealer. That price includes up to 15 users.
If you need more than 15 users, you would need to sign up for another CRM subscription, which allows an additional 15 users.
For that price, you get all of the features of Redtail CRM, including unlimited leads and contacts, broadcast emails, the mobile app, custom exporting, and document management.
You can also try it for 30 days for free.
---
Working with Redtail CRM support
Redtail CRM does a pretty good job with support. They have an 800-number featured prominently at the top of their site, as well as their direct support email address. A phone call to that number got a real person on the line with minimal hold time, and the individual was very helpful in answering my question.
If you're looking for answers online, you can turn to the Redtail Helpdesk, which offers a wealth of information on how to use their software and answers to some questions you may have.
Additionally, there is the aforementioned Redtail University, although again that comes with a fairly hefty price tag and requires travel. They also offer recorded and live webinars that answer questions like how to sync data with the platform, or how to track loyal clients.
They also have a contact form on their Helpdesk page if you need more assistance, and if you don't get a reply quickly enough, the 800 number is always available. You can also try the direct email address also listed next to that number.
One nice extra feature on their site is their "current status," which is provided right next to the phone number and email address at the top of the page. This tells you if there are any known system issues, outages, or ongoing maintenance to be aware of.
---
Benefits of Redtail CRM
This is a great software option if you just want a simple dashboard that allows easy access to your contacts, calendar, documents, and other basics you need when you're selling. Everything is at your fingertips, which is important for any salesperson.
It also offers reporting and email retention features that are vital to improving your efficiency, and you can add a lot of details to each contact so you have every important bit of information at hand when you are ready to pick up the phone to call that contact.
---
Redtail CRM is a great straightforward option, with some limitations
As mentioned above, this is very user-friendly software with a bit of a learning curve, but once you get the hang of it, it makes your sales process a lot easier to manage.
If you're looking for a really robust software with a lot of detailed and nuanced features, this might not be for you, but for most salespeople it fits the bill.
There is certainly room for improvement, especially when it comes to the mobile app. But, for the price, this software option has solid value.
---
Frequently Asked Questions
What are Redtail CRM's top benefits?
The key selling point for Redtail CRM appears to be its straightforwardness and ease of use. You need to get used to the software, but once you have the hang of it, everything is nicely and neatly ordered on a relatively clear dashboard, providing all the necessary information at your fingertips.
What are Redtail CRM's drawbacks?
Because Redtail CRM aims for ease of use, it may not be as robust a platform as some need, so if you're looking for really advanced CRM features you may need to look elsewhere. Also, its mobile app needs improvement.
Is Redtail CRM worth the money?
At $99 per month for 15 users, it has a very competitive price point for the features it offers. There is also a free 30-day trial, so you can try it before you buy it.
If you're looking to manage your sales process with a straightforward, user-friendly software, try out Redtail CRM.
If you're looking to manage your sales process with a straightforward, user-friendly software, try out Redtail CRM.
The Motley Fool has a Disclosure Policy. The Author and/or The Motley Fool may have an interest in companies mentioned.