In its previous life, Rydoo was known as Xpenditure. It then combined with two other expense management applications, iAlbatros and Sodexo, creating Rydoo.
Building off the capabilities of these systems, Rydoo offers features that businesses are looking for in expense management software. It provides receipt scanning, a mobile app, expense policy management, and the ability to submit an expense immediately for reimbursement, eliminating the need for expense reports. Multiple approvers can be set up in Rydoo, and both mileage and per diems are supported.
But Rydoo offers something many of its competitors don't: a platform built with the global user in mind, making it an excellent choice for companies with an overseas presence or frequent international travel.
If you routinely conduct business internationally, it might be time to learn more about Rydoo.
---
Who is Rydoo for?
Rydoo is an easy-to-use expense management application suitable for small to midsize businesses. It stands out for its inclusion of both multilingual and multicurrency capabilities, making it an excellent fit for companies that conduct business overseas. Rydoo also offers optional travel expense management, but the application isn't available in all markets yet, so check if it's available in your region.
Rydoo is a good fit for small businesses, although freelancers and sole proprietors may need to look elsewhere because Rydoo has a 5-user minimum for even their most inexpensive plan.
---
Rydoo's features
Rydoo includes a good selection of expense management features including good rules and policy management, the ability to snap a photo of a receipt and upload it directly to Rydoo, and real-time expense management capability. You can add an expense and submit it for reimbursement immediately.
Spending controls can be set up and maintained in Rydoo, to ensure your employees don't exceed set spending limits. You can track mileage using Rydoo and Google Maps, with an option to enter mileage for reimbursement based on set mileage rates. Rydoo offers a mobile app for both iOS and Android smartphones, but the mobile app stack doesn't offer all the features available on the web application.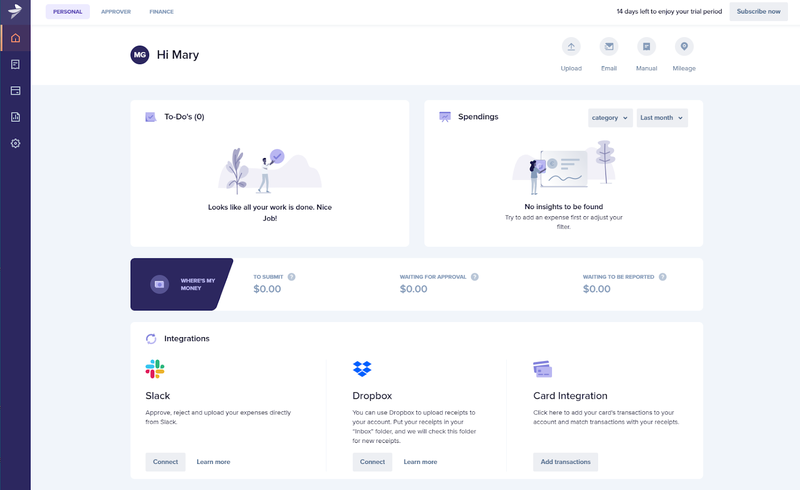 Per diems can also be activated in Rydoo, and you can set them by trip or employee. Potential users should know even though the Starter plan supports up to 50 users, many of Rydoo's features such as per diems, policy management, and bank feeds are only available in the Growth and Enterprise plans.
Excellent integration
Integration options are critical for any software application, particularly expense management. The last thing you want is to have to reenter all your business expenses into your accounting software application.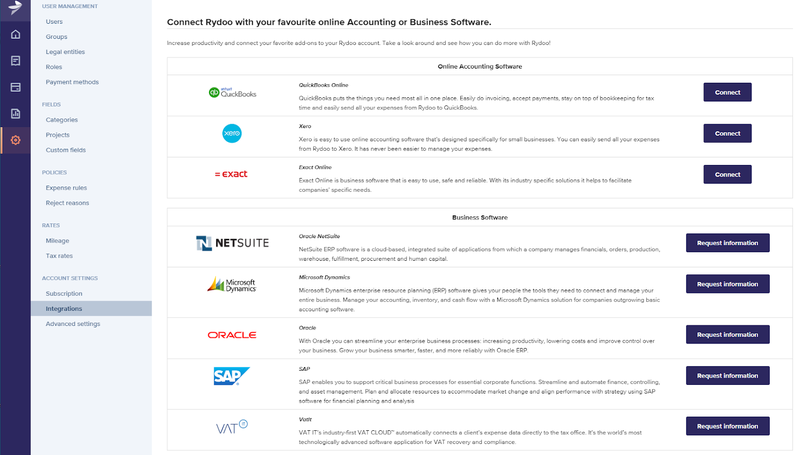 No need to worry about integration when you use Rydoo. The product includes seamless integration with QuickBooks Online, Xero, and Exact Online, as well as Slack, Dropbox, and both Uber and Lyft. Rydoo also integrates with ERP systems such as NetSuite, Microsoft Dynamics, Oracle, SAP, and VAT Cloud, with easy connectivity options available in the application.
Real-time expense reporting
Many expense management applications have clung to the expense report creation process, not Rydoo. Instead of waiting to add expense items to an expense report, each business expense can be immediately submitted for approval, eliminating the need to create an expense report altogether.
This means your employees will get their expenses processed and submitted for approval quickly. You'll have a better idea of what they've spent, and they'll be happy getting their money back into their pocket a lot faster.
Expense policy rules
Rydoo recently rebuilt their expense rules feature from the ground up, adding advanced rules that make it easier to define each rule and which group of employees it applies to.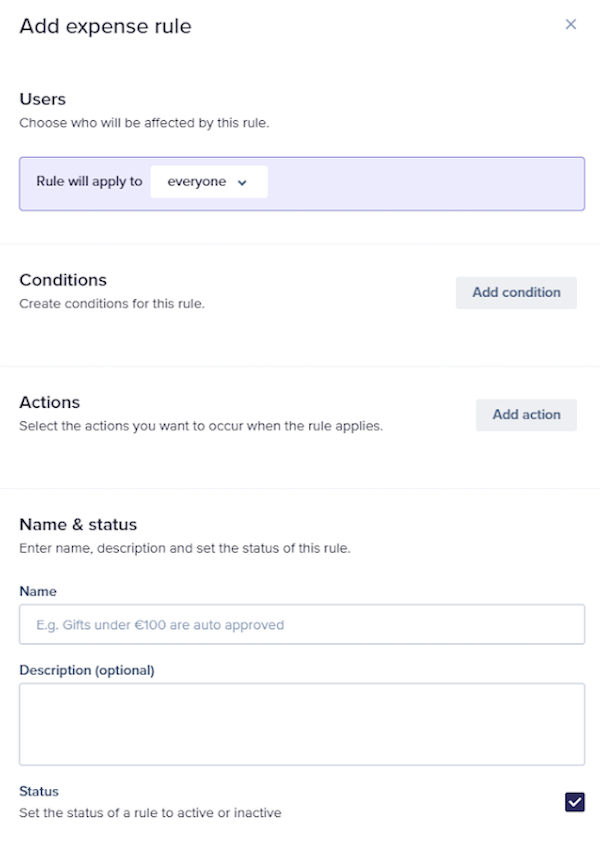 The warning feature has been updated, which gives your employees the option to address the violation before submitting their expenses. Creating a new rule now involves four easy steps:
Users: Choose which users the expense will apply to
Condition: Specify the condition where the rule applies
Actions: Set a warning when a rule has been violated, which will appear when the violating expense is submitted
Name and status: Name your newly created rule, along with a brief description
Receipts and expenses
Rydoo offers many ways to manage receipts. The easiest is to snap a photo of a receipt using the mobile app that's available for both iOS and Android. Rydoo offers optical character recognition (OCR), though you'll still have to fill out some expense fields once the image has been scanned.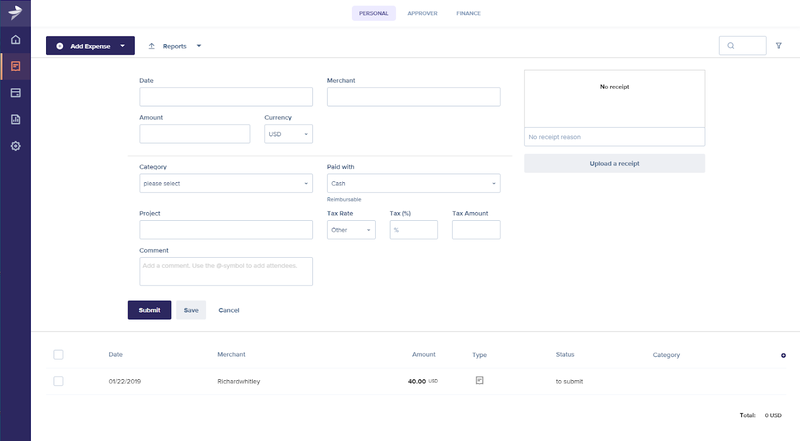 You can preview the expense and submit it directly to the assigned approver or save it for later submission. Other ways to manage receipts in Rydoo include dragging and dropping receipt images into the application, emailing a copy of a receipt, or uploading a receipt. All receipts go through the same scanning process and will be available for access or submission once they've been scanned.
You can also enter expenses directly into Rydoo from the Add Expense screen. Manual expenses, like receipts, will all be displayed, showing their status.
---
Rydoo's ease of use
The first thing you notice about Rydoo is its simple dashboard interface. It's not crammed with options. Instead, a simple vertical menu bar on the left side of the screen contains icons providing quick access to expenses, transactions, reports, and admin.
Other tabs let you choose Personal, Approver, or Finance access. Personal access is where you'll enter and manage your expenses. The Approver option lets you view reports waiting for approval, while the Finance screen offers a breakdown of expenses by category.
Adding and uploading expenses in Rydoo is easy, with an option to upload a receipt or add an expense manually. You can also add mileage expenses from the dashboard.
You set up Rydoo through the admin feature, where you can add groups and branches if your business has multiple locations, assign roles to your employees, and create payment methods. You can also add frequently-used expense categories, set up policies and rules, and add both mileage and tax rates.
Rydoo offers easy integration setup, with an advanced settings option where you can choose from a list of additional expenses, app, and user settings. If you do get stuck, you can easily access the Help Center, where you'll find many resources to guide you through the setup process.
---
Rydoo's pricing
Rydoo offers three competitively priced plans. The Starter plan is designed for up to 50 active users and is billed $7/month, per user, when billed annually. The biggest drawback to the starter plan is that a minimum of five active users is required, putting this product out of reach for very small businesses, freelancers, and sole proprietors.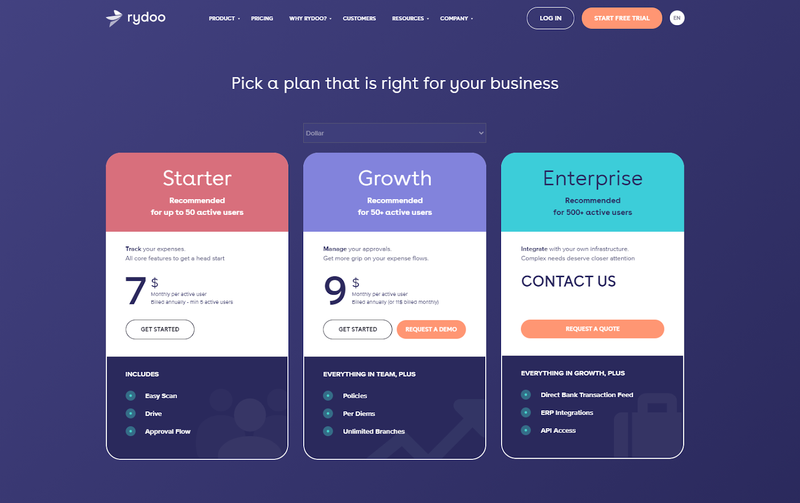 The Growth plan is recommended for companies with more than 50 active users. It comes in at $9/month, per user, billed annually. It's also available monthly at $11/user. Rydoo offers an Enterprise level plan for more than 500 active users, with pricing upon request.
---
Rydoo's support
Rydoo offers four paid support success packs to help with the implementation process, including Basic, Standard, Pro, and Custom. Each offers a combination of onboarding and support options.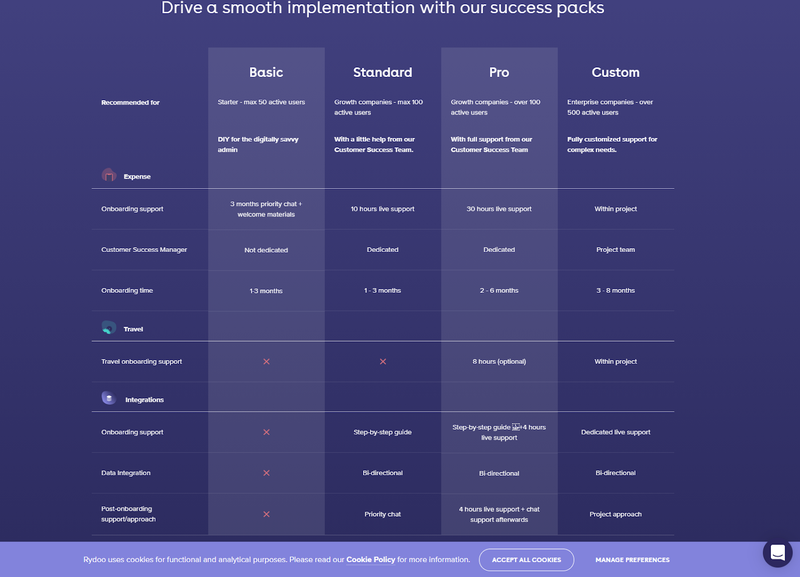 All Rydoo plans include both email and chat support, but telephone support is available to Enterprise plan users only. In keeping with their global presence, Rydoo offers support in over nine languages.
---
Benefits of Rydoo
If you or your employees frequently travel overseas, or your business has an international branch, Rydoo is an excellent choice, with its multilingual and multicurrency capabilities, and the ability to reimburse employees in their currency. For example, if you have a branch in Germany, you have the option to reimburse that employee in Euros, even though your home currency is the U.S. Dollar.
Other benefits include fast, straightforward onboarding, with the option to use Rydoo's paid onboarding services for more complex situations. Finally, using Rydoo, expense reports quickly become a thing of the past, as expenses can be submitted immediately for easy reimbursement.
---
Is Rydoo right for your business?
You'll find many expense management applications on the market, many offering the same features and functions. That's why it helps to look for the little things when trying to determine if a specific product is right for you.
Like its competitors, Rydoo includes receipt scanning, mileage tracking, and good expense policy management. But it also includes multilingual and multicurrency capabilities that surpass much of the competition, along with the ability to easily customize the program to suit your own particular needs. If your business has at least five active users, Rydoo may be the right choice for your business.
---
Frequently Asked Questions for Rydoo
Does Rydoo have a mobile app?
Rydoo's mobile app is available for both iOS and Android devices which can be downloaded from each device's respective app store at no cost. The Rydoo app lets you snap photos of your receipts, submit expenses for approval, and create mileage expenses, but does not offer all the features found on the web version of the application.
Is Rydoo a good option for freelancers?
Freelancers would be better served looking at other applications, since the Starter plan, Rydoo's entry-level plan, requires at least 5 users.
Does Rydoo offer multicurrency capability?
Rydoo offers true multicurrency capability, with the home office able to use one currency while reimbursing international employees using their native currency.

If you conduct business internationally, Rydoo might be the expense management application you're looking for. Download their 14-day trial today.
If you conduct business internationally, Rydoo might be the expense management application you're looking for. Download their 14-day trial today.
The Motley Fool has a Disclosure Policy. The Author and/or The Motley Fool may have an interest in companies mentioned.