Managing a field service team is not easy. There are a ton of moving parts and things can quickly go awry. You have customers to please, technicians to monitor, and dispatchers to keep everyone on schedule, not to mention all the administrative tasks that come from running such a business.
The developers at ServiceTitan understand that, and have created a feature-rich software platform that aims to help large and growing operations with their field service management needs. They accomplish this with software that is easy for all parties involved to use and can automate tasks to simplify your operation.
Overall, we found that ServiceTitan is an excellent field service management software that earns high marks for its ease of use and powerful features. While it may be better suited to larger operations, any company looking to get to the next level can benefit from ServiceTitan.
---
Who is ServiceTitan for?
ServiceTitan software is aimed at companies who provide services such as HVAC and plumbing and want a cloud-based platform that can help them handle all aspects of field service management, from scheduling to invoicing to sales.
This software has a particularly strong sales component, which allows technicians in the field to make presentations to customers and close on the spot. It also functions well for dispatchers who have to handle a lot of calls and need more detailed information on customers right away, rather than having to pull it out during the phone call.
---
ServiceTitan's features
ServiceTitan doesn't lack for features. It has a lot of powerful tools that you can use to take your business to the next level when it comes to efficiency. Here are four of ServiceTitan's most important features.
Scheduling and dispatch
The software helps you schedule future jobs, and you can view these jobs months in advance so you can see where you have committed technicians. And it will help you ensure you're not overloading one technician while not giving enough work to another.
When the scheduled job arrives, the software handles dispatching. It also provides flexibility and makes it easy to drag and drop assignments so you can quickly adapt to unforeseen problems, such as traffic delays or sudden cancellations.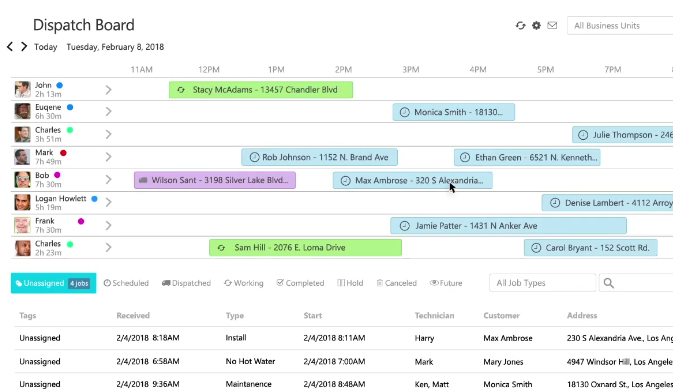 Call booking
When phone calls come into your business, the software will automatically populate with the customer's information so you can see who it is before you pick up. It makes it a lot easier to make appointments, as well as provide that personal touch that customers will appreciate.
The software also ensures that whoever is taking the call can see what fields need to be filled in, and drop-down menus prevent the need for a lot of manual typing that can drag out appointment scheduling.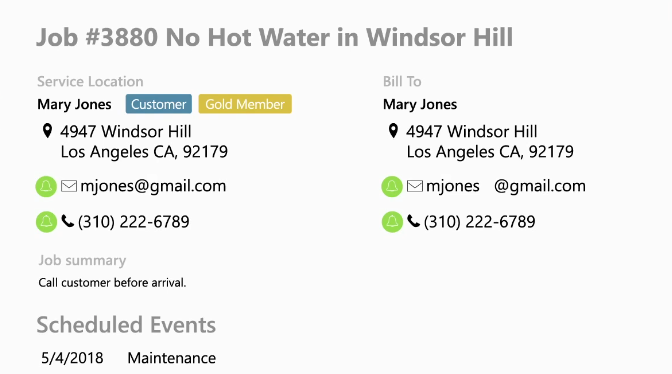 Marketing
Field service is not all about sending technicians into the field or handling invoices. You also need to do sales and marketing, and ServiceTitan offers a feature called Marketing Scorecard so you can create new marketing campaigns easily and then monitor and adjust them depending on how they're doing.
The software breaks down just how much revenue is being generated by ads so you can determine return on investment of a particular marketing effort, allowing you to tweak to improve efficiency.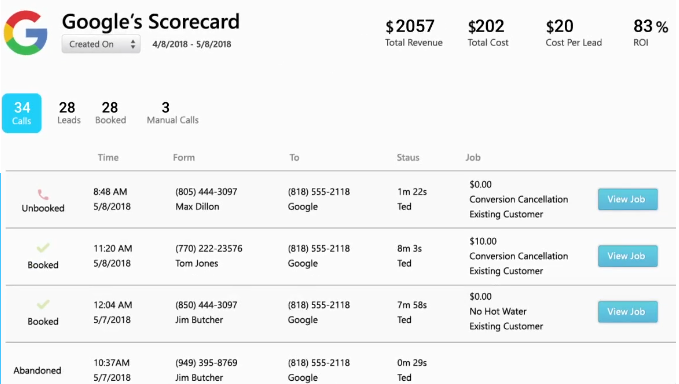 Field reporting
The software has robust reporting tools that create highly visual breakdowns of what is happening with individual technicians or with your business as a whole, depending on what level of detail you want to get into.
The reports are customizable, allowing you to choose which metrics to show. That's important, because different metrics matter more than others to different businesses, and you don't want a one-size-fits-all solution here.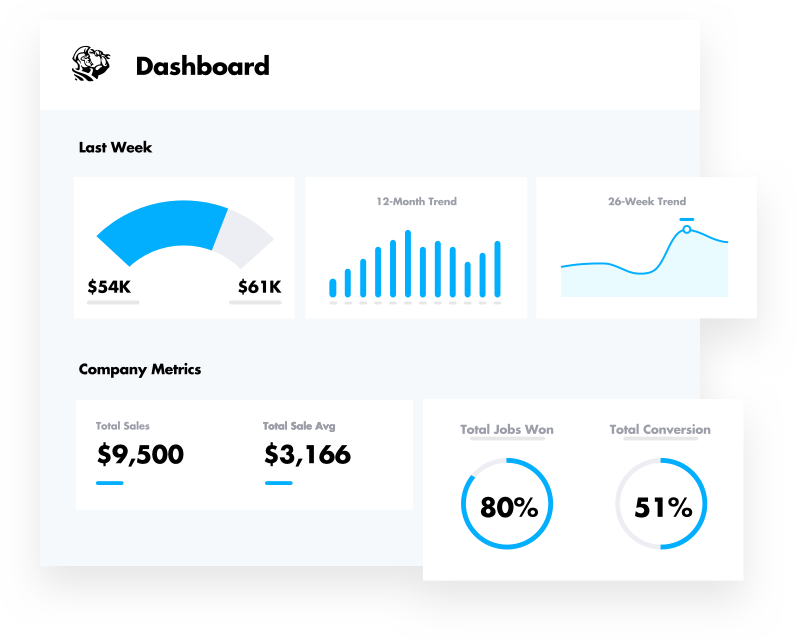 ---
ServiceTitan's ease of use
ServiceTitan scores solid marks on ease of use thanks to an easy-to-understand interface and features that simplify things.
The software makes the entire process straightforward for your dispatchers. A green bubble pops up when a customer calls that shows their name and phone number, and when the dispatcher clicks on that bubble, it automatically brings up all customer information, including notes from a previous service call, estimates, and billing details.
The interface makes navigation a breeze. The ServiceTitan status page gives a good overview of what's going on, and the icons are lined up at the top of the screen to help users move effortlessly to dispatch, scheduling, customers, or other parts of the software with just one click.
It also makes things easy on the customer, because they can track the technician directly from their phone. And the mobile version of the app helps technicians in the field have access to important customer information like estimates and notes on previous service calls.
---
ServiceTitan's pricing
ServiceTitan cost per user is tough to determine because the developer doesn't publicize their pricing on their website, which is generally a sign that their product is on the expensive side. You can't even get a demo without filling out a form and having a salesperson contact you first.
And the company currently declines to even make the product available if you don't meet minimum staffing requirements.
"Right now, we know that ServiceTitan doesn't work well for businesses that have fewer than two full-time technicians and one full-time office staff," the company said in an auto-generated email when we signed up with less than that.
"We're not satisfied with this result and are working diligently to optimize our product for as many service companies as we can."

As a result, this product may be better suited for larger enterprises that can afford the price and need all of the robust features that ServiceTitan offers.
---
ServiceTitan's support
ServiceTitan customer service offers a phone number to call, and after navigating a short menu, we got placed on a brief hold that only lasted a couple of minutes.
Other than that, there aren't many other ways to contact the company directly. There's no email or support form to fill out, although you can fill out a form for a demo and they will reach out to you via both email and phone.
However, the existence of phone support at all, frequently not provided by other developers — at least not for free — plus the short wait time to reach someone definitely makes their support above average, at least in terms of reachability.
---
Benefits of ServiceTitan
The software has booking and dispatch notifications that show a customer when to expect their technician to arrive, and incoming call information automatically pre-populates customer info for dispatchers, making them more efficient and allowing them to know what customers need before they even say it.
It has good dashboard and reporting functions so you can see where technicians are going to be in the coming weeks, and it keeps track of what has been accomplished on each job. You can also sort customers and jobs, making them easy to organize.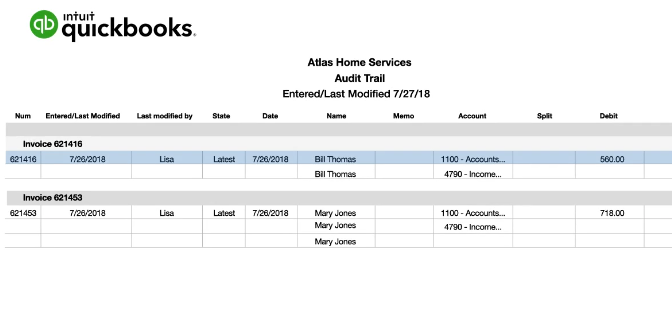 It has solid invoicing and timesheet tools, with lots of other features to help a growing business get to the next level.
There are some drawbacks, such as a lack of customization options when it comes to timesheets, and there may be too many features if you're just a small business. It's also a bit on the pricey side, so if you don't need all the extra features it may not be right for you.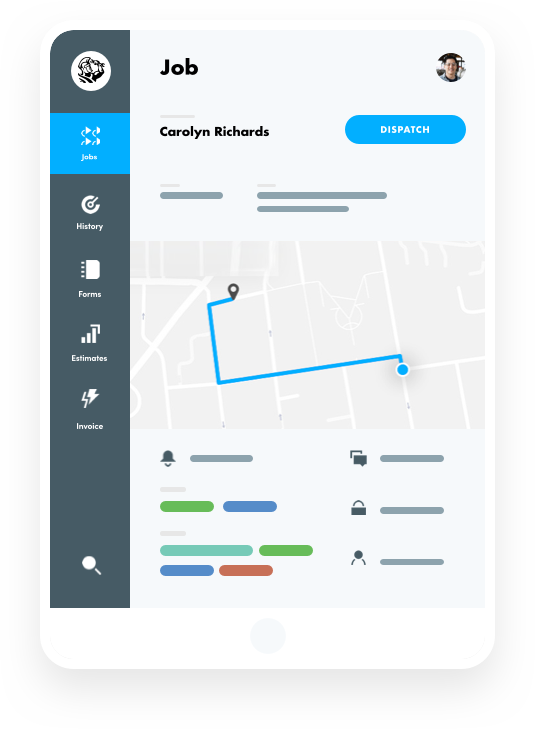 ---
ServiceTitan is for those who need more
There are a lot of field service management platforms out there, but many are fairly basic. That's fine if you're a small business with a tiny operation, but as your company grows to include more customers and consequently, more technicians and other staff, you need software that can grow with you.
Hopefully, the extra revenues have allowed you to expand your budget a little bit. If that describes you, it would be a good idea to request a demo to see if the company can tailor the product to fit your business.
---
Frequently Asked Questions for ServiceTitan
Does the software integrate with QuickBooks?
Yes, if you're a QuickBooks user, you won't have to give it up for ServiceTitan. QuickBooks integrates into the software so you can use its accounting tools to run your day-to-day transactions.
Can I monitor technicians in the field?
ServiceTitan does a good job of not only tracking technicians when they are out on call, but it also allows you to modify dispatches based on any unforeseen problems, and it can provide a breakdown of technician performance with its reporting features.
Is ServiceTitan support easy to reach?
ServiceTitan offers free phone support that answers promptly when you call with minimum phone menu navigation required.

ServiceTitan is an excellent field service management software that earns high marks for its ease of use and powerful features. If you're a large company looking for a feature-rich software platform, get started with ServiceTitan.
ServiceTitan is an excellent field service management software that earns high marks for its ease of use and powerful features. If you're a large company looking for a feature-rich software platform, get started with ServiceTitan.
---
How ServiceTitan Compares