"I've just Slacked you the draft for the final project, let me know when you've had a chance to look it over!"
That's the most recent message I sent on Slack today. When I started writing this review, I took a step back to think about how much Slack has permeated my everyday life.
Not only do I regularly verbify the product, but I rely on it for multiple daily tasks. And integrating it into my workflow was so easy that I didn't really notice how much I have come to depend on it.
I currently use several Slack workspaces. It's my go-to for communicating with almost all my clients, both via messaging and remote meetings; arranging a friend's surprise birthday party; keeping in touch with old colleagues; and chatting with my best friend during the day.
Herein lies the beauty of Slack: It's rare to come across a piece of software designed so intuitively that it fulfills many different and unique user needs. Large corporations, individual users, and everyone in between can benefit from what Slack has to offer.
But what features, exactly, does Slack offer, and how much is all this seamless, intuitive communication going to cost? Below, I'll go through Slack's features, pricing, benefits, and more. Only you can decide whether it's the right communications software choice for your business.
---
Who is Slack for?
Slack has no typical user. It can be used by anyone: freelancers, large enterprises, nonprofits, and even the guys over at NASA.
Slack is essentially a massive chat room with other innovative collaboration features. It helps reduce the email burden by allowing users to connect in real time via private and group messages. For that reason, it really is an all-rounder in terms of the types of users it can serve well.
---
Slack's features
Whether you're looking for a tool to help with project planning, a way to improve team communication, or a platform that can act as a remote tool to connect colleagues, Slack's versatility has you covered.
Let's take a closer look at some of Slack's main features.
Channels and threads
Slack's messaging functionality is the main attraction. Users can send direct messages to one another, create group chats, or create a "channel" for a specific purpose.
Channels
One-on-one and group chats are straightforward enough, even for those with little experience of messaging apps. Slack's channels, however, are much more than just expanded group chats.
Channels are created with a specific discussion point or purpose in mind, have their own access rules, and can be public (available for anyone to join) or private (invite-only).
Channel names are always designated with a hashtag, and can be utilized for discussing anything from specific projects, clients, or workstreams to #vacationtips and #pets.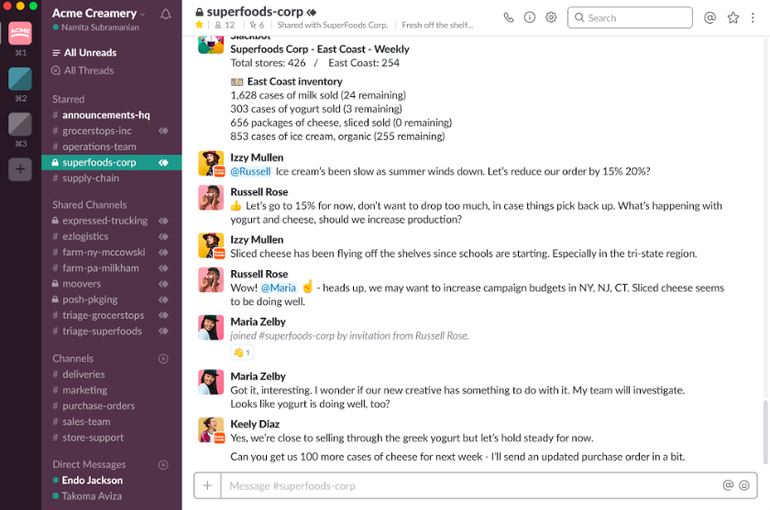 Slack also has shared channel functionality, which enables separate organizations to collaborate via a common Slack channel.
This is a useful feature for businesses that regularly work with outside entities; it offers collaborators a shared space for communication, instead of forcing team members to reconcile siloed conversations from emails, phone calls, and meetings.
Threads
Threads are lists of messages that sit underneath an initial, or "parent," message. In essence, they allow users to reply directly to a specific message in a chat, and are kept organized in a separate "sub conversation" on a right-hand sidebar. This has the benefit of not cluttering the view or distracting users from the main discussion.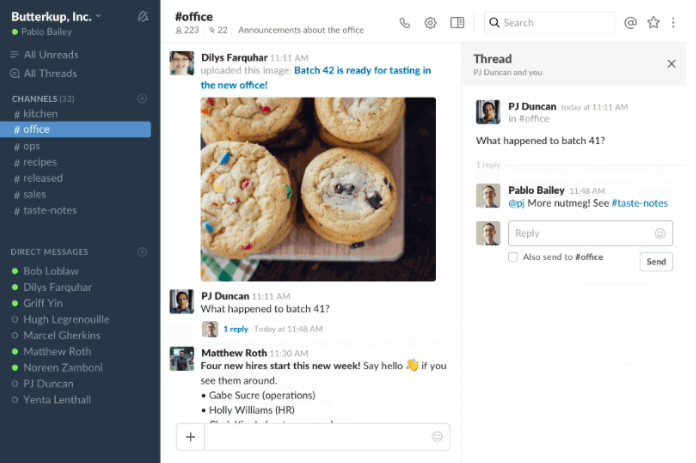 Voice and video calls
Slack voice and video calls are a core part of its offering.
Voice and video calls in Slack are easy to start — users simply search for the person they want to call, and within that conversation, they'll find a telephone symbol at the top left-hand side of the window.
The person receiving a call will see a small black box appear on their screen that tells them who's calling; green and red buttons allow the receiver to accept or decline the call.
However, Slack's video and voice call feature isn't the most robust: I've had plenty of Slack calls that were patchy and slow to connect. Plus, you can call only other users within your Slack workspace.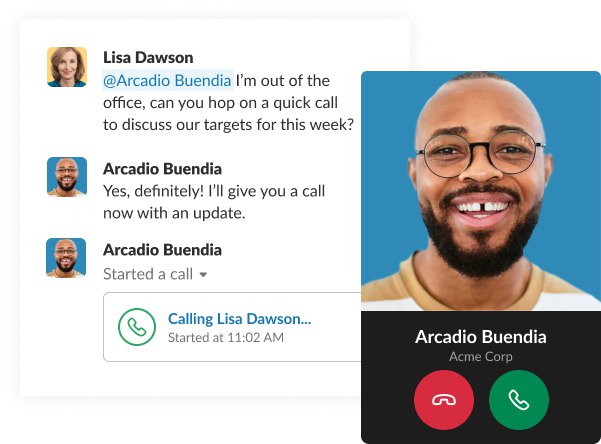 Commands
The commands feature helps you quickly enable other Slack features. Commands work by typing the forward slash key in the message field, typing a command, and hitting Enter.
For example, in the following image, typing "/mute random" mutes the #random channel.
Typing "/" in the message field automatically brings up a list of Slack commands for you to choose from.

Advanced search
If you need to search for a specific message or file but don't know where to begin, Slack's advanced search function can filter your searches to find the most relevant information. You can search for the person who sent the message or file, focus on a specific date range, or confine your search to specific channels.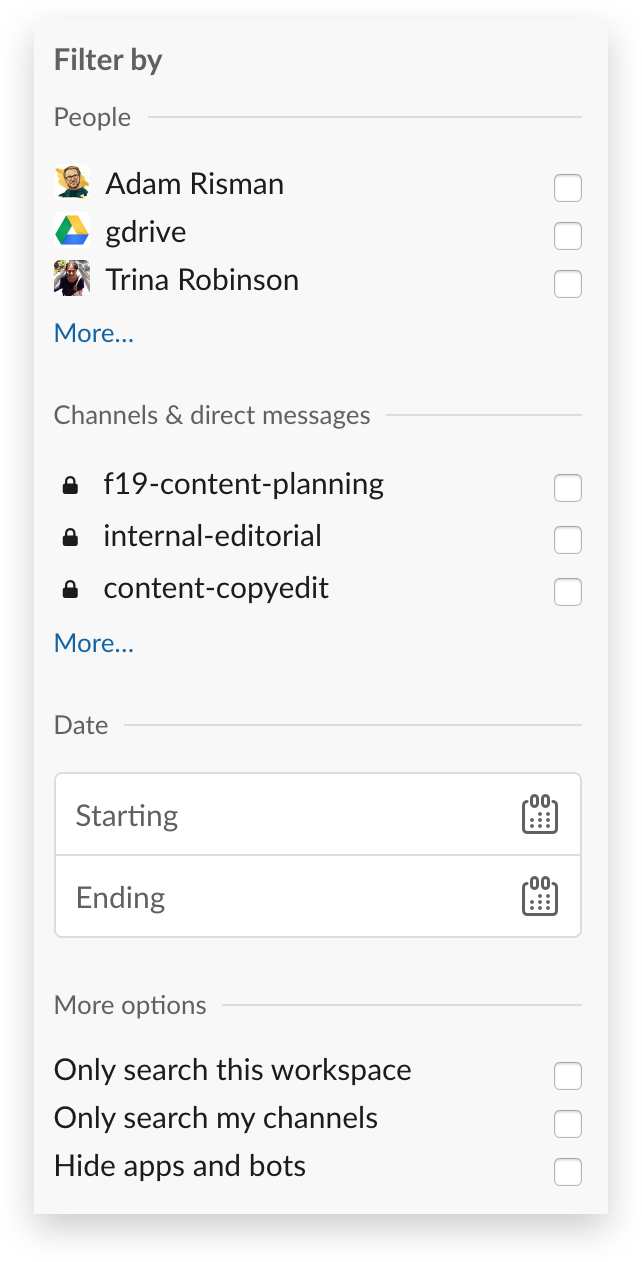 You can also use assisted search modifiers to narrow the field further. Below are a few examples of common Slack search modifiers. Simply enter one of these into the search bar at the top of the client:
from:[username]
to:[channel or username]
in:[channel or username]
after:[date]
before:[date]
on:[date]
during:[month/year]
Shortcuts
Similar to commands, Slack shortcuts can be real time-savers. It lets you tend to peripheral tasks while still working directly in the app.
Clicking the lightning bolt to the left of the message field will bring up a list of the Slack shortcuts available. The more apps you integrate with Slack, the more shortcuts you'll have at hand.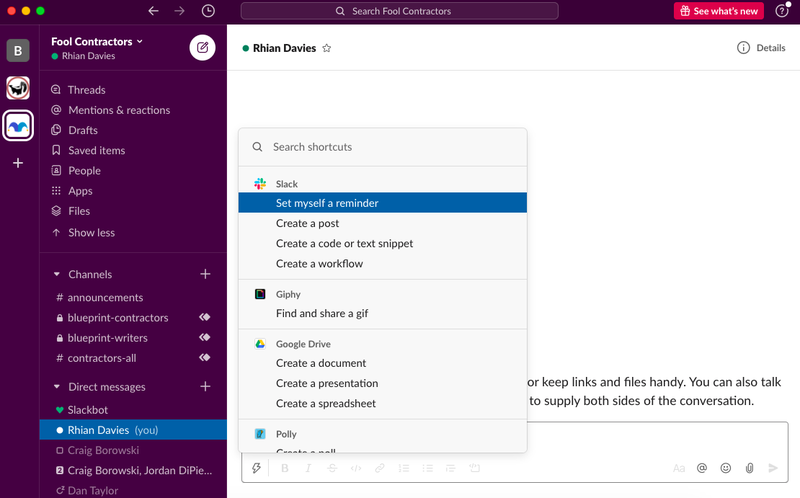 Customization
I'm a longtime user of Slack, but I'm still finding new ways the software can be customized to suit my needs. Though it would be impossible to list all the ways the platform can be personalized, here are a few of the most useful:
Modify the look of your workspace: Head to Preferences, then Themes. From here, you can select a color for every aspect of the interface, though Slack does offer alternative ready-made themes. Slack also offers dark mode for those who prefer to work with low-light apps.
Create your own emojis: Show off your creativity! Customized emojis allow teams to express their workplace culture in new ways.
Personalize your sidebar: This is a great way to stay organized. For example, you could group all top-priority channels into one section, and group the more lighthearted "chatter" channels into another.
---
Slack's ease of use
One of Slack's main draws is its simplicity. The desktop interface is divided into three main components:
Workspace bar: On the far left-hand side, all workspaces you're connected to are shown in a column.
Sidebar: Directly next to the workspace bar is the main sidebar. This contains all your direct messages, channels, and group chats. It also displays quick-click options for accessing threads, mentions, drafts, apps, and files.
Message window: This is where you'll see the messages you send and receive. Whichever chat you have currently selected will display here.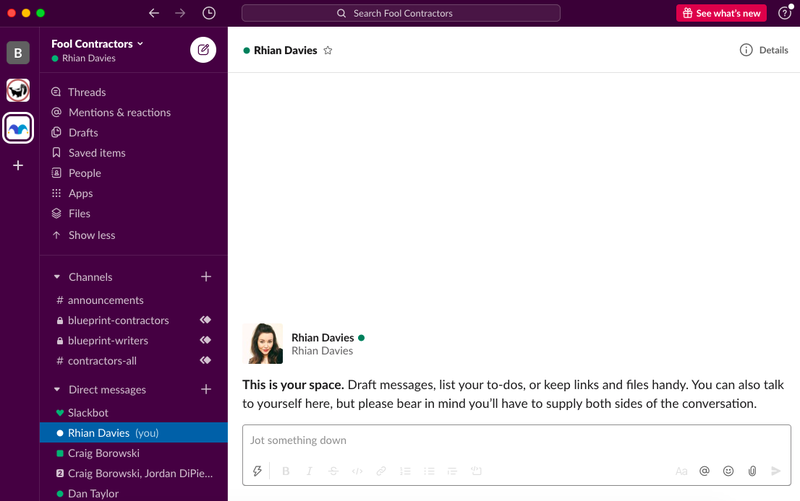 Everything you need to access is neatly organized and accessible in streams within the sidebar. Plus, there's no need to dig around for anything: The toolbar at the very top of the client allows you to search for keywords and lets you choose whether you search in a channel, a direct message, or "From anyone on Slack."
Users can add up to 10 app integrations using the free version of Slack, while the paid versions allow as many app integrations as you'd like. Slack integrates with more than 2000 different apps, meaning users can access many of their everyday apps within the platform.
Slack is available for desktops (including a Slack app for Mac) and tablets, iOS and Android. It's incredibly easy for nontechnical users to set up and comes with almost no learning curve.
---
Slack's pricing
There are three different Slack pricing tiers, plus a free version.
Free: Suitable for small teams and individuals, the Free plan offers an unlimited number of members in your account, access to 10,000 of your team's most recent messages, one-to-one video and audio calls, and up to 10 app integrations.
Standard: Perfect for small- and medium-sized businesses, the Standard plan offers an unlimited message archive, unlimited app integrations, group video calls with screen sharing, and guest accounts. This plan costs $6.67/month per user when billed yearly and $8/month per user when billed monthly.
Plus: Geared for larger businesses, the Plus plan offers everything that comes with the Standard plan, and adds advanced identity management features, compliance assistance, and 24/7 support with a four-hour response time. This plan costs $12.50/month per user when billed yearly, and $15/month per user when billed monthly.
Enterprise Grid: Best for very large businesses or those in highly regulated industries, Enterprise Grid features include everything included in the Plus plan, augmented with HIPAA-compliant message and file collaboration, designated customer success teams, and unlimited workspaces. Enterprise Grid pricing is custom; to obtain a quote, contact Slack's sales team directly.
Though Slack can get expensive and is priced higher than most of its competitors, its tiered prices align well with the features on offer.
---
Slack's support
This is where Slack falls somewhat short. Despite its massive user base, Slack doesn't offer customer support via telephone. This is disappointing, especially when users are paying a premium rate for the solution.
I reached out to Slack via their Live Chat tool. First I asked them whether they offered telephone support; later I asked via a new Live Chat what level of customer support Slack offers with each plan.
I received a quick response both times, and was told that on all plans, ticketed (e-mail based) support, via the command "/feedback" within Slack and via email to feedback@slack.com, is available. Paid plans come with Live Chat support service from 2 a.m. to 5 p.m. Pacific Time, as well as 24-hour response to email inquiries, with a four-hour first response time.
Beyond this, Slack's Help Center provides a host of troubleshooting articles. These are all very detailed, while simple enough to guide users through solving issues or answering queries.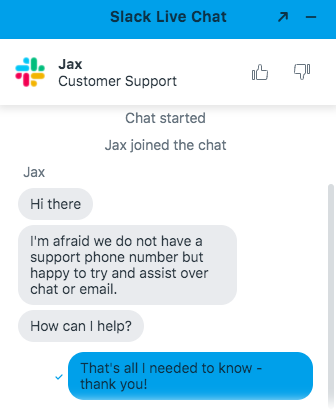 ---
Benefits of Slack
Slack is to business messaging what Skype is to video conferencing: a tool that excels at its main USP — business messaging that reduces the need for burdensome emails — and then some.
Slack's main selling point is that it massively reduces communication and software system silos, allowing users to conduct a large majority of their daily tasks within one platform.
Slack allows you to hold continuous private and group conversations and share documents from any device at any time. Channels help users stay organized, and the platform is highly customizable and fun to use. It also has the advantage of being able to serve and support a variety of business needs.
For example, far from being just a chat room where colleagues can catch up, Slack's channels can be utilized both as project planning tools and project communication management tools.
---
Slack is an easy, fun, and all-encompassing communications tool for all business sizes
Slack had few real competitors when it launched in 2014. It used that huge head start to establish itself as the first choice for companies looking to enhance their communication strategies.
This also gave Slack the opportunity to build on an already solid product offering — an intuitive user interface with both one-to-one and group messaging capabilities.
Slack has been built to make business communication feel effortless and to encourage workplace collaboration.
The fact that it integrates with so many different apps gives users the opportunity to work almost exclusively within one app to complete most tasks. In short, Slack is far more than just an instant messaging tool.
However, while Slack is a powerful and feature-rich tool, users must understand that its primary function is messaging.
It can support discussion and function as a place to review project communication plans, but the platform is not designed to replace a robust project management tool that offers workflows, shared calendars, and task scheduling and assignment.
---
Frequently Asked Questions for Slack
Slack offers a free plan, but this plan lets you access only the 10,000 most recent messages, add only 10 app integrations, and restricts you to 5GB of file storage for uploads.
What other apps integrate with Slack?
Is Slack suitable for small businesses?
Yes. Slack offers a range of pricing plans that accommodate all types of businesses.

If you're looking for a user-friendly and feature-packed business communications tool, give Slack a try today.
If you're looking for a user-friendly and feature-packed business communications tool, give Slack a try today.