Social media is big business today. It can make or break a company's marketing strategy. As a consequence, there is no shortage of options when it comes to social media management tools.
Choosing the right vendor partner can be a challenging pursuit with so many different offerings and sales pitches to consider.
It is essential to pin down exactly what your business needs from this technology before weighing the options. Otherwise, you could end up paying for fancy functionalities that sounded neat, but that you'll never actually use.
For freelancers, sole traders, and small businesses, social media software should make it easier to build and communicate with a social media audience without costing a fortune.
At the enterprise level, there are a few sophisticated features that start to distinguish the social media management options. Notably, large businesses likely want their marketing software to act as a strategic aid as well as a tactical tool. After all, these platforms manage a huge amount of data, so they should be able to flag those invaluable insights that can shape a new campaign.
Here are our top picks for the best social media management tools:
Our top 5 picks for the best social media management tools
After in-depth, hands-on reviews, the five technologies listed below are our picks in the social media management software space.
All of these platforms are exceptional in at least some of our assessment categories, but these reviews should help you determine the best choice for your individual requirements.
1. Sprout Social
Sprout Social provides a well-balanced suite of social media tools with an intuitive set-up process and plentiful support options. For businesses that need more than a social media scheduler, this is a highly accomplished and reliable option.
In particular, Sprout Social excels as a social listening platform. You can set up the topics you want to follow, and Sprout Social will start gathering Twitter data, or you can use one of the handy social listening reporting templates. These cover everything from competitor analysis to brand health monitoring.

Sprout Social also boasts a growing list of automation tools to make teams more efficient and effective.
Some of these are futuristic, such as the Facebook chatbot creator that requires no coding expertise. Others are a little more prosaic, like the option to assign tasks automatically to different team members based on their specific responsibilities. Overall, Sprout Social maintains a healthy balance between the innovative and the everyday in its newer features.
In fact, the most-used feature in Sprout Social remains the trusty Smart Inbox, which collates all of a brand's incoming messages across multiple social networks in one feed. This can integrate with Zendesk and HubSpot Service Hub, too, making Sprout Social an all-in-one customer service center. The Sprout Social apps for iOS and Android are among the best social media management apps, so your team can also deal with these queries on the go.
Although Sprout Social takes the top spot in our review of social media management tools, we would still stop short of recommending it universally. The cost of a subscription can rise quickly for larger account teams, and you'll need to opt for the Advanced package ($249/month per user) to get the most out of what is an undeniably impressive piece of technology.
The free, 30-day trial requires no credit card details, so it's worth giving Sprout Social a try before you go all-in on a subscription.
Read The Blueprint's full Sprout Social review
2. Buffer
The first thing we should note about Buffer is that it now comprises three social media management tools, each requiring its own subscription.
Buffer Publish hosts the traditional Buffer features we've come to know over the years, such as multichannel posting and a social media content calendar.
Buffer Reply aims to help social media teams manage conversations with their audience and collaborate more effectively with their colleagues.
Buffer Analyze is all about reporting and marketing analytics, as you might have guessed from the name. You can set up customized templates to monitor marketing KPIs from within this product.
Because of the way it has separated its products, it's challenging to give one all-encompassing verdict on Buffer as a whole today.
And yet, we shall endeavor to do precisely that.
Buffer is still a great all-rounder that trumps the competition when it comes to ease of use. It has a free account option, the Pablo tool is superb for editing content, and it integrates with a lengthy list of external technologies.
For smaller businesses or individuals, the Buffer Publish product will cover the bases, and it offers some limited collaboration capabilities. There is a clear and convincing case for recommending Buffer Publish to organizations with these specific requirements.
For larger social media teams that need to add Buffer Reply and Buffer Analyze subscriptions to access advanced collaboration tools and reporting, the decision is not as straightforward. Buffer has added features such as social listening and performance insights, but these are not yet as helpful as those on offer from Sprout Social, for example.
Buffer's pricing is based on a mix-and-match model that will work in favor of some companies. There is also a 14-day free trial, so you can check it out and see which package you'd need to get the results you require to hit your marketing objectives.
Overall, Buffer remains in a transitional phase and shows plenty of signs that it will become a heavyweight contender again soon. In our review, we loved how simple it was to use Buffer Publish to take control of multiple social channels and get better content to followers.
Read The Blueprint's full Buffer review
3. Hootsuite
Hootsuite is a social media management tool veteran, but it has received an aesthetic overhaul recently.
With its slick new look, Hootsuite offers an appealing alternative to Sprout Social and Buffer. It integrates with more social networks than its competitors, and its heritage in the industry brings other advantages, too.
For example, the Hootsuite App Directory features over 150 external integrations, most of which are free to download.
Speaking of free, Hootsuite even offers a free account option for light users who just need a tool to help publish their social media marketing campaign content.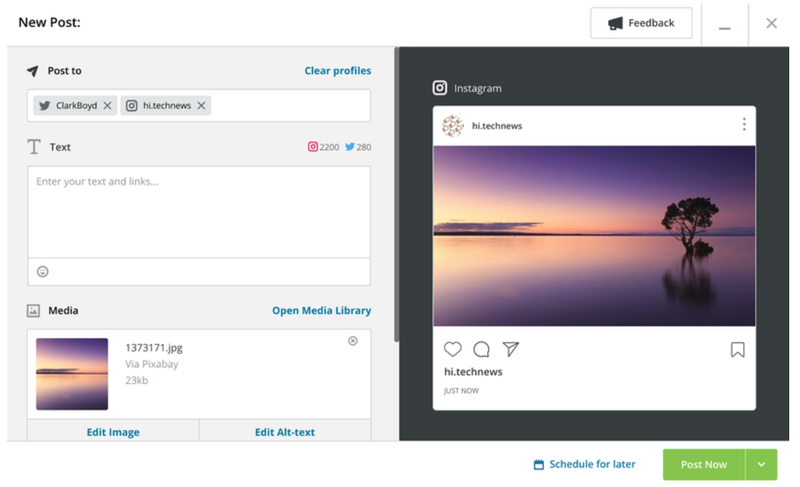 As a social media posting tool, Hootsuite is a trustworthy option, and it offers useful analytics capabilities, too.
So, what's the downside?
Well, you need to go for the Business subscription, at $599 per month for five to 10 users, to have access to all of Hootsuite's more impressive features. For large, complex social media teams that want to collaborate on campaigns, the subscription fees escalate very quickly.
At that price point, there are alternatives on the market that provide better social listening, automation, and collaboration tools.
Hootsuite still holds the advantage when it comes to its traditional strengths, such as the Streams interface that so many other platforms have imitated. Put simply, it is one of the best free social media scheduling tools available today.
However, Hootsuite is yet to add the advanced features that Sprout Social offers, or those that Buffer has started to build recently.
Read The Blueprint's full Hootsuite review
4. Gain
What Gain does, it does very well indeed.
The reason it's not higher on our list is that it has a restricted list of features. Gain opts to focus on a set of challenges that big businesses and marketing agencies often face when creating and implementing an integrated marketing campaign.
With so many levels of sign-off required from so many parties, it can sometimes take too long to get content live. Social media is immediate, but businesses can be slow to move.
Gain tackles this reality directly by offering a suite of superb and inventive tools that simplify otherwise laborious processes.
The content approval tool is the best on the market by some distance, so if this is a pain point at your organization, Gain is well worth a look. You can store files within the platform, and there's an automated workflow system to keep content moving toward publication.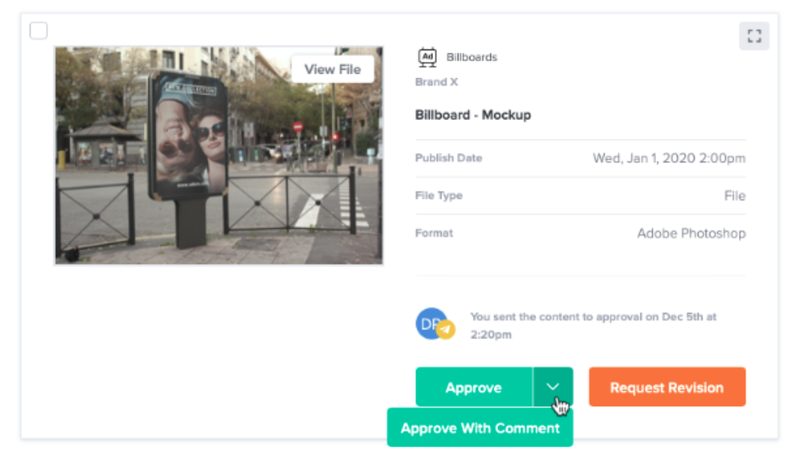 That's not to say Gain only offers these functionalities. The social media content calendar is fantastic, and the social media post scheduler stacks up well against the competition.
However, it does not have social listening capabilities or performance reporting, which may mean supplementing your monthly $99 subscription to Gain with another social media tool subscription.
We'll be keeping a close eye on Gain in case it decides to add those extra features that would make it an excellent all-in-one social media management solution.
Read The Blueprint's full Gain review
5. SocialPilot
SocialPilot offers many of the core features you'd expect from a social media management tool without the hefty price tag for large teams.
Where the likes of Sprout Social and Buffer require additional subscription fees to add more team members, SocialPilot has a flat fee. The entry-level package includes access for three account users and costs just $30 a month.
For this price, users gain access to effective social media post scheduling tools, an intuitive social media calendar, and reporting dashboards.
SocialPilot is therefore a great option for marketing agencies and social media teams that need to manage large numbers of social media accounts within one dashboard.
Of course, SocialPilot must streamline its offerings in other areas to keep its subscriptions affordable. It doesn't offer advanced social listening capabilities or integration with external analytics platforms, and the interface lacks the gloss of its more expensive rivals.
That's not to say SocialPilot is lacking in sophisticated technology. The content curation tool is highly useful for finding new content to share and influencers to contact.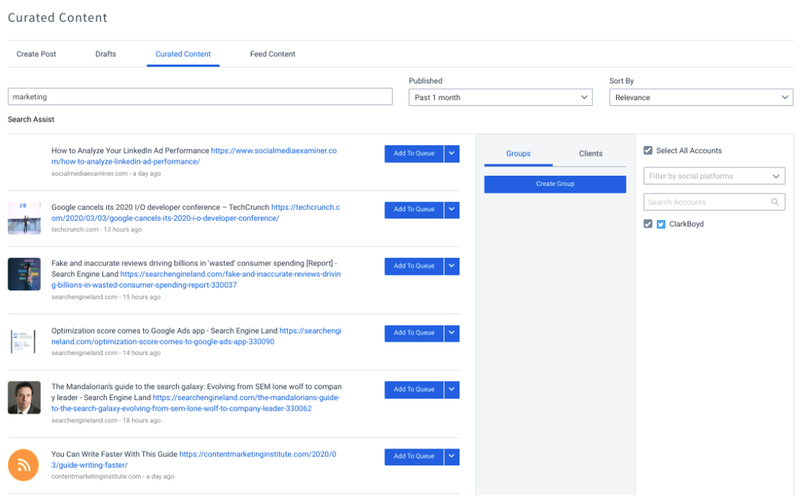 Overall, SocialPilot is worthy of consideration as an alternative to Sprout Social, Buffer, or Hootsuite.
Read The Blueprint's full SocialPilot review
What The Blueprint looks for in a great social media management tool
When reviewing social media tools, The Blueprint assesses a number of vital factors.
First, we analyze the basic features most businesses will need, such as the ability to schedule social media posts across different platforms. In this regard, we're looking for reliability, flexibility, and the ability to connect with the most popular social networks.
Furthermore, The Blueprint looks for the advanced, cutting-edge features that will make the difference for large, complex social media teams.
Below, we've summarized some of the most important capabilities accounted for in our reviews.
1. Multichannel publishing
For all of its overt creativity, social media strategy is really about meticulous planning. There are lots of social media scheduling tools available that can push your content live on a range of different social networks. In our review, we begin by assessing the reliability of these tools before moving on to the extra features that can make all the difference.
For example, we look for tools such as image-editing software that can help brands adapt their content for multiple social media accounts, or automated tips that will alert you to the best time to send your posts live.
2. Collaboration tools
Businesses of all sizes include multiple parties within their social media strategy. Social media management tools can be helpful, here, but it can also add to the number of platforms team members need to sign onto and respond on every day. A tool designed for slick collaboration can exacerbate the problem it was designed to solve.
In our review, we've assessed the potential of each platform to facilitate genuine collaboration through thoughtful tools and automation that addresses real-world challenges.
3. Social listening
Social listening has become one of those digital marketing terms to attain the undesirable "buzzword" status, but there is plenty of substance to this field.
After all, an advanced social media management platform should alert brands to noteworthy new trends relating to their industry and products. Social listening is a fantastic way to achieve this.
It's challenging, and no platform gets it 100% right because of the many ambiguities in the language people use. However, a strong performer here can alert your marketing or social media team to those little insights that can influence a new strategy.
How your business can benefit from using social media management tools
Social media management software should help you get better results. Whether you aim to add leads, followers, sales, or a combination of the three, these platforms should enable and augment your strategy.
They can do so through the three core benefits outlined below.
1. Automation
Given how advanced and digital our world is supposed to be today, we still spend a lot of time on repetitive administrative tasks. A good social media management platform will take these tasks out of your hands through automation, allowing you to focus on understanding your audience and creating content.
2. Deeper audience insights
Social media can act as the world's largest focus group — if we know how to listen. People take to social networks to share their thoughts on trends, brands, and products every day, so an effective social listening tool can help you tap into these rich insights before your competitors.
3. Reporting
We need to know whether we are progressing towards our business and marketing goals through our social media efforts. Social media management tools should not only display important marketing metrics for you, but also help you interpret and communicate the results.
Frequently Asked Questions
Why should I invest in social media management software?
The right social media management tool will extend the capabilities of your team by providing them with insights from your data, automating your social media content publication, and helping them to collaborate on content creation.
What is the best free social media management tool?
Both Buffer and Hootsuite offer a free account option. The Hootsuite free account just about beats the Buffer account, as it offers 30 scheduled posts compared to the 10 scheduled posts in the free Buffer version.
What is the best social media management tool?
Sprout Social comes out on top in our social media management software reviews. It's easy to use, offers great support, and has a variety of advanced features that can provide that all-important competitive advantage.