Social media is a primary source of news and information today. Users go to Twitter, Facebook, and an increasing number of other social media platforms to discover the latest editorial content.
For brands and publishers, the aim remains the same on social media as it is across all marketing channels. They want to deliver the right message to the right audience at the right time.
Easier said than done, however. The battle for attention on social media has intensified because the nature of the medium means another message is always just a short scroll away.
So, what can businesses do to make sure their message is delivered with maximum impact?
SocialFlow believes the answer lies in more effective use of real-time data to predict when messages should be delivered on each social media platform.
This social media management tool quantifies audience attention by analyzing metrics such as likes, comments, and shares across a large user base. SocialFlow can then automatically post content at the right time, using its predictions to optimize for engagement.
It is certainly a seductive sales pitch, but how well does it work in practice?
And does SocialFlow have enough other features to rival the likes of Sprout Social as an all-in-one social media management solution?
---
Who is SocialFlow for?
SocialFlow is one of the best social media management tools for journalists and publishers who want to maximize the reach or impressions that their content receives.
It has a highly sophisticated approach to data and analytics, using a bespoke algorithm to monitor patterns in behavior through social listening.
Of course, such an algorithm cannot completely encapsulate marketing elements such as brand positioning, so there will always be a need for human input.
When the right balance is struck, SocialFlow can manage the elements that people struggle with, like managing huge quantities of data and making instant, logical decisions.
Meanwhile, business owners and social media managers can focus their finite energies on content creation and strategy, leaving posting optimization and other big data-driven decisions to their software.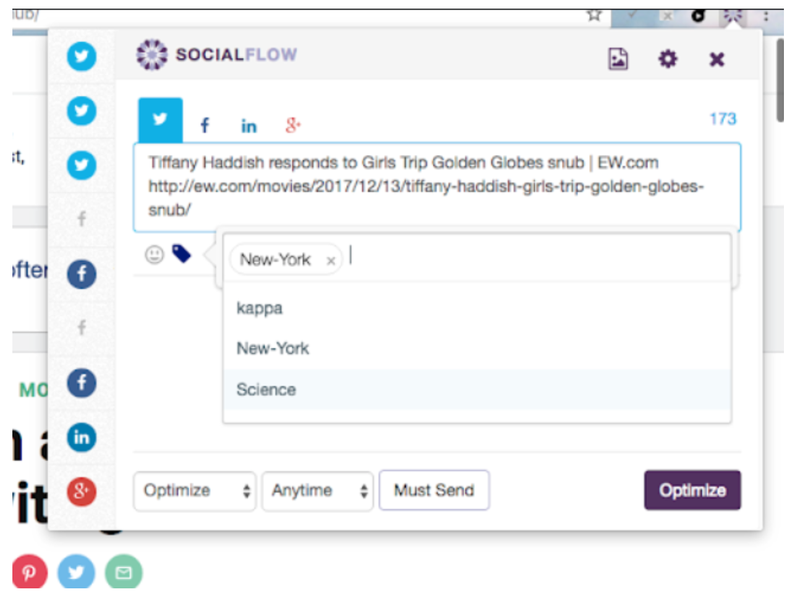 This works best for organizations with a sizable social media advertising inventory, as this provides the data the algorithms need to function effectively.
For brands that use a wide variety of social media channels to sell their products, SocialFlow may prove limited in its scope. It is more focused on Twitter and Facebook than Pinterest and Instagram, which could prove restrictive for e-commerce businesses, for example.
---
SocialFlow's features
SocialFlow helps users achieve two very important tasks through social media. First, it aids in the marketing 101 strategy of attracting a larger, more engaged following.
The content optimization features, discussed in more detail below, use social media data in innovative ways to identify and target your target audience.
Next, SocialFlow provides a social commerce platform that facilitates sponsorship opportunities. The AttentionStream tool matches brands with content, allowing them to reach a new audience through sponsored posts.
When it all comes together, SocialFlow customers can generate a mutually beneficial relationship between their follower numbers, social media engagement rates, and monetization of social channels.
Moreover, while the reporting dashboards lack the polish of some rivals, they are rich in detail and can integrate with a number of external analytics platforms.
Content optimization
Content optimization is the standout feature of SocialFlow.
Most social media scheduling tools allow marketers to plan their campaigns ahead of time, with the technology posting their content at the scheduled times automatically.
The platform will sometimes provide suggestions on which times would be optimal, but the onus is on the user to make these decisions.
SocialFlow takes a different approach. The user can set a window of time, within which they want their content to go live. The platform will then calculate, in real time, the best moment to post the content based on its predicted engagement rate.
Users can be more specific by setting up some rules. For example, you can select the 'must publish' option to ensure a post goes live at a certain time.
You can also customize these rules, perhaps to ensure that two posts do not go live within 30 minutes of each other.
SocialFlow has researched the effectiveness of this approach, compared with the traditional approach to scheduled posting. The results in the screenshot below show that this can be a very successful way to optimize social media content.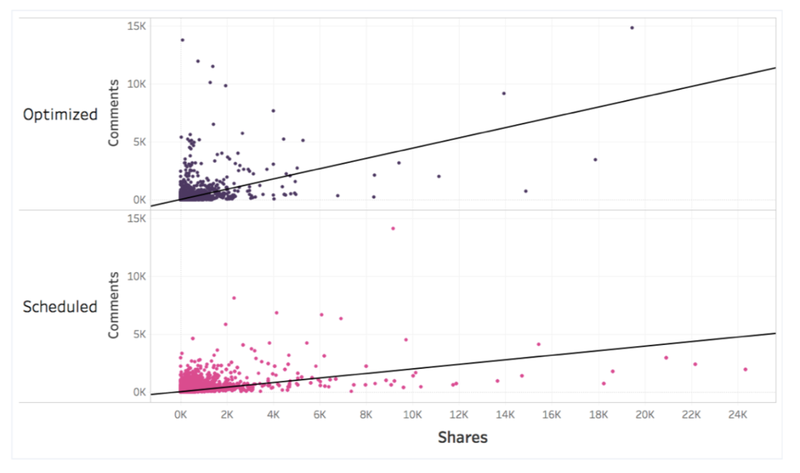 It's worth noting that no such system can perform miracles. Some audiences and some industries have their own intricacies that an algorithm will not pick up on very quickly.
As a result, I have seen instances where the SocialFlow engagement prediction is significantly off the real impact. In my experience, it is typically very impressive with news and journalism posts, but less so when it comes to industries like finance or insurance.
Another great feature is SocialFlow's ability to use a company's website and social media audit data to understand which content to publish on social media.
On this note, the automated alerts that tell the user which posts should be "recycled" is very helpful. This means that if a post went live and underperformed, SocialFlow will offer to post it again at a more opportune time.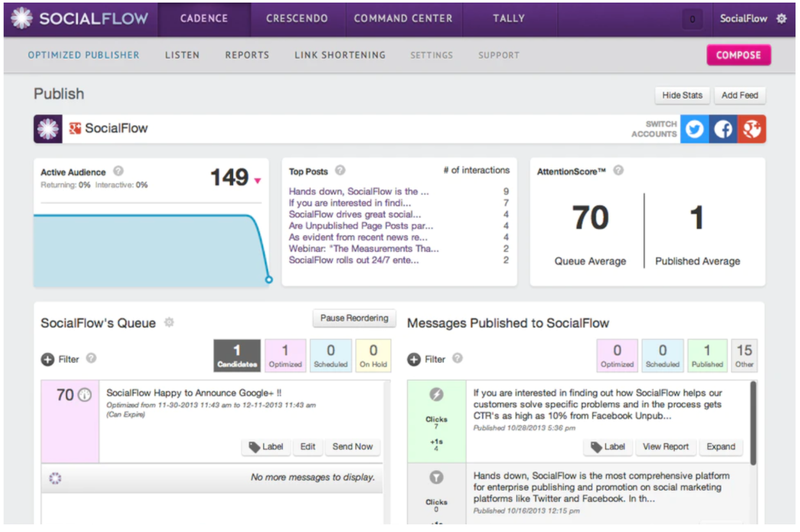 Content monetization
Another of SocialFlow's publisher-friendly features is the ability to find sponsorship partners and monetize your content. The AttentionStream tool aims to match brands with trending content, which they can pay to sponsor.
In the example below, Volkswagen has paired up with National Geographic to reach their target audience while they are browsing nature content.
This allows brands to advertise in a sophisticated manner, availing of the opportunity to communicate with their audience beyond the usual content streams.
For publishers, it can be a great way to blend social media with native advertising.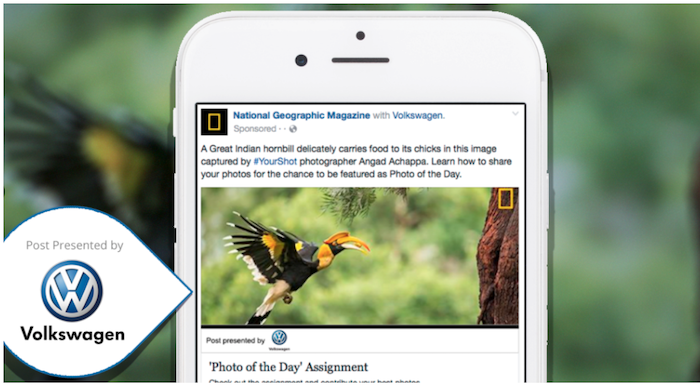 The AttentionStream dashboard makes it simple for brands to manage their content and decide how they want to work with partners, if they opt into this plan.
Custom reports
SocialFlow is an excellent platform for marketing analytics and reporting. The dashboards are customizable and they can integrate with a variety of external data sources.
One of the best features is the option to tag posts by content type. This means users can see performance trends across the different topic categories within the reporting interface.
It is also straightforward to view the most important social media metrics across various platforms, in one report.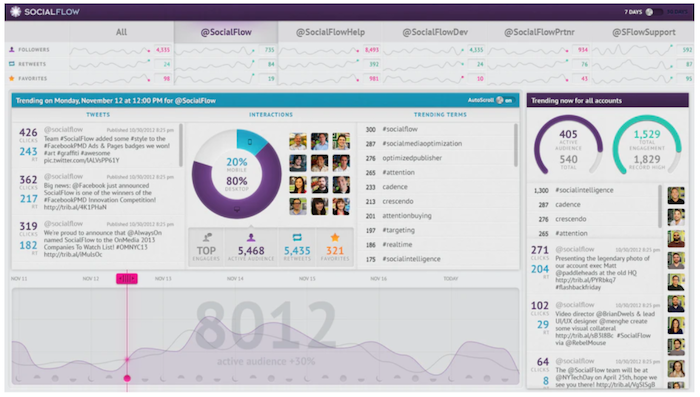 Many businesses will benefit from the Trending now section of the report, which flags new hashtag trends within their industry. This creates a helpful link between the report and strategic actions that can be implemented in the platform.
---
SocialFlow's ease of use
SocialFlow has an intuitive dashboard for its publishing tools, but the look and feel is a little jaded now. It is not as user friendly as the likes of Hootsuite, and it can even be difficult to keep track of which social media account you are posting to within the social media content calendar.
There is a mobile app for SocialFlow, which is useful in an age when 'social media in the workplace' often means checking in on headline performance statistics on the go. The Google Chrome extension is also a real bonus, making it simple to post content from any website page.
The dashboard customizations are simple to implement, so users will be able to get the most out of the platform's reporting capabilities.
---
SocialFlow's pricing
Pricing is only available upon request for SocialFlow. The nature of the product means that each user's needs will differ significantly, and prices are based on the required tools, training, social media integrations, and reporting functions the customer will require.
---
SocialFlow's support
SocialFlow offers email and phone support, while it is also possible to raise a technical ticket from within the platform's interface.
The company posts regular product updates and guides on their blog, and SocialFlow is always on top of new developments on both Facebook and Twitter.
SocialFlow training is available both online and in person, upon request.
---
Benefits of SocialFlow
SocialFlow focuses on the challenges faced by publishers on social media and offers inventive, effective solutions to many of them.
It provides an innovative way to automate posts and reveals a host of new insights about social media performance in the process. This can feed directly into a wider brand audit, to share with the rest of the business.
For brands with a marketing plan that includes multiple social media channels and ambitious engagement rate targets, SocialFlow contains many benefits.
It is among the best solutions out there when it comes to optimizing content for engagement and monetizing editorial content. These strengths are particularly notable on Facebook and Twitter, where SocialFlow boasts its most advanced capabilities.
SocialFlow has comparatively basic features for Pinterest and Instagram optimization, as it only permits users to schedule posts and report on performance.
This is to be expected on a platform that focuses on the challenges faced by news publishers, but is worth bearing in mind for brands with an omnichannel social media presence.
For those focused on personal branding, small business marketing, or e-commerce, there are more suitable and comprehensive options on the market than SocialFlow.
The likes of Hootsuite offer a free plan and some of their features are designed with small businesses in mind, while also catering well to Instagram and Pinterest marketing.
---
Impressive data tools for social media
SocialFlow tackles a common conundrum for brands on social media today. People spend more time on social media than ever before, but brands are finding it harder to cut through.
SocialFlow uses data to solve this paradox, taking a markedly different approach to social media posting than its competitors. The whole process can be automated to a large extent, allowing marketers to spend more time on content and strategy.
The platform does not offer the social listening and Instagram publishing tools that some rivals can offer, meaning that its appeal may be restricted to a set of businesses with specific needs.
Companies that want to build a brand on social media and partner with other businesses to monetize their posts will find a lot to like in SocialFlow.
---
Frequently Asked Questions
Does SocialFlow support Media RSS feeds?
Yes, SocialFlow integrates with Media RSS feeds, meaning you can publish video content automatically through a feed.
How much does SocialFlow cost?
Pricing is only available by request. Contact SocialFlow directly for a quote.
Does SocialFlow have social media analytics?
Yes, SocialFlow contains social media analytics and a variety of reporting tools.

SocialFlow is the industry standard for social media in the news publishing industry. At the same time, many businesses find it solves many of their social media challenges. Get in touch to schedule a demo.
SocialFlow is the industry standard for social media in the news publishing industry. At the same time, many businesses find it solves many of their social media challenges. Get in touch to schedule a demo.