Hootsuite is a long-standing champion in social media management and has stood the test of time. But social media constantly changes and keeping up is a relentless challenge. Especially when challenger tools such as SocialPilot constantly enter the market with a fresh view and a different angle to social media management. This is a David versus Goliath matchup.

---
SocialPilot vs. Hootsuite: An overview
When comparing the two tools, it is important to understand what Hootsuite is and how it came to be such a popular tool. SocialPilot is a more recent tool with a dynamic and agile approach.
However, Hootsuite has evolved and adjusted to the changing nature of social media. Some of its features have become standards for managing Twitter accounts, but SocialPilot is fast on today's trending social media networks and integrates management of Google My Business, TikTok, and even the Russian VK social platform.
Who is SocialPilot for?
SocialPilot is good for small businesses and also has features agencies will love: account groupings, multiuser accounts, and white label reporting, as well as some advanced automation features.
Who is Hootsuite for?
Hootsuite's platform approach and broad social media integrations appeal to many types of users. It's an all-in-one tool for users from freelancers to corporate clients . It has an app marketplace and a number of partner integrations allowing you to do practically anything you want.
---
SocialPilot vs. Hootsuite: Features
The best social media management tools include a similar range of base features: post scheduling on a number of platforms, social listening, automation, performance analytics, content discovery and management tools. Some also integrate with advertising platforms to run social media campaigns.
What SocialPilot offers
SocialPilot can schedule posts on many social networks and stands out for its ability to schedule on Google My Business and the rising star among social media platforms, TikTok. This makes it a great choice for agencies who need flexibility and cutting-edge features.
For content creation, SocialPilot integrates with Canva, a platform that quickly and easily creates illustrations and graphics. While this is a great feature, it works best if you are already an advanced Canva user, as the integration is not flawless. It also has a promising content curation tool which does real-time searches for content based on keywords or influencers, but It's limited to the English language.
We liked the reporting a lot, as it collects key statistics from the various platforms in an easily accessible format.
SocialPilot does not allow for direct publication on Instagram. You do this via an integration with the automation tool Zapier. While this may feel like a limitation with Instagram, it also testifies to the wide range of opportunities available with the power of the Zapier platform. Automation champions can geek out with SocialPilot as much as they like. Read more in our in-depth review of SocialPilot.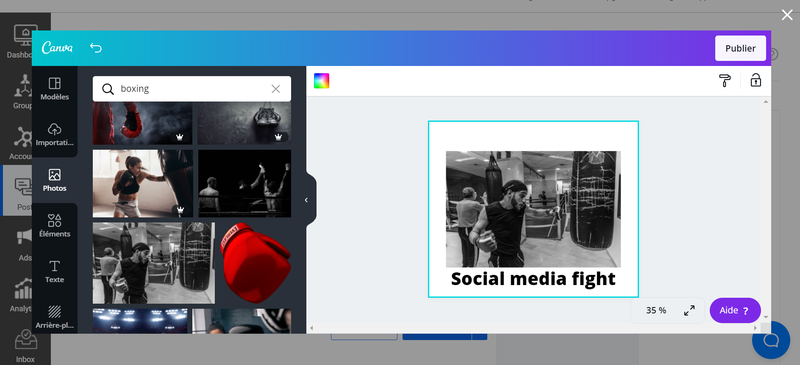 What Hootsuite offers
Hootsuite has been long known as a social media tool that integrates the most social networks to schedule posts. It covers all the classic social networks and even integrates YouTube. It offers no direct integration with Google My Business (GMB) but makes up for it by providing a free app from Freshworks to manage your GMB accounts.
Hootsuite was one of the first tools to provide a social listening service for Twitter via its Streams feature. It's a great tool but limited to Twitter, and it isn't considered an advanced social listening platform overall.
Hootsuite distinguishes itself for its wide range of third-party apps making it a platform capable of meeting any requirement a user may have, from freelancers posting a couple times per day to large corporations using the Hootsuite bulk scheduling feature for hundreds of posts in one go.
The Hootsuite analytics platform goes beyond standard reporting per social network, and allows users to compare metrics across multiple platforms, and even create custom reports. Read more in our in-depth review of Hootsuite.
Results
Both Hootsuite and SocialPilot cover a wide range of social networks. Hootsuite goes beyond the normal range by including YouTube and can access Google My Business via a third-party app. SocialPilot integrates TikTok and Google My Business directly but needs Zapier to schedule posts to Instagram. Hootsuite has more advanced reporting than SocialPilot and also has some interesting content curation features.
Where Hootsuite expands its capabilities via its app platform, SocialPilot relies on automation via tools like Zapier. Overall, it's a draw between the two in this dimension. Pay close attention to the social networks you need to access before making your selection.
---
SocialPilot vs. Hootsuite: Support
Social media management is time-sensitive and exacting, which means support is critical. Let's see how the two tools compare.
What SocialPilot offers
Support is not SocialPilot's strongest asset. With no phone support, email is your best option. Social media channels also respond to support requests but are mainly directed at outward communication.
What Hootsuite offers
Hootsuite takes a different approach, with a feedback button on every page which can create a support ticket. Email support is also available, and support via social media appears to have dedicated teams.
Support is ubiquitous across the platform, and in our experience, reaching out on social media was a very efficient way to get support. The challenge for Hootsuite is to cover such a wide range of users including those on free accounts.
Results
Hootsuite clearly has a higher level of support than SocialPilot both in terms of the variety of options and the efficiency of interactions.
---
SocialPilot vs. Hootsuite: Ease of use
Social media management comprises tasks that community managers spend hours executing within these software interfaces. Ease of use is essential in community management and must be a key selection criteria for social media specialists, so they can work efficiently on repetitive tasks and free time for more qualitative social media engagement tasks.
What SocialPilot offers
SocialPilot has a slick, straightforward user interface. At first, it can feel a little overwhelming, but the automatic onboarding process kicks in quickly. In parallel, you receive your first daily onboarding email offering to schedule a demo and the promise of a line of additional emails.
Pop-up windows guide you through an initial setup, and you can remain at any level until you're ready to move on to the next. Going slowly is a great way to get a feel for the interface and some guidance on the basic functions.
The blog contains many helpful articles for more complex questions. Overall, we'd rate it a good user experience.
What Hootsuite offers
Hootsuite has also programmed an onboarding process into the interface and provides a complete and varied help center going beyond functionality into management and strategy topics. The look and feel of the interface is a bit less attractive than SocialPilot and some of the other Hootsuite alternatives. We experienced some challenges with logins and password recovery.
Results
With both tools fairly easy to use and similar setups with onboarding and help centers, ease of use ends in a draw.
---
SocialPilot vs. Hootsuite: Pricing
With social media management tools, you pay primarily for productivity. Value for money is about how well the tool can empower you and in how many different places. A free plan to post a couple of times is great, but you should be willing to pay for the value a tool provides.
What SocialPilot offers
SocialPilot has four pricing tiers with quite high usage quotas and users in each which results in a very reasonable cost of $10/month, per user. SocialPilot offers a 14-day free trial.
Professional: An entry-level plan for 3 users managing 25 individual social media accounts at $30 per month
Small team: 5 users and 50 social media accounts allowed for $50 per month
Agency: 10 users managing 100 social media accounts for $100 per month
Custom plans: Higher quotas and white label accounts
What Hootsuite offers
The Hootsuite free plan made the tool famous and admired by many. If you want to go a bit further than the 3 social media accounts and posts it allows, you need to upgrade to a Hootsuite pro plan.
Professional: 1 user managing 10 social media accounts for $29 per month
Team: 3 users managing 20 social media accounts for $129 per month
Business: 5 users managing 35 social accounts for $599 per month
Enterprise: custom plans
Results
SocialPilot pricing per user and per social media account is much lower than the Hootsuite pricing, but, on the flip side, Hootsuite offers a free entry plan. SocialPilot comes out as the winner of the pricing comparison.
---
SocialPilot vs. Hootsuite: Integration with other software
Social media management tools can be standalone applications in smaller organizations and can be integrated into a broader technology stack in large corporations. Let's look at how the two tools address this challenge.
What SocialPilot offers
SocialPilot has a limited number of integration partners with the visual content tool. Canva is fully integrated into the tool, and the automation tool Zapier is the open-ended integration partner for many other apps. SocialPilot takes Zapier integration seriously, as the tool is used for its Instagram scheduling.
This is a real opportunity for advanced digital marketers, but if you are simply looking to schedule your posts on Instagram in an easy way, it can feel a bit complicated.
What Hootsuite offers
Hootsuite has a much larger set of integration possibilities. It has created a partner ecosystem with an app store on one hand. On the other hand, it partners with a long list of technology integration companies in social listening, reviews, security, content curation, and marketing automation. It also integrates with Adobe for analytics and marketing automation.
Results
Whereas SocialPilot has integrated a few solutions deeply and opens up for a wide range of further integrations via the Zapier tool, Hootsuite has built both a broad range of apps for solving almost any integration need you may have and a list of strong integration partners allowing for the tool to be part of a larger tech stack. Hootsuite thus comes out ahead in the integrations comparison.
---
SocialPilot vs. Hootsuite: Social network integrations
SocialPilot and Hootsuite are among the social media scheduling tools that integrate with the widest range of social platforms. This is a key question to address when choosing a social media management tool.
| | SocialPilot | Hootsuite |
| --- | --- | --- |
| YouTube scheduling | | |
| Google My Business scheduling | | Via app |
| Twitter, Facebook, LinkedIn, Pinterest | | |
| Instagram scheduling | Via Zapier | |
| TikTok integration | | |
If scheduling posts to YouTube is key for you, Hootsuite is your platform. If you want to manage your Google My Business account and later schedule for TikTok, go for SocialPilot.
---
How They Compare: SocialPilot vs. Hootsuite
| | SocialPilot | Hootsuite |
| --- | --- | --- |
| Features | | |
| Ease of use | | |
| Support | | |
| Pricing | | |
| Integrations | | |
---
Hootsuite nudges ahead of SocialPilot
In our comparison, Hootsuite nudges ahead of SocialPilot but remember, the two tools have different design approaches and different coverage. Hootsuite can address any need an organization may have for its community management by plugging into its app platform. This is valuable for large organizations with preestablished technology stacks.
SocialPilot has integrated best-of-breed tools like Canva and Zapier, making it agile and forward-looking. Hootsuite integrates with YouTube; SocialPilot integrates with TikTok. If you already know which social platforms you will be working with, your tool choice can be decided from the available integrations. If you don't, Hootsuite provides you with a large palette of integration possibilities.