Stripe Payments, or Stripe as it's more commonly known, is a payment processing platform, primarily serving online businesses. Its point-of-sale (POS) solution, Stripe Terminal, unifies online and offline payments, but this must be programmed with a set of application programming interfaces (APIs) and software development kits (SDKs) before use.
The tool is highly developer-centric and requires someone with a knowledge of coding to help set up and use. For this reason, larger businesses can benefit from using this solution, while smaller organizations might struggle to get to grips with such a technical product.
If Stripe doesn't match all your payment processing and POS needs, several competitors in the marketplace might. In this guide, we go through eight Stripe competitors to help you make an informed software choice.
8 top POS software alternatives to Stripe:
---
What to look for in a great Stripe competitor
Stripe is a powerful payment processing platform, but for smaller businesses especially, the market offers many easier to use solutions. Here's what to look for in any Stripe competitor.
1. Ease of use
Stripe is not particularly easy to use. That's not to say it's not one of the best POS tools out there, but it's definitely not for the faint-hearted.
Unless you're a developer or have developers on your team, Stripe can be difficult to use. It's unlike many Stripe competitors whose POS features are preprogrammed for use.
2. Offline sales capabilities
In terms of online sales, Stripe's payment processing is almost unrivaled. However, its offline sales capabilities don't match that description.
If you're looking for a brick-and-mortar-first solution, you'll find plenty of Stripe competitors that will serve you better as an offline merchant.
3. Value for money
Stripe's card processing fees are reasonable, approximating the industry standard. However, Stripe includes other costs that merchants need to keep in mind. Stripe Connect, its integration built for marketplaces or platforms, and Stripe Radar, its fraud protection service, both impose additional fees, as examples.
---
Our top 8 picks for Stripe competitors
Below, we list our top Stripe alternatives, along with their features and pricing information, to help you choose the best POS solution for your business.
---
1. PayPal Here
PayPal Here offers basic POS features and payment processing capabilities. It's a great choice for small and mid-size businesses looking for an easy-to-use, low-cost payment processor with a little bit extra.
PayPal Here users pay the following transaction fees:
Card swipes, dips, and taps cost 2.7%
Keyed-in transactions are 3.5% + $0.15
Online payments and invoices cost 2.9% + $0.30
International payments are subject to an additional 1.5% fee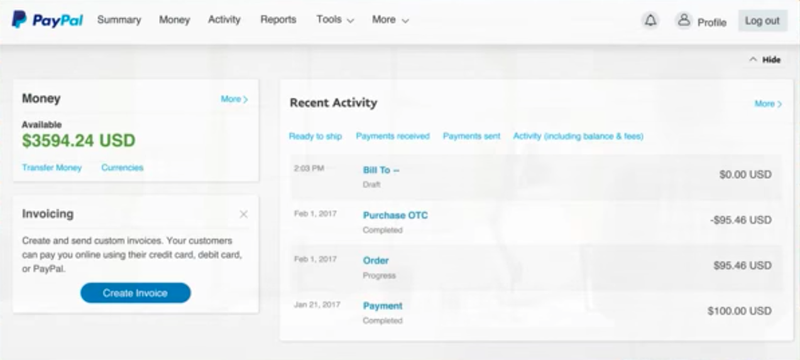 Users looking for a system with more than just basic payment processing features can also access PayPal Here's POS features:
Invoicing
Customer management
Reporting
Read The Blueprint's full PayPal Here review
---
2. Square
Square is a free mobile app that processes payments and comes with a large range of out-of-the-box POS features. It's great for small and mid-size retail businesses, as well as food trucks, cafes, boutiques, and farmers' markets.
Square POS imposes no other fees than payment processing charges:
Normal card transactions are a flat rate of 2.6% + $0.10
Keyed transactions are charged at 3.5% + $0.15
Online transactions cost 2.9% + $0.30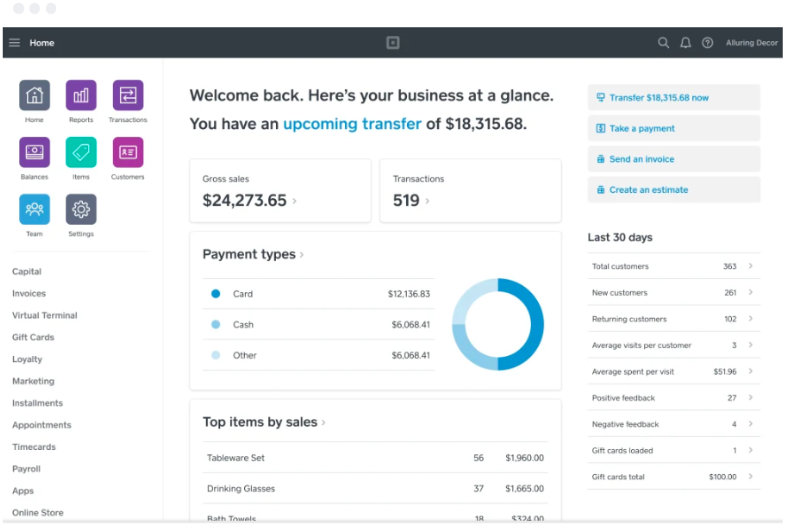 Square POS also offers the following features:
Inventory management
Sales analytics and POS reporting
Offline mode
Square also offers proprietary POS hardware, such as POS terminals, receipt printers, barcode scanners, card readers, and cash drawers.
Check out our full Stripe vs. Square review for more information on how the two solutions stack up against each other.
Read The Blueprint's full Square review
---
3. Shopify POS
Shopify is a popular tool in the e-commerce world, but it also has a POS offering. It's a good choice if you want to sync your online and offline stores, but you can also use it as a standalone tool in physical stores.
The platform is used both by retailers and restaurateurs, and is suitable for businesses of all sizes, given its scalable pricing tiers. Its most basic pricing band, Shopify Lite, costs just $9/month, but only supports e-commerce stores. The Basic Shopify package supports both online and offline stores and costs $29/month.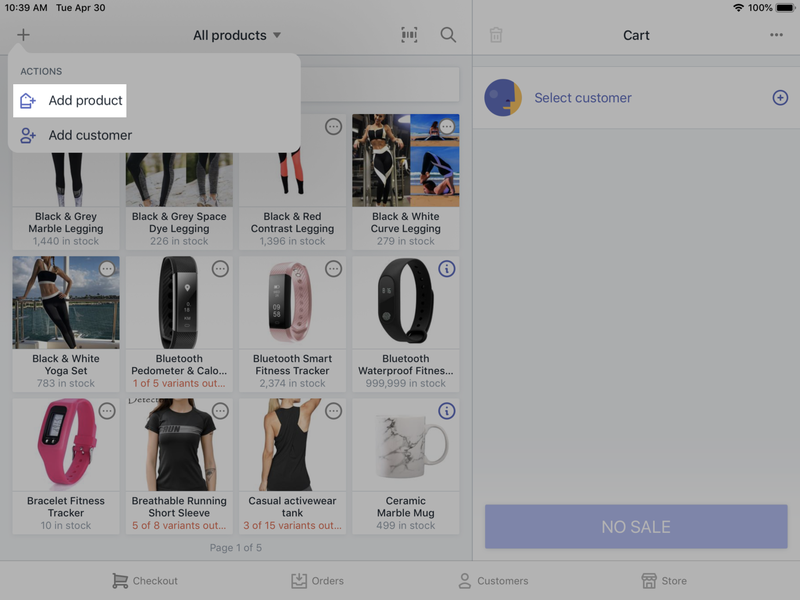 With Shopify's Lite and Basic plans, card transactions cost 2.7%, and online transactions cost 2.9% + $0.30.
Shopify POS includes features for inventory management, sales analytics and accessing POS data, customer management, and employee management.
Read The Blueprint's full Shopify POS review
---
4. Lightspeed POS
Lightspeed offers two separate solutions, Lightspeed Retail and Lightspeed Restaurant. Both offer industry-focused features for retailers and restaurateurs.

With higher pricing tiers (its most basic plan costs $69/month, while the most expensive one costs $229/month), Lightspeed Retail is suited to mid-size and larger businesses. Features include inventory management and purchase order management tools.
Lightspeed Restaurant is suitable for small and mid-size businesses and can be used in full-service restaurants, cafes, bars, and more. Features include menu management, raw ingredient tracking, and floor plan management. The solution costs $69/month for one POS register.
Read The Blueprint's full Lightspeed POS review
---
5. Epos Now
Like other Stripe competitors, Epos Now offers two solutions for both retail and hospitality users.
For retail merchants, Epos Now offers an e-commerce integration for omnichannel selling, inventory management, reporting and invoicing, a booking system, and promotions management.
Its restaurant and hospitality features for bars, restaurants, cafes, hotels, gyms, and spas include table layouts, split bills, online booking, and a customer loyalty system.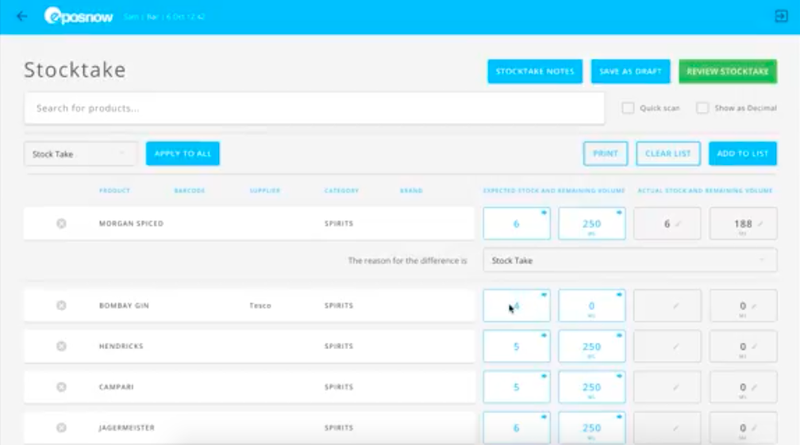 Epos Now only offers two pricing bands: Standard, which costs $39/month, and Premium, at $69/month. Unusually, both plans offer the same features for different prices, the only difference being the Premium tier offers a higher level of ongoing customer support and how much users are charged per register.
Read The Blueprint's full Epos Now review
---
6. Revel POS
Revel POS is geared toward larger restaurants with larger budgets. To begin with, to use Revel POS, you have to sign a three-year contract, and pricing begins at $99/month per POS terminal, with annual upfront billing. Revel POS also offers its own payment processing system with a rate of 2.49% + $0.15.
Revel POS offers users pre-authorized payments, digital menu boards, table management, and inventory and employee management.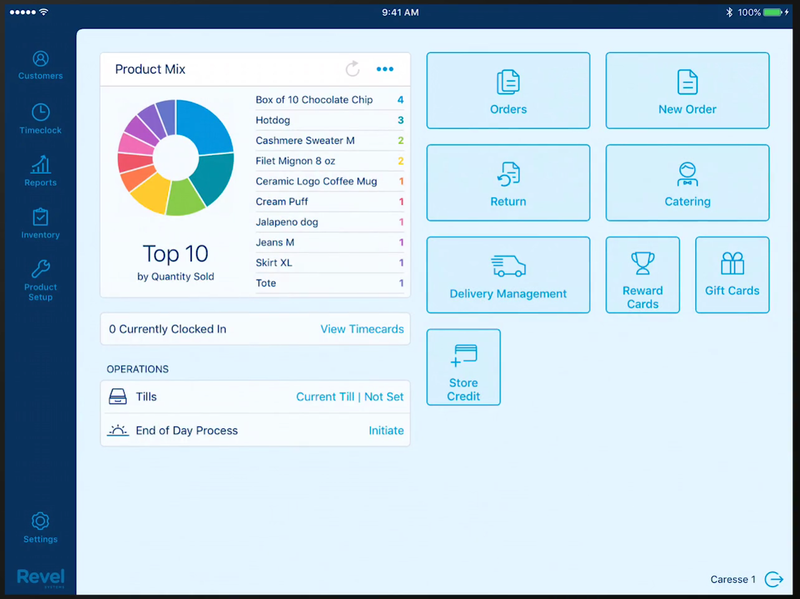 Read The Blueprint's full Revel POS review
---
7. Clover POS
Clover POS is suitable for both retailers and restaurateurs, but most users are in the foodservice industry. Its higher entry costs, not to mention its hardware costs, make it a good choice for mid-size and larger businesses.
Users must purchase one of Clover's hardware packages, which range from $69 for a card reader to $1,649 for just one POS terminal. Users must also sign up for software subscription tiers that range from $14/month to $70/month, plus standard per-transaction fees.
Clover POS runs on Android and offers order management, customer management, and sales reporting features.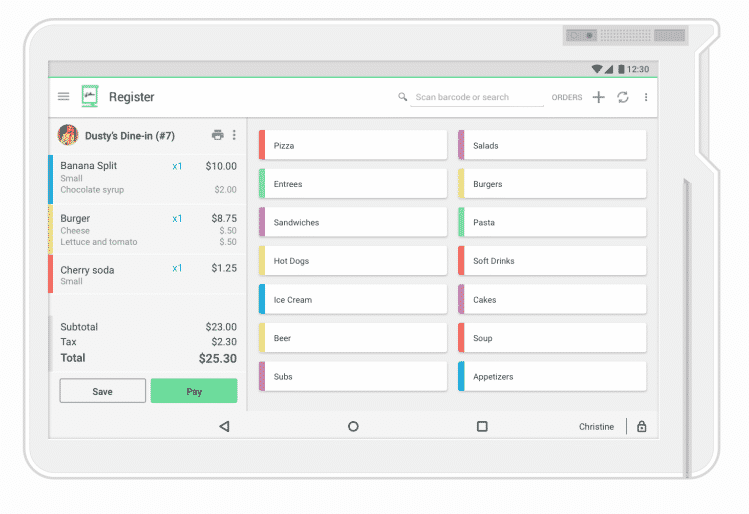 Read The Blueprint's full Clover POS review
---
8. ShopKeep
ShopKeep is a POS system designed for small to medium-size retail and food/beverage-based businesses. It's tailored for quick-service businesses.
ShopKeep's features include back office, inventory management, customer marketing, employee management, and offline payments capabilities.
ShopKeep's pricing begins at $49/month for its basic package, to $179/month for its most advanced plan. ShopKeep also offers a free plan for businesses with a single register, location, and staff member and sales of less than $5,000 per month.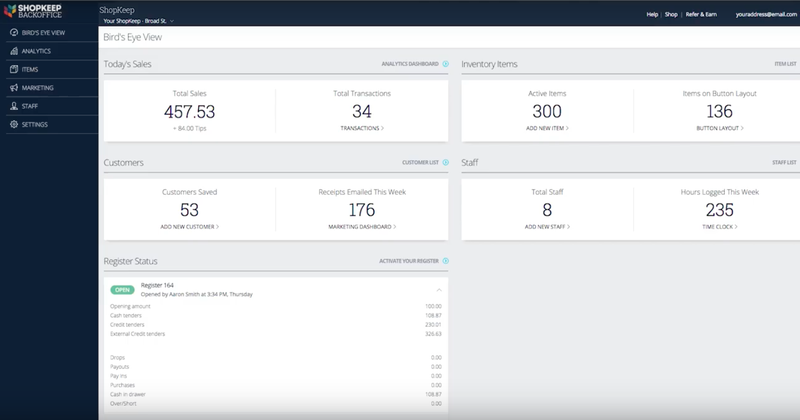 Read The Blueprint's full ShopKeep review
---
Pick the right all-rounder for your business needs
If you're looking for a ready-made, out-of-the-box POS and payment processing solution, Stripe is probably not the right choice for your business. It's a powerful platform with lots of potential, but many other solutions can help you run your business without needing an experienced developer to use common POS features.
If you want more information on the Stripe competitors listed here, head over to our POS directory page where you can find more in-depth information on each solution, including customer support, features, and ease of use.