---
An overview: SugarCRM
Keeping SugarCRM from a higher rating is the lack of user-friendliness across the platform. You can tell it positioned itself as a "large business" CRM, and it expects everyone to have a development team to train employees on using it.
That being said, with the right open-minded staff and a few tech-savvy people in the office, you could still implement this CRM software and reap the many service and sales benefits it offers.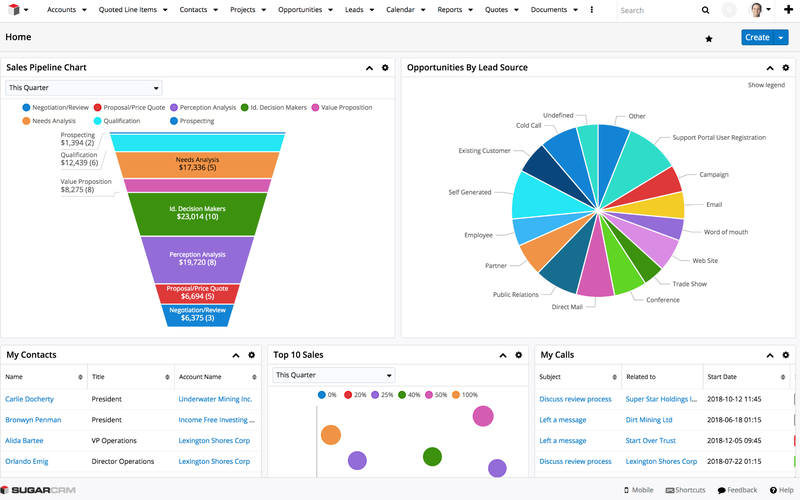 ---
Who is SugarCRM for?
SugarCRM is leading the way for customer management systems, serving around 50,000 companies with sales and marketing tasks. The service has over seven million downloads and is available in nine different languages.
One of the most valuable aspects is your ability to make the product your own. SugarCRM is an open-source platform, so you can twist and tweak it to provide you with the most important information and data for your business.
That said, SugarCRM works best for enterprise-level businesses with a development team because setting up many of the customizations requires some knowledge and know-how.
---
Key features of SugarCRM
SugarCRM breaks down its services into three primary categories to make them more digestible:
Sugar Market
Sugar Sell
Sugar Serve
Boom. It's as simple as that. Marketing, sales, and customer service are the three most important parts of any CRM. Let's look at each one in a little more detail.
Sugar Market
This solution is the marketing automation product. Sugar Market's goal is to help mid-sized marketing teams increase their reach and track results along the way. With Sugar Market, you can attract visitors using built-in advertisements and social tools.
There are also plenty of ways to get your website noticed using SEM and SEO. All of this is built right into the Sugar Market product.
You can create marketing campaigns with landing page templates, email and conversion forms, and easy drag-and-drop editors. Personalization is at the center of everything with SugarCRM. You can personalize emails and copy to make your leads feel like they're written specifically for your customers. You can also score leads based on their likelihood of converting.
Lastly, you can analyze your performance and track everything each step of the way. Regardless which package you choose, you get SugarCRM's highly visual analytics with charts and graphs to make the data easy to digest.
Sugar Sell
The goal of this solution is to make every salesperson a top performer. By entering a name into the software, a sales rep can see all kinds of information about that individual, including scores, insights, social data, and business data, with live notifications when things change.
You can then map out that customer's journey from the first conversation until they send in their customer satisfaction survey. Keeping track of everything is the best way to ensure an optimal customer experience.
Sugar Sell has a ton of integrations, including Google's Gmail. You can sync your calendars and email to keep track of the most important interactions while managing everything from the same dashboard. This creates a seamless experience and requires fewer clicks and less time.
Automation is also a core foundation of SugarCRM, and with SugarBPM (business process module), you can get quotes checked, approved, and routed to the proper department. This eliminates bottlenecks, thus improving the customer experience.
Sugar Serve
With the customer service platform, resolve customer inquiries faster without having to run through sloppy policies. Easy-to-read dashboards and self-service portals make the process simple and seamless.
As with every other feature of SugarCRM, everything is in one easy-to-find place. Your customer service agents can view inquiries, complaints, and open tickets on their SugarCRM dashboards. You can also take calls and route them directly to the correct department. The self-service portal makes it easier for customers to solve their own problems and answer their own questions. This minimizes your costs and prevents support calls for simple things.
Check your team's performance with real-time reports so you can become aware of issues before they become a problem.
Communication
SugarCRM also has standout communication features. You'll get phone, email, personalized message, video meetings, and individual social networks to connect with your customer base and promote your professional appearance.
---
Primary benefits of SugarCRM
All of these functions and features are great, but let's take a look at some of the things that make SugarCRM a smart business decision, too.
Engagement
SugarCRM bundles and manages customer support systems usefully and efficiently. Every individual working for your support team has access to complete customer personas so they can handle any problem, big or small, and don't need to endlessly reroute callers through the whole company.
Every member of your support team operates within the same platform and pulls customer information from the same place. This seamless transition of data makes for better customer experiences.
Easy-to-understand marketing campaigns
The dashboard contains the Campaign Wizard, one of the main components that separates SugarCRM from its competition. The Wizard helps you collect leads and distribute forms within the engagement programs. You can also rate leads, evaluate them, and assign them to agents.
There's a step-by-step tutorial with plenty of training, making it easy to understand even if you're not a marketing person.
Contact management
One of the primary reasons most business owners get a CRM is to keep track of leads and contacts. Some solutions offer an extensive but complicated way to do this, while others offer a simple, "bare-bones" tool.
With SugarCRM, adding contacts and leads only takes a few clicks, and when you're done filling out the contact sheet, you can attach files to the account, tag them, and star them. You can even do all of this in groups with bulk editing. This is a multicurrency and multilingual software, so there are no boundaries.
Plenty of integrations
SugarCRM is a great software for larger companies with robust tech teams. You won't be able to integrate it with a lot of the simple and popular business apps you usually see, but the SugarExchange has a public API code, which we think is even better.
Smart reporting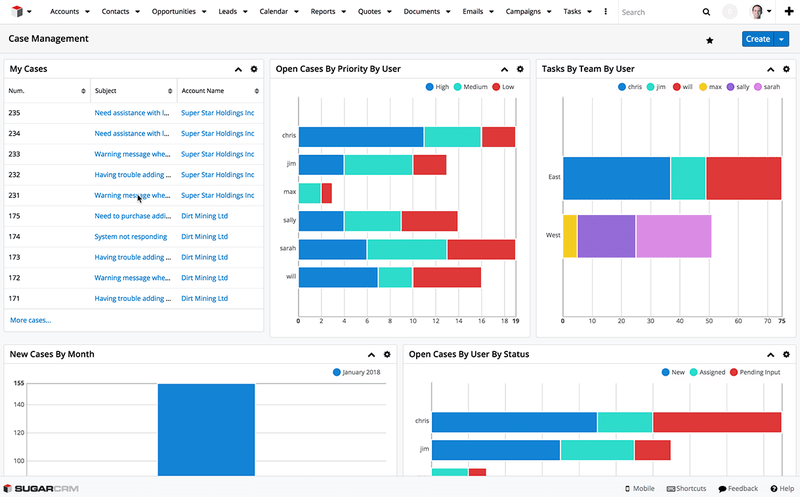 Another major part of customer relationship management is understanding your customers and forecasting the customers to come. SugarCRM will summarize your current performance and provide you with easy-to-understand datasheets. You'll also get forecast trends and alerts about potential issues to fix down the road. You can create dashboards for your smart reporting and search them using different filters.
Great support
Lastly, if anything goes wrong, you have access to 24/7 support from the SugarCRM team. They are known for their high-quality training, and the vendor also offers a tremendous database of information called Sugar University.
---
SugarCRM pricing
SugarCRM provides a seven-day free trial, but only for its Sugar Serve package, which we'll explain more about below. This customer management solution has five different pricing plans, all of which are quite costly and not suitable for startups or businesses on a limited budget.
Also, all of the plans are billed annually, which means you have to make a significant investment upfront, and can't cancel if it doesn't meet your needs.
As this is complex software, you also need to budget for implementation, training, and customizations, as well as maintaining the solution over the cost of the year's contract.
Sugar Professional
$52 per user/month
Automation
Reporting and data
Call center automation
15GB storage
Customer support
Cloud or on-site deployment
Sugar Enterprise
$85 per user/month
All previous features
Product level quotes
Enhanced workflow
Role-based view
Support for Oracle
60GB storage
With these packages, you get a little bit of everything across the three major platforms. If you want the entire Sugar Market software, pricing starts at $1,000 per month billed annually, and that offers you 10,000 contacts, unlimited users, unlimited emails and landing pages, and phone support.
The Sugar Sell package starts at $80 a month, billed annually. This plan supports a minimum of 10 users, and you get 60GB of storage.
Finally, for the complete Sugar Serve solution, you'll pay $80 a month, billed annually. This one also requires at least 10 users, and you get 60GB of storage.
---
How easy is it to use?
SugarCRM has so many features that it can get overwhelming, which is why we think the software is best-suited for companies with their own tech teams. The interface and dashboards are not especially user-friendly, and they take a long time to learn. If you're a small business owner without any tech experience, it likely wouldn't be worth your time to try to understand it.
Finding information through Sugar University and other help features is not hard, but it's a matter of time and resources for most business owners. Do you have the time to read through long technical documents and user guides? Furthermore, does your team have time for that? If you've never implemented a robust software product at your company, you might have a hard time with SugarCRM.
That said, if you have an in-house tech team, or even one person who can handle the implementation and training, you'll have no problem with SugarCRM.
---
Frequently Asked Questions
Is SugarCRM really open-source?
In a blog post from April 2018, SugarCMS said: "We are announcing today that the SugarCRM open source project and the corresponding Sugar Community Edition product are ending." However, there is some misinformation out there; some people say they shut it down, while others say Sugar CE is still active.
Clint Oram, John Roberts, and Jacob Taylor. The company is based in California and has over 450 employees.
Is SugarCRM considered the best CRM?
We can't say it's the best CRM we've ever seen. It offers a vast assortment of features, but there are some flaws. If Sugar could make the CRM more user friendly and easier for smaller businesses to jump aboard, we might bump up our rating

SugarCRM will help your team get organized with its contact management, lead funnels, and customer service features. With the right team to support your staff, SugarCRM can have a direct impact on your business.
SugarCRM will help your team get organized with its contact management, lead funnels, and customer service features. With the right team to support your staff, SugarCRM can have a direct impact on your business.
The Motley Fool has a Disclosure Policy. The Author and/or The Motley Fool may have an interest in companies mentioned.