With the recent rise in remote working, you're likely searching for the best remote tools. Your remote work tech 'stack' should include a solid video conferencing tool to run online meetings for distributed employees.
You've likely heard of most of the picks in this compilation of video conferencing software, but do you know which offers a free version, how many participants it supports, or which of its features match your business needs?
Here, we'll address questions and doubts you may have about six of the best video conferencing platforms on the market.
Here are the top picks for the best video conferencing software solutions:
Our top 6 picks for the best video conferencing software
Many video platforms can seem almost identical, so it's tough to determine which platform you should choose to run your remote meetings and remotely manage your team. This list of the six best video conferencing software options will help you with your search.
1. Zoom Meetings
Zoom Meetings is a popular video conferencing tool that offers a wide range of features such as screen sharing, Zoom Webinars, Zoom Chat, a whiteboard and drawing tools, customizable meeting backgrounds, and personal meeting rooms — and of course, video conferencing.
The tool rose to popularity during the early stages of the coronavirus pandemic, and has massively expanded its user base due to a combination of affordable pricing and rich features.
It's also a very scalable tool, suitable for small businesses, individual users, enterprises, educational institutions, healthcare organizations, and a wide variety of industries.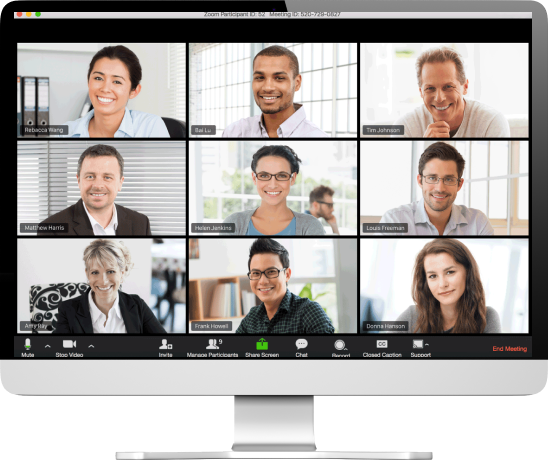 The solution is very easy and intuitive to use, and integrates well with many other packages, such as Microsoft Teams and Outlook, Slack, and many others.
In terms of customer support, the level you get depends on the plan you choose. This ranges from submitting support tickets, live chat, phone, and dedicated customer success managers.
You can expect to pay between $14.99/month per host to $19.99/month per host for a Zoom Meetings plan. Each pricing band supports a different number of maximum meeting participants and meeting durations.
There's also a decent free version with up to 100 participants/meeting and unlimited meeting usage, but meetings are limited to 40 minutes.
Read The Blueprint's full Zoom Meetings review
2. Skype
Skype, purchased by Microsoft in 2011, is one of the most well-known video conferencing tools on the market. Its business solution, Skype for Business, will be retired in July 2021, and will be replaced with Microsoft Teams.
Skype offers a completely free version for individuals and businesses, but as the tool supports a maximum of 50 meeting participants, it's unlikely to be a fit for larger businesses and enterprises.
For a free tool, Skype is feature rich. Its best features include:
"Meet now" (users can start a chat or video conference without signing up for an account)
Live subtitles (11 languages supported)
Drawing tools and whiteboard
Skype translate (translates voice calls, video calls, and instant messenger chats in real time)
Screen sharing
Instant messaging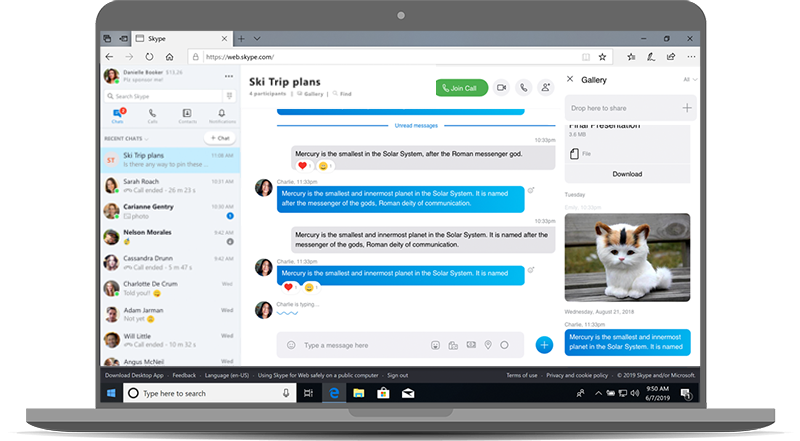 As Skype is no longer marketed as a business product, the tool does not provide any phone-based customer support. Skype offers live chat, a knowledge base, and a community hub.
Skype is a free tool, with extra charges for "premium" features: voicemail, SMS texts, or calls to a landline, cell phone, or outside of Skype. Skype offers four pricing options for these features, which are a little difficult to understand.
Read The Blueprint's full review of Skype pricing to help you understand the difference between subscriptions, Skype Credit, Skype Number, and Skype to Go.
Read The Blueprint's full Skype review
3. Google Meet
Google Meet is Google's video conferencing software for business, and the tool comes as part of G Suite (Google's enterprise suite of collaboration and productivity apps).
Google Meet cannot be purchased as a standalone solution, which makes the solution better suited for existing users of G Suite. Google Meet is a no-frills solution that offers simple and easy-to-use video conferencing functionality.
Google Meet supports up to 250 meeting participants with its enterprise level plan, and its standard video conferencing features are pretty basic:
Screen sharing
Multiple screen layouts
Meeting host controls
The solution also offers real-time captions and noise cancelling functionality, to help block out background noise.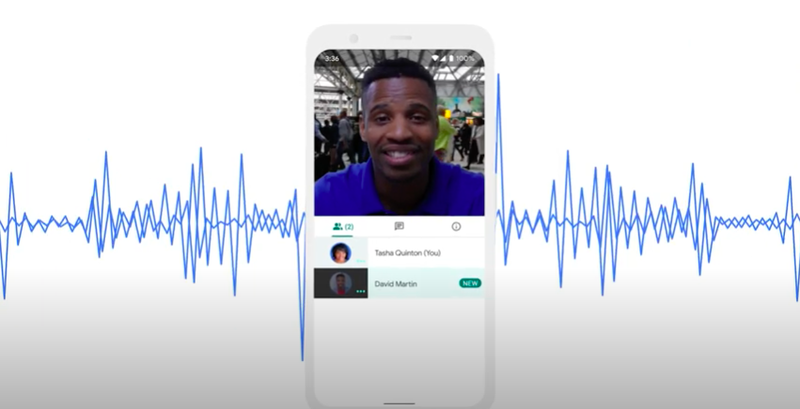 G Suite administrators can access 24/7 customer support via phone, email, chat, and phone. The help center is also filled with an abundance of support material, and FAQs.
G Suite pricing starts at $6/month per user and rises to $25/month per user. There is a free version of Google Meet which includes support for 100 meeting participants and no meeting duration limits (video calls will have a 60-minute limit after September 30 2020).
Read The Blueprint's full Google Meet review
4. GoToMeeting
GoToMeeting is a video conferencing tool that's best suited to midsize businesses. This is largely because there's no free version of GoToMeeting, so for those looking for a free video chat tool, GoToMeeting is not suitable.
The tool's features are well-rounded, and each plan includes the following features:
HD video
Screen sharing
Unlimited audio conferencing calls
Phone dial in
Unlimited number of meetings
No meeting time limits
Business messaging
Personal meeting room
Meeting room lock
Additionally, GoToMeeting provides toll-free numbers for over 50 countries, which is a great addition for businesses with globally distributed employees who want to avoid long-distance fees.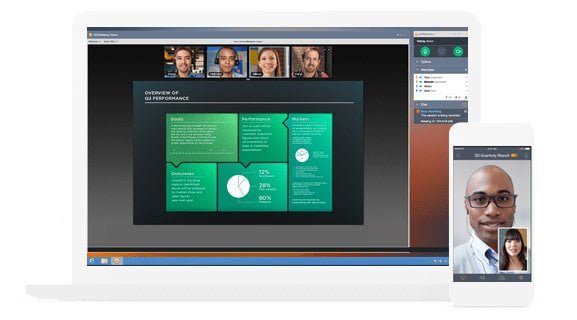 Phone support is available 24/7, with local numbers for all countries the solution operates in. Users also have access to a knowledge base, FAQ, user forum, and other step-by-step guides.
Prices range from $14/month per organizer for 150 meeting participants, to $19/month per organizer for 250 meeting participants. The vendor also offers custom plans for larger businesses and enterprises, and these plans can support up to 3,000 meeting participants.
Read The Blueprint's full GoToMeeting review
5. Webex Meetings
Webex Meetings is a video conferencing solution that's suitable for every business size due to its combination of scalable pricing bands and features.
All of the solution's paid plans include video conferencing with a display of up to 25 participant video screens, screen sharing, meeting recording, and the ability to share the presenter role.
The solution comes with a range of features including:
Meeting recording
Polling options
Whiteboard
Meeting transcription
Personal meeting room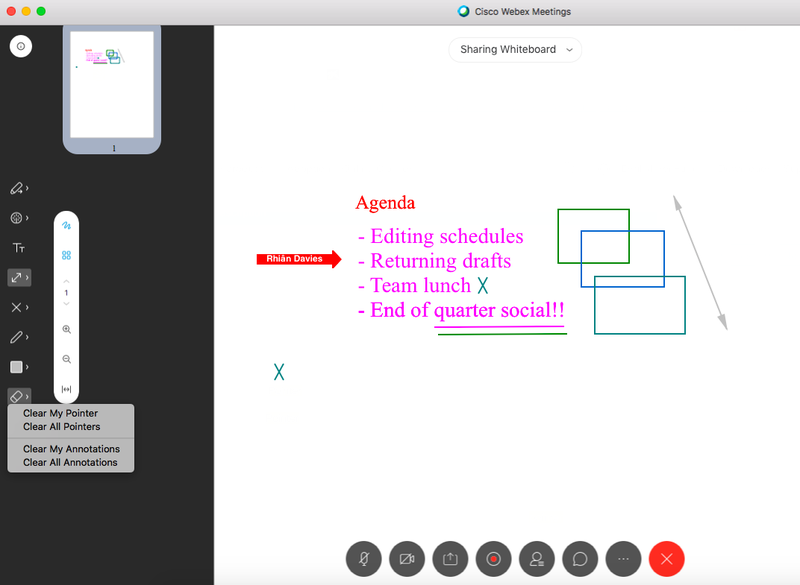 Customer support levels depend on the plan you purchase. The options range from online customer service options such as a community forum, video tutorials, how-to-guides, FAQ pages, and live chat, to 24/7 phone support.
Webex Meetings offers three pricing bands, and prices range from $13.50/month per host for up to 50 meeting participants, to $26.95/month per host for up to 200 meeting participants. Users that need an enterprise solution can also obtain custom pricing plans that support up to 1,000 meeting participants.
A free version of Webex Meetings provides support for up to 100 meeting participants, no duration restrictions, and unlimited meetings (the free offering was enhanced in response to the coronavirus pandemic).
Read The Blueprint's full Webex Meetings review
6. UberConference
UberConference started out as an audio conferencing tool, but has recently expanded as a video conferencing tool with HD video. The solution supports a maximum of 100 meeting participants, so it's best suited for small- to mid-size businesses.
The solution isn't as robust as its competitors, but it does offer common video conferencing features such as screen and document sharing, and more advanced functionality such as voice intelligence for analyzing meeting conversations and producing call transcripts, and time tracking for those who bill clients by the hour.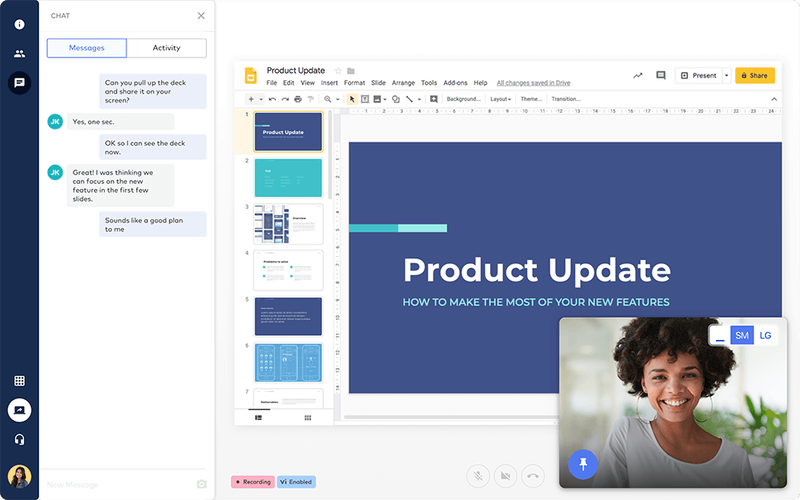 UberConference's customer support is very lightweight compared to its competitors. There is no phone support available, and the tool's help page directs users to a help center that contains articles, an FAQ, admin support, and release notes.
UberConference offers a free plan that supports up to 10 meeting participants for small video chats and one paid plan that costs $20/month per organizer and supports up to 100 participants.
Read The Blueprint's full UberConference review
What The Blueprint looks for in a great video conferencing software
Features are important when choosing a video conferencing tool, but we know there's more to a tool than its functionality. When we review video conferencing tools, we also assess the following characteristics of each solution:
Ease of use
It's true of any kind of software — if it's not easy to use, people won't use it. Video conferencing software shouldn't be complicated: interfaces should be clean and uncluttered, features should be clearly accessible, and meetings should be easy to join.
Solutions should also be accessible across desktop, browser, smartphone, and tablet.
Customer support options
Customer support is important to consider when choosing video conferencing software, especially if your business depends on the software for meeting with clients and customers. If the software isn't functioning or you can't figure out how to use or access a feature, then having a decent array of customer support options is vital.
Pricing
Another important characteristic we look at is whether the solution's pricing is fair for the quality of features on offer. Pricing options should also be transparent and easy to follow.
How your business can benefit from using video conferencing software
Aside from the obvious, video conferencing software can have a big impact on other areas of your business. Here are just a few of the benefits of using video conferencing software.
Cost savings
Using a video conferencing tool helps businesses save money by reducing money spent on travel expenses for business trips and gathering distributed employees in one place. It can also help save money on long-distance phone calls.
Improved productivity
The reduction in time spent commuting to workplaces can have a massive effect on employees' productivity. Video conferencing tools can provide a sound basis for telecommuting policies while maintaining or increasing productivity.
When employees who are working in an office have to break up their day and physically move to another location to attend an in-person meeting, their productivity levels can be disrupted multiple times a day.
Fosters collaboration between distributed employees
Remotely distributed teams still need to keep in touch, bond, and collaborate. Aside from video calls, many video conferencing tools have features that can help foster collaboration and engagement, such as online video chat, file sharing, and personal meeting rooms.
Video Conferencing Software Frequently Asked Questions
How much should I pay for video conferencing software?
There's no set rule to how much you should pay. Generally, prices align well with features when it comes to video conferencing software. Though it's too simple to say "you get what you pay for", it's true that the quality and amount of features on offer often improve as prices increase.
Bear in mind that most video conferencing software platforms are priced on a per user/host/organizer basis, so you'll need to calculate your budget for all intended users. The tool you ultimately choose should also align well with your organization's communication strategy.
Why should I pay for features when there are free video conferencing solutions?
Many free versions offer solid features, but many video conferencing platforms put limits on the amount of meeting participants allowed in one meeting and meeting durations, and some lack advanced features such as personal meeting rooms, easy, one-click access to meetings, and screen sharing.
Depending on your business needs, paid solutions can often meet your video conferencing requirements better than free versions.
Do I need to pay for extra hardware?
Not necessarily. Most video conferencing software can be accessed via desktop computers, smartphones, and tablets. However, some vendors offer their own physical hardware setups to let companies schedule and launch conferences from their own meeting rooms.
The Motley Fool has a Disclosure Policy. The Author and/or The Motley Fool may have an interest in companies mentioned. Click here for more information.
Suzanne Frey, an executive at Alphabet, is a member of The Motley Fool's board of directors. Teresa Kersten, an employee of LinkedIn, a Microsoft subsidiary, is a member of The Motley Fool's board of directors. The Motley Fool owns shares of and recommends Alphabet (A shares), Alphabet (C shares), Microsoft, and Zoom Video Communications and recommends the following options: short August 2020 $130 calls on Zoom Video Communications, long January 2021 $85 calls on Microsoft, and short January 2021 $115 calls on Microsoft. The Motley Fool has a disclosure policy.