The body's five senses play a role in consumer choices. Think of a visit to the Grand Bazaar in Istanbul, the covered market spanning over 300,000 square feet and 4,000 shops. Every shop is beautifully decorated with an abundance of products you're allowed to touch, and there's music and constant chatter. You can smell the spices, and many shopkeepers will let you taste their goods to persuade you to buy what they're selling. All your senses are at play.
In a physical setting, you can use sight and sound, taste and smell, and of course, touch, to create an emotion and convince a consumer to buy products. Think of the smell of a bakery, the touch of a fabric, or of the taste of food at a food vendor's cart.
This is impossible to do online, where touch, taste, and smell are not available. And although using sound is technically possible over the internet, it's rarely integrated into a user experience in a fluid manner.
We may be limited to the visual elements for online retail, but digital media opens up a range of other persuasive elements such as high-resolution images, 360-degree views, video content, augmented reality, and live streaming.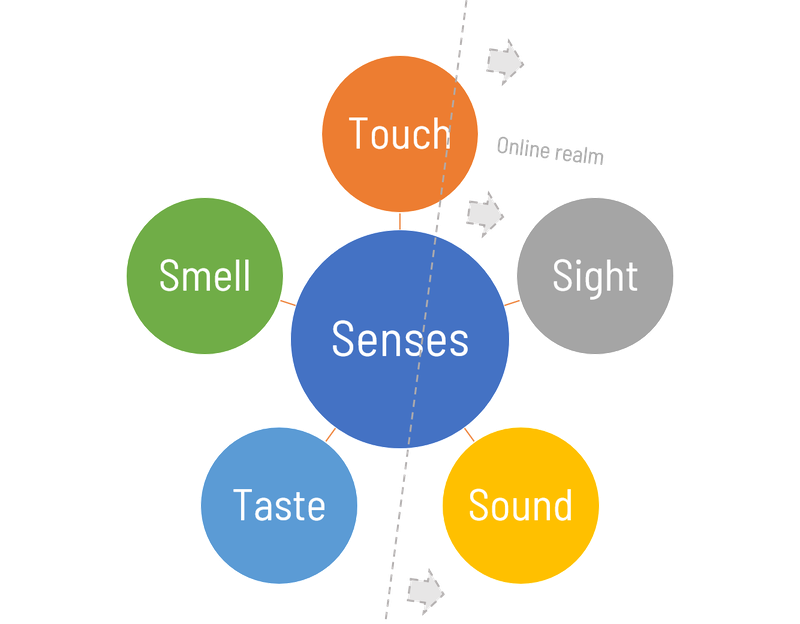 ---
Overview: What is visual commerce?
Visual commerce is the deployment of these images, videos, and graphics to enhance the e-commerce experience. Its goal is to create a great user experience, driving consumers to buy your products or services more easily, faster, more often.
Most e-commerce is managed via powerful e-commerce platforms empowering the merchant to create visual experiences quite easily. It would be wrong, however, to think this takes away the need for creativity, quality equipment, and hours of work creating your assets.
---
4 benefits of focusing on visual commerce
Amazon has a dedicated shopping experience for fashion and recently opened up for luxury products as well. Who could have imagined we would one day buy clothes, shoes, and even cars online?
But increased bandwidth has allowed for richer media components on our computers and smartphones. Better compression algorithms reduce data transfer while maintaining high-quality images.
And smart e-commerce platforms have allowed merchants to easily manage their online retail. Let's have a look at some of the benefits visual commerce can create.
1. Make your products stand out
Packaging is essential to selling a product in a physical store. There are only so many unpacked products you can stack up on shelves, and for some products, unpacking them will cause a loss.
In digital retail, you can spend less effort on the packaging, but you'll compensate by using still photos and descriptions to make your product stand out. You'll aim to showcase the product from its best angle, with virtually no limits to the visual effects you can produce.
Images are also a powerful way to enhance retail promotions. By visually enhancing a promotion or a sale, you'll draw the user's attention to the image.
2. Generate emotions
There's nothing like a good book to create emotions, and nothing creates emotions quickly like a good image. Users give you a limited attention span online, so images and video are the best way to generate emotions and create a stronger bond with them. Emotions make a more lasting impression on users than simpler, more basic online experiences.
3. Simulate touch
With 3D images, you can almost simulate one sense you can't reach via digital media: touch. Using the mouse, the user can manipulate and turn a product around in various ways. It almost feels like the real thing.
4. Create ambassadorship
Images can have a lasting impact on users. The most powerful brands create an impression reaching beyond the product experience, and images are a large part of that experience.
When users are proud of a product they bought, they're likely to showcase it. In an optimized visual commerce experience, the product is photogenic, and promotional images are ready for sharing.
---
4 strategies to improve your visual commerce
The internet has evolved massively over the years, and this has greatly improved experiences for the virtual shopper. Visual commerce is to a large extent the reason for new e-commerce segments to open for shopping — think Instagram and TikTok. Let's have a look at some of the strategies you can adopt to improve your visual commerce.
1. Richer product presentations
Product presentations easily become obsolete as image standards constantly improve. This means you must constantly update your images, aiming for an ever-improving image quality.
Push further into 3D images or video presentations of your products; these allow for a more immersive user experience.
If you have only the resources to update product presentations selectively, prioritize your best-performing products. When those are optimized, focus your attention on the remaining products in your catalog.
Visual commerce platforms are a subcategory of other e-commerce platforms specifically focusing on the visual aspects of your online store. But existing players such as SquareSpace and Shopify are also advanced in the way they enhance visual aspects of your store.
2. Merchandising
Merchandising involves organizing your products along the user journey to facilitate sales. It's an approach involving systematic propositions and suggestions. When a viewer arrives on your homepage, they'll encounter one or more promotional offers, and when they reach the bottom of a product description, they'll find promotional boxes suggesting similar or alternative products.
If your online store requires users to return to summary pages or has dead-end pages, launch a merchandising project on your site. You can focus on visual merchandising, where you associate images of other products into each product page. The user will be on a more fluid journey with less friction and will be more likely to buy from you.
3. Video testimonials
Combining the most persuasive content for e-commerce, recommendations, and testimonials, with the most powerful media format, video, can be a powerful cocktail for your e-commerce. Users love video content, and they react positively to testimonials.
4. Interactivity
Personalization is at the frontier of visual commerce. Customers virtually trying clothing on is a perfect example. Merchants are progressively moving towards that function via photos and augmented reality.
But at an even simpler level, you can greatly enhance user interactivity by letting them manipulate images and change product colors. This is an area where digital media can surpass a physical store.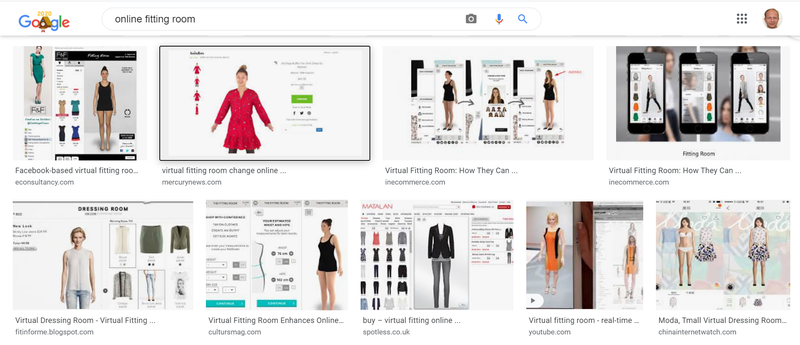 ---
4 visual commerce best practices
Visual commerce is a vast area with unlimited possibilities. It can be a challenge to identify the best opportunities to invest in, but following these guiding principles can help.
1. Image resolution
Finding the balance for image resolution can be a challenge. The higher the image and video resolution, the more bandwidth required, potentially slowing download time.
The perfect user experience is one where visuals are high quality and load speed is fast. Looking into user behavior and equipment can point you to the right balance.
2. User experience
Always keep the user experience in mind to get the most out of visual commerce. Sometimes, small visual improvements can greatly improve user experience. You can start by systematically testing your implementations from the office, from home, and on mobile devices.
To further understand user experience, conduct surveys and continuously monitor user behavior in your online interfaces. This is what leading internet players Google and Amazon do systematically.
3. Video
In most countries, bandwidth and the quality of user devices will allow users to enjoy video content. Video can be hard to produce, but it represents a huge improvement in user experience and engagement. Whenever video is possible, use it.
You can use video for product presentations, testimonials, and even live events.
4. Systematic testing
The best results are achieved through numerous cycles of systematic testing. For each visual commerce improvement idea, you can set up a prototype and compare user behavior on the prototype to behavior on other pages. This allows for continuous improvement.
---
Activate emotions via the sense of sight
When you're online, your products are already unpacked. Creating compelling packaging can be transferred into creating compelling visual product presentations. You can also use images in merchandising on your site to increase conversion.
Visual commerce is not limited to great product photos. It can be 3D images, video presentations, and even testimonials and live events. Shooting an influencer's unboxing sequence for your products makes for a great visual story to enhance your e-commerce.
With visual commerce, it's possible to stand out and even to generate an emotional impact. When your presentation is positive and engaging, users are likely to buy more and perhaps even promote your products to others.