"Tout de suite" is a French expression which means "right away". Add an owl to the equation and you get "Hootsuite", the name of one of the most popular social media platforms for small business marketing.
Hootsuite is a social media management tool that makes social media for small businesses more manageable and profitable.
---
Overview: What is Hootsuite?
Hootsuite is a software as a service (SaaS) platform which connects a number of social media accounts to a centralized social media management console.
Community managers can connect to just one platform and manage several social media networks from one central spot, rather than manage a number of individual social media profiles separately.
---
What is Hootsuite used for?
Hootsuite lets the community manager execute on a social media strategy, by planning ahead, scheduling and gathering data into one report. The platform allows social media teams to monitor activity and interact with users.
---
Using Hootsuite for planning social media activity
Planning and post scheduling are two of the key activities in social media management and planning of a social media content calendar. In the Hootsuite Calendar view, the community manager picks a time slot to plan a publication to one or more of the connected social media networks.
The Calendar view presents an overview of planned posts.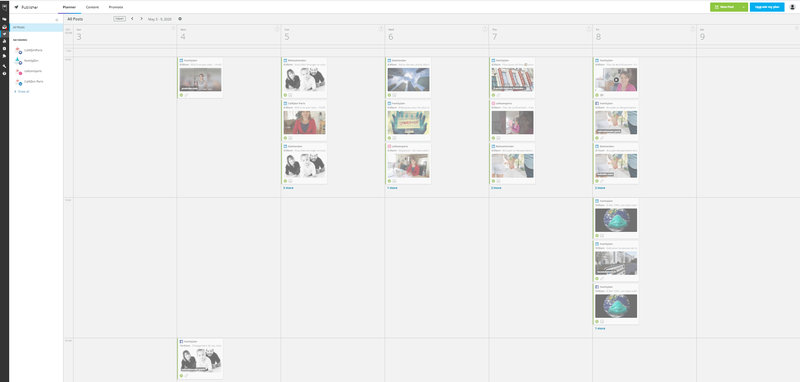 ---
Using Hootsuite for engagement
One of a community manager's most important tasks is to respond and engage with users in a timely manner. Hootsuite allows you to monitor engagements with your social media accounts, and to quickly identify engagement opportunities when a user or business mentions your social media profile.
Time is of the essence, and it's very important to respond or enhance the discussion and generate an increased awareness around your post. Hootsuite centralizes a social media inbox of direct messages addressed to the connected accounts.
Messages arrive in a central inbox where the community manager can respond directly to each message.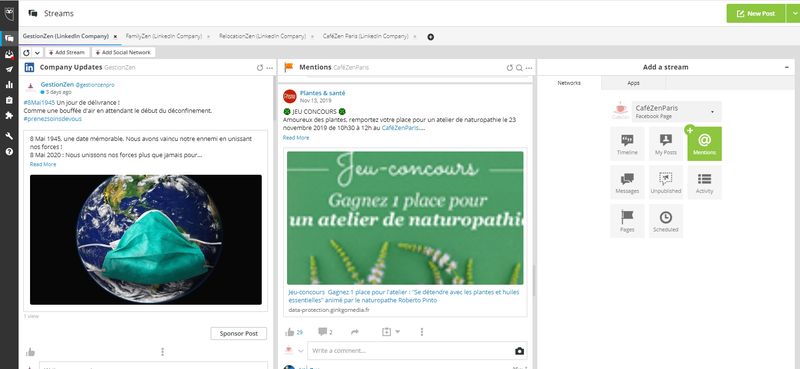 ---
Using Hootsuite for social media reporting
Social media analytics is another key task in social media management. Hootsuite reports on activity across several social media networks in one common interface. To do this, the tool connects to the reporting interfaces of the various networks and aggregates the data in its centralized reporting interface.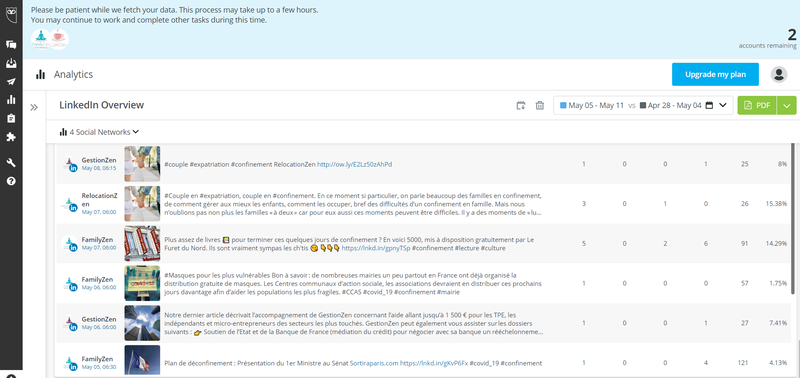 ---
Using Hootsuite for boosting posts
Social media algorithms have reduced the organic reach of posts over time. This means an unsponsored post is seen by less people than formerly. Sponsorship is a way for social networks to monetize their otherwise free service.
A publication is rarely seen by all the fans or followers of a profile. Therefore community managers use this form of advertising to "boost" the reach of individual posts.
This can be done directly from the social media profile, as is the case for advertising from a Facebook business page. Hootsuite, via its integration with social networks, allows users to perform this basic advertising function directly from its central console.
More advanced social media campaigns typically use other forms of social media advertising than "boosting" and shouldn't be performed through a social media management tool.
---
Using Hootsuite for scheduling posts
Post scheduling is one of the most beneficial and time-saving tasks social media management tools can help you with. This is typically reserved for business pages, but the tools are increasingly allowing the user to schedule posts on personal profiles too.
When scheduling posts on a personal Instagram page, this tool can schedule a notification allowing you to post via your smartphone at the scheduled time but cannot automate publication.
---
Top features for all Hootsuite users
Hootsuite covers the basic social media functions: planning posts across multiple social networks, monitoring activity, and reporting on performance. Hootsuite stands out for a number of reasons which we will go through below.
1. Learn the basics of social media management at no cost
Hootsuite provides this service for free. The Hootsuite free plan allows the user to connect three social networks, and post a limited number of times per month. This is a great opportunity to learn the ways of social media management and become familiar with the way the tool works.
For someone just starting out with social media, initial needs will be limited to a few social networks and few postings anyway. The tool can be a great aid in starting out with social media management.
Hootsuite offers an upgrade to a Professional account once you need to post more or add more social networks.
2. Boost posts on social networks
Boosting is where a post's reach is amplified by investing in a small advertising budget and is a great addition to the tool. We distinguish between community management functions and social media advertising, and "boosting" lives in both of those universes.
Hootsuite makes boosting available to community managers and very easy to use.
3. Create streams to monitor activity and engagement
Hootsuite allows you to create a number of streams. Each stream monitors an account or a social media handle and shows posts in a chronological order with the most recent post appearing at the top.
This is a good way to view recent activity and get a feel for the flow of an account. Monitoring social media mentions can help the community manager react in a timely manner and interact with other social media profiles.
4. Report on social media activity across networks
Reporting across various social media platforms is a challenge Hootsuite addresses in a configurable reporting environment that can be viewed from several angles.
Hootsuite reports on followers, engagement, posts and page clicks and collects some metrics for each of the social media networks connected to the account.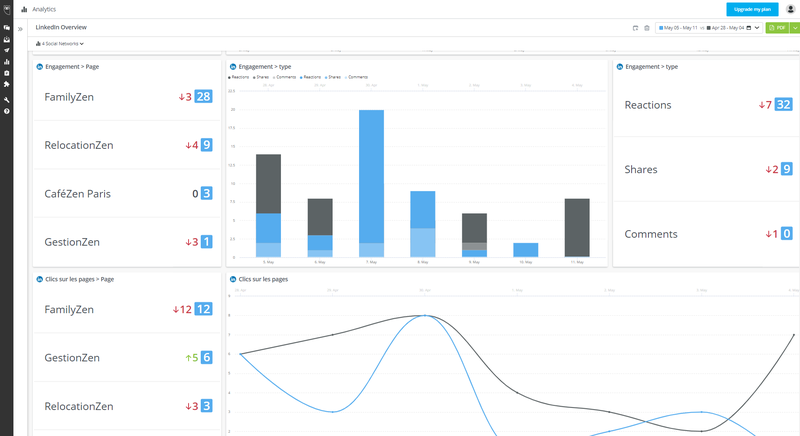 ---
Hootsuite will post that right away
Hootsuite is easily accessible, easy to use, and a great aid for social media managers. It is a free tool when you are just starting out, and becomes an advanced social media console for more advanced social media marketers, as you will discover in our full Hootsuite review.
Hootsuite is ready to manage your next post right away.