---
Who is Wrike for?
I'd recommend Wrike for nearly anyone given its vast array of task planning options and long list of useful integrations. This product does offer a free option for up to five users; however, this option only comes with simple task lists for smaller teams. The next tier for this product charges $9.80/month per user, and even with a smaller team of five users, you're looking at paying at least $588 a year. This doesn't seem like much, but if your team is smaller, you're probably looking for ways to save money wherever you can.
If money is no object, then Wrike has lots to offer larger teams with multiple projects in the works. Wrike integrates with most major team chat systems, uses multiple forms of task management, provides exceptional levels of network security, and lots of project templates to speed along the process.
---
Wrike's features
Considering its relatively reasonable pricing structure, Wrike offers lots of features one would come to expect from a project management software. While not all of its functions are provided natively, Wrike offers lots of different integrations and add-ons to fill in the gaps.
Security features
Encryption key management: All of your data on Wrike is encrypted, and you are given complete control to manage your keys.
Single Sign On (SSO) integrations: Wrike integrates with multiple big-name SSO providers, such as Okta, Shibboleth, Google Authenticate, Ping Login, and Bitium.
Two-Factor Authentication (2FA): Wrike allows you to set up additional identity verification through 2FA.
Advanced account permissions: Protect your assets by using granular permissions (task, team, and project) controls to restrict access to only the correct users.
Cloud Access Security Broker (CASB) integrations: Monitor and prevent suspicious user activity, such as major data exfiltration and alterings.
Management and planning features
Task prioritization and scheduler: Wrike uses a standard task-creation system that allows you to create due dates, tag relevant team members, attach files, and track team progress.
Shared team calendar: Plan ahead using the shared team calendar, which provides real-time project plan updates to your team each time a new task is added or completed.
Resource management: Wrike Resource is an add-on resource manager for tracking team resources, such as workloads and timesheets.
Time tracking: As mentioned above, time tracking and timesheets are handled using the Wrike Resource add-on tool.
Premade templates: Wrike offers many premade templates, from marketing projects to product development, that will allow you to jump right into the action with minimal preparation time.
Documentation features
Document storage: Wrike's task management system allows users to store all kinds of files including images, documents, PDFs, and spreadsheets.
Collaboration features
Communication: While Wrike doesn't have a live chat feature, it does offer comment sections within tasks as well as a Slack integration.
File sharing: File sharing within Wrike is done through the task file upload system.
Team dashboards: Create individual project dashboards in Wrike that track project progress, including tasks that are active, in progress, canceled, and completed.
Mobile application: Wrike offers a mobile version of its software for both iOS and Android users so you can remain in contact with your team and coordinate project tasks on the go.
Budgeting features
Budget reports and dashboards: Wrike gives users the ability to create custom budget reports in their Report Building tool. If you're looking for a budget dashboard, you can create one using their "custom fields" function in under the main project dashboards.
---
Benefits of using Wrike
Wrike has so much to offer project managers that it's hard to narrow down my list of benefits. My favorites have to be the easy-to-navigate user interface and multiple forms of task management. While using Wrike, I never felt lost looking for a project task, function, or result.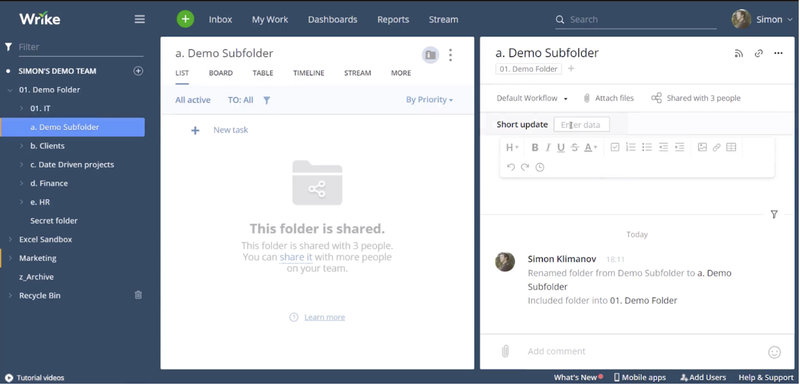 Everything I need to navigate throughout Wrike is kept either on the main menu at the top of the screen or on the sidebar. All projects are kept on the right side of the screen with a subfolder system for each function, team, and need. Wrike doesn't use any fancy branded terms to describe their software functions, and this saves users loads of time learning how to work their product. Everyone knows what inboxes, dashboards, and reports are, and Wrike takes advantage of that.
As for the second benefit, I loved that Wrike gives its users multiple forms of task management tracking. If I want a kanban system, I've got it. If I want Gantt charts, no problem. If I want a simple task list, it's all right there for me. I choose how my project is set up and tracked. This kind of flexibility is important, especially if one method proves to be more effective than another while managing different projects and teams.
The final benefit of Wrike is security, which is a commonly overlooked feature of project management software. Not only does Wrike offer your common identity management features, such as two-factor authentication (2FA) and single sign-on (SSO), but it has also extended its security apparatus into encryption key management and cloud access security broker (CASB) integration.
For those who aren't familiar with CASBs, these are platforms built to provide granular oversight, management, and control of your assets that are stored in the cloud.
With so many people working from home, and so many businesses moving their entire infrastructures to the cloud, lots of enterprises aren't ready for the switch. Assets are left unprotected from insider threats and, without you being aware of it, employees (or even hackers) can steal data from unprotected cloud systems.
A CASB is built to help you see where your assets are moving, set rules for their use, grant access to the correct users, and alert you to any suspicious activity. Wrike is now open to integrating with major CASB providers so you can keep your data safe from saboteurs and thieves.
I'm very impressed with Wrike and its emphasis on securing the software. These features show a certain maturity that many other project management platforms have yet to embrace. This factor places Wrike in a position to seriously contend at the enterprise level for project management.
---
Wrike's pricing
Wrike's pricing system is relatively more affordable considering all of the functionality that it provides, however the one drawback I found was their reliance on the per-user pricing system.
After reviewing other project management tools that offer a set monthly rate based on the features tier you choose, it's hard to see a per-user pricing system in a positive light. The good thing is, Wrike does offer a free option, which is perfect for small teams, and their Professional tier is pretty affordable considering everything that comes with it.
Free: Up to five users, simple task lists
Professional: $9.80/month per user — Up to 15 users, full project planning and collaboration features
Business: $24.80/month per user — Up to 200 users, all the features included in the Professional plan, additional customization abilities, detailed reporting
Marketers: Pricing negotiated with the client — Unlimited users, tailor-made system for the client
Enterprise: Pricing negotiated with the client — Unlimited users, tailor-made system with advanced security and control features
If other products can get away with offering unlimited users with their paid options, why not Wrike?
---
Wrike's ease of use
Earlier, I touched on how simple I found Wrike's user interface to be. Everything I needed was right there in front of me, and I had no problems navigating to all major functions. Creating a task was made very simple by clicking "+ new task" in any project on the left half of the screen, naming the task, assigning the task in the task dashboard on the right, adding additional project details, and updating task progress in that dashboard window. It was very straightforward.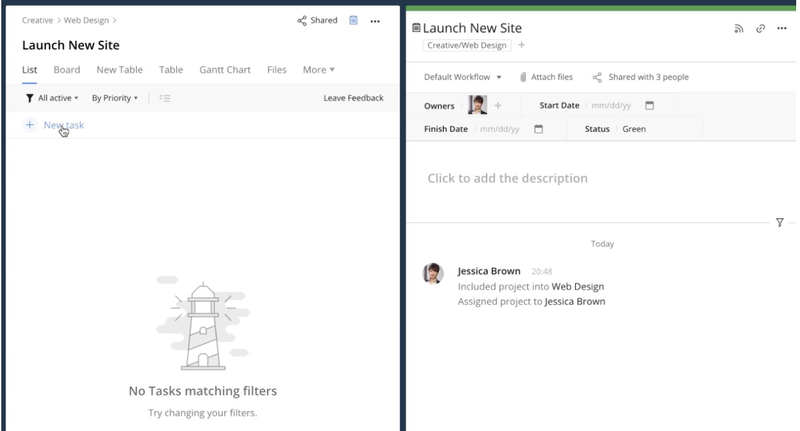 I was able to navigate this tool with very little instruction, which is crucial for any project management software. So many project management solutions often become the project themselves when users have to be trained and retrained over and over on a complicated system. Now, is Wrike as simple as other products like Basecamp? Not exactly, but it does offer twice as much capability.
In fact, this system reminded me of Asana with additional functionality. Wrike provided in-depth reporting capabilities that narrowed down as far as users, task status, timeframes, budgets, allocated hours, and whether I wanted the information in a table or column format.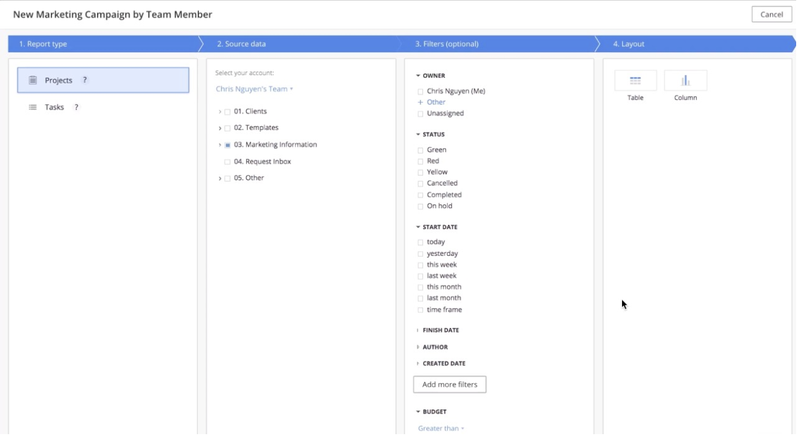 Typically when project management tools offer this much functionality, they get bogged down in complexity (a la Microsoft Project), but not Wrike. I have access to all of the information and detail that I want without losing my way. I was very impressed by Wrike's ability to provide function and simplicity in one neat package.
---
Frequently Asked Questions
Is there a free version of Wrike?
Wrike does offer a free version of their software, although like most free options, it is a very barebones platform. This tier only allows up to five users and only allows access to their task list functions. This is good news for small teams working on simple projects. Why pay for more than you actually need?
If you decide that the free option just isn't enough, the paid options are relatively affordable, offer far more functionality, and each tier offers a larger user limit than the last.
What kinds of teams and projects work best with Wrike?
Wrike is a relatively affordable project management tool with lots of functionality, making it perfect for teams of all sizes. The visual layout of the tool is perfect for fast-paced, agile projects, with each step of the task completion process on display. Wrike's customization capabilities make it perfect for setting up Agile workflows with custom Scrum dashboards. You'll be able to plan out your tasks, re-evaluate them if necessary, and measure successful processes using these dashboards and Wrike's reporting features.
What kinds of support does Wrike offer?
Wrike offers all kinds of support for its customers, including interactive training sessions, video tutorials, monthly webinars, user communities, a vast knowledge base, release notes, best practice guides, and email/phone support for all paid tiers.
If you're looking for a solution to your issues, Wrike has you covered on all fronts.
---
Which one is right for you?

If you're looking for flexibility and function all in one competitively priced package, Wrike just might be the right project management tool for you.
If you're looking for flexibility and function all in one competitively priced package, Wrike just might be the right project management tool for you.
The Motley Fool has a Disclosure Policy. The Author and/or The Motley Fool may have an interest in companies mentioned.