Xero combines flexibility and ease of use into its accounting software application. Designed for sole proprietors and small and growing businesses, Xero offers three versions, so you can scale up to a more robust plan as your business grows
---
Who is Xero for?
Xero is an accounting software that offers the convenience of running your business from anywhere. Designed specifically for the small business owner who doesn't want to spend a lot of time learning accounting but does want to stay on top of business performance, Xero works for a variety of niche markets including retail, IT, legal, e-commerce, and startups, and with its multicurrency capability, it's a particularly good fit for online sellers that conduct business globally.
---
Xero's features
Xero is loaded with a ton of features including invoicing, expense management, inventory management, project management, and bill payment, and it also offers a multicurrency option. All of the features are found under the four main navigation tabs on the menu bar at the top of the screen.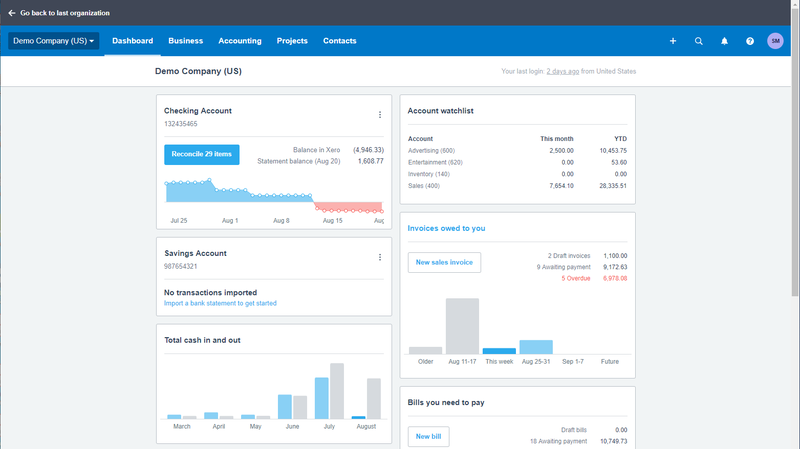 Dashboard
One of the best features in Xero is its easily navigated Dashboard, as seen above. The Dashboard is completely customizable, so you can choose what information is displayed, such as current bank balances, the very useful Account Watchlist, which highlights the areas where you're spending the most, and what bills you need to pay.
Business
The Business module in Xero is just that. Anything to do with running your business is found in the Business module, including options for invoicing, preparing quotes for your customers, bills that need to be paid, and other expenses.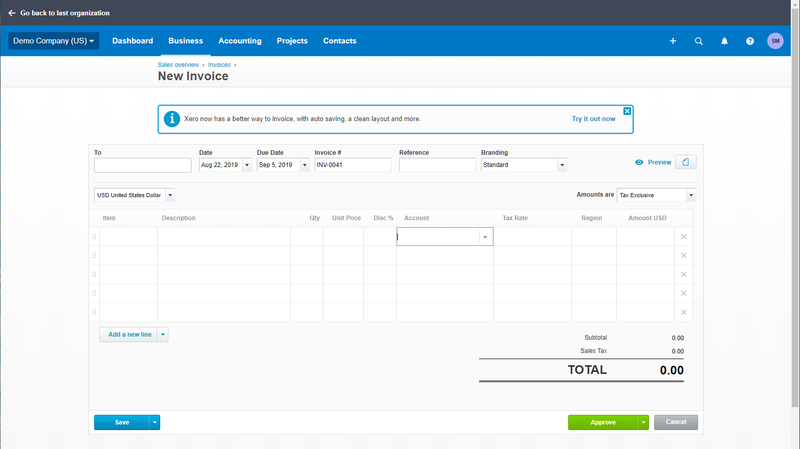 Entering a new invoice is easy, with look-up fields included. If a customer is not already in Xero, they can be quickly added by clicking on the New option in the customer field.
Xero has recently updated its invoicing feature to offer more professionally polished invoices so you can add a logo or other branding information on the invoice. There is an option to create an invoice online that can be sent from your mobile device, or if you prefer, you can print the invoice and mail it to your customer. If you want to know how much you've invoiced, or how many customers are past due, just click on the sales overview screen, which also lets you see any invoices still in the draft stage or waiting to be approved. In addition, when you enter a new customer or vendor, you can add custom details such as a discount.
The bill entry screen is similar to the invoice screen, with the same convenient look-up options. You can assign expenses to a customer from the bill entry screen, so if you're paying for 32-lb paper to complete a custom print job for a customer, you can assign the expense directly to the customer's account. For a quick recap, visit the purchases overview screen, which shows you invoices that need to be paid and how many, if any, are past due.
Xero also offers basic inventory management so you can track your inventory levels. If you set stock levels during setup, Xero will increase inventory when stock is purchased and decrease inventory when a sale is made. You can also access both quotes and purchase orders from the Business module.
Accounting
You can manage your bank account information in the Accounting module, and it's also where reports are run. You can edit your chart of accounts or enter manual journal entries in this area as well.
Xero uses double-entry accounting, but it's mostly done behind the scenes. As the program operates on the very real premise that, as a business owner, you may not know a lot about accounting, it suggests that if you need to enter a manual journal entry, you farm that process out to your bookkeeper or accountant.
However the journal entry process is fairly simple in Xero, with the feature including the option to create repeating or recurring journal entries in the application by picking a start date and an end data that you want the entry to post.
You also have the option to save the entry as a draft or a post. You can also reverse a journal entry, which can come in handy for reversing accruals.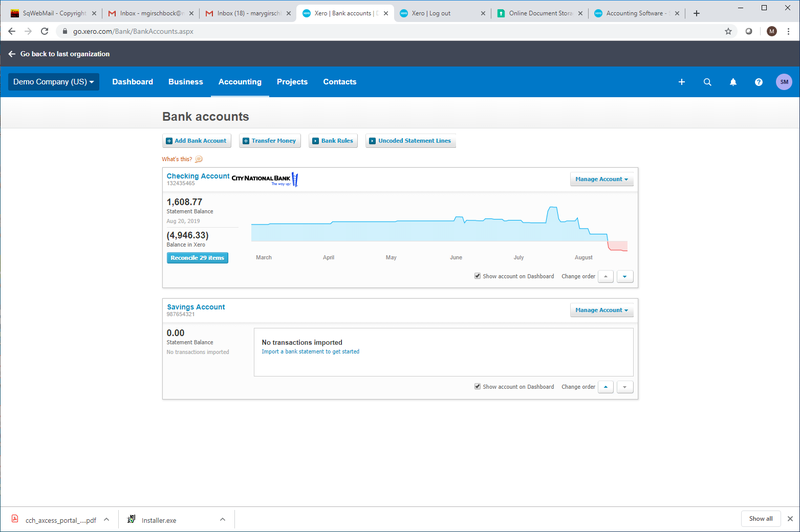 You can manage any of the accounts you have connected to Xero in the bank accounts screen seen above. You can also add an additional bank account or transfer money between accounts from this screen.
Xero reporting options continue to improve with each new release with new report options added regularly. Recently added is the ability to create a report from scratch and save it for future use. Along with standard financial statements, Xero includes tax, purchases, sales, accounting, and inventory reports.
Both aged payables and aged receivables reports are available, and the inventory reports offer a good summary of product sales performance, so you'll know if a product is selling well or has totally tanked.
Another great feature in Xero is the 1099 report, so you'll be able to send year-end 1099s to contractors if necessary. Xero also includes a main dashboard as well as the comprehensive business performance dashboard that displays a variety of business metrics of your choice.
The Budget Manager feature has been awkwardly placed in the Reports category, but it's worth finding since you can create an overall budget for your entire business or a specific budget for a department or project.
You can also import a budget from another application, or export the created budget to a program such as Microsoft Excel for further customizing.
Projects
You can also manage projects — and time spent on them — in Xero. You can create multiple invoices throughout the project or just one at the end. Track project performance throughout, as Xero allows you to see if the project is performing admirably or in danger of running over.
Contacts
The Contacts module lets you manage everyone including vendors, contractors, customers, and even employees in one central location. You can create groups and smart lists within the module, making it easy to track customers who order regularly or who always pay late.
Xero offers good import and export capability, so you can import contacts, budgets, bank statements, and PayPal statements into the product using a CSV file format. You can also export reports and other data using a CSV file format or through Excel. Xero does not offer payroll in any of its plans, but it does integrate with Gusto for those who need to pay employees.
---
Xero's ease of use
One of the best things about Xero is not only does it offer a free 30-day trial, but it also lets you access a demo company so you can see how things work with data already in the system. Xero is designed to work with just about any browser, and since the system is online, you don't have to spend any time downloading or installing an application.
A welcome screen is displayed once you sign in to the application that allows you to set up the application in eight steps, including:
Financial year
Transaction categories
Connect banking institutions
Finishing bank connection
Enter balances
Add any unpaid invoices and bills
Import missing bank transactions
Review and match transactions
This process is designed to get you up and running quickly, though it's best to be prepared with your banking information prior to setting up the application as it won't let you progress past the bank connection step without completing it. You do retain the option to import transactions manually from your bank if you don't want Xero to import them automatically, but I find it slightly annoying that I'm not given a choice as to whether I want to connect my bank or not.
During setup, you also have the option to accept Xero's chart of accounts or build your own. If your chart of accounts doesn't vary that much from Xero's default chart, the easiest thing to do is accept that one and make edits. Next up is entering vendors and customers, though you can just wait until you have a pending transaction and enter the information at that time.
Xero's menu bar has just a few options — Dashboard, Business, Accounting, Projects, and Contacts — making system navigation intuitive and ensuring that with a few clicks, you can find what you're looking for. If you do get lost, just click on the question mark in the upper right corner, which gives you plenty of support options, including quick access to Xero Central support.
For those who do everything on their phones, Xero has a mobile app for both iOS and Android devices that lets you capture and approve expenses, invoice clients, and store valuable contacts, though it does not offer all of the features found on the full online version.
---
Xero's pricing
Xero is nicely scalable, with three plans available, so if you're just starting out, you can subscribe to the Early plan at first and change to one of the other plans later, as your business grows.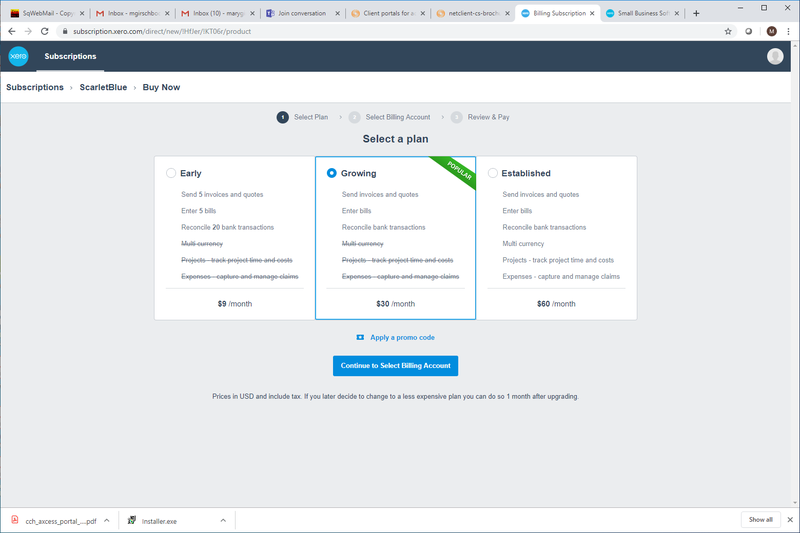 While Xero does not offer payroll in the application, if you have employees to pay, you can subscribe to Gusto through Xero starting at $39.95 per month.
---
Xero's support
One sticking point in Xero is the lack of live support. While the application is easy to use
Xero Central offers a variety of learning resources including the following options:
Email support
User and business guides
Help articles on a variety of topics
In-product help
Product training through Xero U
A robust user community
If you can't find the answer to a question from any of the above resources, you can contact Xero via the support page to request additional help.
---
Benefits of Xero
"There's an app for that" takes on new meaning for Xero users, since Xero currently integrates with more than 700 third-party applications in a variety of categories including payroll, point of sale, practice management, time tracking, CRM, and e-commerce.
Another clear benefit of using Xero is that you don't have to know anything about accounting in order to use the application properly. Finally, if you have employees scattered all over the place, they can still do their work, as Xero is an online subscription service, available anywhere that has a decent internet connection.
---
Is Xero right for you?
It can be difficult to figure out which accounting software application is the best choice for your business. Some of the questions you may ask yourself are:
Is it easy to use?
Can I be up and running quickly?
Does it integrate with other applications?
In Xero's case, the answer is yes to all of the above. Freelancers and sole proprietors can start out with one Xero's less expensive plans and scale up as their business grows. More importantly, Xero integrates with a ton of other applications, so if the feature or function you need isn't directly available in Xero, it's likely available in one of the apps that Xero integrates with. So why not take a few minutes to download Xero's 30-day demo and find out if it's right for you.
---
Frequently Asked Questions
It's not likely, as there are three plans available, and you can upgrade to the next level at any time.
I do everything on my phone. Can I use my phone to access Xero?
Yes! There are mobile apps for both iOS and Android devices that allow you to enter and approve invoices, add payments, track expenses, and add receipts.
I don't know anything about accounting. Can I still use Xero?
Xero is perfect for those who don't know accounts payable from accounts receivable. It uses terms we use in everyday life like bills, payments, and invoices.
---
Which one is right for you?

If you're a small business owner, sell online, or do business globally, Xero can help manage your business right from the start.
If you're a small business owner, sell online, or do business globally, Xero can help manage your business right from the start.
The Motley Fool has a Disclosure Policy. The Author and/or The Motley Fool may have an interest in companies mentioned.