Organization is a big part of any company's sales and marketing success. Contact leads haphazardly without knowing where they stand in the sales process, and your sales team will struggle, no matter how skilled they are.
It doesn't matter if you're in B2B sales or sell directly to consumers, you must know when to deliver your sales pitch, when to attempt the close, and when to just ask questions about the client's needs.
You can't do that without a solid customer management system.
Zendesk Sell is a CRM that helps salespeople organize all the information they need in one place so they're strategic each time they reach out to a client. But does the software do it successfully, and is it the best option out there? We break down Zendesk Sell: what you pay and what you get for the price.
---
Who is Zendesk Sell for?
Zendesk is geared toward people who want a simple CRM platform with easy onboarding so they can be productive right away. A salesperson who just wants to organize their contacts, deals, and calendar will pick up Zendesk Sell intuitively within minutes — no extensive training needed.
It's also for people who want reporting functions that will help them gain insights about their sales team's performance so daily activities can be tweaked and improved.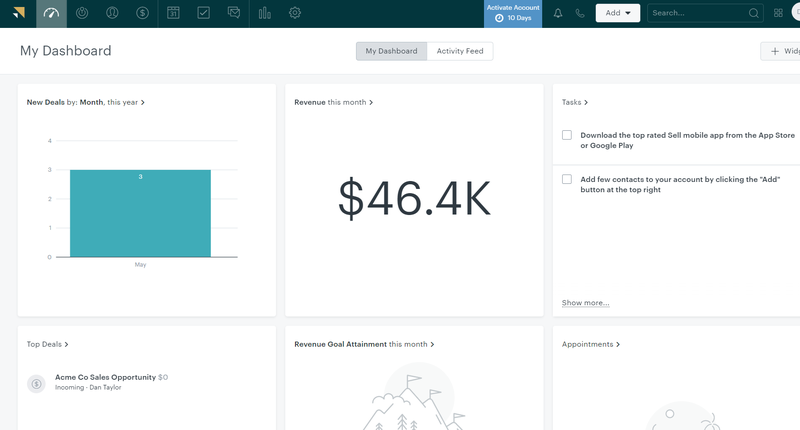 ---
Zendesk Sell features
Zendesk has a lot of features that aren't included in the basic version of the software. More on that later. We'll highlight three core features at the heart of Zendesk Sell's capabilities, included in the basic version:
Leads and contacts
The software easily manages leads and contacts, making it helpful for prospecting. Click the Add button in the top right and a dropdown menu lets you choose between, lead, contact, and deal.
Zendesk limits the level of detail you're able to put into a contact compared to other software options. A small description box lets you enter whatever you want, but the rest of the fields are limited to basic contact information and social media accounts.


Reports
Zendesk Sell includes simple but powerful reporting tools, a must for any CRM platform. One funnel report helps you visualize how successfully you turn leads into sales, another dives into call and email outcomes, and helps you slice and dice the data any way you want.
Call logs
The software keeps a detailed call log so you know how many calls your sales team is making, call average, what kind of impact the call volume has on closing, how call lengths differ depending on time of day, and more.
---
Zendesk Sell ease of use
Zendesk doesn't break new ground when it comes to CRM software, but sometimes you don't need to reinvent the wheel. When you log in to Zendesk, you'll experience deja vu If you've used other CRM software
For example, you can customize blocks of information and statistics on the dashboard, a common layout choice among CRM platforms. Icons at the top of the screen make navigation easy, another common feature among its competitors.
However, this is not a downside — it makes the software feel familiar and easy to use as a result.

Zendesk's calendar is straightforward. Click on a block of time to enter information and save it. The basic calendar will help you organize your day, but not much beyond that.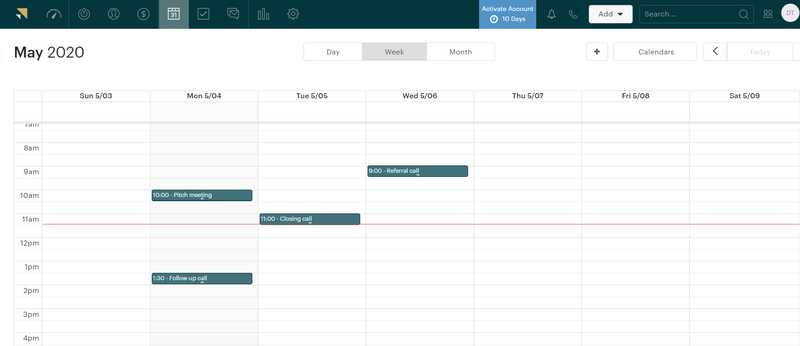 ---
Zendesk Sell's pricing
Zendesk pricing is good for small teams. If you only need three seats or less you pay only $19/month per user for the Team version, which comes with a full-featured mobile CRM, email integration (including Gmail), click-to-dial, and call recording.
Beyond that, things start to get expensive. The Professional version is $49/month per user, Enterprise is $99, and Elite is $199.
Professional gets you extras, such as bulk email sends and sales goals and forecasting. Enterprise gives your team even more advanced sales tools, such as multiple pipelines, activity reports, lead and deal scoring, and advanced permissions.
At the Elite level, you start getting into sales insights reports and advanced APIs. Pay annually and you can save 24% over monthly rates. As a result, if you want three users and are signing up for the most basic package, your annual cost comes in at under $700 — not too bad.
But if you want 10 users, the price goes way up — almost $6,000 annually, because you have to move to Professional when you have more than three users. Provide a few basic personal and corporate details, and you can try the software for free for 14 days.
---
Zendesk Sell's support
Zendesk makes it difficult to contact customer support, but you can get personal help after a little digging. You won't find a published phone number or email. Instead, the website directs you to their help center, where you will find self-help articles or a community of users that can assist you with your query.
Click on Activate Account during the free trial, and you'll be taken to the pricing page which has a phone number you can call. It's meant for sales, but you have the option to press 2 for product support.
After a five minute hold, I received a recorded message instructing me to leave a voicemail. So you may be able to get support, but it's not as responsive as other CRM options, and unlike competitors, it doesn't appear to offer live support in more expensive versions of the software.
---
Benefits of Zendesk Sell
Zendesk Sell's big draw is ease of use. Any salesperson can pick it up and start using it right away. And your sales team will be able to organize all of their contacts, leads, deals, and calendar in one place, while gaining valuable insights through its reporting abilities.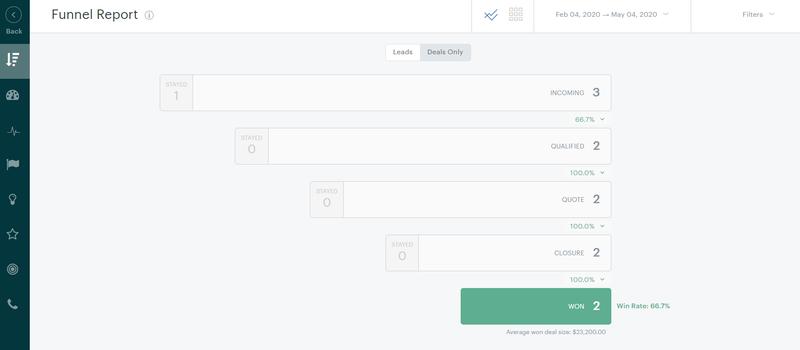 ---
Zendesk Sell is perfect for those who want simplicity
The bottom line is Zendesk Sell may not blow you away with features, and that may be a good thing. It does the basics well, it's super easy to use, and it's affordable — which is really all most small businesses need.
It also has great reporting tools that can help your sales team spot opportunities to improve and get to the next level.
But this software may be better suited for enterprise companies due to the high price tag. It also may be cost-prohibitive for small businesses that have more than three users, since the most basic option is not available to them.
---
Frequently Asked Questions for Zendesk Sell
What features does Zendesk Sell offer?
You get leads and contacts organization, reports, and call logs. They're easy to use, and will help any salesperson get organized and track their leads with minimal effort And they can crunch data to come up with actionable insights to improve their sales performance.
Who is most likely to benefit from Zendesk Sell?
Zendesk Sell is geared for those who value operations simplicity and also want advanced reporting functions. So it serves very small businesses, while advanced features at the more expensive tiers make it good for large businesses too. Mid-size or even small businesses who want more than three users may have trouble justifying the price.
Is Zendesk Sell expensive?
It's affordable for one to three users, at a little more than $200 per user for the year with annual billing. If you need more than three users, you have to sign up for at least the Professional version. You'll pay thousands of dollars per year, and tens of thousands if you have a couple dozen users at the Elite level.

If you're intrigued by Zendesk Sell but not sure their options will fit your business, check out The Blueprint's CRM software directory, which features detailed reviews and ratings of Zendesk Sell.
If you're intrigued by Zendesk Sell but not sure their options will fit your business, check out The Blueprint's CRM software directory, which features detailed reviews and ratings of Zendesk Sell.
---
How Zendesk Sell Compares
The Motley Fool has a Disclosure Policy. The Author and/or The Motley Fool may have an interest in companies mentioned.