If you're still carrying receipts in your purse or wallet, you need Zoho Expense. Designed for the person who doesn't want to be bothered keeping track of business expenses, but needs to, Zoho Expense is affordably priced, easy to use, and streamlines the approval and reimbursement process, making you and your employees happy.
---
Who is Zoho Expense for?
It may sound like a cliche, but Zoho Expense is for everybody. While it's probably not the best solution for enterprise-level companies with thousands of employees traveling annually, for small to mid-size companies, Zoho Expense offers everything needed in expense management software.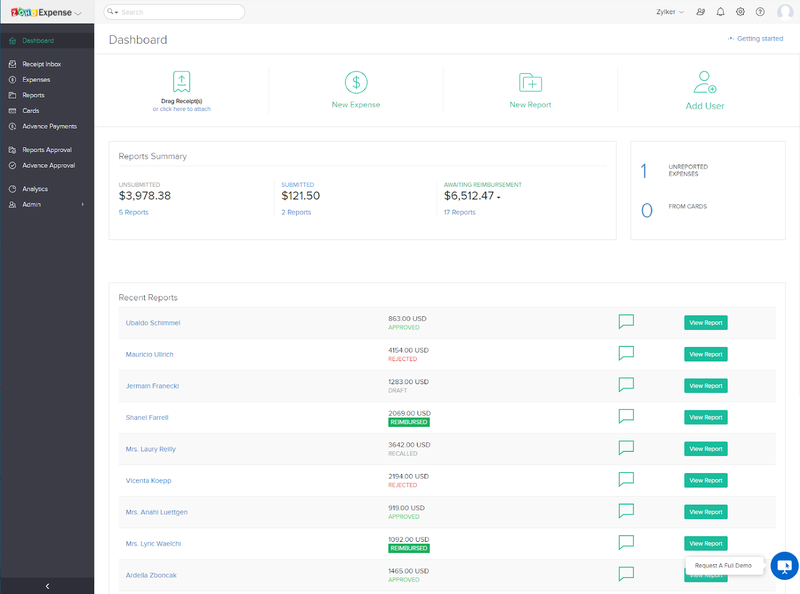 With a free demo available that you can test drive for up to 28 days, there's no reason not to find out a little more about Zoho Expense.
---
Zoho Expense's features
One of the best things about Zoho Expense is its versatility. It's as easy to use on your desktop computer as it is on your smartphone. While you can add your expenses by snapping a photo of a receipt, you can also add an expense manually, add bulk expenses, and add mileage using any type of device including a desktop or laptop computer, tablet computer, or smartphone.
Receipts stored on your computer can be dragged and dropped into the receipt inbox, where they're stored until matched with an expense. You can also attach bank and credit card accounts to Zoho Expense, which will import up to 90 days of transactions.
Once transactions have been uploaded, they can be matched with an existing expense, so you can avoid duplicate data entry. If you don't want to connect your financial accounts to Zoho Expense, you can opt to import a monthly bank or credit card statement instead.
You can create as many expense reports as you like in Zoho Expense and send each report for approval, or send them all simultaneously. While reports are not created automatically, it's easy to add an expense directly to any report.
All three Zoho Expense plans offer complete receipt management, the ability to connect a personal bank account or credit card, cost allocation, and complete expense report creation. It also integrates with accounting software applications such as QuickBooks Online, Xero, and Sage One, as well as Zoho Books.
The Premium and Enterprise plans feature additional integration options as well as corporate credit card management, trip request capability, travel policy management, custom approvals, allocations, budgeting, and workflow rules. There are several other Zoho Expense features worth examining.
Uploading receipts and auto scan
Zoho Expense allows you to upload receipts in a variety of ways including:
Directly from your computer
Dragging and dropping into the receipt inbox
Emailing receipts
Uploading receipts from cloud storage applications such as Dropbox or Box
You can also use the Google Chrome extension to upload a receipt into Zoho Expense. The application supports multiple receipt formats and languages, which is great if you incur international expenses. You can also bulk upload receipts, or email them directly to your account.
No matter how they're uploaded, all receipts are scanned using the auto-scan process, which captures important information such as date, amount, merchant name, currency used, and payment type, eliminating the need to enter the information manually.
Mobile app
Zoho Expense offers both an iOS and Android app, both available at no additional cost.
The Zoho Expense app includes a newly updated dashboard that provides a summary total of unreported expenses, unsubmitted and submitted reports, and a list of recently submitted expense reports. A handy spending overview at the bottom of the dashboard shows you exactly what you've spent your money on.
No need to worry if you're offline, as you can still record expenses, upload receipts, and even track your mileage, even if you don't have current internet access. The mobile app will sync with the application when access is available. The mobile app also includes a mileage widget that uses GPS if you need to create a mileage expense report.
Per diem rates
The best way to control overspending is to set per diem rates. A per diem like an allowance that is provided to employees daily while they're traveling. Per diems are most commonly used for meals and hotels. Admins create a default per diem rate that can be specific to the area where the employee is traveling.
For example, the per diem rate for an employee traveling to San Francisco would likely be higher than for an employee traveling to Kansas City.
Expense policy rules
Zoho Expense policy rules allow you to customize daily, monthly, or yearly expense limits. Once a set limit has been reached, employees will receive a warning notification. You can also create a policy that blocks an employee from submitting any expense that violates the expense rules. Policy rules can be set companywide or specific to an employee or group of employees if desired.
ACH reimbursement
Zoho Expense users have the option to reimburse employees through their accounting software application or using the online reimbursement option. Though you'll have to create a merchant account in the Zoho Expense payment gateway, using Forte, once the account is created, you'll be able to process employee reimbursements immediately.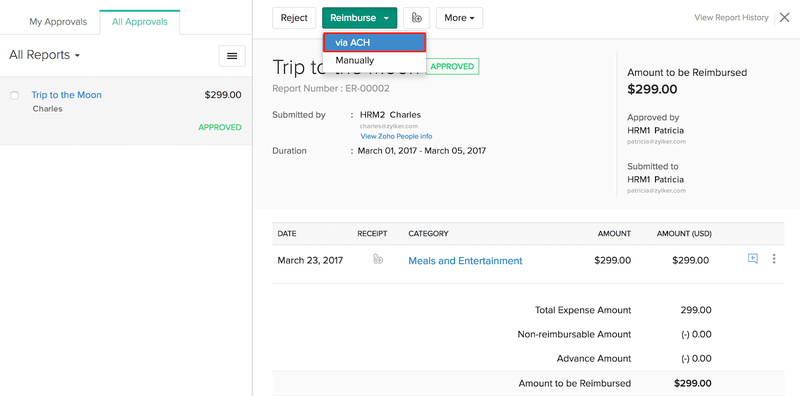 When you reimburse your employees, choose reimbursement via ACH and the application does the rest, later displaying the information such as the total reimbursed and the date the reimbursement was completed.
---
Zoho Expense's ease of use
For all its features, Zoho Expense is surprisingly easy to use, even if you've never used an expense application before.
Like all Zoho applications, Zoho Expense provides you with all the assistance you need to be up and running in short order. Before using the application, spend a few minutes viewing the short videos that provide a key overview of vital program areas such as expense overview, the admin role, the submitter's role, and the approver's role.
With setup suggestions displayed to the right of the screen and good help resources just a click away, you'll be able to set up the application quickly.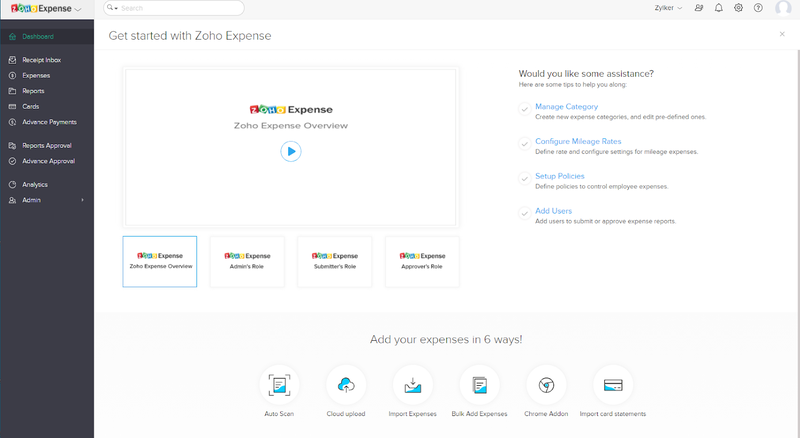 Zoho Expense offers intuitive navigation, with the dashboard serving as a homepage where you can view a summary of all expense activity. The vertical menu bar to the left of the screen provides access to all system features including the receipt inbox, where you can scan, upload, and manage receipts.
The expenses feature provides a quick status of all expenses including whether they've been submitted, and how much each expense is, with the option to add a new expense. The reports feature provides a list of all expense reports and their current status, with the option to create a new report from the same screen.
Because the screens are so similar, new users will quickly feel comfortable navigating through the application. If you do get stuck, you can easily access help and support resources by clicking on the question mark at the top right side of any page.
---
Zoho Expense's pricing
Zoho Expense is reasonably priced, offering three plans.
Free: Zoho's Free plan supports up to three users.
Premium: The Premium plan runs $5/month per user billed annually or $8/month per user billed monthly.
Enterprise: The Enterprise plan is $8/month per user billed annually or $12/month per user billed monthly.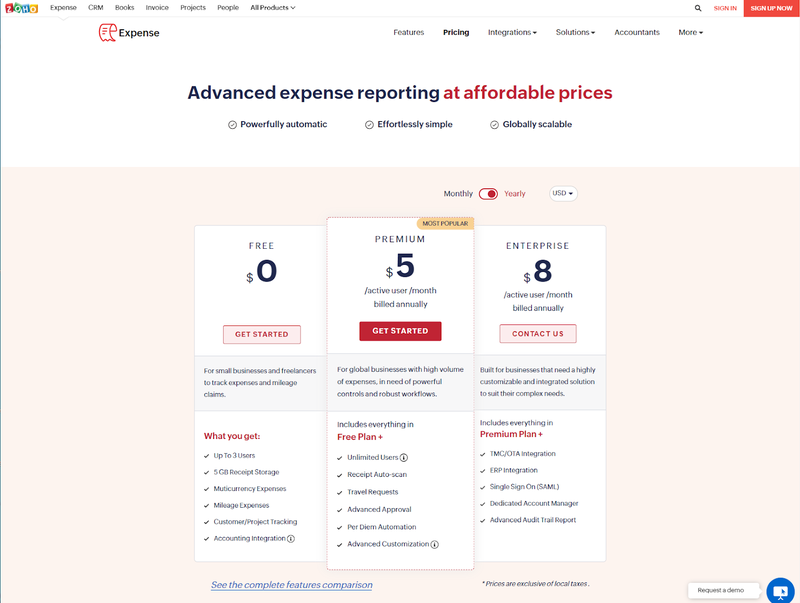 The free plan makes it easy for freelancers and sole proprietors to get started using Zoho Expense, with the option to move to a more robust plan if necessary. You can also sign up for a free trial on the Zoho Expense website, with an option to request a demo from Zoho if you prefer.
---
Zoho Expense's support
Zoho Expense offers several support options, and all plans have access to email support. The Premium and Enterprise plans also include telephone support, with chat support available in the Enterprise plan.
Premium and Enterprise subscribers have the option to add Premium support to their plan, which is a paid support plan that offers 24-hour phone, email, or chat support, 5 days a week. In addition, all Enterprise plan subscribers are assigned a dedicated account manager.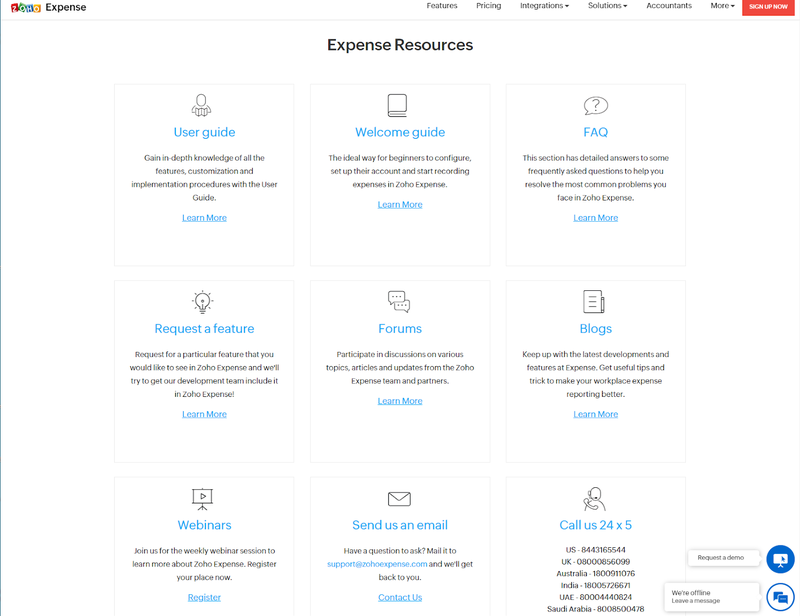 In addition to support options, Zoho Expense offers subscribers access to numerous product resources including FAQs, a user guide, webinars, and a user forum.
---
Benefits of Zoho Expense
Besides being an excellent expense management package, Zoho Expense offers two major benefits: Zoho Expense pricing and ease of use. With a free plan available for freelancers, and the top plan only $8 per user, any business can afford a subscription. While affordability may be important, ease of use is equally so, with users able to be up and running in no time.
---
Conclusion
It's never easy to find the right software for your business, and expense management is no exception. Zoho Expense makes it a little easier by offering a free demo for up to 28 days. Rather than using the free demo, you can choose to navigate through a fully populated version of the application to see exactly how it works without the need to enter data you may never use.
If you're ready to get a handle on business and travel expenses, Zoho Expense certainly deserves consideration.
---
Frequently Asked Questions for Zoho Expense
Does Zoho Expense create expense reports automatically?
While the expense report creation process is easy in Zoho Expense, the application does not automatically create an expense report.
Can I set rules and policies in Zoho Expense?
Zoho Expense lets you configure a variety of policy rules during the setup process. Each policy can be assigned to a specific user or implemented companywide.
Does Zoho Expense have a mobile app?
Yes, a mobile app is available for both iOS and Android devices.

If you're in the market for an easy-to-use expense management application for your small business, why not take advantage of Zoho Expense's 28-day free trial? Get $200 in Zoho Wallet Credits valid for 30 days when you sign-up using a business email. These wallet credits can be used to purchase any Zoho app or edition upgrade. T&C Apply
If you're in the market for an easy-to-use expense management application for your small business, why not take advantage of Zoho Expense's 28-day free trial?
---
How Zoho Expense Compares
The Motley Fool has a Disclosure Policy. The Author and/or The Motley Fool may have an interest in companies mentioned.