This Single Decision Can Increase Your Odds of a Happy Marriage
by Dana George | Updated July 17, 2021 - First published on Aug. 4, 2019
Many or all of the products here are from our partners that pay us a commission. It's how we make money. But our editorial integrity ensures our experts' opinions aren't influenced by compensation. Terms may apply to offers listed on this page.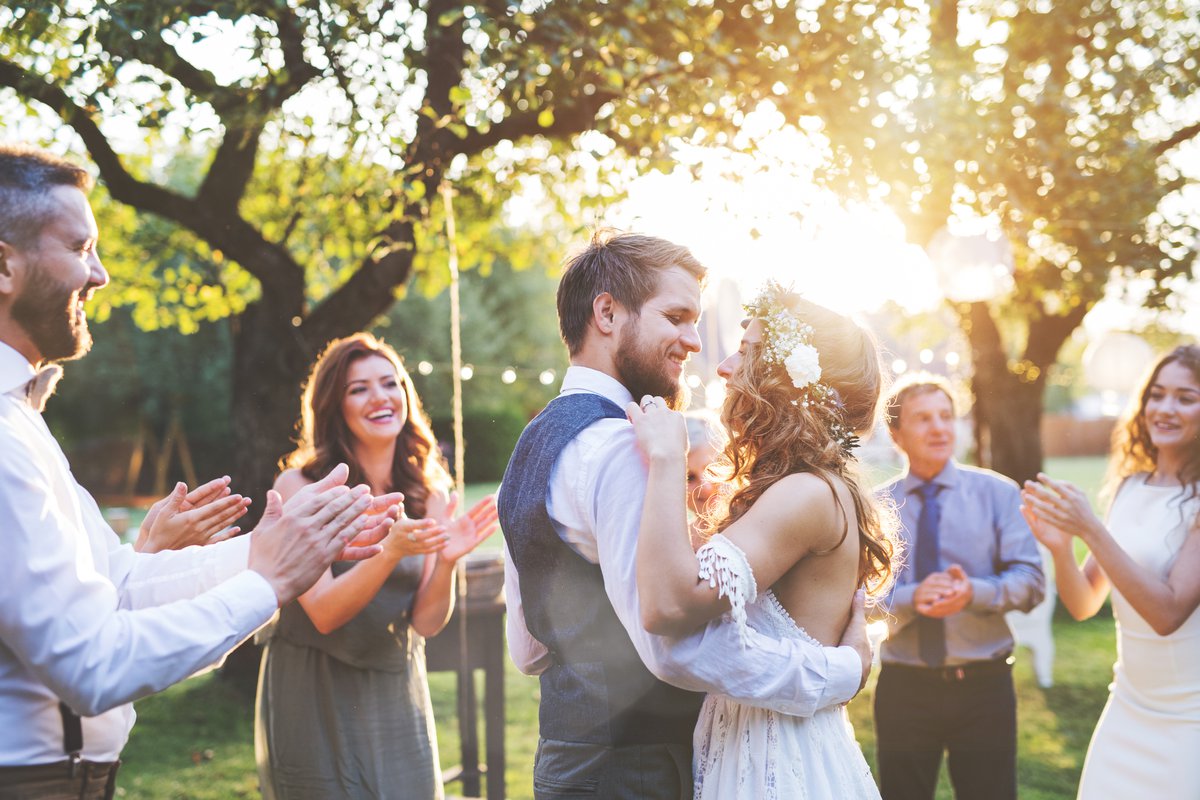 This simple decision can help you start your marriage off happy and stress-free.
This simple decision can help you start your marriage off happy and stress-free.
For a couple dreaming of the perfect wedding, avoiding financial strain can be a challenge. Gone are the days when a bride's family would automatically pay for the happy event. Today, couples are expected to at least cover part of the costs. The Knot reports that 10% of couples shoulder the entire financial burden, and the average cost of a wedding in the U.S. is now around $29,200. That can be a major burden for the groom- and bride-to-be.
And here's where things get tricky. The average unmarried American carries about $40,000 in debt, according to Debt.com. Further, a study by Fidelity revealed that 40% of couples who carry debt say it has had a negative impact on their relationship. Adding more debt by financing wedding expenses only increases the strain.
Whether you live in Montana or Manhattan, there are ways to get married without going into the red.
Set a realistic budget
Decide on the maximum amount you can afford and build your wedding around it. Your budget will depend upon three sources of money:
Funds you and your fiancé have in savings accounts
Money you plan to save between now and your wedding day
Contributions from family or other loved ones
Err on the side of caution. If your great-uncle Henry has promised you $10,000 on your wedding day, don't count on receiving that money. Dear old Henry could pass away before the big day or lose that money at the track. Count only on funds you are certain will be available.
Setting a budget means you'll have to call more vendors than you hoped. It may mean cutting back on features you once considered essential. However, while it might be more fun to spend with wild abandon, sticking to a realistic budget will pay dividends after the wedding.
Hire a wedding planner
The cost of a full-service wedding planner varies based on where your wedding is to be held. While high-end wedding planners can charge from $5,000 to $10,000, the national average spent on a wedding planner is much lower -- around $1,500, according to WeddingWire. That's because most planners offer a menu of services that allow you to tailor your budget to what you need.
You can hire a partial wedding planner to help with last-minute tasks, like confirming vendors and assisting with the seating chart, for a national average cost of $1,250. Some wedding planners will work with you on an hourly basis. These consultations generally run between $75 and $135 per hour, and offer professional guidance so you can do it yourself. 
When you work with a wedding planner, get everything in writing so there's no confusion as to the services you expect to receive. 
Trim the guest list
It's natural to want to share your joy with everyone you know, but it's also expensive. These steps will help you take the emotion out of trimming the guest list.
Figure out your cost per guest. Add together the cost of every guest's reception meal, likely alcohol consumption, wedding favor, and any other per-guest expenses. This number allows you to determine how many guests you can afford to invite.
Remember plus-ones. Assume that every adult you invite will bring a friend, date, or partner. If this causes your guest list to balloon, then either trim your guest list or find a tactful way to ask your guests only to bring long-term plus-ones, i.e., spouses and partners. After all, you're not obligated to entertain your cousin's boyfriend du jour.
Declare your wedding a child-free zone. This one is sure to touch a nerve or two, but if you want to control the guest list (and if your loved ones are understanding), you could say that your wedding is not a child-friendly event. Not only will the adults have more fun, but you'll maintain greater control over your budget.
Be honest with yourselves. Write down the names of all the people you'd like to invite on index cards. Place the people you must invite (like close family) in one box, dear loved ones in another box, and people you would invite if you had an unlimited budget in the third box. The only people who should be invited will be in those first two boxes.
Downsize the wedding party
There's no single reason why couples choose to have a large wedding party. Maybe one or both of them are people pleasers and don't want anyone to feel left out. Perhaps they believe that the larger the party, the more help they'll have, or that a large number of attendants will make their wedding look grand.  
The truth is, your wedding party may be helpful, but no one will undergo a change in personality. If your best friend is perpetually late, or if your fiancé's cousin rarely fulfills a promise, that won't change simply because they're in your wedding party.
If you hope that a large wedding party will make your event more memorable, consider what happens if a bridesmaid's dress won't zip right before the ceremony, or a groomsman gets fall-down drunk at the reception. That large party might be memorable for all the wrong reasons.
Finally, if you're a people pleaser and can't bear to make anyone angry, we have good news for you: The "no wedding party" trend is picking up speed.  Opt for simplicity by standing alone in front of the officiant, or ask one special person to be at your side. Not only will you save a boatload of money, but you'll have more energy to focus on your fiance.
Ditch the band
A great DJ does more than spin records. They'll help you come up with a playlist, introduce your wedding party, provide a wireless microphone for toasts, make announcements, introduce special dances, and time the reception so that the final song plays at just the right moment. A DJ also costs up to 75% less than a live band.
Throw a reception
The part of your wedding most people look forward to is the reception. Why not hold a small, private ceremony followed by a fabulous reception? Or travel to your honeymoon location and get married while there. Once you're home, invite friends to help celebrate your nuptials.
If you do decide to go into debt to get married, remember this: If you put $20,000 on a credit card charging 16% interest, and pay only the minimum payment, it will take 41 years, 5 months to pay the debt off. If you take out a personal loan at 8%, your monthly payment will be $406 each month for five years. 
And finally, consider the findings of a 2014 study. After surveying more than 3,000 couples, two Emory University professors found that the less a couple spent on their engagement ring and wedding, the longer they were likely to remain married.
These savings accounts are FDIC insured and could earn you up to 19x your bank
Many people are missing out on guaranteed returns as their money languishes in a big bank savings account earning next to no interest. Our picks of the best online savings accounts can earn you more than 19x the national average savings account rate. Click here to uncover the best-in-class picks that landed a spot on our shortlist of the best savings accounts for 2022.
Two top online savings account picks
We're firm believers in the Golden Rule, which is why editorial opinions are ours alone and have not been previously reviewed, approved, or endorsed by included advertisers. The Ascent does not cover all offers on the market. Editorial content from The Ascent is separate from The Motley Fool editorial content and is created by a different analyst team.
Dana George
has no position in any of the stocks mentioned. The Motley Fool has no position in any of the stocks mentioned. The Motley Fool has a
disclosure policy
.