What Are Step-Up and Bump-Up CDs?
by Eric Volkman | Updated July 17, 2021 - First published on Jan. 23, 2019
Many or all of the products here are from our partners that pay us a commission. It's how we make money. But our editorial integrity ensures our experts' opinions aren't influenced by compensation. Terms may apply to offers listed on this page.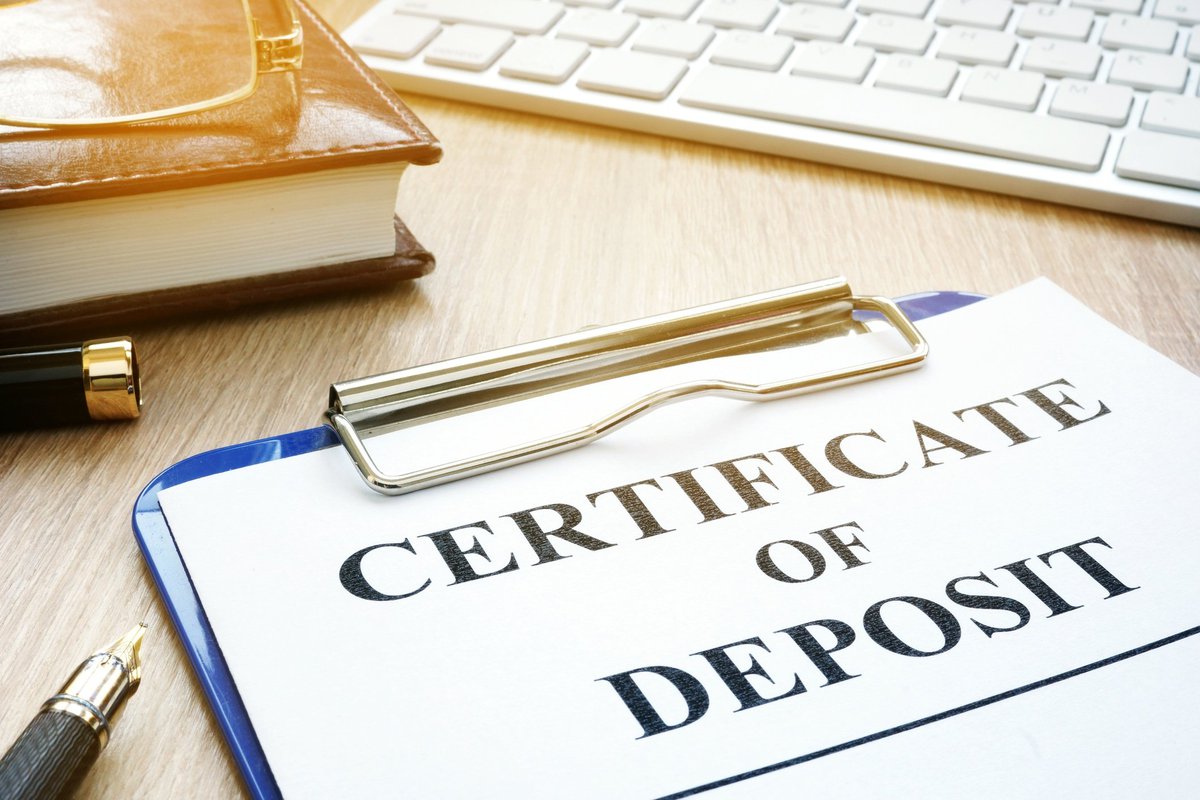 A standard CD offered at your local bank has a fixed APY over the life of its term. That's not the case with step-up and bump-up CDs.Image source: Getty Images.
Over the past few decades, even the most classic financial instruments have morphed into new forms. One of these is the certificate of deposit (CD). In the old days, the CD was a straightforward invest-and-wait savings instrument -- you plonked down some money and collected interest at an agreed-upon rate for the term of the CD.
A standard CD still works this way, and perhaps because of that simplicity it remains a popular product. But these days there are two notable variations -- the step-up CD and the bump-up CD. Although these forms aren't anywhere near as prevalent as the standard CD, they're worth knowing about… particularly in the current age of rising interest rates.
CD basics
A CD is a lock-it-and-swallow-the-key financial instrument for earning a bit of interest on money you're willing and able to put away. Although it lacks the flexibility and access of savings accounts and (especially) checking accounts, it compensates for this by offering higher interest rates.
CDs are typically the province of banks, although other types of financial service providers such as credit unions and stock brokerages offer them too.
The length of time for committing to a CD is up to you, since they come in a range of terms (i.e., lifespans). A typical CD family will have terms from one month to five years. For the most part, the longer the term, the higher the APY (effectively, your interest rate). APYs for standard CDs are set by the issuer, and are fixed for the entirety of the term.
With a CD you're effectively committing to keeping your hands off the dosh until the CD matures (i.e., its term ends and you collect the principal and unpaid interest). This is because there are usually very stiff penalties for early withdrawal, which at times can negate what you stand to make in interest from the money.
If you're not careful, you might even lose money on a CD if you withdraw too much and/or too often.
Since nearly every lender worth its salt offers some forms of CDs, it's possible to find one that is light on early withdrawal penalties. Some even allow for one or several withdrawals without any penalty at all. These, however, are the exception rather than the rule; most standard CDs do not have these privileges.
Finally, unlike other classic banking products, many CDs have minimum opening deposits; $1,000 is not an unusual barrier to entry. Even if they don't, an issuer will typically offer higher APYs for larger opening deposits.
What is a step-up CD?
A standard CD pays a fixed return over the term of the CD, no matter how long that term might be. That's fine if you want a predictable rate of return.
But what if you're in an environment of rising interest rates? Investing in a long(ish) term CD means you'll be missing out on investment opportunities that capitalize on those climbing rates.
A step-up CD -- which can also go by other names such as "step rate" -- goes some distance to addressing this by lifting its APY at specific, pre-defined intervals.
The number of intervals, and the level of the raise(s) are both set by the issuer. The longer the term, generally the higher number of intervals, although there are exceptions. As for the magnitude of the APY raises, these are usually predetermined like the headline APYs of standard CDs.
Here's an example of the fixed rates and intervals of a 28-month step-up CD offered recently by a regional U.S. bank:
Term
Interest rate
Blended rate
1st 7-month period
0.10%
0.40%
2nd 7-month period
0.30%
3rd 7-month period
0.50%
Final 7-month period
0.70%
One big caveat with the step-up CD is, because its APYs rise, it begins by paying interest below (often some distance below) comparable standard CDs. You'll need to be careful in order to avoid ending up with a lower total return than you would have earned with a traditional product.
As with the above example, sometimes you'll see a "blended" APY published near the step-up rate increases. As advertised, this is a combination of all the CD's various interest rates over its term.
Another recent example is the three-year step-up CD advertised at a different American bank with APYs of 1.75% for the first year, 2.75% for the second, and 4% for the third. The blended rate, then, was a shade over 2.83%.
You should make sure that the blended rate is comfortably above the APY of a standard CD from the same issuer with a similar term. It's also wise to compare it to other CDs offered by rival banks and other financial institutions.
What is a bump-up CD?
A close relative of the step-up CD is the bump-up CD. The two have many things in common, most notably the potential for a rise or several in APYs. The main difference is that the timing of the bump-up CD's intervals are not fixed by the issuer, rather they're chosen by the customer.
You can't strap a rocket to your interest rate and boost it from 0.50% to 70%. The bump-up APY(s) is/are set by the CD's issuer, and will typically be in line with prevailing interest rates of comparable CDs it offers. The number of intervals is also mandated by the issuer but again, the exact timing is up to the customer.
This can be a tricky proposition. If you pull the trigger too early, you could lose out if general interest rates climb higher than your raise subsequent to making the move. Pull the trigger too late, and you risk being a laggard, only clocking the better rate after other financial products have benefited from the uptick.
As with the step-up CD, the bump-up CD typically starts at an interest rate well below that of a comparable standard CD.
Should I get a step-up/bump-up CD?
The decision to opt for one of these flavors of CD should depend on two things you're convinced will happen during the term of the CD under consideration:
1. Interest rates will rise.
2. The step-up/bump-up rates will be high enough to meet or exceed the APYs of comparable standard CDs, plus other savings instruments.
You're in this for the money, remember, so you want the highest return possible when you park money in a CD. If you're doubtful or uncertain about either 1 or 2 above, it's best to be safe and take out a standard CD -- at least the returns will be predictable.
Further, with bump-up CDs it helps to have an eye on macroeconomic developments. That will help to better predict when interest rates might be coming down the pipe. Bump-up CDs succeed best as investments when the intervals are chosen in some advance of benchmark interest rate upticks.
These savings accounts are FDIC insured and could earn you up to 12x your bank
Many people are missing out on guaranteed returns as their money languishes in a big bank savings account earning next to no interest. Our picks of the best online savings accounts can earn you more than 12x the national average savings account rate. Click hereto uncover the best-in-class picks that landed a spot on our shortlist of the best savings accounts for 2022.
Two top online savings account picks
We're firm believers in the Golden Rule, which is why editorial opinions are ours alone and have not been previously reviewed, approved, or endorsed by included advertisers. The Ascent does not cover all offers on the market. Editorial content from The Ascent is separate from The Motley Fool editorial content and is created by a different analyst team.
Eric Volkman
has no position in any of the stocks mentioned. The Motley Fool has no position in any of the stocks mentioned. The Motley Fool has a
disclosure policy
.