Amex Business Gold Rewards Review
American Express Business Gold Rewards Review
The Ascent brings financial expertise, trusted advice, and unbiased analysis to the world of daily personal finance decisions. Our mission is to help you live more richly.
We are committed to full transparency as part of our mission to make the world smarter, happier, & richer. You should know that offers on The Ascent may be from our partners - it's how we make money. That transparency to you is core to our editorial integrity, which isn't influenced by compensation.
American Express Business Gold Rewards potentially offers value to high budget business owners. While the card carries a hefty $175 annual fee, the up-front welcome bonus plus recurring bonus rewards on up to $500,000 of spending may make this card attractive to those who can maximize the value of its bonus categories. Note, the card is designed as a charge card, which means that it isn't meant for carrying a balance. While some cardholders may qualify for a Pay Over Time option, which effectively turns a charge card into a credit card, it isn't a given.
Great for: Bonus points flexibility
American Express Business Gold Rewards Card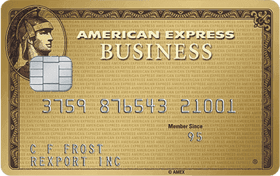 Our Bottom Line
In addition to the big welcome bonus, the card brings innovative points-earning flexibility with the option to choose which categories earn 3x and 2x points.
Credit Rating Requirement:
What we Like:
50,000 points welcome bonus
Up to 3 points per $1
No foreign transaction fees
Key Scores:
| | |
| --- | --- |
| Perks | 4.0/5 |
| Fees | 4.0/5 |
| APR | 4.0/5 |
Annual Fee:

$295

Regular APR:

16.24% to 24.24%

Intro APR:

Purchases: N/A

Balance Transfers: N/A
Highlights
Welcome Offer: Earn 50,000 Membership Rewards® points after you spend $5,000 in purchases on the Card within your first 3 months of Card Membership
Get 3x points - Choose 1 out of 5 categories
Plus, 2X points on the 4 remaining categories and 1X points on other purchases
3X and 2X apply to the first $100,000 in purchases in each of the 5 categories per year, 1X point per dollar thereafter
Track, organize, and stay on top of your business expenses with powerful expense-tracking tools
No foreign transaction fees
$295 annual fee
Terms and limitations apply
Show More
The information for this card has been collected independently by The Ascent and not provided by the issuer. Therefore, some terms may be out of date. Visit the issuer's website for more information.
50,000 points welcome bonus – Qualifying new cardholders earn 50,000 bonus Membership Rewards® points after spending at least $5,000 on purchases within the first three months of membership. Points are worth anywhere from $0.005 to $0.01 apiece and you'll get the most value when redeeming points for travel booked through American Express. The bonus works out to a value of $500 for travel booked through American Express.
Up to 3 points per $1 – Cardholders select to receive 3 points per $1 in one of five categories: 1) airfare purchased directly from airlines 2) U.S. purchases for advertising in select media 3) U.S. purchases at gas stations 4) U.S. purchases for shipping 5) U.S. computer hardware, software, and cloud computing purchases made directly from select providers. Purchases earn 2 points per $1 in the four remaining categories and all other spending earns 1 point per $1. Once you've chosen a category for 3x points, the four other categories automatically begin earning at 2x points.
High caps on bonus spending - Bonus rewards are capped to the first $100,000 in each of the five categories, after which each dollar of spending generates the base rate. Those who spend $100,000 in each of the five categories ($500,000 of spending) could theoretically earn 1.1 million bonus points, which is a high cap.
No foreign transaction fees – Whether the cardholder is traveling for a meeting, or paying a supplier in a foreign country, the card can be swiped with confidence. Other cards charge foreign transaction fees equal to 3% of the amount charged.
Cash redemption value – When redeemed for cash by erasing purchases from statement balances, the conversion works out to $0.006 per point. This low yield is beaten by many no-annual-fee cash-back credit cards. Cash-back fans will want to consider other cards, including cash-back credit cards.
$175 annual fee – High welcome bonuses and on-going rewards usually beget annual fees, but we'd prefer no- or low-annual fees when possible. Cardholders with limited spending needs may find the fee hard to justify, even knowing it is waived the first year.
Cardholders may be best off paying card balances in full each month to avoid fees and interest on balances. True, it's a charge card that requires paying off balances each month but the card allows for payments over time. That said, points earned at single-digit rates will get wiped out by far higher double-digit interest rate charges, assuming approval for the Pay Over Time program in the first place.

Make the most of earning 3x bonus points rate by running your budget numbers and then selecting the categories in which you spend most frequently. Maximizing the 3x bonus points on $100,000 of annual spend gives the cardholder up to 300,000 points -- worth $3,000 in airfare -- so this is a crucial first step before carrying the card.

Take note of the OPEN Savings program, which allows cardholders to choose to receive a 5% discount, or 2x bonus points per dollar at select merchants. These benefits are available to all American Express OPEN small business cards.
American Express Business Gold Rewards is a competitive business credit card that may be worthwhile for some cardholders. But, we feel obligated to mention there are lower-fee alternatives to consider. The fact that it offers high bonus earnings in specific categories and high caps of $100,000 per category is valuable, but other cards offer similar bonuses and pay out on broader categories ("travel" vs. "airfare"), while offering redemptions that value each point at $0.01 or more.