Here's How to Pay for Your Honeymoon With Travel Rewards
Travel rewards can get you the honeymoon you want for a lot less.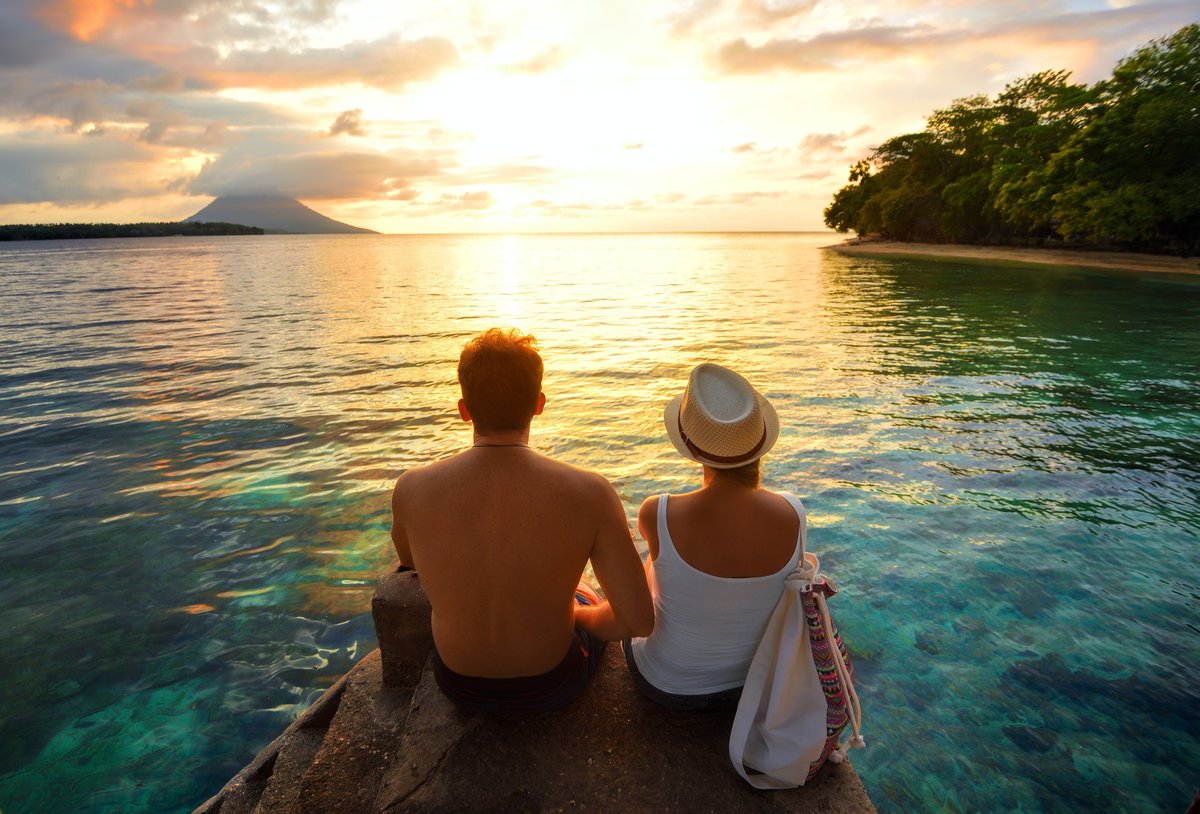 Your honeymoon is often a once-in-a-lifetime experience, so making it extra special is certainly worth it. This is your first trip with your new spouse, and if you pick the right destination, it can be the perfect break from reality for you both.
But just like weddings, honeymoons can get expensive. According to The Knot, the average honeymoon costs $5,342. That's a lot of money for most couples, especially those who recently had to pay for a wedding.
The good news is that a huge chunk of those honeymoon costs are for two things: travel and accommodations, both of which you could pay for with travel rewards. All you need to do is follow a simple strategy.
1. Choose a destination
Your travel rewards plan depends on where you're going, so choosing a destination is the first step here.
You and your partner may already have a destination lined up, but if not, you should discuss it until you decide on a place. If you're not sure, start by considering what type of honeymoon you want.
Do you envision relaxing on a beach? Having fancy dinners in a big city? Or doing something adventurous? There are a few ways you can spend your honeymoon, and figuring this out will help you narrow down your list of potential destinations.
2. Find an airline and hotel
With your destination set, it's time to look into:
Airlines that fly there from where you live
Hotels where you can stay
You can find out both through your preferred travel booking site, or through an online search.
When you're deciding on an airline, the key is to choose one that offers plenty of flights from your departure city to your destination, as this will give you more booking options.
For hotels, you can pick whichever one catches your eye. It does help to find a hotel that's part of a large chain, such as Hyatt, IHG, or Marriott.
3. Check how many points your flight and hotel will cost
It's important to know how many points you'll need to earn so that you don't come up short when it's booking time. Here's how to figure this out:
Go to the sites for the airline and hotel you plan to use.
Enter the dates for your honeymoon (or an estimate if you haven't decided on exact dates yet).
Check the box to shop using points.
Make a note of how many points an award flight and hotel stay will cost.
Keep in mind that there will probably be multiple award booking options available for both the flight and the hotel. Airlines have multiple travel classes, and hotels have different types of rooms. Make sure you record how many points it will cost for the type of airfare and hotel room you want.
4. Find credit cards that earn points you can use for your trip
Now that you have a minimum number of airline and hotel points to aim for, it's time to see what credit cards you can use to earn those points.
The obvious next move is to get cards with the airline and hotel you've chosen. Although this is one way to go, it's not your only option.
There are also several credit card rewards programs that let you transfer points to the loyalty programs of several different airlines and/or hotels. These credit card rewards programs include:
It's worth checking the transfer partners of each of those rewards programs to see if any of them include the airline or hotel you've chosen. If so, you'll have more credit cards to choose from.
You may end up with several cards you can use to earn the airline and hotel points you need. In this case, you should pick the cards with the biggest sign-up bonuses, as that will leave you with more points for booking your trip.
5. Apply for the cards and earn their sign-up bonuses
This part is fairly simple. You just need to apply for the cards you want, and then spend enough to meet the minimum for each card's sign-up bonus. Rewards cards typically have a spending minimum that you must reach within a set timeframe to get the bonus, such as $3,000 in three months.
You may want to apply for one card first, get its bonus, and then apply for your next card. That way, you don't need to worry about reaching the spending minimums for two bonuses at the same time.
6. Book your award flight and hotel stay
After all the work is done, all that's left is to book your travel. The process will be exactly the same as it was when you checked award flight and hotel stay prices. Just go to the airline and hotel sites, enter your travel information, and check the box to shop in points instead of cash.
When you've found the flight and hotel stay you want, go through the booking process on each site, and you'll be done.
An ultra-affordable honeymoon
If you haven't used travel rewards much in the past, your honeymoon is a great place to start. You could book the trip of your dreams and get the biggest expenses covered by your points. For the best results, just make sure you start preparing well in advance so that you have plenty of time to earn those points and make your travel arrangements.
Our credit card expert uses the card we reveal below, and it could earn you $1,148 (seriously)
As long as you pay them off each month, credit cards are a no-brainer for savvy Americans. They protect against fraud far better than debit cards, help raise your credit score, and can put hundreds (or thousands!) of dollars in rewards back in your pocket each year.
But with so many cards out there, you need to choose wisely. This top-rated card offers the ability to pay 0% interest on purchases until late 2021, has some of the most generous cash back rewards we've ever seen (up to 5%!), and somehow still sports a $0 annual fee.
That's why our expert – who has reviewed hundreds of cards – signed up for this one personally. Click here to get free access to our expert's top pick.
We're firm believers in the Golden Rule, which is why editorial opinions are ours alone and have not been previously reviewed, approved, or endorsed by included advertisers. The Ascent does not cover all offers on the market. Editorial content from The Ascent is separate from The Motley Fool editorial content and is created by a different analyst team.