Want to Be a Pro-Level Travel Hacker? Here's How to Start
You're a few minutes away from dramatically reducing your travel costs.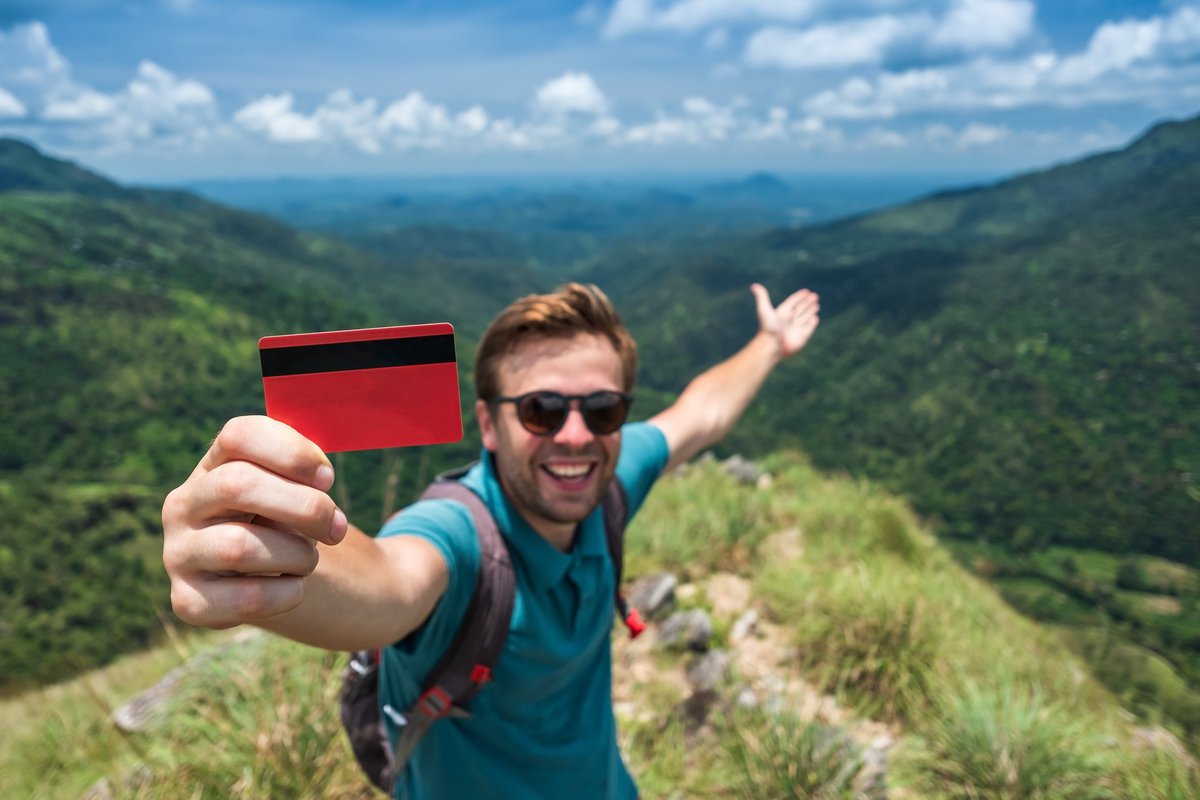 I've always wanted to travel -- but never wanted to burn through my savings. Seeing the world seemed out of reach for several years.
Then I learned about travel hacking and how savvy consumers were practically traveling for free. I began using the same strategies, and last year I took two international trips for under $500 apiece. That includes all my expenses, including food, flights, and lodging.
The most challenging part of travel hacking is taking the first step. So I'm going to explain everything you need to know to get started.
We'll start with the definition of travel hacking.
What is travel hacking?
Travel hacking is the art of earning as many airline, hotel, and/or credit card points as possible and paying for your travel with those points.
The traditional way to do this is to join an airline or hotel loyalty program. You earn points each time you use that company, and eventually cash in those points for free flights or hotel stays. But that's very slow for all but the most frequent travelers.
Here's a much faster travel hacking method:
Open a travel credit card.
Earn points with that card through a sign-up bonus, a high rewards rate, or both.
Use points to book your travel.
Many travel hackers open new credit cards regularly to earn more sign-up bonuses and maximize their points. This is trickier to manage, but it's a good way to earn points quickly.
The main challenge with travel hacking is deciding which credit cards to apply for. We'll get to that in a minute. First, there are some things you need before you get started.
Prerequisites to becoming a travel hacker
Travel hacking isn't for everybody. You don't need a large income to do it, but there are some prerequisites:
Good to excellent credit (670 or higher) -- To get approved for any of the best credit cards, you typically need at least a credit score of 670. A score above 700 is even better. If you're not there yet, focus on improving your credit score first.
No credit card debt -- The only way travel hacking works is if you pay your credit card bill in full every month. Otherwise, interest will cost you more than you earn through travel points.
A record of your regular expenses -- The main reason to track expenses is to avoid spending too much. But for travel hacking, it's also important to know how much you spend per month so you can calculate whether your normal spending will be enough to reach a card's sign-up bonus.
How to pick your first travel credit card
Now it's time for the fun part -- picking out and applying for a new credit card (I realize I may have a different definition of fun than most people).
There's a wide world of travel cards out there, so let's narrow them down. First things first: don't start with an airline or hotel card unless you use that brand all the time. Since these cards only earn points with that brand, they have limited redemption options.
You're better off with a card that lets you redeem points at a fixed rate towards any travel purchase or lets you transfer points to a variety of airline and hotel partners. There are cards that offer both redemption options in these rewards programs:
You can find some great options on our list of the top travel credit cards. When getting your first travel card, look for these features:
Affordable annual fee -- This will depend on your budget, but $100 or less is a good cutoff point for a first travel card.
A sign-up bonus within your budget -- Compare your monthly expenses to the spending minimum on a card's sign-up bonus to verify that you can reach it without overextending yourself.
Rewards rate -- It helps to earn extra points on your spending, so shop around for a card that earns more points per dollar on your usual spending categories.
After you've gotten a card, make sure you spend enough to earn the bonus. It could already be enough to get you a free flight.
Hacking your way to the trips you want
So you have your travel card and you earned the bonus. What's next?
From here, it's all about setting your travel goals and figuring out how to reach them with credit cards.
Let's say you want to take a vacation to a tropical island within a year. But you know you won't earn enough points from your normal spending on your current card. In that case, you may decide to get one airline and one hotel credit card and use their respective bonuses to pay for your flight and lodging.
Maybe you don't have any specific goals in mind yet. That's fine, too. You could keep using your travel card to rack up points. Or you could get new cards when a bonus offer catches your eye. Then you'll have points to spare when you need them.
There are only two keys to making travel hacking work:
Using a travel credit card for all your expenses.
Paying the bill in full every month.
As long as you do those two things, you can dive into travel hacking as much as you want, whether that means sticking with one card or having a dozen.
Our credit card expert uses the card we reveal below, and it could earn you $1,148 (seriously)
As long as you pay them off each month, credit cards are a no-brainer for savvy Americans. They protect against fraud far better than debit cards, help raise your credit score, and can put hundreds (or thousands!) of dollars in rewards back in your pocket each year.
But with so many cards out there, you need to choose wisely. This top-rated card offers the ability to pay 0% interest on purchases until late 2021, has some of the most generous cash back rewards we've ever seen (up to 5%!), and somehow still sports a $0 annual fee.
That's why our expert – who has reviewed hundreds of cards – signed up for this one personally. Click here to get free access to our expert's top pick.
We're firm believers in the Golden Rule, which is why editorial opinions are ours alone and have not been previously reviewed, approved, or endorsed by included advertisers. The Ascent does not cover all offers on the market. Editorial content from The Ascent is separate from The Motley Fool editorial content and is created by a different analyst team.