The Crypto Trading Hamster's 3 Most Embarrassing Mistakes
Many or all of the products here are from our partners that pay us a commission. It's how we make money. But our editorial integrity ensures our experts' opinions aren't influenced by compensation. Terms may apply to offers listed on this page.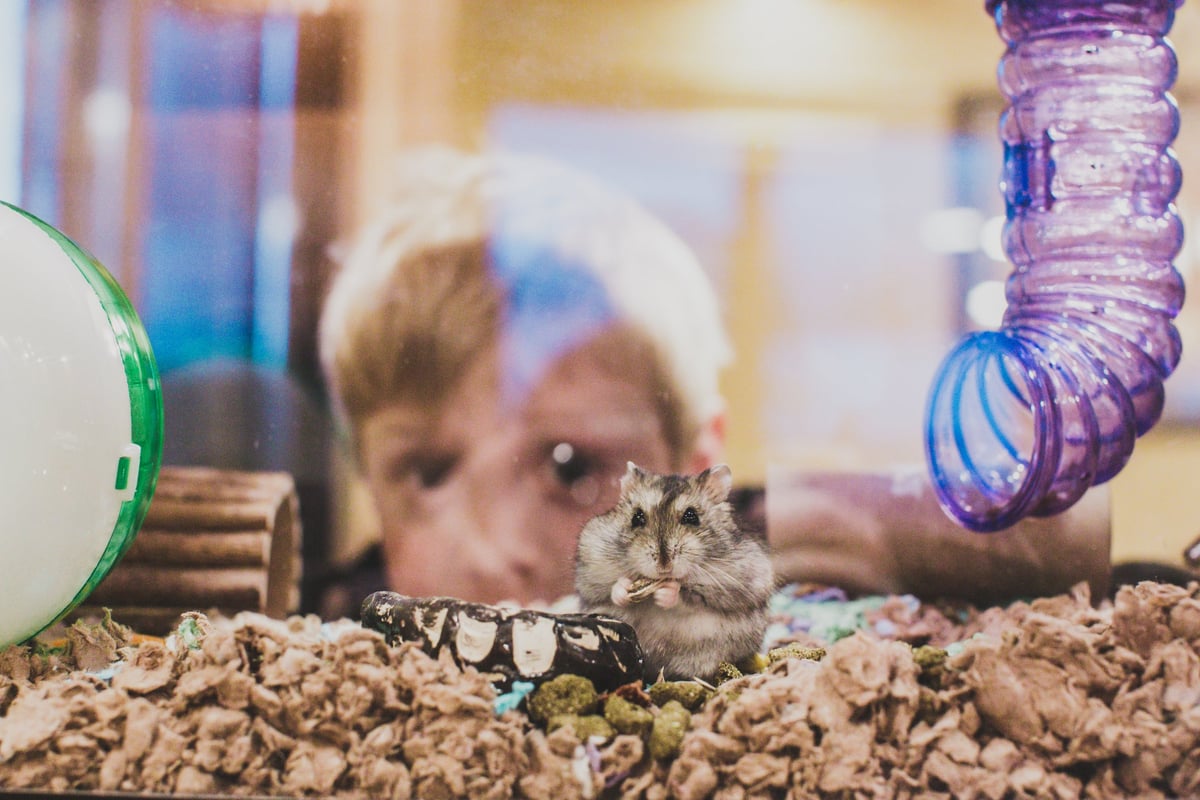 Mr. Goxx has burrowed his way into investors' hearts, but our furry friend's tunnel vision means his trading is not so impressive.
Some people get into cryptocurrency investing because they want to get off the treadmill. Inspired by stories of Bitcoin (BTC) billionaires, they hope they might also be able to become financially independent and retire early.
But crypto-trading hamster Mt. Goxx is different. He loves his treadmill -- also known as his "intention wheel" -- which he uses to select one of 30 cryptocurrencies to trade. He then scurries through either a "buy" or "sell" tunnel to make his trading plans known.
Mr. Goxx has his own office and over 12,000 fans of his live stream. And, according to crypto news site Protos, his portfolio in September was up almost 30% since he started trading in June. That said, the crypto market cap as a whole rose 40% in the same period, according to CoinMarketCap data.
Looking at the headlines, you'd be forgiven for thinking Mr. Goxx couldn't put a paw wrong. But a quick analysis of his trades shows our furry friend is not quite the trading genius he might seem. Here are some of his biggest mistakes.
1. He can't make his mind up
On his first day of trading (June 12), Mr. Goxx may have simply been testing his tunnels. He bought Stellar (XLM) and Polkadot (DOT), only to sell them again minutes later -- and he lost money on both trades. But this wasn't simply first-day jitters: Mr. Goxx's frenetic trading continued.
Indeed, he repeated the same buy-sell pattern with DOT twice more in July, losing about 4% of his 20 Euro investment. More importantly, if he'd held the 1.44 DOT he originally bought, it would be worth nearly double the amount today.
Our top crypto play isn't a token - Here's why
We've found one company that's positioned itself perfectly as a long-term picks-and-shovels solution for the broader crypto market — Bitcoin, Dogecoin, and all the others. In fact, you've probably used this company's technology in the past few days, even if you've never had an account or even heard of the company before. That's how prevalent it's become.
Sign up today for Stock Advisor and get access to our exclusive report where you can get the full scoop on this company and its upside as a long-term investment. Learn more and get started today with a special new member discount.
Get started
Most cryptocurrency apps and exchanges charge some kind of fee for each trade. So wheeling and dealing by repeatedly buying and selling the same token -- especially if you do so at a loss -- is not a great plan. Mr. Goxx has made almost 170 trades in almost four months.
2. He didn't make hay during the Solana (SOL) summer
Smart contract cryptos have taken the market by storm in recent months. Smart contracts are tiny pieces of code that live on the blockchain and make it possible to build applications on the network. They're particularly important for the booming decentralized finance (DeFi) industry.
Ethereum (ETH) was the first mover in this space, but its network is congested and expensive. As a result, the prices of various Ethereum alternatives shot up. Especially Solana, which has risen over 370% since Mr. Goxx started trading.
To be fair, Mr. Goxx did buy and sell some programmable cryptos. But it does seem like smart contracts are not his wheelhouse, and as a result, he missed out on some significant price action.
3. His portfolio is weighted to smaller cryptocurrencies
Crypto trading can be volatile and unpredictable, and the risks increase when you trade smaller coins. As a result, when you start trading, it makes sense to buy bigger coins like Bitcoin and Ethereum. After that, it's a good idea to ensure these continue to make up a good percentage of your crypto portfolio, even if you branch out into less popular tokens.
According to Protos, Bitcoin and Ethereum put together only make up about a quarter of Mr. Goxx's portfolio. He's also bought a significant amount of Tron (TRX) -- it makes up about a third of his portfolio. While Tron has gained 37% since Mr. Goxx started trading, that's still below the overall crypto market, and is lackluster in comparison with its competitors.
Of course, Mr. Goxx may know something we do not, and Tron's price may spike. But, this kind of tunnel vision can easily leave investors overexposed. And I'm not sure our caged crypto crackerjack has picked a winner there.
Mr. Goxx's whizzy wheel
I'm not a fan of pet coins, but I probably shouldn't be too hard on cute pet traders, especially since Mr. Goxx has outperformed Warren Buffet's investment company Berkshire Hathaway, and the FTSE 100.
The trouble is that comparing the stock market with cryptocurrencies is a bit like comparing a rollercoaster to a ferris wheel. Neither is free of risk. But one is slow and fairly dependable, while the other is filled with unpredictable highs and lows, as we've experienced several times already this year.
When prices are rising, it's easy to believe that crypto investing is a great way to make money fast. But crypto prices can fall dramatically too. And the fact that even a hamster can make money in this market is a salient reminder that three months of profit does not make anyone a crypto investment genius.
We're firm believers in the Golden Rule, which is why editorial opinions are ours alone and have not been previously reviewed, approved, or endorsed by included advertisers. The Ascent does not cover all offers on the market. Editorial content from The Ascent is separate from The Motley Fool editorial content and is created by a different analyst team.
Emma Newbery owns Bitcoin, Ethereum, Polkadot, Stellar, and Solana.
The Motley Fool owns shares of and recommends Berkshire Hathaway (B shares), Bitcoin, and Ethereum. The Motley Fool recommends the following options: long January 2023 $200 calls on Berkshire Hathaway (B shares), short January 2023 $200 puts on Berkshire Hathaway (B shares), and short January 2023 $265 calls on Berkshire Hathaway (B shares). The Motley Fool has a
disclosure policy
.