How Your Dog Can Impact the Cost of Homeowners Insurance
Many or all of the products here are from our partners that compensate us. It's how we make money. But our editorial integrity ensures our experts' opinions aren't influenced by compensation. Terms may apply to offers listed on this page.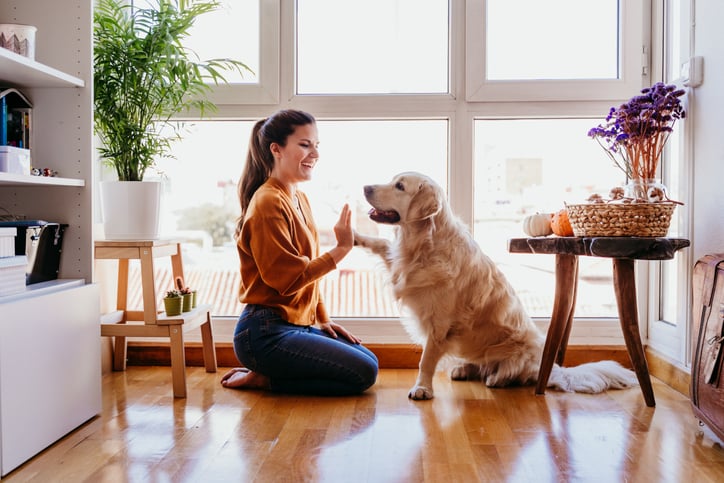 As much as you love your pup, certain breeds may raise the cost of your homeowners insurance.
For companies providing homeowners insurance, premiums are tied to risks. For example, it can cost more to insure a home with a trampoline or pool in the backyard. That's because both represent a higher risk of injury, and increase the odds a homeowner will make a claim. Dogs are the same. While a breed of dog generally considered low-risk may not impact the price of homeowners insurance, some breeds will. Worse yet, insurance companies are free to deny coverage to a homeowner if they consider their pet too high-risk to cover.
Breeds that make insurance companies anxious
Homeowners who own one of these breeds may find it more difficult (or expensive) to secure homeowners coverage, according to the Animal Health Foundation:
Akita
Alaskan Malamute
American Pit Bull Terrier
Chow Chow
Cane Corso
Doberman Pinscher
German Shepherd
Great Dane
Presa Canarios
Rottweiler
Siberian Husky
Staffordshire Bull Terrier
Wolf hybrid
It doesn't matter if an individual dog has the sweetest nature in the world and has never shown an ounce of aggression -- insurance companies base their premiums on studies showing which breeds are most likely to get into trouble.
Potential outcomes
There are several outcomes homeowners with a "restricted breed" should prepare for as they shop for homeowners insurance.
Denial
A homeowner may apply for coverage only to be denied due to the breed of their dog. This is especially true if the pet has a history of aggression. It's important to note that even if someone has homeowners coverage in place, then adopts a restricted breed into their family, an insurer could refuse to renew coverage when the renewal date arrives.
Exclusions
An insurance company may offer a policy -- but with exclusions. That means damages caused by the dog would not be covered. For example, if a dog bites someone or tears up property, the homeowner's insurance policy would not cover the loss. But if lightning sets their roof on fire or a thief steals the family silver, the loss would be covered, as with any homeowners policy. The exclusion would apply only to losses due to the dog.
Premium increase
When an insurance company raises a rate, it is to compensate for any additional risks they're taking by providing coverage. Because certain breeds are known to bite or become aggressive, insurers bump up premiums hoping to avoid losses. If one of the high-risk breeds of dogs is part of the family, a homeowner can count on paying more in premiums.
What to do if an insurance company denies coverage
There are a number of expensive insurance mistakes a homeowner can make, including not carrying adequate coverage. Fortunately, when one company turns them down, homeowners have other options available.
Shop insurers
Rules vary by the insurance company. Homeowners denied coverage by one company should shop around, and will hopefully land on a more lenient insurer. The following insurance companies have a reputation for being dog-friendly, meaning they are less likely to deny coverage due to the breed of a dog:
Allstate
Amica
Chubb
Fireman's Fund
Liberty Mutual
Massachusetts Fair plan
Nationwide
State Farm
USAA
Conduct a DNA test
If a homeowner is not quite sure of a dog's breed, at-home DNA testing is available. There are many DNA testing brands, with prices starting around $60. If it turns out that a dog is not part of a high-risk breed, the homeowner should let the insurance company know, and provide DNA evidence.
Purchase special coverage
Suppose a homeowner ultimately cannot land insurance to cover a pet or worries that the coverage amount of the homeowners policy is inadequate. In that case, it's time to take a look at a canine liability policy.
Canine liability insurance covers renters and homeowners when a dog damages their homes through things like scratching, chewing, and biting. It protects a homeowner from legal repercussions if a dog bites someone. Like most homeowners coverage, it does not cover injuries to the homeowner or members of their household.
Policies start as low as $10 per month, depending on the amount of coverage and deductible chosen by the homeowner. But, as with any insurance policy, it pays to shop around.
As any dog lover will tell you, there's nothing quite as special as a canine friend. That said, there's nothing cheap about owning a pet -- especially if it's a member of a restricted breed. Ensuring that there is property insurance in place can protect a homeowner against loss and keep money in their bank account.
Our picks for best homeowners insurance companies
There are many homeowners insurance companies to choose from. We've researched dozens of options and short-listed our favorites here. Looking for a green build discount or easy bundle policies? Want an easy-to-use interface? Read our free expert review and get a quote today.
We're firm believers in the Golden Rule, which is why editorial opinions are ours alone and have not been previously reviewed, approved, or endorsed by included advertisers. The Ascent does not cover all offers on the market. Editorial content from The Ascent is separate from The Motley Fool editorial content and is created by a different analyst team.
Dana George
has no position in any of the stocks mentioned. The Motley Fool has no position in any of the stocks mentioned. The Motley Fool has a
disclosure policy
.