3 Reasons You Might Regret Buying a Townhouse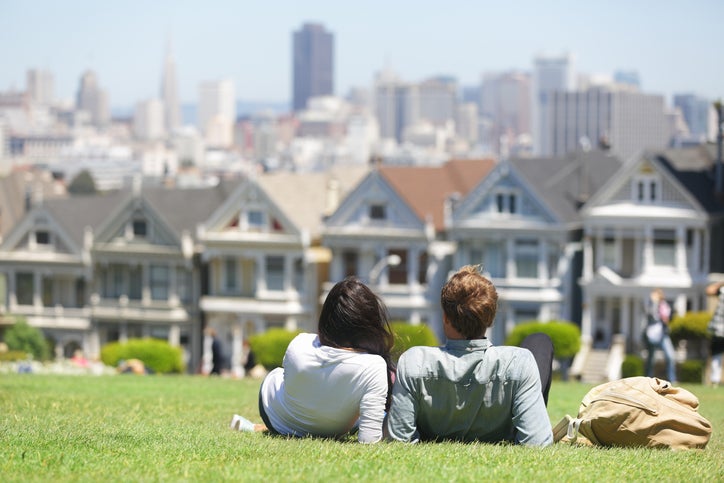 Many or all of the products here are from our partners that compensate us. It's how we make money. But our editorial integrity ensures our experts' opinions aren't influenced by compensation. Terms may apply to offers listed on this page.
Is a townhouse right for you? Here's how to know.
---
Key points
Townhouses can be less expensive than standalone homes.
Despite the lower costs, townhouses have several drawbacks that homeowners should be aware of, including less privacy, strict rules, and rising fees.
---
Buying a home these days is an expensive prospect. That's because home values have soared on a national level. While competitive mortgage rates are helping somewhat to offset higher home prices, many buyers are still struggling to come up with a high enough down payment to buy a place of their own.
It's for this and other reasons that you may be looking at buying a townhouse. Since townhouses tend to be smaller than standalone homes, they also tend to cost less. The result? You won't need as high a down payment, and your mortgage payment won't be as large.
Also, townhouses tend to come with lower property taxes than standalone homes within the same neighborhood. That's due to their smaller nature and the fact that townhouses typically don't offer much outdoor space on a unit-by-unit basis (you may have a larger common area you can enjoy, but your own backyard may be tiny or nonexistent).
Despite the financial benefits of buying a townhouse, there are drawbacks involved in going this route. Here are a few reasons why a townhouse could end up being a poor choice for you.
1. Less privacy and more noise
When you buy a townhouse, you share at least one wall with a neighbor. And that means you may not only get less privacy, but also have more noise to cope with.
Imagine your neighbor happens to have a baby who cries through the night for months on end. That's not something that can be helped. But it could result in you having many sleepless weeks.
Also, many townhouse communities offer common area amenities like playgrounds or benches so that residents can enjoy outdoor space. But that's not the same thing as having your own private backyard to hang out in when you want fresh air. If you're more of a private person, you may not like having to constantly interact with other homeowners in your development.
2. Strict HOA rules
Townhouses are generally governed by a homeowners association (HOA), so if you buy one, you could end up being subjected to some pretty strict rules. Some HOAs, for example, prohibit homeowners from running businesses out of their homes. Others bar dogs or other animals. Since HOA rules can change over time, you run the risk of being restricted in some area of your life.
3. Rising HOA fees
When you own a townhouse, you're required to pay monthly HOA fees. Those fees are meant to cover the cost of common area maintenance (for example, lawn mowing and snow removal services). But over time, those fees have the potential to rise. Once that happens, your home could become less affordable.
Home buyers are often warned not to sign up for an adjustable-rate mortgage because the interest rates attached to these loans can climb over time, resulting in higher housing payments. Well, the same holds true when you buy a townhouse. You might start out paying a certain amount in HOA fees, but as that number climbs, you might struggle to keep up with your housing costs.
Is a townhouse right for you?
Buying a townhouse can be a good way to dabble in homeownership for the first time. Not only might you spend less to buy a townhouse, but you'll generally have less maintenance than you would with a standalone home since you shouldn't have to tackle too many (if any) exterior items. But before you purchase a townhouse, make sure you understand the disadvantages involved. The last thing you want to do is buy a townhouse and come to regret it.
We're firm believers in the Golden Rule, which is why editorial opinions are ours alone and have not been previously reviewed, approved, or endorsed by included advertisers. The Ascent does not cover all offers on the market. Editorial content from The Ascent is separate from The Motley Fool editorial content and is created by a different analyst team.