6 Ways to Win a Bidding War on a House
Many or all of the products here are from our partners that pay us a commission. It's how we make money. But our editorial integrity ensures our experts' opinions aren't influenced by compensation. Terms may apply to offers listed on this page.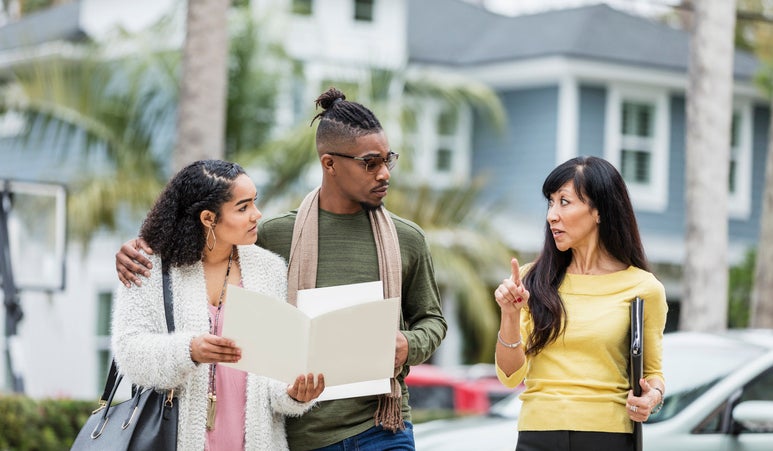 It is possible to win a bidding war without compromising your finances.
If you're not someone who particularly enjoys a bidding war, today's housing market is probably not doing your nerves any favors. Buying is tricky these days, which is why we've put together these six tips for winning a bidding war on a house.
Word of caution: Much of the home-buying advice floating around today involves financial moves we consider risky. For that reason, we cannot recommend:
Buying a home without an inspection
Taking money out of a retirement account to purchase property
Paying over the appraised value for a house
We believe that it is possible to win a bidding war without hurting yourself financially. Here are six of our best ideas.
1. Get pre-approved
Before you buy a home, two things typically happen: A mortgage lender prequalifies you and then later pre-approves your loan application. Getting prequalified means the lender thinks you will qualify for a mortgage based on information you provide. It's nice but holds very little water.
On the other hand, pre-approval means the lender has checked your credit history, W-2s, bank statements, and has approved your mortgage application. If a seller chooses your offer, they don't have to worry about whether you will qualify for a mortgage.
2. Pay cash if you have it available
Let's say you've been saving for a decade and have the cash available to purchase a home. In that case, you almost certainly have a leg up because sellers know they don't have to wait for mortgage approval. But no matter how low the current interest rate may be, do not cash out your 401(k) or any other type of retirement plan to buy a house. Anyone who suggests such a thing does not have your best interest in mind.
3. Be flexible
Let's say the sellers are building a new house and would like to wait for it to be finished before closing on their current home. Consider going along with their request, if possible. Otherwise, offer to close earlier but allow them to rent the home back until they're ready to move.
4. Pay for an inspection upfront
If you are currently house hunting, you have undoubtedly heard that the only way to win a bidding war is to waive all contingencies, including the inspection and appraisal. This is terrible advice.
Imagine that you've offered $350,000 on a home and waived the inspection and appraisal contingencies. You win the bidding war. However, since the house only appraises at $295,000, that's all the bank will loan. Instead of the $35,000 (10%) you planned to use as a down payment, you must come up with $55,000. And, you're the proud new owner of a home that is worth less than you paid for it.
Once you move in, you find that the basement leaks, the furnace is held together with rubber bands, and there is mold in the attic. It will cost thousands of dollars more to make the house safe and dry.
You can avoid the problem by having an inspector on standby. Once you have a house in mind, ask your real estate agent to arrange another walk-through. This time, though, bring a home inspector with you. No rule says you can't go over the house with a fine-tooth comb before making an offer. For approximately $300 to $400, you can have an inspector look in all the nooks and crannies to identify any problems that may be costly.
5. Include an escalation clause
An escalation clause works like this: You decide how much you're willing to pay for a home (based on what you can afford). When your agent writes up your offer, they add something like, "If a competing offer is made on the property, the bid will automatically increase by $1,000, up to a cap of $325,000." Your actual bid increase may be more or less, depending on what fits in your budget. Whether the seller accepts it or not, you know that you left your best offer on the table.
6. Plump your earnest deposit
When you make an offer on a home, you are expected to include an earnest deposit (or earnest money). Like a security deposit, an earnest deposit is a way to let sellers know you're serious about buying the house. If you make an offer but back out of the agreement without a legitimate reason (like an appraisal contingency coming in too low), you will likely lose the earnest money.
Still, as long as you've had the home inspected and leave the appraisal contingency in the offer, you might consider making your earnest deposit larger than most other buyers'. The average home buyer provides 1% to 3% of the purchase price as their deposit. If you're serious about the house, you can set yourself apart from the crowd by putting down more.
Your earnest deposit is part of your down payment, so anything you put up is deducted from the amount owed at closing. Let's say you're supposed to bring $40,000 with you to close on the house but have put down a $15,000 earnest deposit. That means you'll only need to show up to closing with $25,000.
One last note about bad advice you may receive
The same competitive buying environment that currently exists across the U.S. is business as usual in some areas of the country. Buyers are willing to jump through hoops for a chance to buy a house.
For example, in the Bay Area of California, real estate agents have long advised their clients to write a letter to the home seller, explaining why they want to live in the house, what they enjoy about the property, and a bit about their families.
Last year, the National Association of Realtors (NAR) told agents that letters to sellers are a bad idea. If your agent -- or anyone else -- suggests you write a letter to a seller hoping to sway them, you might want to pass. Whether or not you include a picture of your family (many do), the clues contained in the letter can reveal your race, religion, marital status, and other personal details. For that reason, the NAR cautions that these "love letters" to sellers can raise fair housing concerns and even open sellers and their agents up to fair housing violations.
If you're house hunting, you're probably anxious to find a home to call your own. We're convinced you can win a bidding war while also protecting your bottom line. It just may take a little longer.
We're firm believers in the Golden Rule, which is why editorial opinions are ours alone and have not been previously reviewed, approved, or endorsed by included advertisers. The Ascent does not cover all offers on the market. Editorial content from The Ascent is separate from The Motley Fool editorial content and is created by a different analyst team.