How Applying for a Mortgage Affected My Credit Score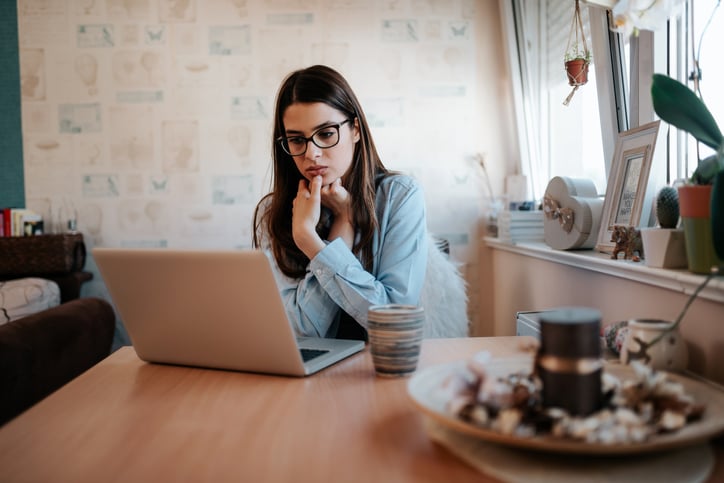 Many or all of the products here are from our partners that compensate us. It's how we make money. But our editorial integrity ensures our experts' opinions aren't influenced by compensation. Terms may apply to offers listed on this page.
Here's what happened when I decided to get a home loan.
There was a point in my life when I had a perfect credit score, and while I don't aim to have one these days, back then, I did what I could to keep that number at 850. That meant paying all of my bills on time and not applying for new credit cards I didn't need.
But when my husband and I decided to buy a home together about 12 years ago, we needed a mortgage to make that happen. I knew that my credit score would take a hit in the process. Thankfully, though, that hit wasn't large at all.
A minor credit score drop
When you apply for a new loan or credit card, the lender or issuer has to check up on you to make sure you're a responsible enough borrower to get approved. That means pulling your credit report. When this happens, it's known as a hard inquiry, and it can cause a temporary drop in your credit score.
That's what happened to me when I applied for a mortgage. At the time, my credit score wasn't perfect, but it was really close. I remember being disappointed that applying for my home loan caused a drop in the vicinity of five points. Even though my score was still well above 800, and that hit was minor, at the time, I was bummed.
At this point, though, a five-point credit score drop wouldn't phase me at all. Because my score is strong, a minor drop won't render me ineligible for a great rate on a loan or a new credit card.
In fact, last summer, my husband and I decided to refinance our mortgage because rates were so appealing. My credit score dropped about seven points in the process, but that really wasn't a big deal.
Don't stress over a small credit score drop
If you're thinking of applying for a mortgage (or refinancing your mortgage), you should prepare for your credit score to decline slightly while lenders pull your credit report to decide if you're a viable borrowing candidate or not. But you also shouldn't worry about it.
In the long run, having a mortgage could actually help your credit score improve. If you consistently make your monthly payments on time, that'll get reported to the credit bureaus. A strong payment history is the most important factor in determining what your score looks like.
That said, it's common practice to shop around for a mortgage with different lenders. If you're going to go this route, aim to do your rate shopping within the same 14- to 30-day period.
If multiple lenders pull your credit report within a short time frame, all of those hard inquiries will only count as a single one, resulting in a minimal credit score hit, along the lines of what we just discussed. But if you spread out those mortgage applications over too many weeks, you could end up with multiple hard inquiries -- and more of a credit score drop.
Of course, it's important to have a strong credit score when applying for a mortgage. A score in the upper 700s or higher could be what it takes to snag the best mortgage rates. But if that's where your score is sitting, don't worry about a five- or seven-point drop in the course of getting a home loan.
We're firm believers in the Golden Rule, which is why editorial opinions are ours alone and have not been previously reviewed, approved, or endorsed by included advertisers. The Ascent does not cover all offers on the market. Editorial content from The Ascent is separate from The Motley Fool editorial content and is created by a different analyst team.