What Are My Options if My New House Is a Lemon?
Many or all of the products here are from our partners that pay us a commission. It's how we make money. But our editorial integrity ensures our experts' opinions aren't influenced by compensation. Terms may apply to offers listed on this page.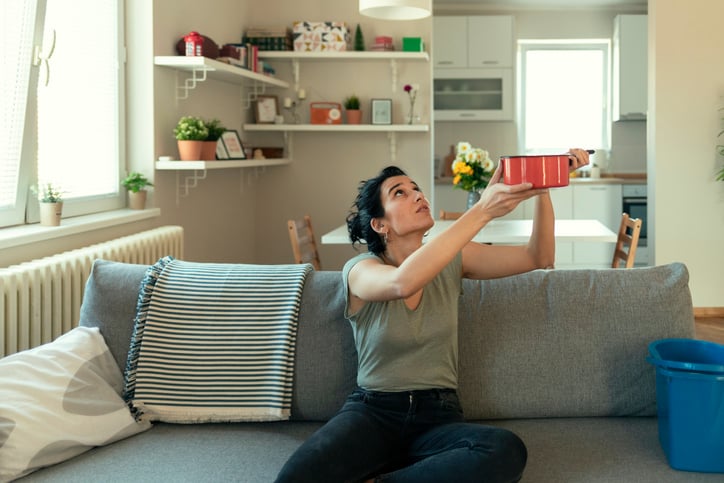 When your new home comes with unexpected problems it's good to understand your options.
If you're in the market for a home, you may have heard that you should not include any contingencies -- including a home inspection -- if you want a seller to choose your purchase offer. But failing to inspect a home before you buy it is a recipe for disaster. You may get lucky and run into only minor issues or not so lucky and feel as though you bought a lemon.
Here, we'll look at your options if you buy a house, move in, and realize there's more damage than you knew.
The nightmare house
Let's say you take out a mortgage on a home only to learn the chimney needs to be rebuilt, the water heater is on its last legs, and the central air conditioning only works every other day. These are all issues a competent home inspector would have found. But if your inspector didn't find them, you have the option of suing them. According to FindLaw, most home inspectors are sued at least once during their careers. And if the problems were things a good home inspector is expected to find, you may have a good case.
But what happens if you skipped the home inspection? This is where the issue of buying a lemon gets tricky.
Your rights
Most states require sellers to disclose known defects on a seller disclosure form. Suppose the seller knew the foundation leaks, the electrical system is wonky, or the fireplace is inoperable. In most cases, they are legally required to let you know before you buy the home.
Some states even require sellers to disclose things they "should have known." Say the basement leaks every time it rains. The seller should know about that problem -- and is responsible for disclosing the issue.
Now, let's say someone lived in a house for five years. The basement leaked every time it rained, but they paid a foundation company to repair the problem. Typically, a seller does not have to disclose a problem as long as it was repaired.
A giant hole in disclosures
Home sellers in New York can avoid filling out a seller disclosure form by crediting the buyer $500 at closing. They are under no obligation to let potential buyers know what they're in for as long as they fork over that $500. The New York law -- called the Property Condition Disclosure Act -- is popular with sellers. According to the legal site Nolo, many home sellers in the state opt not to fill out a disclosure form, choosing to pay the credit instead.
Even in states with strict disclosure laws, it's easy for sellers to feign ignorance, claiming they had no idea there were any problems.
Do you have legal recourse?
It is possible to sue the former owner of a money pit. You may even be able to sue the real estate agent who sold you the house. It's not easy, though. To have a fighting chance at recovery, the following must be accurate and provable (but check with an attorney for specifics):
The problem was present before you purchased the property.
The problem was not easily detectable. For example, a massive crack in the foundation is noticeable, and you should have known about it before buying.
The seller either failed to disclose the problem or lied to cover it up.
You counted on the disclosures to be true and accurate.
You have been damaged financially by the problem.
You may be convinced the former homeowner knew about the dying sump pump or the leak in the master bedroom closet, but it's extraordinarily difficult to prove that. It can also be expensive to hire an attorney to take on your case.
Your options
If you find yourself with an expensive lemon on your hands, these may be your best options:
Ask the former owner to participate in mediation with a third party who can help work out a resolution.
Buy a home warranty from a reputable company (if you didn't get one from the former owner). Make sure it covers the issues you need to address and doesn't exclude pre-existing conditions.
Speak with an attorney who specializes in real estate. Many provide the initial consultation at no cost. They can tell you if you have a case. If not, there's no reason to waste money pursuing this option.
Take your complaint to small claims court. State limits range from $2,500 to $25,000 according to Nolo. Find out what the limit is for your state, and if the expected cost of repairs falls below that number, consider taking the former owner to court. You may not prevail, but filing fees in many states cost less than $100.
If possible, the best thing you can do for yourself is to avoid problems in the first place. And the easiest way to do that is to have a home inspected before you buy. You can either do it as part of a contingency or bring your own inspector along before making an offer.
Ultimately, it's up to you to do your due diligence before buying a home. No matter how pressured you feel to make a decision or skip the inspection, when you buy a home you also buy its problems. Getting the former owner to make repairs is a losing battle more often than not.
We're firm believers in the Golden Rule, which is why editorial opinions are ours alone and have not been previously reviewed, approved, or endorsed by included advertisers. The Ascent does not cover all offers on the market. Editorial content from The Ascent is separate from The Motley Fool editorial content and is created by a different analyst team.