Study: The Average Millennial Achieves Financial Independence at This Age
Many or all of the products here are from our partners that pay us a commission. It's how we make money. But our editorial integrity ensures our experts' opinions aren't influenced by compensation. Terms may apply to offers listed on this page.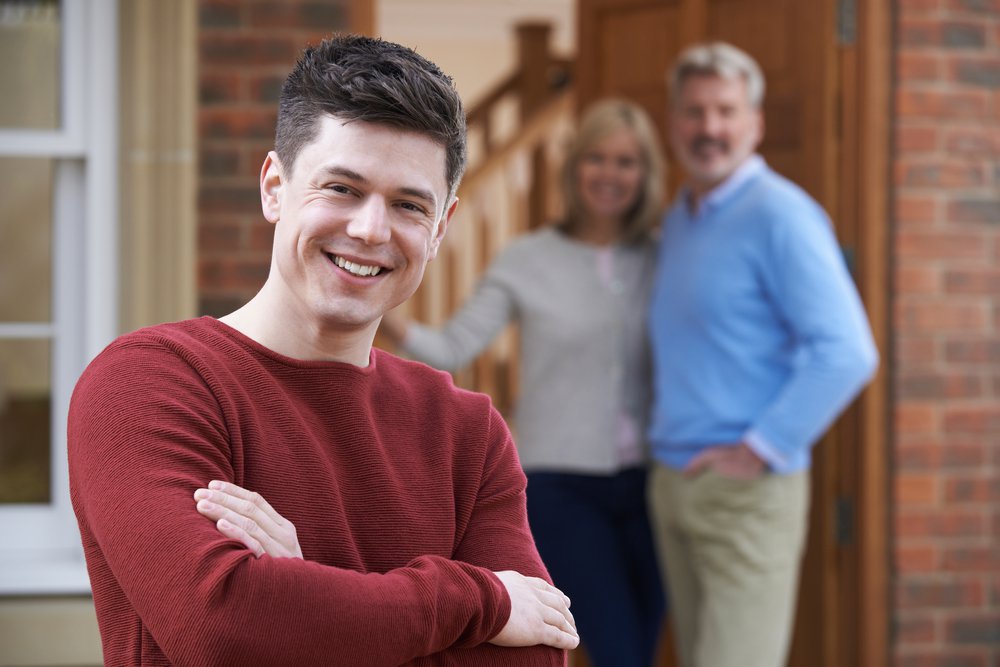 Growing up. Graduating. Getting a student or secured credit card. Moving out. Getting a job. Somewhere along the way, the drip feed of money coming from your parents' wallets is bound to dry up -- or is it?
If you're a millennial (born between 1981 and 1997), the answer to that question might not be so simple. Between utility bills, healthy groceries, and remaining connected to the all-powerful internet, staying alive has always been expensive. However, in the face of challenging economic conditions that include lagging wage inflation and sky-high rents, millennials are living a particularly expensive existence on many fronts -- and that's not to mention that many of them have no retirement savings.
That's where mom and dad come in.
We wanted to dig into the nitty-gritty of millennial financial independence and explore the many ways in which this generation is -- or is not -- able to reach this important milestone.
Supportive parents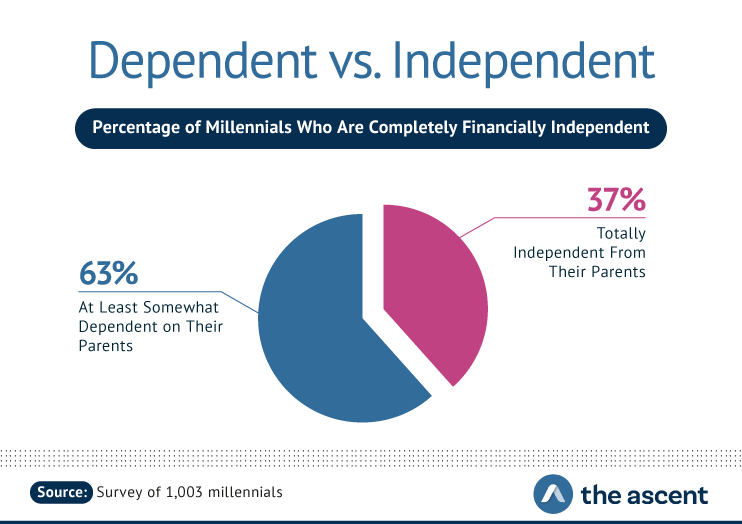 In the context of this survey, complete financial independence meant no longer relying on one's parents as a source of money. By that metric, just 37% of our respondents were considered to be totally off the dole, compared to 63% who remained somewhat dependent.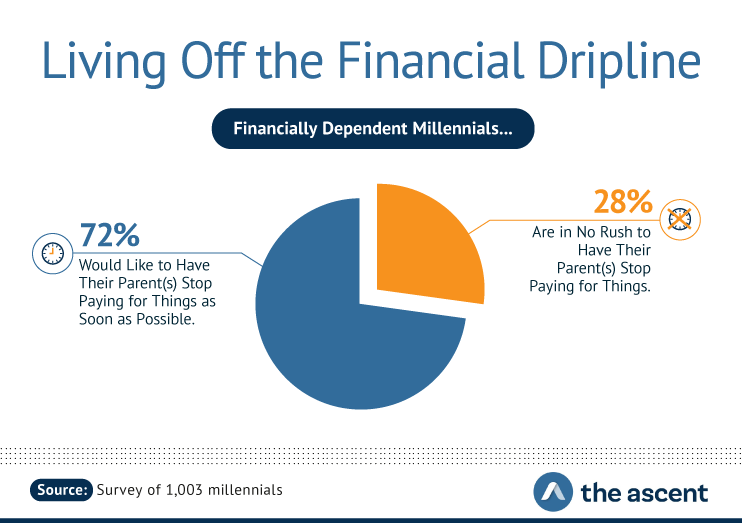 Millennials who were completely financially independent were 31 years old, on average.
However, a large majority of those who still leaned on mom and dad to help pay their bills weren't keen on being financially dependent for the long haul: 72% said they wanted to have their parents stop contributing to their expenses as soon as possible, compared to just 28% who were in no rush to cut the cord.
In many cases, financial reliance isn't so much a question of preference as it is a means of survival. It could take the average millennial quite a bit of time to save enough for a down payment on a home -- and that's assuming he or she is saving a percentage of earned salary each month.
Given those numbers and timelines, it's no wonder that millennials are so eager to get by with a little help from their family.
Independence day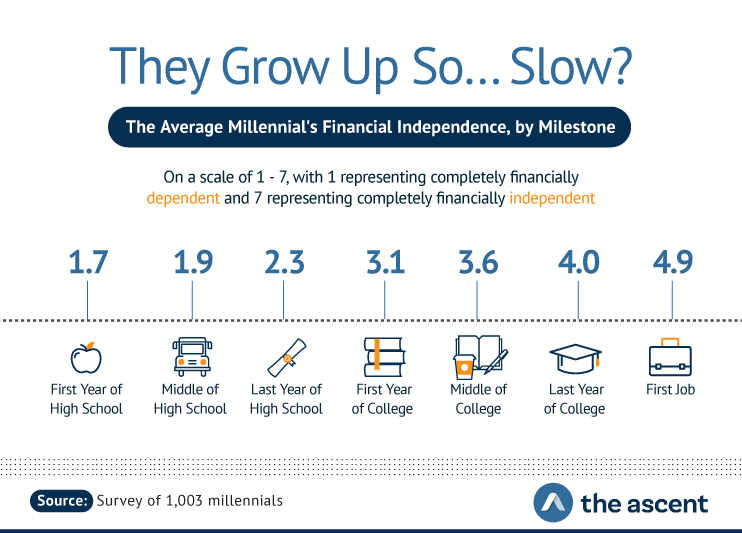 Millennials weren't quite financially independent when getting their first job, on average.
Unsurprisingly, the relationship between our respondents' financial independence and where they were on a developmental level was essentially linear. We used a scale of 1 (completely financially dependent) to 7 (completely financially independent) to make things simple.
It took until their last year of college for our respondents to consider themselves "neither financially independent nor dependent." Not only that but by the time the average millennial landed his or her first real job, a significant span of time still existed before true independence was achieved. Although receiving financial help while employed full time might seem like a cash grab at first glance, Federal Reserve data show that median millennial salaries are fairly modest across the country, topping out at just over $40,000 in Washington, D.C.
The break-even point for our respondents (i.e., when they reached "neither financially independent nor dependent" status) was during their final year of college. Once they got their first job, the average millennial qualified as "financially independent" in a general sense, although not entirely.

The budget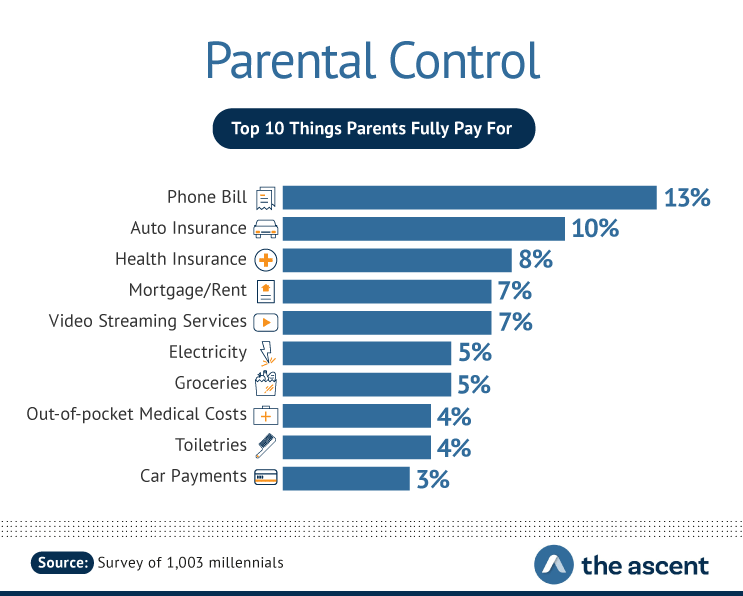 More than any other expense, 13% of parents paid for their millennial child's telephone bill in full. Another 10% picked up the tab for auto insurance, and 8% paid for health insurance.
Slowly but surely, the cost of the average cell phone plan is increasing due to the rise of the unlimited data plan. Additionally, as of their 26th birthday, millennials are no longer covered under their parents' insurance plans, according to the Affordable Care Act -- so it's no wonder these things were among the more popular parental subsidies.
One of the only "luxury" items paid for by respondents' parents were video streaming services, although that might be because multiple users often share the same account. To millennials benefiting from this leniency, we say beware: streaming services may soon start cracking down on freeloading account-sharers.
Top 9 Things Parents Only Partially Pay For
Groceries: 12%
Mortgage/Rent: 8%
Auto Insurance: 6%
Out-of-pocket Medical Costs: 5%
Phone Bill: 5%
Toiletries: 5%
Health Insurance: 5%
Video Streaming Services: 4%
Gas: 3%
When it came to expenses that were partially subsidized by parents, groceries topped the list at 12%. While cooking at home is a great way to cut down on food expenditures (compared to eating at a restaurant or grabbing takeout), it's helpful to be aware of the foods that might add a disproportionately high amount to your grocery bill.

Confidence is key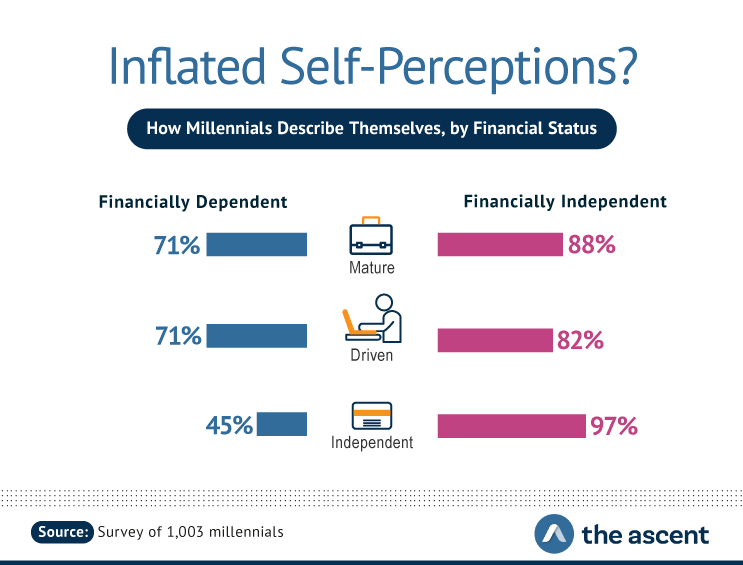 71% of financially dependent millennials described themselves as mature.
Financial status seemed to have a minimal effect on our respondents' self-confidence. While those who were completely financially independent said they felt mature and driven at higher rates than their completely dependent counterparts, nearly three-quarters of the latter group also identified with those terms.
Unsurprisingly, the largest chasm revealed itself with the topic of independence: a whopping 97% of millennials who didn't rely on their parents for financial assistance said they identified with this trait, while 45% of completely dependent respondents said the same.
Pressure's on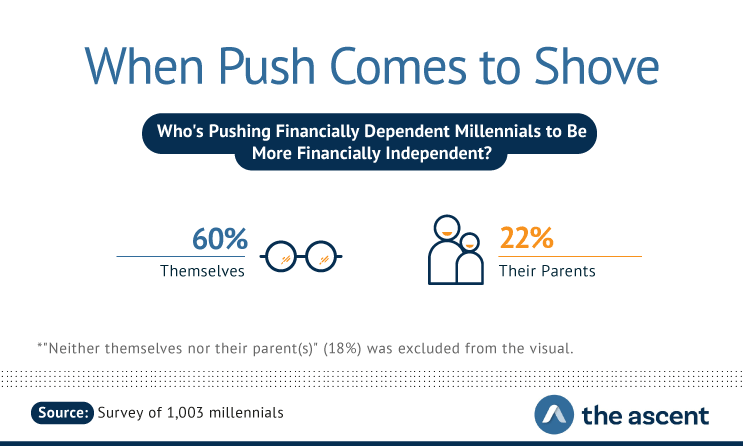 As a generation that involved "helicopter parents," our survey revealed a trend that supports the idea that millennials are pushing back. Only 22% of our respondents said their parents pushed them to become more financially independent, while a much-larger 60% said they were the ones putting themselves in the hot seat.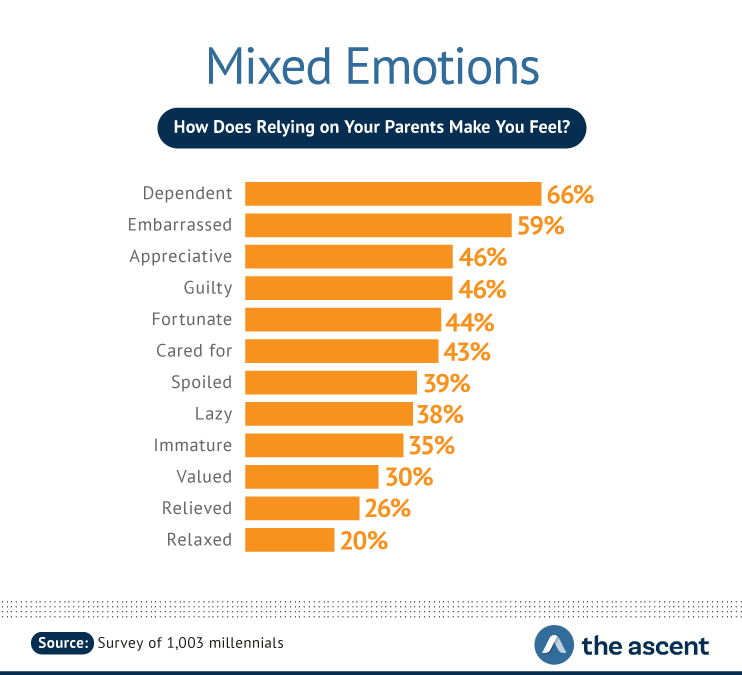 Given how our respondents felt about the state of their financial affairs, it's not surprising they wanted out as soon as possible: 66% said their situation made them feel dependent, and another 59% felt embarrassed. A similar number of people felt appreciative and guilty, at 46% each. Other common positive sentiments included feeling fortunate and cared for, while negatives took on the form of spoiled, lazy, and immature.
But are all of these down-and-out feelings legitimate, or are millennials punishing themselves for no reason? For example, living at home as an adult -- something that 15% of millennials aged 25 to 35 are still doing according to the Pew Research Center -- is something that's often considered embarrassing in the United States but completely normal in many other countries. In Italy, over 60% of 18- to 29-year-olds live with their parents, and countries like Greece, France, and Spain are all experiencing an increase in the number of young adult children living at home.

Budgets and beyond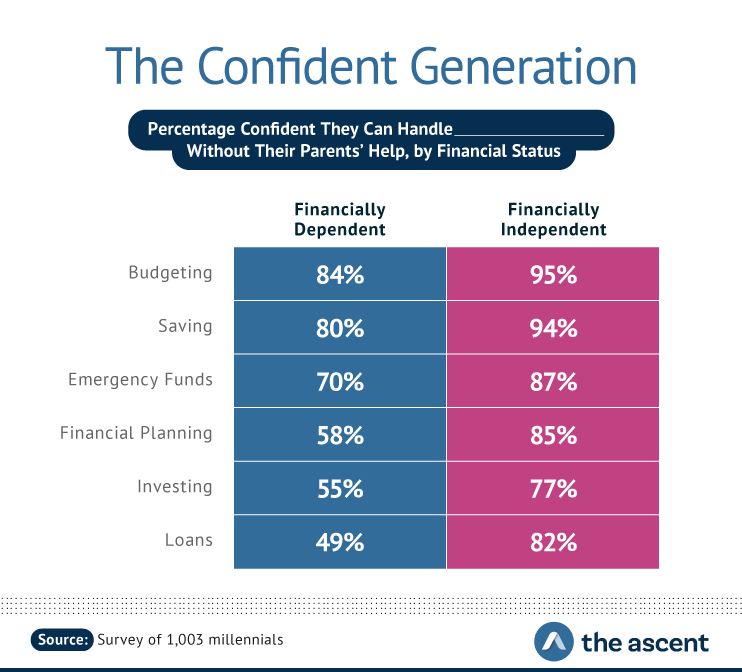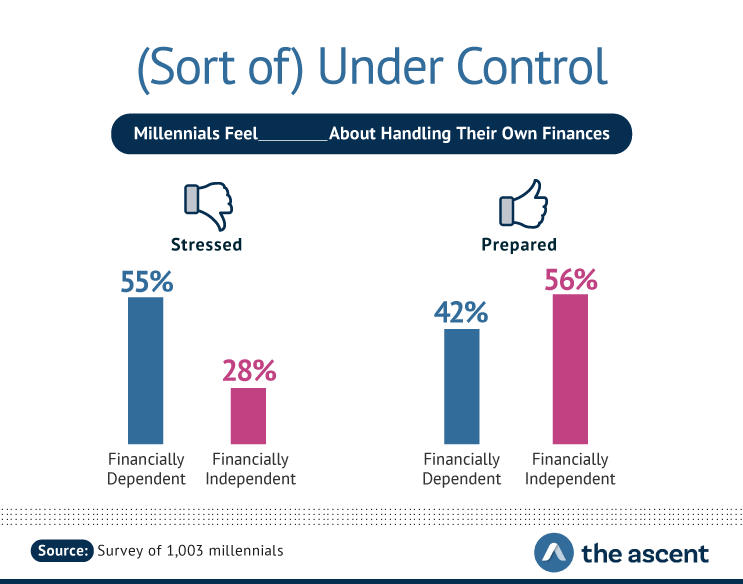 Achieving financial independence has tons of knock-on benefits. It's the gateway to having more fun, avoiding dire straits should you ever lose your job, and for our respondents, it was also the gateway to confidence in handling personal finances.
Across the board, millennials who had fully separated their finances from their parents were more confident in their ability to tackle all areas of personal finance and were less stressed about handling those areas. While both independents and dependents were fairly secure in their budgeting and saving plans, things quickly started to drop off for the latter.
Just 58% of dependent millennials felt good about their financial planning abilities, compared to 85% of independents. The area in which financially independent respondents felt the least secure was investing, but dependent respondents were still much further behind (77% compared to 55%). Additionally, less than half of financially dependent millennials felt confident about handling their loan situation (compared to 82% of independent respondents).
A question of age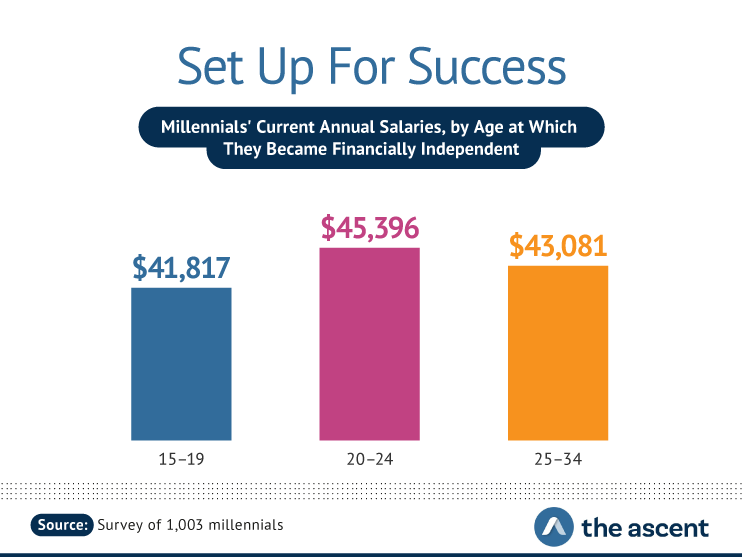 Millennials who were completely financially independent in college made an average of $3,421 more per year than those who were completely financially dependent.
There are myriad ways to achieve personal financial independence, and no two paths look the same. In fact, there is an entire movement that is currently budding among millennials called FIRE -- "financial independence, retire early" -- that sees individuals in their 20s and 30s aggressively pinching pennies with the goal of achieving financial security.
No matter how any given person reached this financial milestone, though, our survey revealed that when they achieved independence might impact their future prosperity as well: Respondents who gained independence between 20 and 24 years old earned the highest average salary of any millennial sub-demographic, at $45,396 per year.
In comparison, those who became financially independent between 25 and 34 years old earned an average income of $43,081. Anyone in the 15- to 19-year-old crowd earned the absolute lowest average salary of $41,817.
Millennial financial independence awaits
A majority of millennials are indeed dependent on their parents for money, but that doesn't mean they're pleased with the status quo: most of them are chomping at the bit for the opportunity to achieve financial independence. However, the process has proven to be a slow one, with the average millennial still receiving assistance after landing a first job for everything from the phone bill to medical insurance and groceries.
Given how widespread this reality is for the modern young adult, most of our respondents said they still felt mature and driven regardless of their financial situation. A majority of millennials said they were the ones pushing themselves toward independence, compared to feeling pressure from their parents. Embarrassment and guilt were strong motivators behind this trend, although they also reported feelings of appreciation and the like for their parents' patience.
If you're seeking greater financial independence, visit The Ascent for all the information you may need. Browse through offers and reviews on credit cards, bank accounts, brokerages, and loans so you can feel fully confident in going the ideal direction with your personal finances.
Methodology and limitations
For this study, we conducted an online survey of 1,003 current millennials in the United States who were born between 1981 and 1997. The average age of our respondents was 29.8 years old with a standard deviation of 4.4 years. Of the respondents, 47% were female, and 53% were male. To qualify for the questionnaire, each participant was required to be a millennial, be raised by at least one parent, and to have passed an attention-check question in the middle of the survey. If a participant failed to answer an attention-check question correctly or entered inconsistent data throughout the survey, they were ejected from the study.
For our respondents, financial dependency on parent(s) was defined as relying on them as a source of money for their own use. We measured this on a 7-point scale, ranging from completely financially dependent to completely financially independent. In addition to scales for levels of financial dependency, we also created scales for respondents to measure self-reported laziness or drive; maturity or immaturity; and independence and dependency. We created scales to measure financial preparation by parents, confidence in aspects of personal finance, and current stress about handling finances on one's own.
Some answer options may have been grouped, or bucketed, and relabeled for clarity. As a limitation due to sample size, in the last visualization, we grouped those aged 30 to 34 in an average with those who were aged 25 to 29. A limitation of the study is that we relied on self-reported data, which may come with the issues of selective memory, exaggeration, attribution, and telescoping. We also did not perform any statistical testing on the data, so the claims listed above are based on means alone. These data are intended to be used for entertainment use only.
Many or all of the products here are from our partners that pay us a commission. It's how we make money. But our editorial integrity ensures our experts' opinions aren't influenced by compensation. Terms may apply to offers listed on this page.
We're firm believers in the Golden Rule, which is why editorial opinions are ours alone and have not been previously reviewed, approved, or endorsed by included advertisers. The Ascent does not cover all offers on the market. Editorial content from The Ascent is separate from The Motley Fool editorial content and is created by a different analyst team. The Motley Fool has a Disclosure Policy. The Author and/or The Motley Fool may have an interest in companies mentioned.