QuickBooks Online vs. Zoho Books: Reporting
Many or all of the products here are from our partners that pay us a commission. It's how we make money. But our editorial integrity ensures our experts' opinions aren't influenced by compensation. Terms may apply to offers listed on this page.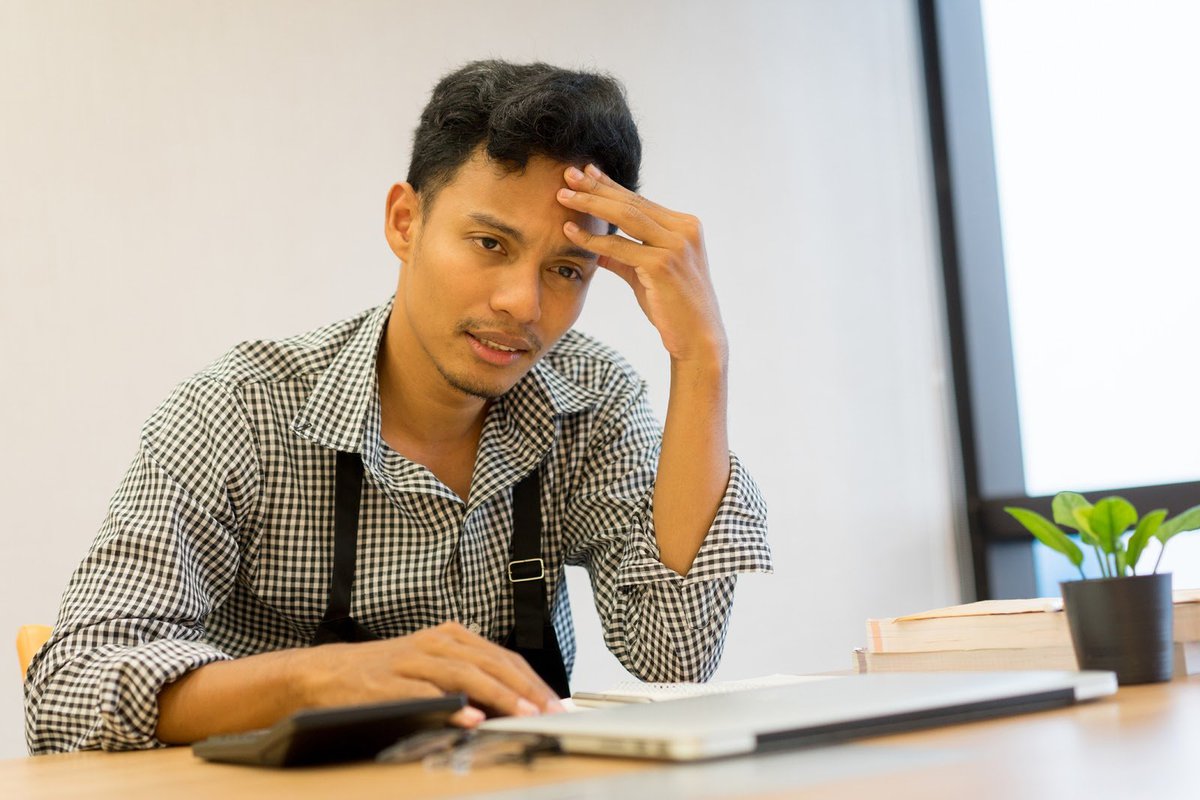 QuickBooks Online offers the best reports available, but they are reserved for the expensive plans. If you're looking for comprehensive reporting at an affordable price, check out these alternatives.
offers some of the best reporting that can be found in an accounting software application. Unfortunately, the majority of reports offered are only available in the more expensive plans, leaving those using the less-expensive plans little in the way of available reporting options.
If you're in a position to afford $150 per month for accounting software, that's great. However, smaller business owners, sole proprietors, and those just starting out may be unable or unwilling to pay that much in order to have access to more reporting options.
As an example, QuickBooks Online Plus and Advanced plans include reports such as Balance Sheet Detail, a Business Snapshot report, Profit and Loss Detail, Inventory Valuation Summary, Inventory, Valuation Detail, Accounts Receivable Aging, Accounts Payable Aging, and Unpaid Bills reports, while none of these are available in the Self-Employed or Simple Start plans.
Many of them aren't included in QuickBooks Essentials, which QuickBooks Online doesn't even list on their pricing page anymore, although I'm not sure why not.
Of course, QuickBooks Online isn't alone in this practice. Many other accounting software applications require you to purchase a more expensive plan in order to gain access to expanded reporting options.
This leads us to the question: Are there any good, affordable accounting software applications on the market that offer a good selection of reporting options even if you're paying less than $50 per month?
The good news is yes, there are. Small business owners don't have to spend upwards of $75 per month to have a good arsenal of financial and management reports available at their fingertips.
But, cost aside, there are other reasons why you may want to look elsewhere for reporting options.
1. Report availability
QuickBooks Online has an excellent selection of reports. Unfortunately, the majority of them are only available in the higher-priced plans, leaving Self-Employed and Simple Start users out in the cold. These are just a few of the reports not available in either of those plans:
Budget Overview
Profit and Loss Detail
Profit and Loss by Location
Total Deposits and Payments
Income by Customer
Inventory Valuation Detail or Summary
Sales by Location Detail or Summary
Invoice and Received Payments
1099 Reports
Purchase Reports
While the Advanced plan in QuickBooks Online offers upwards of 120 reports, the Simple Start plan offers fewer than 50, and the Self-Employed plan even less than that.
2. Schedule reports
Only custom reports can be scheduled to run automatically in QuickBooks Online. Once you identify the reports you wish to schedule, you need to create a custom setting, memorize those settings, create a group to add the report(s) to, and, finally, choose report recipients who will be emailed the report on the specific date.
The memorize reports option can be useful if you're regularly sending out reports to others, but if you just want to run them for your own records, it requires a lot of work and the inconvenience of having the reports emailed to you instead of just automatically running. The report scheduling option is not available in either the Self-Employed or Simple Start plans.
3. System transaction reports
Business owners want to be able to see who is logging into the system at any time and be able to print a report that details exactly what they did. Often called an audit trail report, this report can be invaluable for business owners. While QuickBooks Online does offer an audit trail report, it is limited to the following information:
The date of the change(s)
The user who made the change
The type of change
Any customer or vendor
Original transaction date
Unfortunately, login and logout information is not tracked in QuickBooks Online.
4. Drill-down capability
How many times have you run a report and wondered exactly what makes up the totals on one of those reports? Being able to drill down from the report total to the underlying documents is a great way to see those totals and let you know if further investigation is needed.
In QuickBooks Online, only Advanced plan subscribers have access to this feature through Smart Reporting from Fathom, which is included in the subscription price. However, Simple Start, Essentials, and Plus users are simply out of luck.
Zoho Books offers an alternative to QuickBooks Online reporting
The biggest problem with QuickBooks Online reporting is the lack of accessibility to certain reports unless you subscribe to a more expensive plan. The reality is that, in many cases, new businesses and small business owners who have a limited budget simply can't afford the higher-priced plans that allow you to gain access to those reports.
That's why we went looking for an alternative. If reporting options are important to you, one of the best (and affordable) options on the market today is Zoho Books. Unlike QuickBooks Online, Zoho Books doesn't get much publicity and relies on word of mouth from satisfied users.
And, because the company doesn't spend a lot on advertising and marketing, it's able to keep prices at a level all business owners can afford, even those on the tightest of budgets.
Zoho Books overview
A good fit for small business owners, particularly freelancers, sole proprietors, and brand-new businesses, Zoho Books includes a long list of features, many of which are typically found in more expensive accounting software applications.
To see more features, check out The Ascent's complete Zoho Books review
Zoho offers three plans, with the top-end Professional plan a steal at $29/month and offering the following features:
Inventory management
Customer management
Vendor management
Estimates
Sales orders
Invoices
Recurring invoices
Purchase orders
Expense tracking
Projects and timesheets
Time tracking
Client portal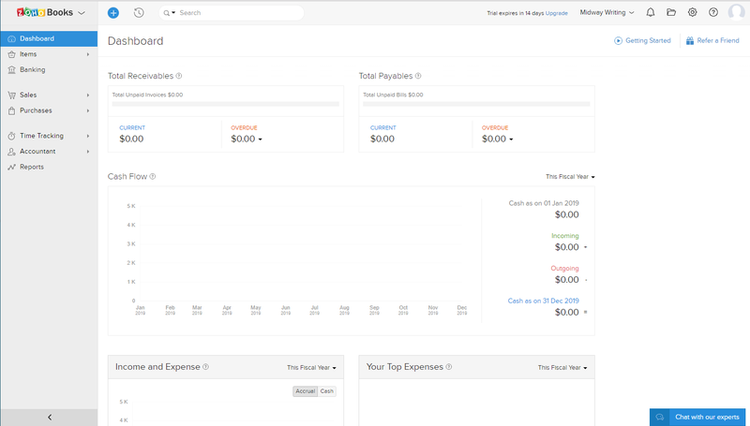 Zoho Books offers excellent inventory management capability, plus its banking connectivity allows you to connect all of your bank and credit cards to the platform. Solid invoicing, purchase order processing, and even time tracking are available in the application. One of the best features is the Client Portal, which lets you share invoices, reports, estimates, and statements with your customers.
Zoho Books reporting overview
If you're a sole proprietor or new business owner, reporting may not be a priority for you, but it probably should be. Reporting is a necessity for all businesses, giving you a snapshot of where your business is today, as well as a historical overview of where it's been.
For example, if you've been in business for a year, you can look at your reports from when you first started your business and compare them against those you ran last week to see just how much things have changed.
Investors and loan officers can do the same, getting a good glimpse into your business simply by examining these same reports. That also helps you make informed decisions about your business, from whether you should hire another employee to how much profit your business is earning on products and services.
Don't miss The Ascent's complete Zoho Books review
If given a choice, you should always choose more reports rather than fewer. And building off of that, always choose the software that will give you access to those reports.
While you'll enjoy the most reports from Zoho Books if you subscribe to the Professional plan, that's only because you'll have access to additional features, such as inventory management and purchase orders.
But all business overview reports, including a Profit and Loss, Cash Flow Statement, Balance Sheet, and Business Performance Ratio, are available in any Zoho plan, with any of them fully customizable. That means you can run a comparison to a previous accounting period or even a previous year.
Zoho Books also offers you the choice to print a report on a cash or accrual basis, which is a great option for freelancers and very small businesses using the cash method of accounting.
Another great feature available in all of these reports is drill-down capability. For example, any section on the Cash Flow Statement in blue can be clicked on to examine the underlying transactions. So if you want to see the detail behind the $36,425 accounts receivable balance, all you have to do is click on the total, and the details will display on the screen.
Because of this drill-down capability, you don't need to run a detailed report, although you can since you have access to the detail directly from the report.
Zoho Books also includes an Activity Log report, which allows you to view the actions of any system user including date, module accessed, vendor or customer name, user name, and detail of any action taken, including login and logout information for each user.
Along with business reports, Zoho Books includes the following report categories:
Sales reports
Inventory reports
Receivables reports
Payments received reports
Activity reports
Budget reports
All of these can be scheduled to run at a designated time, with the option to receive weekly summary reports at the time designated. If you're worried about employees having access to sensitive information, you can easily block access to specific reports.
All Zoho Books reports can be exported to Microsoft Excel or as a CSV file or be exported to other Zoho applications. Reports can also be saved as a PDF if desired.
Good reporting can be affordable
Good reporting options don't have to be out of reach for your small business, even if you're on a strict budget. While QuickBooks Online offers excellent reporting options, the majority of its reports are reserved for Advanced plan users.
With Zoho Books, even a Basic user has access to all system reports, with reporting options only increasing as system modules are added. If you're looking for an affordably priced accounting software application that offers excellent reporting capability, look no further than Zoho Books.
We're firm believers in the Golden Rule, which is why editorial opinions are ours alone and have not been previously reviewed, approved, or endorsed by included advertisers. The Ascent does not cover all offers on the market. Editorial content from The Ascent is separate from The Motley Fool editorial content and is created by a different analyst team.
The Motley Fool has positions in and recommends Microsoft. The Motley Fool has a
disclosure policy
.