8 Professional Email Signature Examples to Inspire You
by Jimmy Rodela | Updated Aug. 5, 2022 - First published on May 18, 2022
Many or all of the products here are from our partners that pay us a commission. It's how we make money. But our editorial integrity ensures our experts' opinions aren't influenced by compensation. Terms may apply to offers listed on this page.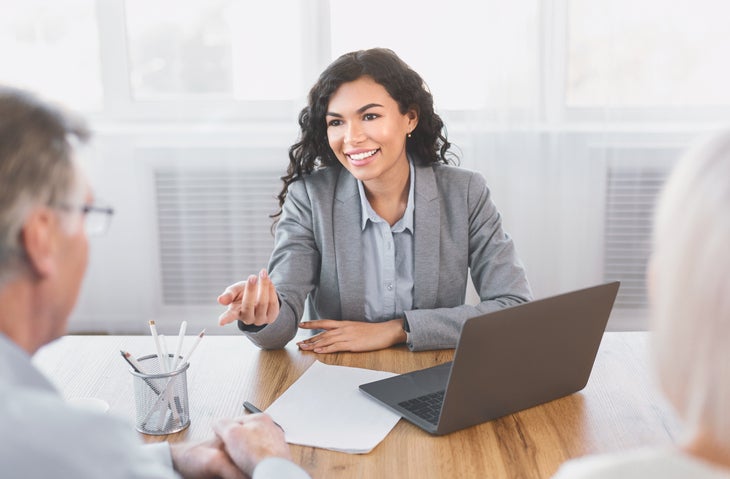 Create professional email signatures that captivate your audience. The Ascent covers several tips for creating professional email signatures -- and examples to inspire you.
Professional-looking email signatures can supplement your email marketing strategies.
The right email signature gives you a more professional vibe. It educates your email recipient about who you are, and you can use it to improve your brand awareness. In fact, a study by Newoldstamp revealed that 82% of surveyed participants use email signatures for this very reason.
Several general rules can help you create a stunning email signature. In this guide, we'll cover several professional email signature examples and helpful tips.
The eight best email signature tips to build brand awareness:
Use the right colors
Keep it simple
Apply visual hierarchy
Include social media icons linking to your pages
Divide the content into sections
Add a call to action (CTA)
Include your profile photo
Make it mobile-friendly
1. Use the right colors
Choose a color palette that isn't overwhelming and distracting.
Your colors should accentuate the text on your email signature instead of overpowering it. Also remember that the colors should be consistent with your brand to avoid confusing your recipients.
The email signature below is a great example of this.

The right color palette can further establish your brand image, so be mindful about your choice of colors. Find an email marketing software that provides email signature templates to save time and effort in picking the best color combination for your design.
2. Keep it simple
Keep your email signatures simple, yet professional. Add only relevant elements so you don't overwhelm your recipients. Be sure to include key components, such as your name, title, portfolio, phone number, company, and physical address (if applicable).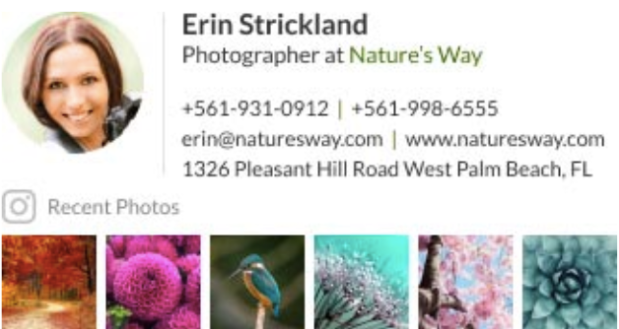 The sender above displayed all of the vital contact details concisely. She also included her photo and a mini-preview of her portfolio without overcrowding her email signature.
Grab your recipients' attention using simple and elegant email signatures. This encourages your readers to take your messages seriously and engage with your content, contributing to your small business email marketing success.
3. Apply visual hierarchy
Using visual hierarchy is an email design best practice that seasoned marketers use. Highlight critical pieces of information using hierarchy to create good email signatures.
Direct your recipients' attention to crucial details by using color variations, scaling, font weights, and other elements. Place your name (or your company name) at the top of your email signature, and highlight it with a bigger type size or a different font.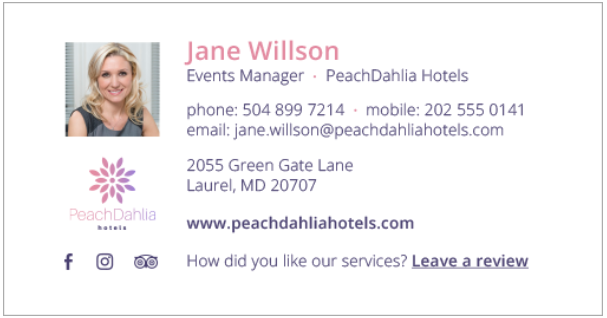 In this example, the sender's name is scaled up and is a different color from the rest of the text. This technique gives your email signature a logical order, helping you communicate your personal details effectively.
4. Include social media icons linking to your pages
Generate more audience engagement by adding clickable icons for your social media pages in your email signature. This gives your recipients more ways to follow and contact you. It also allows them to know you better, fostering trust with your brand.
If your contacts aren't subscribed to your email list yet, this is an excellent strategy to help establish your brand's trustworthiness.
Take inspiration from the email signature example below.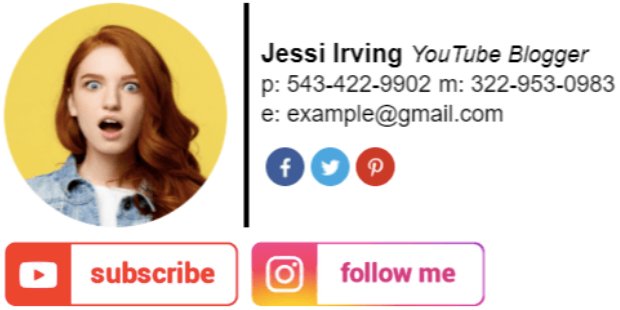 Use clickable icons so your recipients can easily get to your social media profiles. This gives you more opportunities to connect with your audience while generating traffic to your social media channels. As your social media following grows, you're in a better position to nurture your connection with your audience.
Don't overcrowd your email signature, though: Add only three to five social media icons.
5. Divide the content into sections
It's email marketing 101 to make your email messages easily readable. Doing so increases the chances of your recipients engaging meaningfully with your content.
This technique also applies to your email signature. Keep it uncluttered by separating multiple types of information into distinct sections. For instance, place your basic contact details on one side, and include your social media icons or profile photo on the other.
Make your email signature content easily digestible with dividers.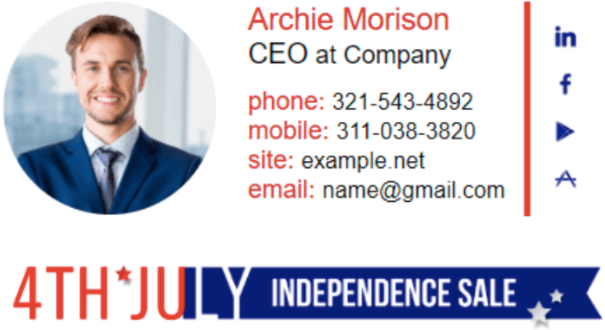 As shown in the example above, vertical bars visually separate pieces of information on the same line. This saves you space, helps avoid awkward line lengths, and improves your email signature's design.
Use graphic separators or simple horizontal lines to make each segment of your information more organized. This will improve the readability of your email signature and keep it visually appealing.
6. Add a call to action (CTA)
Include CTAs in your email signature that align with your email style and conversion goals.
However, avoid using the same call to action featured in your email content; that would be redundant and a waste of your readers' valuable attention. Be sure to write your CTAs as a postscript instead of a sales pitch, so you don't come off as too pushy.

Invite your contacts to take action with an engaging and compelling CTA.
Call attention to your offer using these different types of email signature calls to action:
Banners: Draw your readers' attention to your email signature CTA using banners. Make sure the design and size doesn't take up so much space that you need to remove other, more essential information.
Sales and events icons: Include icons in your CTA to add visual cues to your offer. For example, place a gift icon in your Father's Day sale promotion.
This can prompt your recipients to associate your promotion with free giveaways, attracting their interest.
7. Include your profile photo
Make eye-catching email signatures by adding images and visual elements.
Add your profile photo to put a face on your brand. This makes your email signature and brand more memorable for your recipients.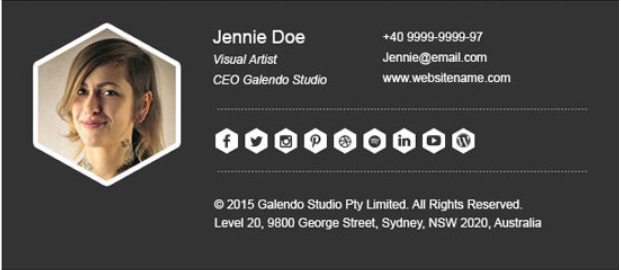 Adding your headshot makes your email signature more friendly and relatable. It conveys transparency and openness -- both of which are crucial for building customer relationships.
8. Make it mobile-friendly
Create a mobile-responsive email signature to ensure its readability when viewed using smartphones and similar devices. Your texts, buttons, and links should be large enough and spaced properly to read and tap.
The email signature below, for example, provides ample spacing between social media icons.

The design allows users to tap an icon easily without accidentally tapping the others when using a smartphone. This improves your recipients' user experience, which helps make your brand more memorable.
Reach more people with a mobile-responsive email signature design. It helps build your email list for your permission-based email marketing and other marketing efforts.
Start creating professional-looking and beautiful email signatures
Build your email signature with a clean design, and make it easy to read. Use the tips in this guide to create professional email signatures that invite recipients to connect with you, respond to your offers, and reinforce your brand's credibility.
Expert-picked business credit cards with rich rewards and perks
Cash back, travel rewards, 0% intro APR financing: all of these can be great credit card perks for business owners. But how do you find the right business credit card for you? There are tons of offers on the market today, and sifting through them to find the right one can be a big hassle. So we've done the hard work for you.
Get started with one of our top business credit card picks of 2022 today.
We're firm believers in the Golden Rule, which is why editorial opinions are ours alone and have not been previously reviewed, approved, or endorsed by included advertisers. The Ascent does not cover all offers on the market. Editorial content from The Ascent is separate from The Motley Fool editorial content and is created by a different analyst team.
The Motley Fool has no position in any of the stocks mentioned. The Motley Fool has a
disclosure policy
.