A Beginner's Guide to the IT Service Catalog
Many or all of the products here are from our partners that pay us a commission. It's how we make money. But our editorial integrity ensures our experts' opinions aren't influenced by compensation. Terms may apply to offers listed on this page.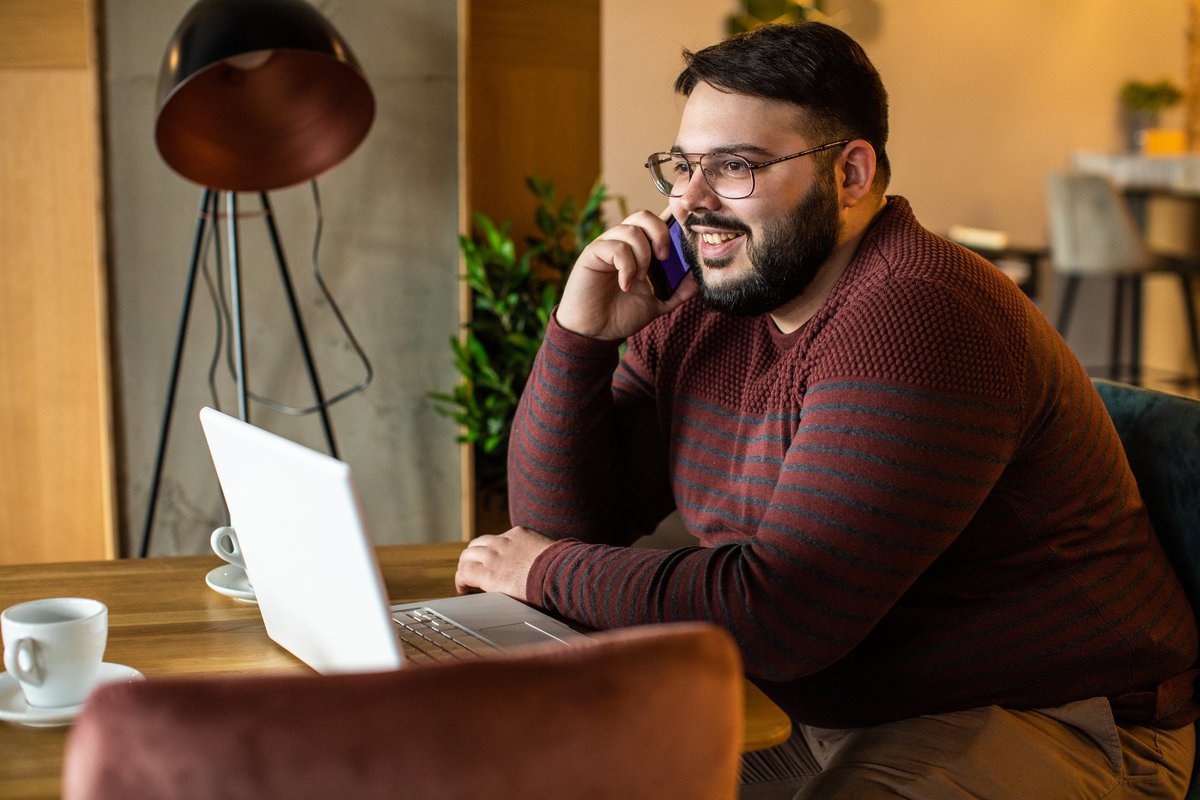 An IT service catalog provides IT customers with a menu of available technology services. Learn the steps to establish an IT service catalog and how it can help your organization.
The IT service catalog is a key piece of a larger framework for effectively managing the technology needs of an IT department's internal and external customers.
Without this framework, called IT Service Management (ITSM), your organization's IT needs can quickly overwhelm. From tackling technical issues to managing security for your computer network, an IT team must oversee a vast array of disparate elements.
ITSM focuses on how IT systems can best meet the needs of a company's employees and external clientele. To do this, several best practices were widely adopted by the IT industry, collectively called the Information Technology Infrastructure Library (ITIL).
These ITIL processes define the key areas an IT team must address to execute ITSM. One of these is the IT service catalog.
Overview: What is an IT service catalog?
The IT service catalog represents the menu of technical products and services available through your IT department. As such, it's publicly available for your IT team's constituents to browse.
The service catalog may seem similar to the products and services sold by your company, but it holds important distinctions.
Service catalog offerings remain limited to the items overseen by the IT team, which may not mirror the company's products and services sold to customers.
Customers using the service catalog include the company's employees and involve external clients only if they rely on your IT systems -- for example, if they bought a software product managed by your business.
Depending on the size and scope of your IT services, the catalog can exist as a simple spreadsheet or have its own online self-service portal. This portal may appear as part of the company's website or on its intranet.
Two main elements comprise the IT service catalog.
A list of services available to customers: Customers can peruse this list, although external users may not have access to the same services, or to none, depending on the role and responsibilities of your IT department.
The technical components and processes behind each service: This information is available only to the IT department, and helps them in delivering the services outlined in the catalog.
3 top benefits of developing an IT service catalog
I've worked at organizations lacking a formal IT service catalog. The IT team ends up using a hodgepodge of disconnected tools that forces users to jump from one to the next, creating inefficiencies and confusion.
A properly developed IT service catalog can avoid these issues, and crystalize IT options for customers. This delivers several benefits to your organization. Here are the top three.
1. Better customer experience
The IT team's customers enjoy an improved customer service experience when a service catalog is in place.
The catalog communicates services an IT department provides, and at what cost, although these services are usually free, especially to internal staff.
The IT catalog is accessible to all customers, providing immediate, 24-hour access to services.
It enables users of your IT services to obtain the help they need to remain productive and achieve their goals, such as the ability to submit service requests to resolve a technical issue, called an incident in IT parlance.
The service catalog sets expectations, such as when to anticipate a response to a service request.
2. Improved team productivity
The service catalog is key to boosting productivity for the IT team. They're not wasting time hunting for procedures to address a customer request.
Instead, the IT team can review the service catalog and obtain required information, such as any required approvals before assigning mobile phones, laptops, and other company equipment.
The service catalog also holds comprehensive information and instructions to ensure every customer request reaches a complete resolution. IT staff no longer need to spend time going back and forth with the parties to figure out the steps to resolution.
Internal and external users of your IT services can turn to the catalog to access needed services in a central location, saving them time.
3. Operational efficiencies
ITIL's service catalog improves organizational efficiency in several ways.
IT services users know the options available to them and how to request them.
IT teams can respond faster and resolve problems more effectively.
New IT staff can ramp up faster with the service catalog information as a reference.
How to create an IT service catalog
With planning, you can assemble an effective IT service catalog. Here's how.
1. Define goals
It's tempting to immediately list the items in your IT service catalog. But it's more effective to determine your business goals for the project first.
Start with the problems you're trying to solve for your customers, both internal and external. ITSM is about improving the customer experience for IT services. Understanding customer needs is the best way to align your goals with their success.
For instance, if customers must rely only on phone calls to request IT help, they'll find uneven response times. Or worse, they'll suffer from forgotten or lost requests.
A goal in this example focuses on delivering a better incident management process to your customers. The solution is a ticketing system presented as part of your service catalog.
As part of defining goals, set measurable metrics to evaluate the performance of your services. These can include:
The most and least requested service
How well you're staying within the timeframe for delivery of those services
The cost of delivery
Perhaps your service catalog must meet compliance standards for your industry. If regulatory requirements exist for your IT services, you'll want to factor those into your service catalog goals.
2. Identify services and customers
With goals in place, it's time to define how you'll achieve them.
List the services your IT department delivers. For each service you identify, note the intended audience. For example, who may submit IT tickets: internal customers, external, or both?
If you have them, use past requests to quickly identify items for your IT service catalog and the customers for each.
Make this a collaborative exercise across members of the IT team. Frontline staff will have keen insights into customer pain points. Also get feedback from other departments to align customer needs to your offerings, and to help prioritize the order in which you'll develop your IT services.
The ITIL framework broadly outlines some IT services, such as knowledge management, but you'll want to define each service in more detail. This allows you to determine what's feasible given the size of your IT department, and it prevents you from overcommitting and underdelivering, which is a frustrating experience for everyone.
For example, if you want to build an online portal, will you use software provided by a vendor or a homegrown solution? In either case, you'll want to document processes such as how to escalate issues when required, including the contact person.
Don't worry if you miss an item. The IT service catalog is a living document.
It's meant to change over time as you add new services or remove old ones.
You can add anything missed by updating the IT service catalog at any time.
This agile approach to ITIL service catalog management is the best method to evolve the catalog and optimize its usefulness to customers.
It's helpful in this exercise to use some type of service catalog template. Create one in a spreadsheet to quickly list the services your IT department will provide.

3. Flesh out your plan
You have a list of services and the intended customer audience. Now, you must determine the details of how to deliver those services.
Here, you're looking at many factors as you outline processes involved with each service.
What services do you deliver today? How should these change?
What new services should you introduce?
What level of access do you give customers? Does access vary based on internal versus external users?
Do users need a login?
Do any services require an approval process?
Collect any documentation required to help IT staff set up, troubleshoot, and manage the service on an ongoing basis. Include a relevant network diagram for each service.
Evaluate if some services require purchasing IT management software. If so, factor in the lead time and budget approvals required to find and purchase this software.
4. Build the catalog
Make it easy for users to find your IT services. Factor in considerations such as remote IT management needs.
Typically, the IT service catalog is set up as an online portal showcasing your IT services.
Include a search feature to facilitate users finding the services relevant to them.
Design the catalog with users' needs in mind. Make it easy for them to quickly navigate to what they need, while also prominently featuring the most frequently used services.
Identify vendors who can provide software for an online IT service catalog, making it easy for you to execute.
When you're considering how users will access your offerings, group related services together. For example, organize requests for company laptops and mobile phones together under a device requisitions section.
Avoid complicated forms in your catalog. If a user can't quickly describe their request and insert a screenshot or document within a couple of minutes, they'll ignore the form for more convenient options such as shooting over an email.
5. Plan for a rollout and continuous improvement
When it's time to launch your service catalog, test IT processes from end to end. If your catalog lives on a website, perform functionality tests sitewide.
You want to weed out any technical issues or process hiccups before introducing your service catalog to users. This is important if external customers access your service catalog.
When it's ready, formally announce it to customers. This communication is particularly important if you're switching from an existing service process to a new one.
After the rollout, you're not done. A fundamental ITIL concept is constant IT service improvement.
You're regularly evaluating what you implemented to see how it can evolve and improve. This also applies to your service catalog.
Use metrics defined at the start to evaluate your performance. Only with quantifiable data can you identify areas for improvement.
Collect customer feedback and use that input to make the service catalog experience the best it can be for your customers.
Think about the infrastructure and processes required to rapidly deploy and evaluate new or revised services.
IT service catalog examples
IT service catalogs can be implemented in many ways. A widely accepted best practice is to set up an online IT portal to enable easy access for your users. Here are a few examples.
1. University of California, Davis
The University of California, Davis uses a clean, simple catalog interface focusing users on a handful of key service categories and a search box. This approach gives users simple options to jump in and find what they're looking for quickly.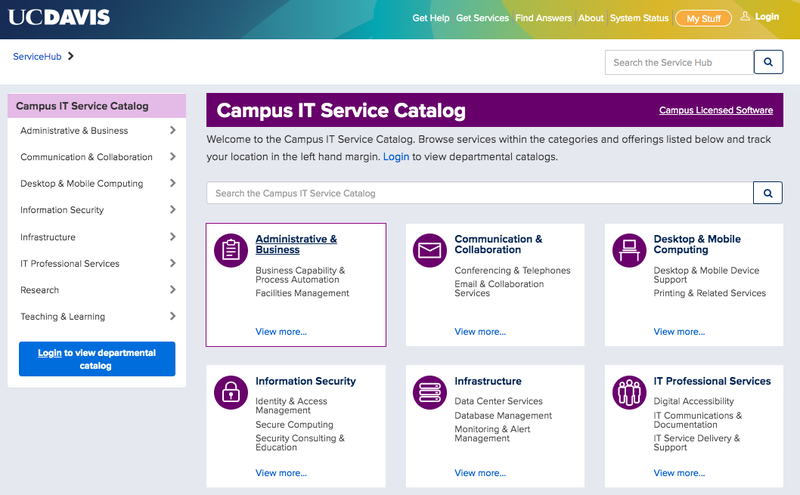 2. Carnegie Institution for Science
The IT department at the Carnegie Institution for Science takes an even simpler approach to its service catalog. Users see just four options and a search box.
The options use easy-to-understand descriptions, avoiding any technical terms. It also offers links to self-help articles for popular requests.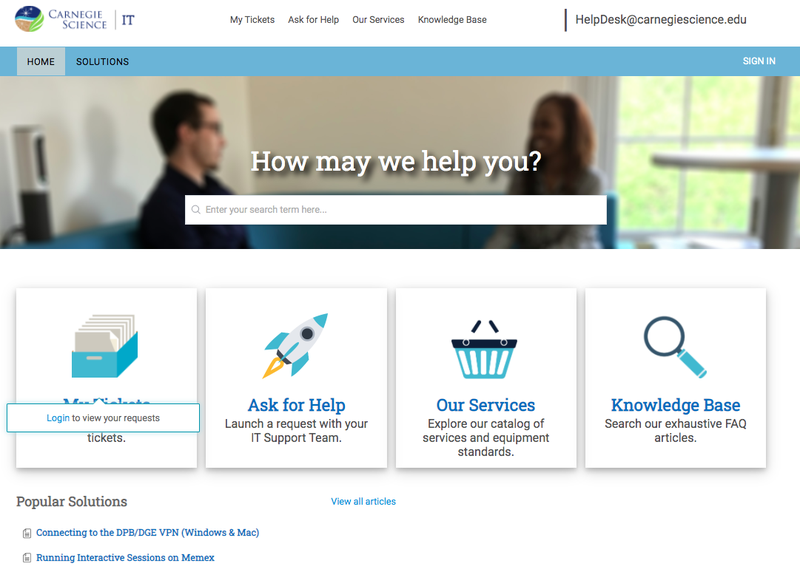 3. Stanford University
Stanford's IT department offers a vast array of services. The university's IT service catalog contains so many options, it's overwhelming.
To ease this, Stanford provides its IT service information in different ways.
They categorize their services. Each category includes a brief description to help users find what they're looking for, such as a section devoted to IT security.
All services appear in an alphabetical list to one side.
A search feature is available.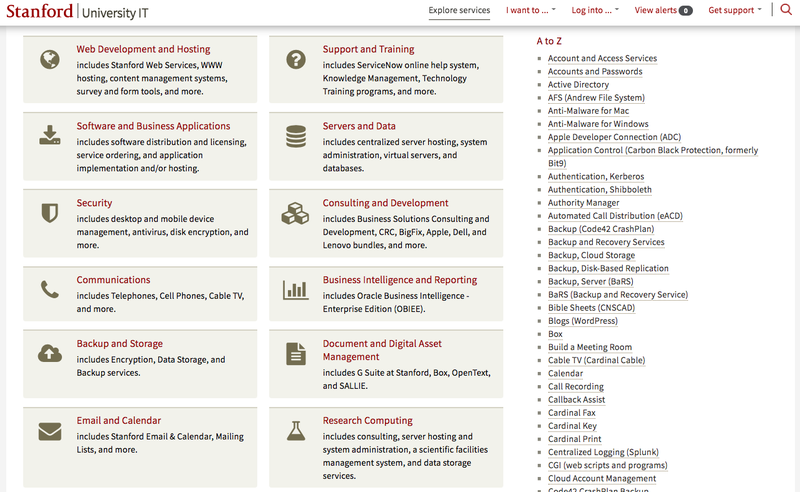 A last word on the IT service catalog
The IT service catalog differs from another closely related ITIL process, the IT portfolio. Don't mix the two, or you may confuse your customers.
The IT portfolio is more comprehensive, encompassing services planned for the future and old ones retired from use. You distill the IT service catalog down from this to only the services available now.
In this way, the IT service catalog plays a central role in delivering the offerings from your IT department to its customers. A well-designed IT service catalog sets your organization up to scale as your business grows, giving your customers immediate access to the services they need to succeed.
We're firm believers in the Golden Rule, which is why editorial opinions are ours alone and have not been previously reviewed, approved, or endorsed by included advertisers. The Ascent does not cover all offers on the market. Editorial content from The Ascent is separate from The Motley Fool editorial content and is created by a different analyst team.
Suzanne Frey, an executive at Alphabet, is a member of The Motley Fool's board of directors.
Robert Izquierdo
has positions in Alphabet (A shares). The Motley Fool has positions in and recommends Alphabet (A shares) and Alphabet (C shares). The Motley Fool has a
disclosure policy
.