6 Strategies for Effective Team Management
by DP Taylor | Updated Aug. 5, 2022 - First published on May 18, 2022
Many or all of the products here are from our partners that pay us a commission. It's how we make money. But our editorial integrity ensures our experts' opinions aren't influenced by compensation. Terms may apply to offers listed on this page.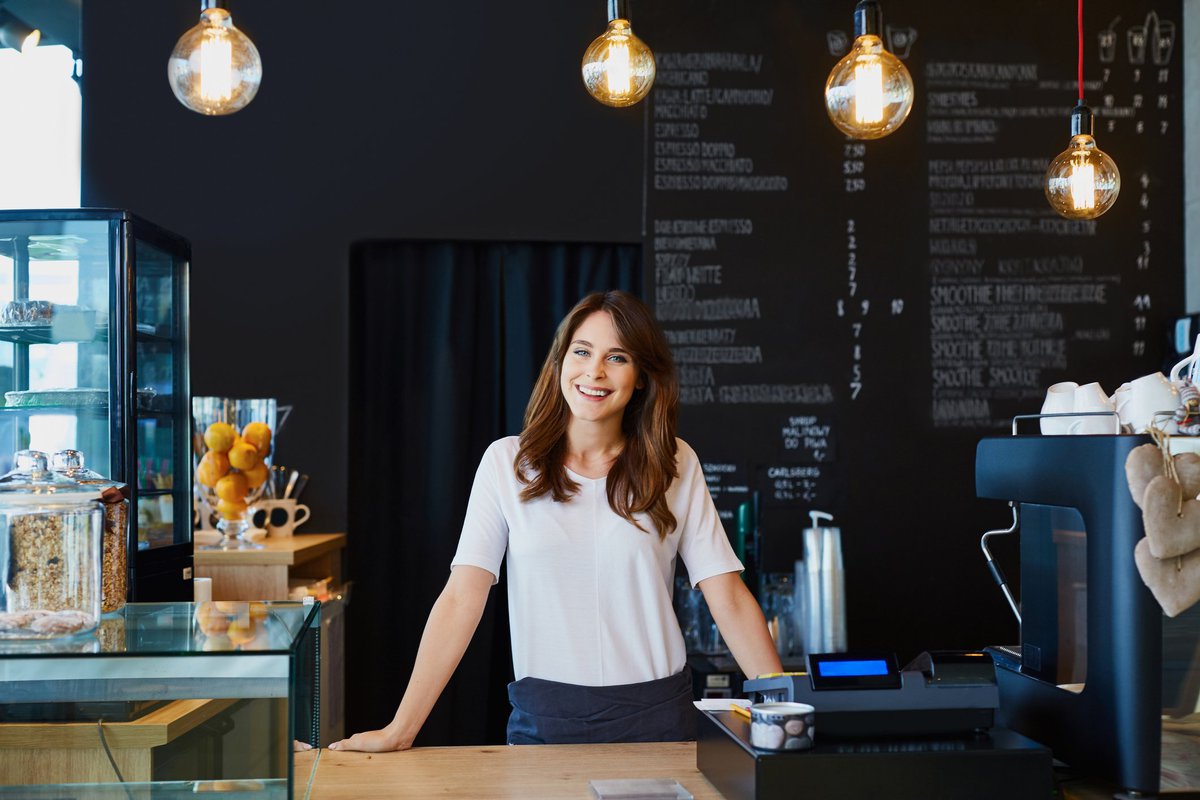 Managing a team comes with a wide range of challenges, and requires great leadership skills. These six strategies will help you do it effectively.
Team management scares many people. We're not all born leaders, and the prospect of getting a project done while managing a group of employees seems daunting.
A recent survey found 69% of managers are uncomfortable even communicating with their employees, which makes good team management nearly impossible.
You must get past those fears. One of the most important project management best practices is effective team management. Without it, reaching your project goals is near impossible.
On the flip side, if it's your strength, your projects will come in under budget, you'll achieve your goals, and beyond, and you'll end up with happier, more motivated employees.
It's time to create a team management plan that will put your leadership and management skills to the test. To do that, you first need to understand what the concept really means.
Overview: What is team management?
Team management is the process of leading a group of individuals within an organization to accomplish a project or task with maximum efficiency. Team leaders define the project scope, craft a vision statement, delegate roles and responsibilities to the team, set project goals, and identify deliverables.
They lay out the project schedule, evaluate the progress toward the goals, and make adjustments -- while communicating this to the team so everyone is on the same page and collaborating.
Managing a team is vital to any organization -- without it, an organization won't reach its goals. Without strong direction, teams don't support each other and work toward common goals.
6 strategies for effective team management
Team management is complex, and the ink that's been spilled on how to do it effectively could fill the Grand Canyon. By adhering to the following six team tips will get the fundamentals right.
1. Be an effective communicator
Communication is the heart of good team management. Bad communicators make bad team managers, without exception. For your team to work effectively, everyone must know their roles, who they report to, what's expected, and they must know when to pivot to another activity.
If you communicate poorly, your team will waste time on non-essential or redundant tasks.
Tips for effective communication:
Team managers must do more than simply call a meeting and tell everyone what to do if they want to be effective. These ideas can ensure people are communicating with you and each other:
Invite an open, honest dialog: To foster communication throughout your team, you must welcome honest, constructive feedback, and provide channels for it. Regular meetings, one-on-one sessions, and transparency can ensure a sufficient flow of information to ensure your team runs smoothly.
Use communication tools: Communication tools are available now that didn't exist a decade ago. Slack provides an online space where your team can communicate with each other or with the entire group in real time, and with Google Hangouts, you can have video face-to-face meetings without the need for anyone to be in the room.
2. Prioritize transparency and trust
This corollary to strategy number one demands its own section -- it's that important. It's difficult to master, because so many things go into building that trust and making yourself transparent.
When we say trust, we're talking about more than just trusting you as a leader -- we're talking about trust between team members.
Without it, innovation is absent and everyone is just trying to check boxes to get the bare minimum done and get back to their regular jobs. That doesn't produce successful projects.
Tips for increasing trust and transparency:
This is the toughest part of team management, and it's where a lot of projects suffer. However, follow the two suggestions below and you'll increase your chances of success:
Encourage respect: Trust is the foundation of respect. If members don't feel like their contributions are respected, they won't be effective team members. A good way to build respect is to give each person an opportunity to update the team in team meetings on what they're doing and any pressing issues they need feedback on.
Work near each other: When working on a project, have everyone on the team work in the same space for the duration if possible. This will boost collaboration and communication.
3. Leverage individual skills
This is one of the most important project management steps, especially during project initiation. Instead of just throwing a bunch of employees into a project, explicitly define roles for each of them based on their skills in order to create a comprehensive, cross-functional team.
By having each person work in a specific role, you have a better chance of your team performing with maximum efficiency and therefore more likely to achieve your project's goals in less time and with better results.
Tips for leveraging individual skills:
The temptation is to simply assign random employees for each task, but you're more likely to be successful with a thoughtful and deliberative approach:
Identify their skills: You chose an employee to be a member of a team for a specific reason. Why? What skill do they bring to the table? What role do you think would make them most effective? Spell it out, and then go over it with the employee so they understand what they're bringing to the team and your expectations.
Don't force it: If you have an unfilled role, with no candidate, don't just throw a random employee into it. Round pegs in square holes will only frustrate you, the employee, and the rest of the team. Discuss with your team the best way to tackle the role -- maybe splitting it up among members is a better solution.
4. Lead by example
Leading by inspiring example shows your team how important you consider this project. That doesn't mean you browbeat your employees about keeping up with you, just that you let your actions be an example for them.
Tips for leading by example:
Many people want to lead but few want to lead by example -- but that's what real leaders do. Here's a couple ways you can do that:
Do the menial (but important) stuff: Don't delegate all the dirty work to subordinates and stick with the high level stuff. Grabbing a hammer and pounding a few nails shows the team you're fully involved.
Take responsibility for results: The buck stops with you, no matter who screwed up. If something goes wrong, own it, and explore ways to fix things rather than blaming an employee. Maybe you didn't communicate the task effectively, or perhaps you didn't provide the training that could have avoided this. Either way, you're the leader, and your job is to move the job forward, not create more problems through blame.
5. Be a listener
Great communication is only half the battle. Listening completes the loop. By listening, you allow the rest of the team to be additional sets of eyes and ears. You enable them to become a force multiplier, compensating for all of your weaknesses just as you compensate for theirs.
Tips for listening:
Listening is hard. Most of us think we do it well, but the reality is we're often more focused on our response than listening. As a leader, you need excellent listening skills. These tips can make an immediate difference:
Don't start talking as soon as they stop: A lot of times when we're listening, we tune out and start thinking about what we're going to say in response. That's not listening. Instead, when someone stops talking, pause to contemplate what they've said -- and give them an opportunity to add on to that. You'll often glean a wealth of information from this.
Reflect what they said back to them: A good listening exercise is to repeat what you just heard to show you understand what was said. Not word for word, but paraphrase it in a way that suggests you want to make sure you got it right: "So you're saying if we don't place the order now, we won't get it until after the holiday?" This improves your listening ability and increases trust with your team.
6. Use software
With the project management tools available today and the advanced ways they can keep your team focused and organized, it's essential you use one. Good software enables effective team communication and information centralization, ensuring key data is accessible when team members need it.
Tips for using software:
The right software can have a huge impact on your team's success, so choose carefully. Follow these tips when searching for software:
Look for options with performance tracking features: You need to monitor how your team is doing, and share that data. Look for a software solution that allows you to input the project's goals and track progress toward those goals. This motivates your team and provides encouragement as you get closer to critical milestones.
Look for a cloud-based option: We're on the go more than ever and working from home is becoming much more common. Which means you need cloud-based software so your team can access it from anywhere, including their phones. This can also help you remotely manage your team.
The best project management software to manage your team
In our view, these three solutions are probably the best project management software options for managing projects and teams:
1. monday.com
monday.com is the cream of the crop for team management software because of its ease of use and features. We gave it top marks. It has a great user interface and task management system that's easy to understand.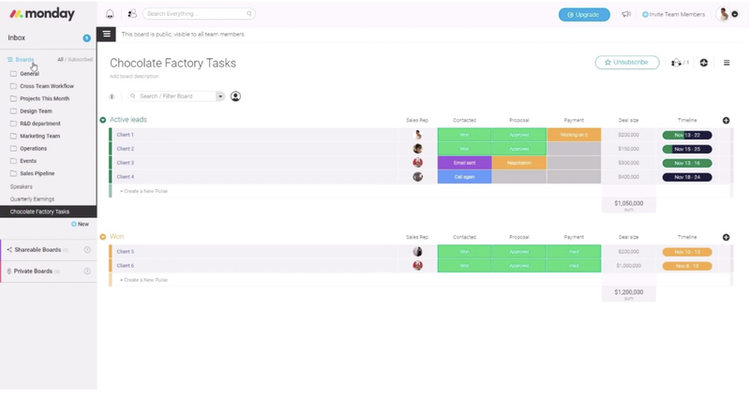 You can easily create a work breakdown structure and a timeline chart. You can customize dashboards, adapting them to fit whatever your project team is trying to accomplish. They also offer a free trial, letting you try before you buy.
2. Podio
If customization is key, Podio is probably your best bet -- and even better, it's a rare example of free project management software. It has a fairly extensive setup that may make onboarding a little slower, but the customization makes it worth it.
Podio is probably better suited for tech-savvy individuals, but you'll be impressed by the features and tools available to your team. It's free for up to five users, and even the paid version is inexpensive.
3. Scoro
Simple and straightforward best describes Scoro, which earned it our solid review. It creates great work reports that make it easy to analyze your team's progress and make adjustments.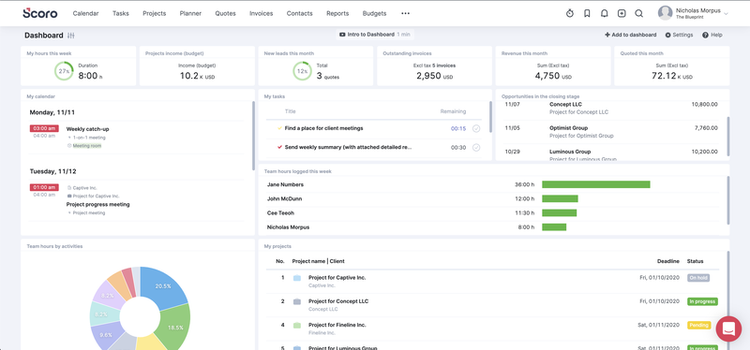 It has an impressive list of features such as a shared team calendar, time tracking, and resource management. Its great collaboration features, including file sharing, a commenting section for tasks, and team dashboards, will help your team communicate and share vital information.
Explore software options before you do anything
Effective team management requires good project planning at the outset, which is why it's vital to have a software solution in place before you start.
Look for software options that do a good job of task management, scheduling, and communication. You need these attributes in your software to manage a project team properly.
It's best to try out a few products rather than settle on one right off the bat. Download some free trials and get started before your next project.
We're firm believers in the Golden Rule, which is why editorial opinions are ours alone and have not been previously reviewed, approved, or endorsed by included advertisers. The Ascent does not cover all offers on the market. Editorial content from The Ascent is separate from The Motley Fool editorial content and is created by a different analyst team.