Managing almost any business requires you to schedule frequent meetings or sappointments. Often, this entails constant phone calls or endless rounds of email ping-pong. You end up spending far too much time, energy, and most likely money on a task that you could easily automate. That's where appointment scheduling software like 10to8 comes in.
10to8 is a cloud-hosted appointment scheduling tool that helps businesses automate the process of booking and managing meetings and appointments. It's intuitive, affordable, and packed with helpful time-saving features.
---
Who is 10to8 for?
As 10to8's website states, the software is a solution for "organizations that want to eliminate wasted time, inefficiencies and costly no-shows while providing an amazing booking experience to their clients."
So, if you want to save time, simplify the booking process for you and your clients, and automate communication about appointments, 10to8 is for you.
You can efficiently manage both internal meetings and client appointments through 10to8. Common uses include student appointments, sales calls and demos, patient scheduling, interviews, HR meetings, consultations, and booking for services ranging from healthcare to haircuts. And 10to8's Enterprise plan accommodates businesses of any size with custom solutions.
---
10to8's features
10to8's feature-rich appointment scheduling program offers integrations, branding, reporting, and other tools that you can easily tailor to meet your needs.
Integrations
With 10to8, you'll get two-way calendar sync with Google, iCal, Exchange, Office 365, and Outlook. The software also offers native integrations with Zoom video conferencing and Salesforce. Take payments with PayPal, Stripe, or Sage Pay at the point of booking.
You can access over 1,500 additional app integrations through Zapier. With the ability to integrate 10to8 into your existing workflow, you'll find that you can automate more tasks related to meetings, appointments, and client management.
Customization and branding
Easily add your appointment scheduler directly to your WordPress or Weebly site, or any website with customizable booking buttons and HTML widgets.
You can brand your booking website by uploading your logo, business description, privacy notice, cancellation policy, and social media links.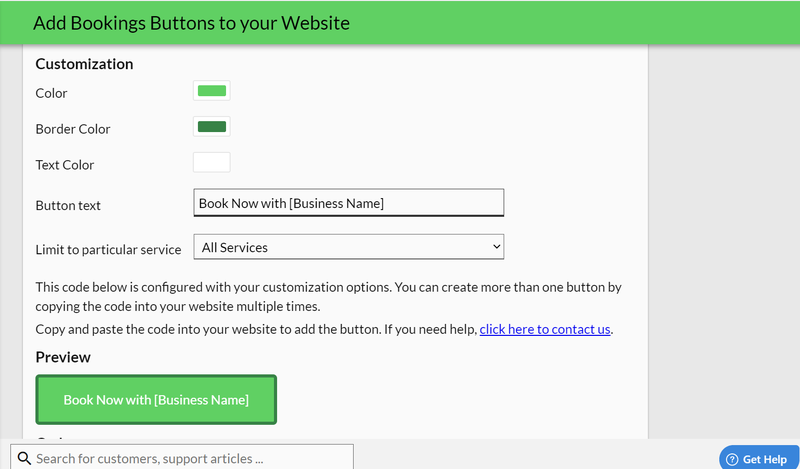 You have the option to write a message displayed to customers when there are no time slots available, and you can choose to redirect customers to a webpage on your site.
Appointment preferences
Set your availability and sync your calendars to display available slots to your clients. Then set 10to8 online booking restrictions and cancellation or change notice periods. Decide whether to approve appointments manually or automatically.
10to8 also allows you to define what information customers must provide when booking with you, such as their email address and phone number. This information is automatically stored in your customer database, which is easily accessed from the dashboard.
Staff coordination options
Manage multiple staff members and even various locations seamlessly with enhanced availability mode. 10to8 appointment scheduling software can handle complex scenarios, including various staff members working out of different areas on different days.
You control your staff's level of access. Allow your staff to manage only their own bookings, or limit access to view only. Plus, you can track all changes, notes, payments, and history with audit logs.
Personalized communication
10to8 doesn't only automate scheduling. It also automates conversations about scheduling, saving you even more time and cutting down on no-shows.
Set up automated text, email, or even voice call reminders and trigger them based on time or service type. The software allows you to track whether clients open your reminders, giving you the chance to spot potential no-shows.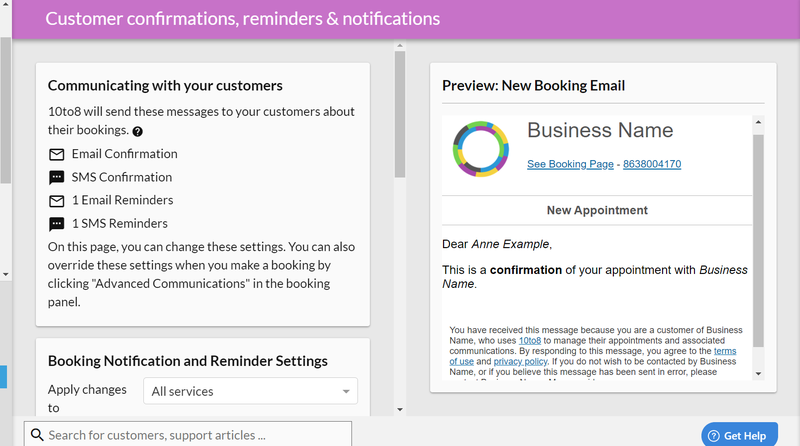 You even have the ability to set up email campaigns directly through 10to8. If you prefer to use MailChimp, however, 10to8 makes it easy to export your customer database.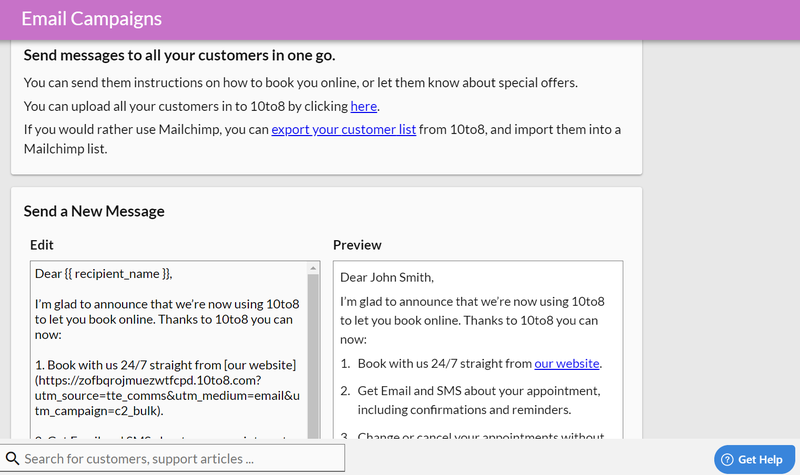 Reporting
Track attendance, report on no-shows, analyze the popularity of your services, and get data on staff performance through 10to8. The live dashboard gives you a better understanding of your business, empowering you to forecast growth and make long-term plans.
Custom reports show data by service, staff member, or customer — intelligent message open tracking lets you see when — and if — your emails are read.
Customer satisfaction surveys
Automatically send customer satisfaction surveys two days post-appointment. 10to8 collects the responses, and you can use a review badge to show off your ratings on your website.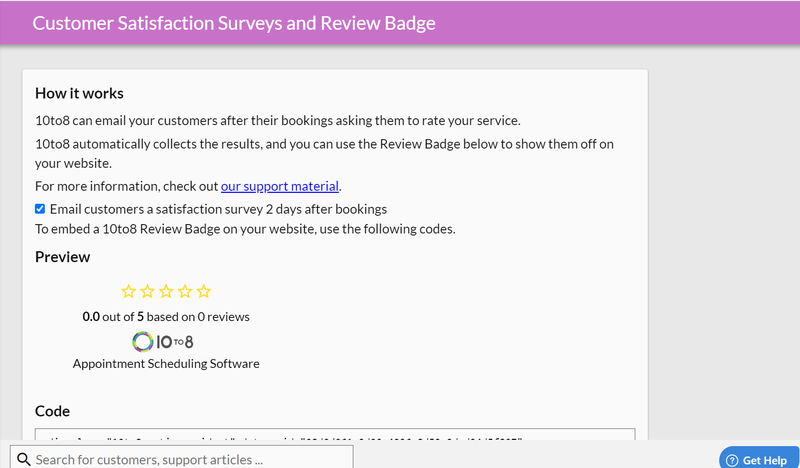 Security and compliance
10to8 maintains bank-rate security and compliance with GDPR, HIPAA, and CCPA regulations. Penetration tests are carried out regularly to ensure that your data remains secure.
---
10to8's ease of use
10to8 is one of the most intuitive appointment scheduling programs I've tried. The dashboard is easy to navigate, and instructions are clear and simple.
When you sign up, you'll see a Quick Start menu that provides step-by-step directions for tasks like managing team calendars and sending reminders. You'll also receive an email with an onboarding video and helpful links. Although there is no 10to8 app, it's easily accessible from any device and operating system.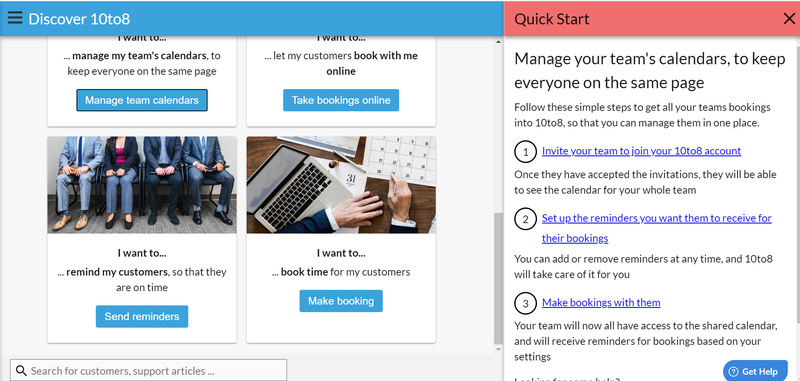 In addition to easy setup, booking appointments through 10to8 is a quick, convenient process that your clients will appreciate. And once you've supplied your business information and set your preferences, the process of scheduling and managing appointments becomes fully automated.
---
10to8's pricing
10to8's pricing offers reasonable plans for businesses of any size. Choose the forever free plan or pay for Basic, Grow, Bigger Business, or Enterprise.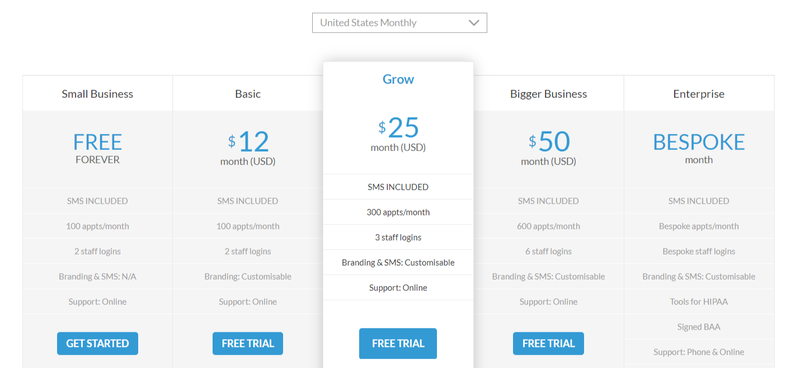 The forever free plan gives you two staff logins and 100 appointments a month. All features are included, with the exception of branding. Support is online only.
The Basic plan costs $12 per month. Like the free plan, it includes two staff logins and 100 appointments monthly. You do have customization and branding options, and support is still exclusively online.
The Grow plan, which is $25 per month, and the Bigger Business plan, which is $50 per month, include both customizable branding and customizable SMS, along with online support.
While the Grow plan includes three staff logins and 300 appointments monthly, the Bigger Business plan doubles your capacity, giving you six staff logins and 600 appointments.
If these plans don't accommodate your needs, you'll work with 10to8 to build a customized Enterprise solution. Pricing for the Enterprise plan varies, and you'll receive access to additional features like tools for HIPAA, signed BAA, and both online and phone support.
10to8's plans are affordable, and the free plan offers a surprising number of full features. However, the limited number of appointments and logins means that the Enterprise plan is the only viable option for most large businesses.
---
10to8's support
Unless you purchase the Enterprise plan, 10to8's support is available exclusively online during business hours. Enterprise clients may also use phone support. In addition to the step-by-step tutorials and onboarding video available during setup, the site offers articles responding to frequently asked questions.
If you have a pressing need, however, this limited support could prove frustrating. Additionally, I had issues with some of the Help features while testing the software. The chat form in the bottom right corner functioned well, but clicking "Help" in the dashboard repeatedly yielded an error.
---
Benefits of 10to8
10to8 is an affordable, versatile, and intuitive scheduling tool with a professional look. It integrates with a wide range of business apps and automates the process of scheduling appointments and even managing customer relationships. It collects and stores client information and history and can automatically send reminders, customer survey requests, and more.
In addition, 10to8 offers easy branding and customization, informative reporting, and the ability to coordinate multiple staff members and locations in one place. It will greatly reduce the amount of time you spend on scheduling and client communication, and you'll cut down on no-shows by up to 90 percent.
---
Manage appointments from start to finish with 10to8
10to8 is your virtual assistant, managing appointments from initial booking to follow-up. Clients schedule online based on your availability and preferences, and 10to8 takes over from there. Automatically send reminders, store client information, and elicit customer reviews.
And with integrations like Zoom and Salesforce, 10to8 fits seamlessly with your current workflow, allowing you to automate even more processes and save even more time.
---
Frequently Asked Questions for 10to8
Does 10to8 offer a free trial?
Yes. You can sign up for a 30-day free trial of any 10to8 plan, even Enterprise. If you need a customized Enterprise plan, reach out to the sales department directly. No credit card is required, so you don't have to worry about any unexpected fees.
Do I need a website to use 10to8?
Not necessarily. 10to8 provides you with a link to your personalized scheduling page. If you don't have your own website, you can direct clients to your scheduling page via email or social media.
What if I reach my online appointment limit?
If you reach your online appointment limit, clients will have to book with you directly for the remainder of the month.
Generally, reaching your limit is an indicator that you have outgrown your current plan and should upgrade. The reporting available through 10to8 can help you track success and growth, allowing you to anticipate when it may be time to scale up.
If you're looking for an affordable and easy-to-use solution to your scheduling frustrations, give 10to8 a try.
If you're looking for an affordable and easy-to-use solution to your scheduling frustrations, give 10to8 a try.