More than 40 million people in the U.S. live with some form of disability. Creating a fair recruitment process and implementing an accessible work environment for all employees should be of the utmost importance.
It's also a legal requirement.
The Americans with Disabilities Act (ADA) prohibits discrimination against individuals with disabilities in all areas of public life. The ADA went into effect in 1990. It's a federal law, so it applies to every state without variation.
HR managers need to be well versed in ADA compliance if they want to avoid lawsuits.
---
Overview: What is ADA compliance?
The ADA guarantees equal opportunity for individuals with disabilities in a number of different settings. The Equal Employment Opportunity Commission (EEOC) enforces sections of the ADA that prohibit employment discrimination.
Any organization operating in certain settings must make the required accommodations to be sure they're complying with ADA guidelines.
These settings include:
Public accommodations: Following standards for constructing and altering buildings and communicating effectively with customers with vision, hearing, and speech disabilities.
Employment: Employers must provide reasonable accommodations to employees with disabilities so they can do the job without causing the employer "undue hardship."
Transportation: Public transport offered by a state or local government must make sure people with disabilities can access all services.
State and local government services: Organizations must make programs, services, activities, and websites accessible to individuals with disabilities and make reasonable modifications to policies, practices, and procedures to avoid discrimination.
Telecommunications: Telephone and internet companies must provide services that allow individuals with hearing or speech disabilities to communicate over the telephone.
---
Which organizations need to adhere to ADA compliance?
While all companies should keep the ADA in mind as a good business practice, not all organizations have to comply with the act.
Organizations that are legally obligated to comply with the ADA are:
State and local government agencies
Private employers with 15 or more employees
Businesses that operate for the benefit of the public
Both landlords and tenants of a business
Commercial facilities, including stores, restaurants, bars, theaters, and hotels
If your business falls into one of the above categories but you aren't ADA-compliant, then you could be sued.
---
How to become ADA-compliant
Follow the four steps below to make sure you have all the necessary information to become ADA-compliant.
1. Avoid assumptions
Not all disabilities are visible, and applicants and employees may initially not disclose their disabilities for fear of discrimination (even though such discrimination would be illegal). Make sure to treat every candidate or employee in accordance with ADA requirements to remain compliant.
It's not up to your business to decide whether you think a certain health issue constitutes a disability.
2. Take a course
It's important to fully understand what ADA compliance guidelines entail. There are a lot of resources available, but you can also take courses to help you make the necessary accommodations for your workforce and potential job applicants.
The ADA National Network provides free training tailored to each of the types of organizations that must comply with the law. This includes:
The ADA Building Blocks basic course, which explains the legal requirements and spirit of the Americans with Disabilities Act of 1990
The ADA Employment Course, which looks at employment requirements, including the changes made to the ADA by the ADA Amendments Act of 2008
Disability Rights Laws Overview, which provides an overview of federal disability rights laws
3. Ask your HR software provider
Most HR software vendors have experience dealing with laws and disability compliance. Ask your provider if they have experts on hand to help you understand the law, if they have any relevant resources, or if their software has any functionality that can help you make sure you don't fall short of ADA requirements.
BambooHR put together a glossary of HR terms and concepts that can help you understand how disability laws affect your business and what steps you need to take to comply.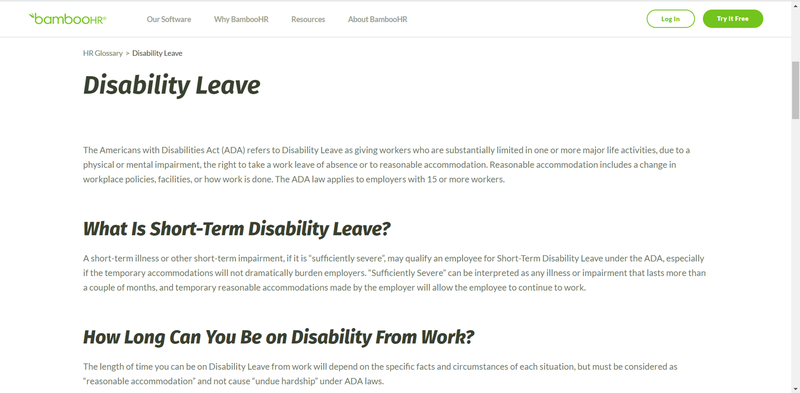 4. Stay on top of new developments
The ADA — as with most laws — is evolving to meet the needs of the modern workplace. You also need to stay abreast of changes to make sure you remain compliant.
Take wellness programs, which have become popular in recent years. Experts have raised concerns that wellness programs discriminate against people living with disabilities. As a result, the EEOC voted in June 2020 to propose new rules on wellness programs.
To stay up to date, you can:
Subscribe to HR newsletters
Read industry publications
Get outside help from experienced HR legal advisors
---
Frequently Asked Questions for ADA Compliance
Which practices and activities are covered by the ADA's employment non-discrimination requirements?
The ADA prohibits discrimination practices that include (but aren't limited to):
Advertising and marketing
Recruitment
Compensation
Leave
Fringe benefits
Training
Performance management
Layoffs
Who is protected from employment discrimination?
Any individual who is considered to have a disability is protected from discrimination in the recruitment process or when employed at a company. A person is considered to have a disability if they have a physical or mental impairment that substantially limits a major life activity.
Does an employer have to give preference to an applicant with a disability?
No. An employer is free to choose the most qualified candidate for a role. For example, if you ask two applicants to perform a skills-based assessment, you can choose the applicant who performs better, assuming you made all necessary accommodations to the person with the disability.
What limitations does the ADA place on medical examinations and inquiries about disability?
An employer cannot make a job applicant take a medical examination before extending a job offer. A company can only make the result of a medical examination a condition of a job offer if all new hires in the same job role also have to take the same tests.
After a person starts work, any medical examination has to be related to the job and tasks the new hire will be performing.
When is an organization required to make a reasonable accommodation?
An organization only has to make accommodations when it is aware that the applicant or employee has a disability. Often the person in question will ask for or suggest specific accommodations themselves.
Does the ADA require employers to develop written job descriptions?
No, but if you do have a written job description, then you must make sure that it does not use any discriminatory language and that it encourages a diverse range of applicants. Instead, focus on the results of a job function rather than on the way it is performed.
This is because making reasonable accommodations might allow a person with a disability to accomplish a job function in a different way from an employee who does not have a disability.
---
Compliance is important for all businesses
While not all businesses have to comply with the ADA, we recommend that all companies take steps to make sure they do not discriminate against any potential or current employees on any basis.
You don't want to exclude anyone from applying to work at your company or from using your website or your resources. It's important for any business to be as inclusive as possible.
If you have any further questions about ADA compliance, visit the U.S. Department of Justice's ADA Information Line page for the DOJ's toll-free telephone numbers and times of operation.