Appointment scheduling is not only one of the most important parts of your day-to-day business operations, but it also can take an excessive amount of time from customer outreach and follow-up to backend organization.
To maximize efficiency in terms of time and operational accuracy, having the best appointment scheduling software is going to be important. Appointlet is an affordable and easy to use appointment manager software that is more than a simple booking calendar.
With a number of additional features designed to make workflows easier and data more readily tracked, Appointlet can act as a calendar sync tool, sales funnel optimizer, customer information gatherer, appointment planner, and much more.
---
Who is Appointlet for?
Appointlet is an affordable and easy-to-install scheduling app for small and medium-sized businesses across various industries. For companies such as salons, physicians' offices, and spas that rely on time block tools to book customers, it's vital to have a booking app that meets all the demands of customer management and retention, as well as sales and operations.
Appointlet's features
Features elevate any software program to as good as it can be, and Appointlet comes packaged with some of the best of them. Even in its free version, it sets itself up as more than merely an online booking app and quickly becomes a part of your daily operations.
Quick customizations
Appointlet lets you control your scheduling needs just how you need to, whether you're adding booking buttons to your website or customizing your intake forms with your own questions and information-gathering.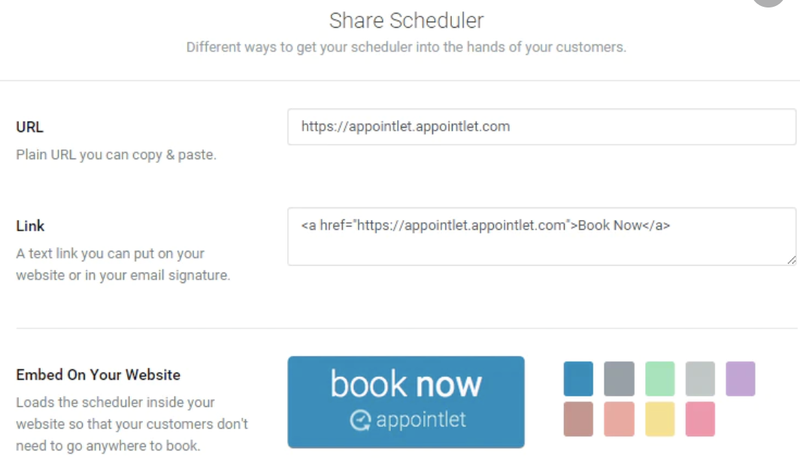 You can add unique intake questions to your booking forms to capture all needed information upfront, and, with the Premium version, you can fully remove all Appointlet branding to make the interface entirely your own.
Payment collections
Simplify the payment process and streamline revenue collection by collecting payments from your customers right in the scheduling app itself via Stripe.
Calendar syncing
You don't have to change your day-to-day schedule since Appointlet seamlessly merges with your existing calendar, automatically adding events and blocking unavailable times.
Handy integrations
Appointlet is readymade to sync with your work tools, including preset integration capabilities with software such as Office 365 and Google.
Workflow creation
By working in tandem with third-party software platforms Webhooks and Zapier, you can set up Appointlet workflows from other existing apps, including Salesforce, GoToMeeting, MailChimp, and more.
Multi-time zone translation
For remote businesses or those with locations across time zones, Appointlet automatically changes time zones so that calls, appointments, and a distributed team are supported worldwide.
Multilingual ability
Similar to its natural time zone translation ability, Appointlet also has the built-in ability to be multilingual, which automatically translates pages in English, Italian, German, Spanish, and other languages.
Sales funnel abilities
You can streamline your sales funnel because Appointlet integrates right into your site, emails, and other tools so your traffic, prospects, and converted customers are tracked in one place.
Information-gathering
Right from the intake, Appointlet can prompt your customers to enter all pertinent information, ensuring seamless information-gathering. Plus, it stores that data in one place for future bookings and backend analytics.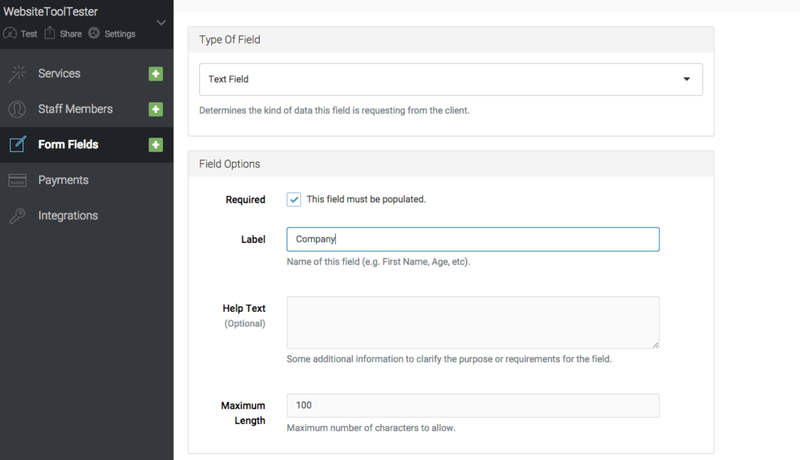 ---
Appointlet's ease of use
Appointlet knows you're probably not going to have a full fleet of tech-savvy users, so it's designed to be minimally intrusive. From integrating without a headache into your existing infrastructure to a setup and user process that's straightforward, it doesn't take much time to learn.
The admin dashboard lets you see an overview of all bookings, or you can dig deeper into specific days, weeks, or providers to track trends and help spot opportunities to create more operational efficiencies.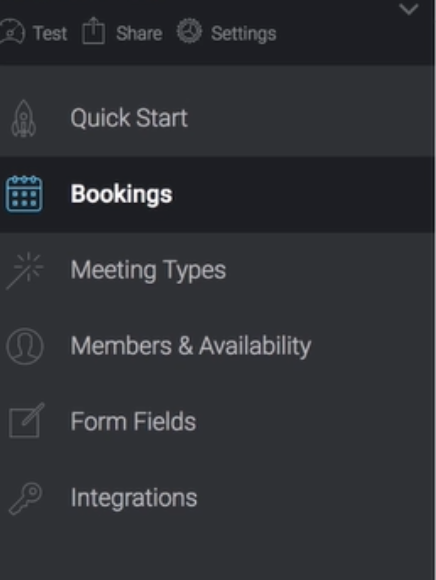 However, the front-end user design may look a little under-designed sometimes, and it can be hard on the backend to see a preview version of what customers see. Still, the flow is both easy to build and easy to use.
---
Appointlet's pricing
Starting you off with a 15-day free trial, Appointlet's pricing then gives you the option for a free long-term plan that never expires and comes pretty much fully loaded with unlimited bookings, customization options, reporting, and more.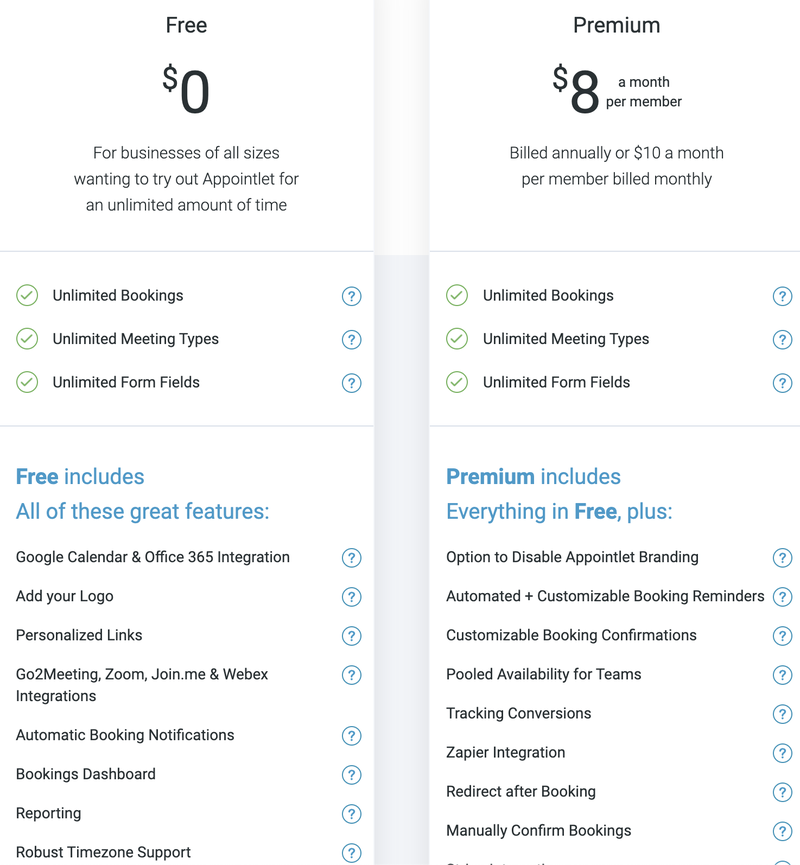 For only $8/month, you can upgrade the Appointlet experience to the Premium level, including the ability to hide Appointlet's branding, track conversions, and send automated booking reminders.
---
Appointlet's support
The Appointlet support team is known for being helpful all around. Wait times for responses are kept to a minimum.
Representatives take customer service seriously, asking probing questions to get to the heart of problems and offering solutions that not only fix them but help you learn how to better fix potential future issues.
There is also an extensive library of resources categorized by topics and searchable articles to maximize self-learning.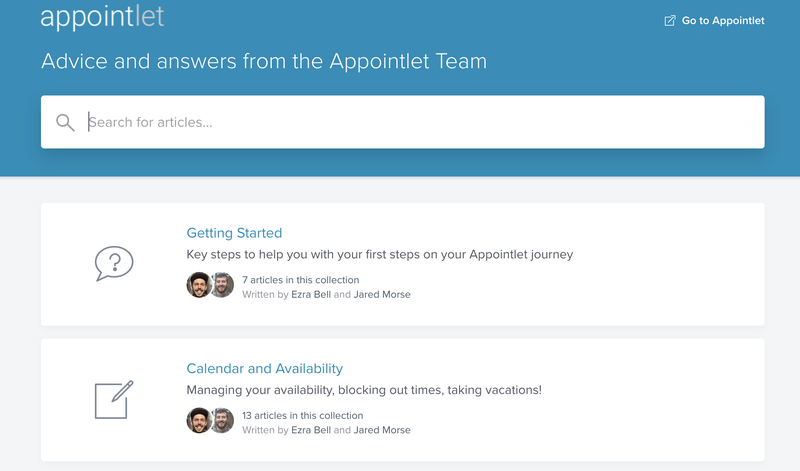 ---
Benefits of Appointlet
Appointlet is built to make scheduling easier, and it does that well. While it doesn't have a specific mobile app, it is still designed to work with almost all devices and so optimizes across systems. You can even access it remotely to update, view, and confirm appointments.
Thanks to its time zone and language translation abilities, it instantly minimizes miscommunications and errors due to language or timing barriers.
Appointlet also includes schedule control for both business owners and customers. It allows you to block time slots while maximizing your and your staff's availability for meetings.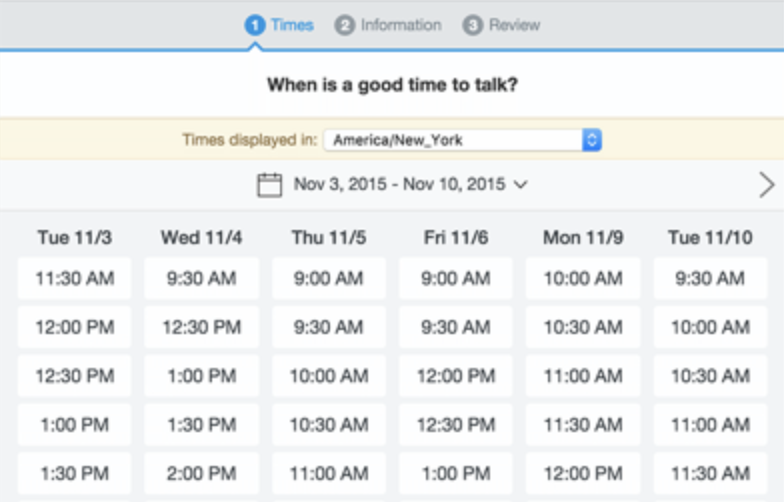 No-shows and missed appointments are minimized, thanks to automated reminders you can schedule to send, which also helps your clients feel secure and prepared. Plus the ability to collect payments in-app streamlines your revenue and minimizes the risk of loss.
---
Appointlet is an affordable solution for scheduling appointments
Without breaking the bank by any means, Appointlet gives you an outstanding value. It does what it sets out to do — book appointments well — and far exceeds that capability.
From streamlined administration to customer reminders and integrations with sales funnels and workflows software, Appointlet is a natural fit in almost any office suite.
---
Frequently Asked Questions for Appointlet
Is Appointlet available for mobile?
There is currently no mobile app available for Appointlet.
Can you use Appointlet for free?
Appointlet offers a free trial for 15 days. Once that is over, you have the option to extend into a long-term free plan complete with many of its useful features.
Does Appointlet integrate with existing software?
Appointlet is cloud-based and built to integrate with your existing fleet of office systems, including email servers, CRMs, document management, and more.

If you're in the market for scheduling help, start your free trial of Appointlet to see if it's a good fit.
If you're in the market for scheduling help, start your free trial of Appointlet to see if it's a good fit.
The Motley Fool has a Disclosure Policy. The Author and/or The Motley Fool may have an interest in companies mentioned.