Basecamp is the easiest project management software I've ever used, bar none.
Of course, much of this is thanks to its short features list and straightforward presentation. Basecamp sticks to the basics and does them well. There are no Gantt charts, kanban boards, budget reports, or other unique features. These omissions are great for teams who are looking for a simple management tool, but it leaves a lot to be desired for larger teams and projects.
That's why I've selected eight software options as solid alternatives to Basecamp.
At a glance: The best Basecamp alternatives to use for project management
---
What to look for in a Basecamp alternative
Basecamp is all about creating projects, tracking your tasks, sharing relevant task files, and communicating with team members through the execution phase — and that's about it. It's all about basic necessities of project management and no frills.
So, if that isn't what you are looking for in a project management software, or there is something else you're looking for, there are three key aspects you should keep in mind when selecting an alternative.
1. Offers competitive pricing
Basecamp's pricing is both wonderful and awful at the same time.
There are no tiers that gatekeep certain user counts, features, or levels of customer support. Everyone pays $99/month no matter what you do or users you add. This is great if you're looking for a simple project management tool for your multitudes of users, but if you're looking for additional features, or you run a small operation, that price tag is a little hefty.
So, when selecting an alternative, the pricing ought to be competitive with Basecamp. That doesn't necessarily mean it needs to be cheaper, but if you're paying more for something else, it should have the functionality to back it up.
2. Offers more features
This is pretty straightforward. Basecamp only does the basics, and that doesn't cut it for everyone.
Some project management plans require reporting, budgets, timelines, or invoicing, and when selecting an alternative, be sure to look for those features.
3. Appeals to a different market
Basecamp is best for collaborative teams looking to track multiple project management processes and tasks, store and share team documents, and increase communication regarding task progress.
Its system works best as a collaboration tool for internal projects that aren't dependent on financial management features, and therefore, it's not great for service-based industries such as architectural or marketing firms.
Look for an alternative that better suits your industry or project if Basecamp doesn't cover all of your needs.
---
The best Basecamp alternatives for project management
These eight selections each have features, pricing, or functionalities that make them unique and therefore put them in a "best of" category of their own. These are the best alternatives to Basecamp on the market today.
---
Best free software: Freedcamp
Freedcamp is perfect for users looking for a free alternative to Basecamp without all of the complications and fancy features other vendors have to offer.
In fact, I would recommend this tool to beginners in the project management space. Freedcamp does offer a paid option, but the paid version falls short in many ways, while the free version exceeds expectations.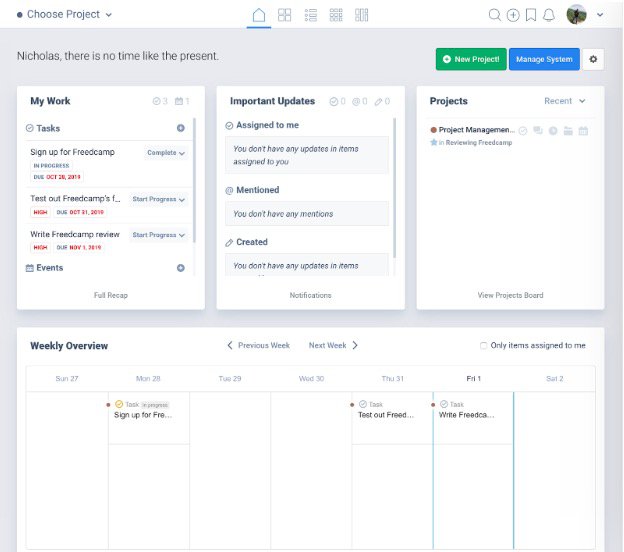 Freedcamp offers many of the basic features you'd expect from a project management software such as task lists, shared calendars, file sharing, and team communication, but it leaves a few behind, such as budgeting, Gantt charts, and kanban boards.
Basecamp offers similar features, albeit with a different presentation, making Freedcamp a worthy alternative for cash-strapped teams.
Similar to Basecamp, Freedcamp doesn't put a cap on the number of users you onboard, even with its free option, but it goes two steps further to offer unlimited projects and storage space. This makes Freedcamp a worthy alternative for users who can't afford the $99/month price tag of Basecamp but still want a simple project management software experience.
---
Best for creative projects: Airtable
Unlike Basecamp, Airtable is the most fun I've ever had using project management software. Right from the start, you can tell this tool has a far more creative slant thanks to its aesthetically pleasing user interface and emphasis on visuals.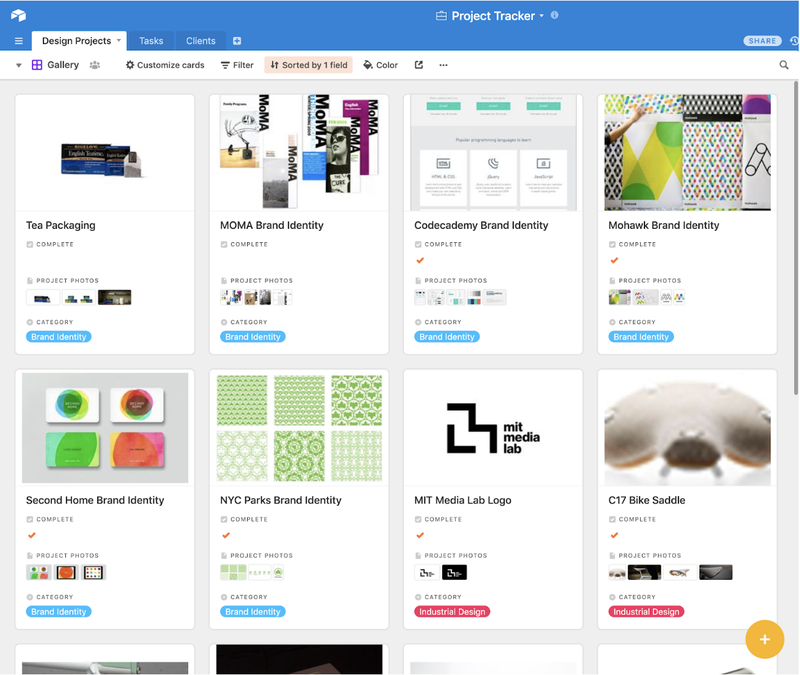 Airtable also offers additional functionality not offered by Basecamp, including kanban project management, customizable spreadsheet systems, and gallery-style task management.
The only serious drawback when picking Airtable over Basecamp is the somewhat confusing setup, which is unsurprising considering its unique presentation. It isn't like any other project management tool on the market, so don't expect it to function like them. If you decide to go with this tool, be sure to take full advantage of its onboarding content.
Airtable's pricing is somewhat restrictive for the market it seems to be targeting (creatives). Unlike Basecamp, which is priced at a flat $99/month no matter how many projects or users you take on, the cheapest pricing tier for Airtable is $10/month per user. It doesn't cost a fortune, but it's not cheap, either.
---
Best for enterprise: Mavenlink
Basecamp is best for users who don't require a lot of the intricate functionalities of project management, such as budgeting, invoicing, and detailed reporting. Simply put, It's not an enterprise-friendly software.
However, if you're looking for a tool that covers all the bases in an easy-to-understand package, Mavenlink offers all of that and more. With task management, budgeting, time tracking, invoicing, reporting, and workload management functions, Mavenlink makes it simple to follow your project management steps.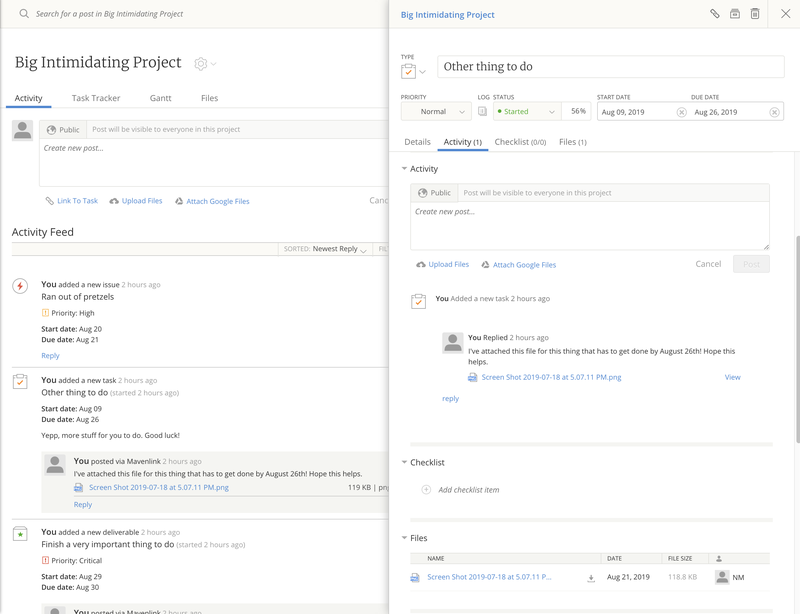 Despite offering so much functionality, Mavenlink is very easy to learn and use, making it great for newer project teams that don't have as much experience with project management software.
Once you graduate into larger tools such as Mavenlink, you realize the extra functionality comes at a cost. Mavenlink is quite expensive, with its Professional payment tier sitting at $39/month per user.
Therefore, I can only recommend this tool for businesses with larger budgets that plan on sticking with it for quite some time.
---
Best for the value: Podio
If Basecamp is great for beginners, Podio is the perfect tool for project managers with some experience with software but that are limited by their slim budget.
Podio has some of the best pricing options I've seen when it comes to paid project management software (including a free version), with its most expensive option topping out at $24 per month. That's total, not a per-month, per-user structure. The price you see is the price you pay.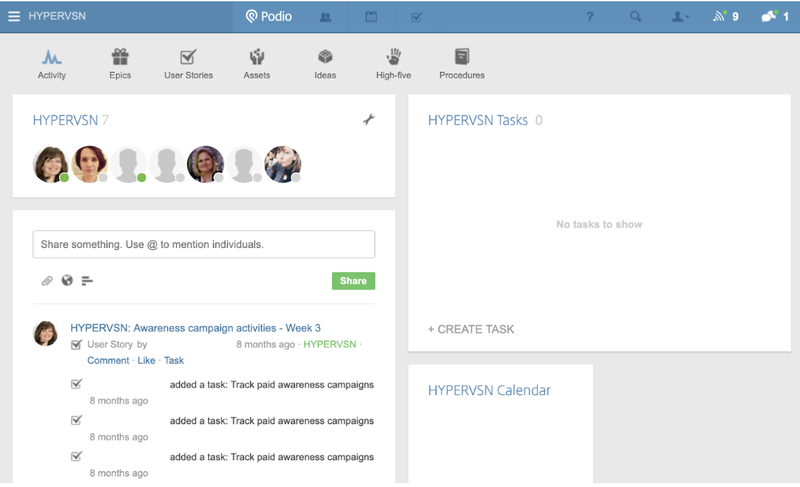 Despite being the cheapest paid option on this list, Podio doesn't shortchange users on functionality. This tool gives you the ability to manage and schedule your tasks, track your time, create reports, develop budgets, create shared calendars, and share project files with your teams.
However, I have to stress that this is not a project management tool for beginners.
Podio's learning curve is significantly steeper than Basecamp's, but once you figure out how to use it, there are a lot of great features available to you.
---
Best for convenience: monday.com
Basecamp might be the simplest project management software on the market, but monday.com is easily the most user-friendly and convenient project management software I've ever used that has as many features as it does.
This software takes many of the concepts you've seen in other project management tools and simply executes them way better. Even if you're inexperienced with project management software, monday.com's extensive knowledge base will walk you through all the minute functions of the program.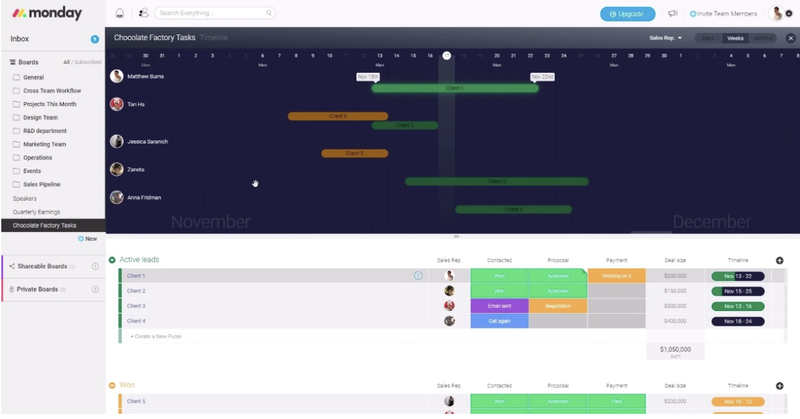 For example, if you need to build a board that tracks profit margins, the knowledge base will walk you through the step-by-step process for creating it. The customization options for monday.com's board system is phenomenal, and navigating throughout this tool is a breeze.
However, keep in mind that monday.com is not cheap, which makes it better for teams with larger budgets. Luckily, its pricing is extremely customizable, giving you the ability to choose the right tier and feature list for your project, unlike the flat $99/month offered by Basecamp.
---
Best for general project management: Wrike
When it comes to general project management, Wrike offers users pretty much everything you would come to expect from a tool like this. It offers Kanban boards, Gantt charts, project folders, time tracking, team communication, and file sharing.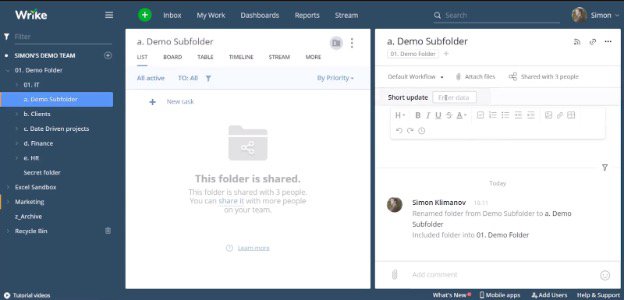 Nothing in particular makes this tool special; it just does everything you want it to do. Wrike is kind of like a Swiss Army knife in that regard. It's universal and useful in most cases. Whereas Basecamp works best for teams that don't require any financial management or special task management features, Wrike fills in all of those gaps to give an "all-in-one" experience for all kinds of teams.
What I love best about Wrike is that it gives users the opportunity to explore project management software without a heavy-handed focus on one type of market, use case, or specialization.
---
Best for team collaboration: Asana
Unline Basecamp, Asana democratizes the project management process and gives power to the team as well as the manager. Rather than the top-down approach in Basecamp, which gives project managers tons of power over a project with very little left to empower the average team member, Asana encourages participation and transparency while executing teamwork projects.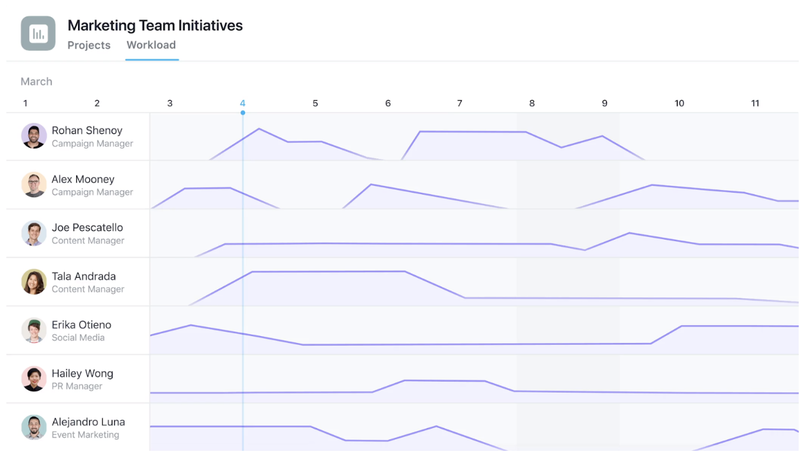 The task lists, shared team calendar, Kanban boards, Gantt timeline charts, and team communication are all easy to learn and understand within minutes of picking up this tool. Asana encourages team members to keep up to date with their task lists and time tracking so the software can accurately measure workloads and avoid burnouts. This functionality improves collaboration and bridges the gaps between manager and team member to create a more seamless process.
In pricing, Asana strikes a similar tone as most competitors with a Premium tier that starts at $9.99/month per user. Not cheap, but also not terribly expensive.
---
Best for easy onboarding: Jira
Out of all the tools I've listed here, Jira offers my favorite onboarding process. Basecamp might be easy to use right out of the gate, but Jira has much more to offer in terms of features as well as set-up.
Once you've signed up to use it, Jira walks you through a set-up process that takes all of your needs, goals, and management styles into account in order to shape your software user experience to your project rather than the other way around.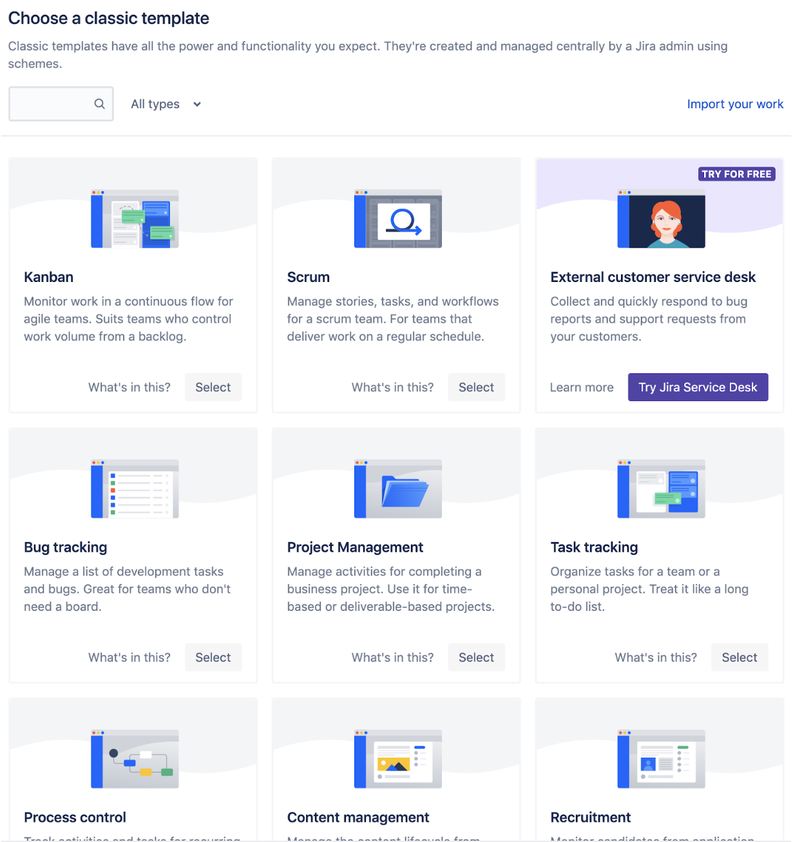 Like Basecamp, I consider Jira to be more of a collaboration tool because it offers everything you'd expect from a project management software except any financial management features (budget reports and client invoicing). It's perfect for tracking your tasks, communicating with your team, sharing project materials, and reporting on project progress. One way Jira definitely surpasses Basecamp is with its in-depth reporting functions.
Jira has several pre-made report types already set up; just select the one you need, and it's generated for you using your data instantaneously.
Jira offers two pricing tiers, unlike the single $99/month Basecamp price. The first is its Standard tier for $10/month for up to 10 users, but once you cross that threshold, you're looking at the Premium level for $14/month per user.
---
Finding the right Basecamp alternative for you
Perhaps after reading these comparisons, you've decided Basecamp is better suited for your needs. Maybe you don't need any additional features, or the flat pricing structure gives you better flexibility for adding more users without paying more. Whatever your reason, rest assured that Basecamp is a quality collaboration tool, which is why it earned a spot on my top 10 list for project management software.
It's up to you to decide which software is right for your projects and your team.