It's a great time to be a marketer and it's mostly because of the benefits of marketing automation platforms. New channels are constantly popping up, providing opportunities to better reach existing customers while also marketing to new audiences.
There's more creative potential for marketing and advertising than ever before. And attribution capabilities provide a direct line to ROI for marketing efforts.
Automation tools are at the heart of these trends. The increasing affordability and accessibility of these platforms is a main reason it's such a great time to be a marketer.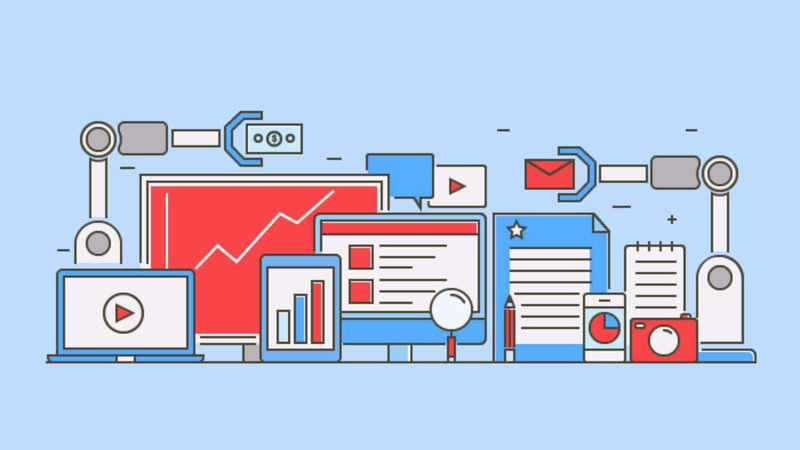 Marketing automation empowers marketing teams to do more with less. Automation capabilities such as customer journeys, triggered emails, and nurture campaigns offer much-needed efficiencies for inbound marketing strategies.
And the personalization unlocked with automation tools simply can't be replicated and scaled without them.
These are just a few of the many advantages of automation tools. Continue reading to learn more benefits of digital marketing automation tools and some digital marketing tips for optimization automations for your marketing team.
Here are 7 benefits of using marketing automation for your small business:
Boost lead acquisition
Centralize marketing solutions
Improve campaign efficiency and execution
Test and optimize content
Deliver personalized engagement
Nurture leads down your funnel
Attribute marketing to ROI
---
1. Boost lead acquisition
Marketing automation tools provide tons of support for your lead generation. The ability to automate targeted outreach is essential to acquire more leads and bring them into your marketing and sales pipelines.
Marketing automation enables you to identify and target qualified leads with the right messaging at the right time.
For example, if you sell mid-century furniture, you can use your marketing automation platform to break down audiences from those interested in furniture to those interested in antique furniture and then those interested specifically in mid-century furniture.
The final segment is your primary audience, but marketing automation tools enable you to market content to all three tiers of customers.
This ability to automate targeted outreach is essential to drive more qualified leads at each stage of your marketing funnel.
---
2. Centralize marketing solutions
Marketing automation platforms bring together varying combinations of email automation, lead management, journey building, social media marketing, and more. The centralization of these typically disparate tools provides an unmatched ease of use.
The centralization brings newfound synergies that would otherwise require system integrations, APIs, and other means of connecting tools.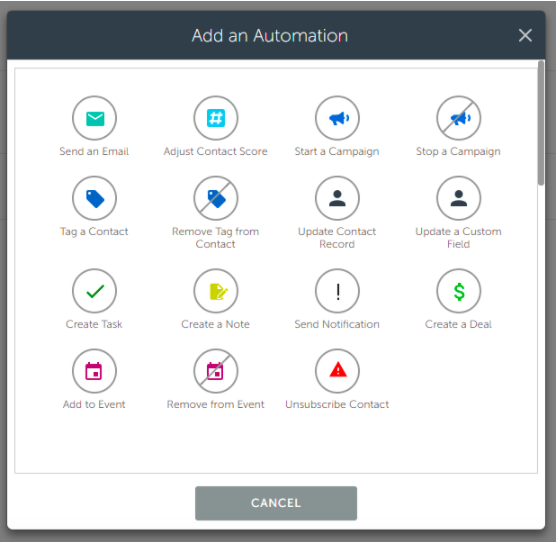 Centralized marketing tools give you and your marketing team a simple solution to create, deliver, and report on all types of marketing. This is especially beneficial for small business marketing teams that need to work quickly and efficiently.
A centralized solution empowers marketers to jump from one task to another without having to move in and out of disparate marketing solutions.
---
3. Improve efficiency and execution
Small business marketing teams must compete with the marketing resources of their larger competitors. Marketing automation tools are a reliable solution for stretching resources further and doing more with less.
Whether it's triggered email paths for automated, behavior-based outreach or "thank you" responses for newsletter signups, marketing automation tools improve efficiency and effectiveness.
You can trust marketing automation tools to boost your marketing performance across the board. Automation boosts marketing productivity by ensuring emails and other outreach are delivered at the right time and with the optimal messaging.
And you can easily set up landing pages and forms so you can generate custom marketing campaigns with matching landing pages to drive conversions to.
---
4. Test and optimize content
Not all marketing automation solutions offer content optimization, but it's an essential benefit for those that do. This marketing automation benefit ensures the absolute correct messaging is delivered to the right person at the best time.
These optimization tools use the lead information you've stored in your CRM to personalize outreach. The tools automatically pull in these details to customize and personalize your messaging to the exact stage of the life cycle for every lead.
These platforms use personal and professional details and more actionable information, such as on-site behaviors, real-time message engagement, and more.
Content optimization and personalized outreach produce meaningful and actionable communications. Delivered at the right time, they spur the ideal best next action, be it conversion, purchase, renewal, or something else.
These communications also help to deepen relationships and lead to extended customer lifecycles.
---
5. Deliver personalized engagement
Personalization is a critical sales tactic for sales and marketing teams. Marketing automation platforms automate personalized outreach to deliver more meaningful engagement to prospects, leads, and customers.
Personalization techniques include simply addressing individuals by name in emails, optimizing email delivery times for individuals, and adjusting content across your site and in messaging to match topics each contact is interested in.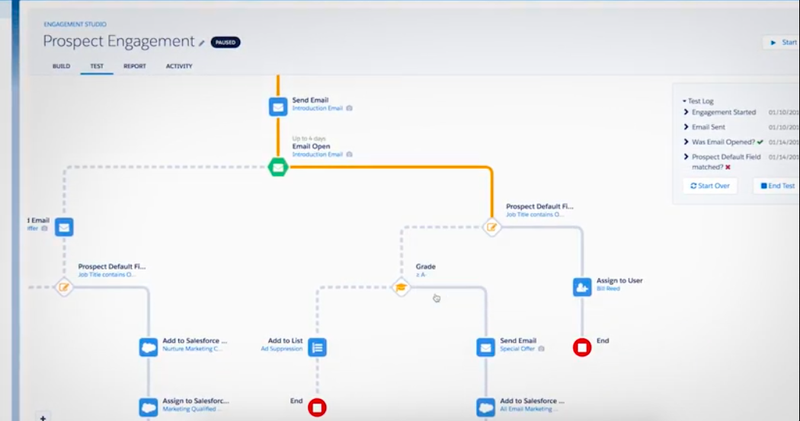 Most personalization components build off of known contact information by adding in tracked behaviors on your site.
For example, if a known lead visits your site to review pricing for services you offer, you can set a triggered email to be immediately sent to the lead about pricing options and even offer a 24-hour discount. Then if the lead engages with the email, you can have a sales person try to finalize the deal.
That's all based on known leads. Some marketing automation platforms take personalization a step further by de-anonymizing site visitors. This capability enables you to identify and track potential customers after their first site visit, conversion or not, personalizing their experience the entire time.
---
6. Nurture leads down your funnel
Lead nurturing is an essential part of marketing automation. Nurture, or drip, campaigns systematically engage with leads to keep your business top of mind. Nurture campaigns inform and delight leads to move them down the funnel and closer to making a purchase.
Nurture campaigns are the most common form of the journey-building workflows. These workflows are programmed journeys you and your team design for leads. They're based on a lead's behavior and engagement with prior communications.
The primary benefits of nurture campaigns include maintaining a steady stream of communication with leads of all types. You can design nurture paths that are industry specific, based on personas, or even catered toward topics that the lead engages with.
---
7. Attribute marketing to ROI
Attribution tools allow you to draw a straight line from individual marketing efforts and campaigns directly to real revenue and ROI. You can use attribution and detailed analytics to identify your most effective marketing efforts in terms of driving revenue.
Automation tools turn attribution capabilities into accurate reports measuring the direct impact of marketing efforts.
Attribution empowers you to identify and prioritize successful marketing campaigns for driving revenue. Most tools come with pre-built reports for articulating attribution. And you can often include attribution capabilities in your dashboards.
Your marketing efforts need to balance generating new leads with generating revenue through bottom-of-funnel leads. This balance is nearly impossible without the insights of accurate attribution measures.
---
Automation evens the playing field for marketers
The benefits of marketing automation tools are hugely impactful for modern marketers. Their automation and attribution capabilities evens the playing field and finally gives marketers a seat at the table with sales, product, operations, and other enterprise teams.
Automations empower small business marketers to launch campaigns that compete with larger competitors. And the tools help businesses deliver more consistent, personalized experiences to all types of leads.