Sometimes the trouble with launching a webinar comes down to where it is hosted and how to keep attendees engaged. Since webinars are a one-to-many medium, the presenter's challenge is to offer valuable, informative content to a group while also making it exciting and relevant enough for each person to ensure that no one nods off.
Engaging webinars is where BigMarker excels. Although BigMarker advertises its software as a video platform for webinars, summits, series, and virtual conferences, webinars are its sweet spot.
The self-service platform offers customizations and integrations for its video meeting options. The platform can seamlessly handle multimedia events streamed to Facebook Live and YouTube Live so the organizer can connect with a broader audience. Webinars can be live, on-demand, or automated and follow an outline with calls to action to engage (for example, a popup with an offer). Overall, BigMarker is an affordable and powerful platform with some very cool features.
---
Who is BigMarker for?
For businesses seeking an affordable solution to driving leads through content marketing and professional webinars, BigMarker is an excellent option. Even at the Starter level, the platform is customizable and offers live and on-demand webinar options, interactive engagement features, automation, and livestreaming.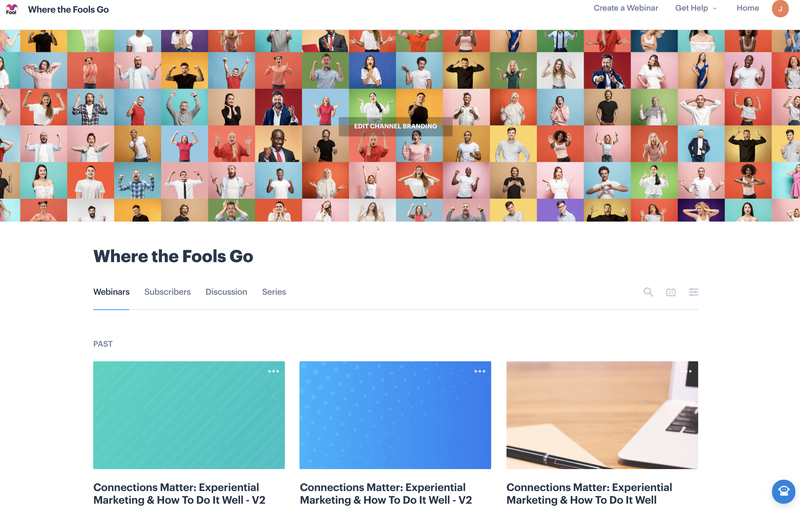 Another use for BigMarker webinars is onboarding and training. Because the platform offers on-demand webinar options, the videos can be embedded into website pages and accessed on a public or private site. The webinars can be leveraged and promoted as interactive content for internal or external education and onboarding purposes.
While the platform's summit feature is positioned as a virtual conference platform, it misses a few features and seems a bit disjointed in the configuration. However, a simple one or two-day event with timed webinars can still work well using BigMarker.
---
BigMarker's features
BigMarker serves a wide audience range in a competitive marketplace by offering different features at various price points. The most basic features are easy-to-use, professional, and straightforward. The higher-level features include advanced customizations and an event capacity of up to 1000 attendees.
In general, BigMarkers webinars feature:
HD audio and video
Screen sharing
Recording
Whiteboards
No presenter limits
Website embeds
Call-to-action popups
Public and private chats
Q&A and upvoting
Polls and quizzes
Handouts and special offers
Other prominent features include premium landing pages, livestreaming, engagement functions, automation, and integrations.
Webinar variety
BigMarker's video functionality was built to support webinars. The technology is flexible, and customization and back-end functions are based on the subscription level and the type of webinar the organizer chooses at setup.

The options for webinar types include:
Live webinar: The webinar happens at a specific time or on a recurring basis.
Summit or series: This is a group of live, on-demand, or automated sessions with a single registration flow.
On-demand webinar: Customized, embeddable videos with interactive features.
Livestream: Stream a live webinar to Facebook, YouTube, or other broadcast platforms.
Automated webinar: Simulate a live webinar experience with automated videos, chats, polls, and offers.
Evergreen webinar: Offer an automated webinar around the clock to automate marketing or training.
If the type or use for the webinar is undetermined or things change over time, the format can switch to suit the organizer's needs.
Premium landing pages
BigMarker's self-service platform makes it easy to customize professional-looking event pages.
Once the event type is selected, the organizer can customize the design. The event organizer can choose from 15 premade templates and change the colors, logos, and enable the desired functions. There is also a back-end field for meta tags for search engine optimization.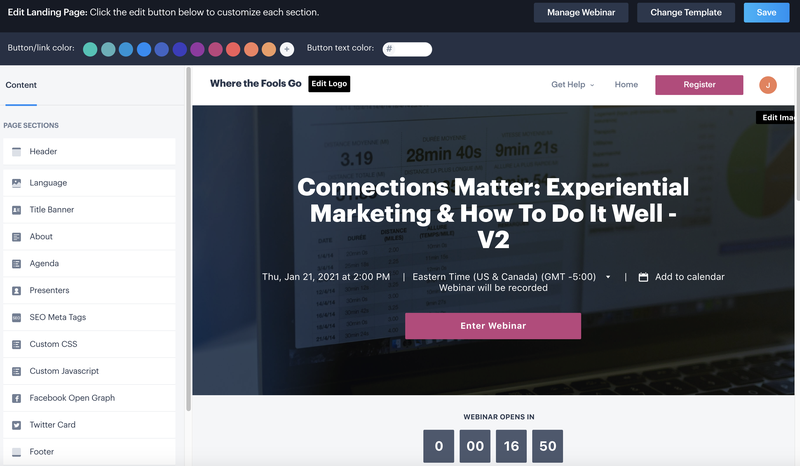 Editing the page is as simple as point and click. The changes appear in real-time after saving, and the page can be updated as many times as needed.
Facebook Live and YouTube Livestreaming
With simple streaming options, a host can livestream a webinar onto broadcasting platforms such as Facebook Live and YouTube Live. By streaming the event onto those platforms, a social media audience can attend without the need to join the webinar room or register.

Broadcasting the stream through Facebook or YouTube is as easy as clicking a button. From inside the webinar room, the event host can click the "Go Live" button in the upper right corner of the screen and then click the Facebook or YouTube icon on the page. Note that a stream cannot broadcast to both platforms at the same time.
Engagement functions and offers
The most exciting features of webinars are generally anything outside of watching someone present and read their slides. So it's a good thing that most webinar platforms focus on engagement and interactivity through features such as chats, polls, and Q&A.
BigMarker offers the mentioned features and also supports two additional engagement opportunities — popup offers and handouts.
Popup offers are calls to action that prompt the audience to take the next step. For example, a popup offer could include a call to action to subscribe to a newsletter or buy an ebook. The host can control the type of offer and when it pops up during the webinar.
The handout option allows hosts to preload content such as checklists, case scenarios, and other documents to supplement the presentation or provide more detailed information. This function creates more timely engagements rather than waiting for a post-event email to download content or provide useful content.
Integrations
BigMarker offers integrations with popular platforms to make marketing, communications, and relationship management simpler. Integrations are available based on the subscription level, and some integrations are available only for white-label customers.
Some of the most popular software integrations include MailChimp, Calendly, and Google Analytics. BigMarker has a full list of integrations on its website and shows the integrations available for each subscription type.

Event analytics
The organizer has access to BigMarker's back-end analytics, which displays valuable data such as the number of registrations, revenue, event landing page views, and invites.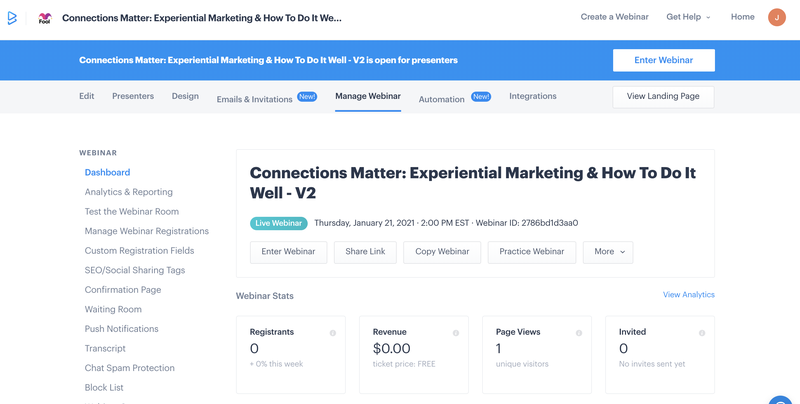 The analytics also help with marketing. Traffic sources — such as organic search and social media — are listed and show the results of your marketing efforts to drive visits to the event page. The analytics also break down social media and identify the success of each channel.
---
BigMarker's ease of use
Upon creating an account, subscribers can immediately create an event of their choice. There is guidance for customizations, and they are simple enough to navigate and create an event that is ready to go.
The back end is clean, simple, and streamlined. The instructions are intuitive, and the point-and-click editor helps design the professional-looking landing pages. BigMarker also offers integrations for building out the event page, webinar channel, and registration option, allowing for additional customizations.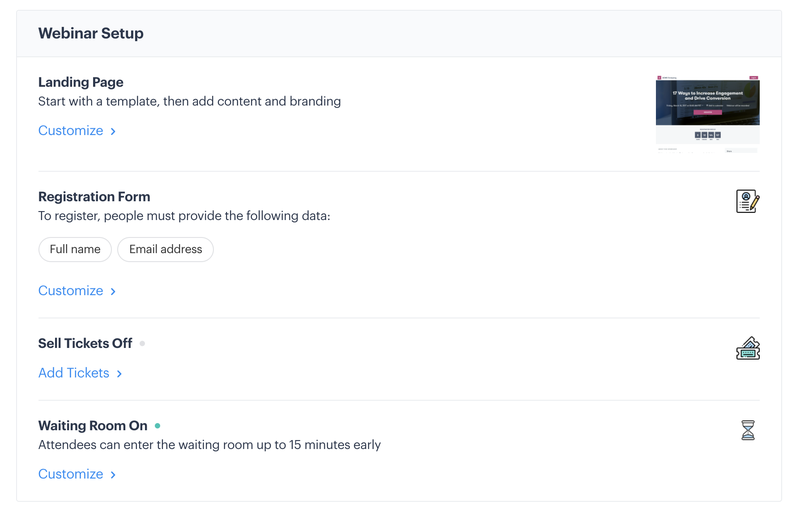 Overall, an event organizer does not need an expert-level skillset to create and launch any webinar type; you can rely on the intuitive navigation and website support topics to answer any questions.
---
BigMarker's pricing
BigMarker is subscription-based, and the company offers a range of tiers for small to global-sized businesses. A subscriber can use the auto-renew function to maintain the subscription and can also cancel at any time.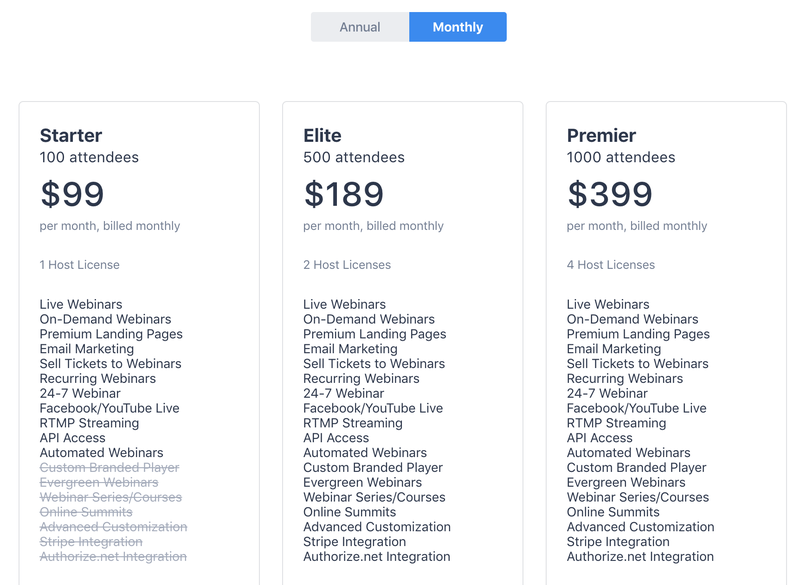 BigMarker also offers add-on packages for marketing, production, and technical services. The enterprise and white label services, which include advanced customization and expanded capabilities.
---
BigMarker's support
BigMarker's support team is available for subscription customers through email. There is also a robust help center on the site with a search function covering basic troubleshooting, integration, and other common questions about getting started and using the platform's features.
Because the platform is considered a self-service product, there is no real-time live support option via chat or phone support. They also do not offer a full service that will build, monitor, and manage events. However, white-label and enterprise-level customers can request access to additional support from the BigMarker team. Help is available for advanced services and top-tier customers for an additional cost.
---
Benefits of BigMarker
BigMarker is an excellent platform for hosting a single webinar or a series of webinars. With the capability to create a channel and feature all webinars within the channel, the platform can be used by businesses focused on thought leadership, training, and engagement.
The cost of the platform makes it accessible to businesses of any size. The lowest tier offers most of the defining features, and although some integrations are not available at that price point, it is still robust enough to get the job done.
Webinars can be monetized, available live and on-demand and your subscription can be scaled up or down at any time based on your changing needs. The flexibility and variety make BigMarker a great option for launching a webinar initiative and experimenting with webinar types to see how they resonate with your intended audience.
---
Webinars FTW
BigMarker is an ideal platform for businesses that want to launch a webinar-focused content initiative for lead generation, education, or an additional revenue stream. Its capabilities and ease of use make it simple to get started, and the free trial will even let a user host a full webinar for up to 10 attendees. BigMarker is definitely worth checking out.
---
Frequently Asked Questions for BigMarker
Which webinar type is best for my event?
The webinar type best for an event is based on when, where, and by whom the content should be accessed. For instance, a live webinar is best when the audience is meant to be engaged and interact with the presenter. An on-demand webinar is best when content is needed at specific times. And an evergreen webinar should cover information that needs to be shared repeatedly (without any changes) and may need to be accessed by various people in different places.
What size company or audience is best for this platform?
The platform and pricing options are flexible enough for small businesses through to global companies, and it works for an audience of any size.
Does BigMarker offer back-end analytics?
Yes. BigMarker provides back-end analytics for the organizer, including landing page performance results and referral stats to show where site traffic originated.

Offering a powerful interactive webinar experience with the flexibility to host live and on-demand sessions, BigMarker is a scalable, self-service platform suitable for any business. If you want an affordable webinar platform without a binding contract that is professional and offers engagement features, BigMarker should be on your list.
Offering a powerful interactive webinar experience with the flexibility to host live and on-demand sessions, BigMarker is a scalable, self-service platform suitable for any business. If you want an affordable webinar platform without a binding contract that is professional and offers engagement features, BigMarker should be on your list.
The Motley Fool has a Disclosure Policy. The Author and/or The Motley Fool may have an interest in companies mentioned.