Are you looking for a new content management system that's actually designed with streamlined content in mind? If so, it might be worth bolting over to Bolt CMS. It's a tailored solution with a loyal following and a zero-cost model (it is open source, after all).
If you're looking to customize things entirely the way you like them, front-end developers can use Twig templating language to personalize Bolt CMS themes.
However, if coding is not your thing, you can still enjoy professional templates as-is and dive into some easy back-end organization to create the layout and structure that flows best for you.
Bolt CMS treats you like an adult, laying itself out in plain, simple language but trusting you to utilize it as needed. It doesn't come pre-loaded with every integration, because every website has different needs. Because of this simplicity, Bolt CMS lets you build the system you actually need.
---
Who is Bolt CMS for?
Bolt CMS is smartly built and stands out among the best content management systems thanks to it being built by web designers. It's a focused solution: The problems Bolt CMS aims to solve, it solves well, without spending unnecessary fuss on extras that simply don't matter to its core.
Because of its tailored nature and streamlined services, Bolt CMS is ideal for small businesses looking to focus on their content strategies and web-page curation. It is open source and built by a fleet of web developers, making it an ideal tool for other web developers. However, it's also focused and pared-down enough that designers and content managers should feel equally at home.
---
Bolt CMS's features
While the features may not seem too robust at first, they are well-designed and almost over-deliver. If there's a feature you can't find with your basic Bolt plan, there's a good chance you'll be able to locate what you're looking for in the available extensions.
Clean interface
One of the things that stands out about this software is how simplistic its style is — and that's a good thing!
Users aren't overwhelmed by a lot of words, colors, popups, or options, but you're instead presented with just what you need, as well as the opportunity to add what you want. With the white noise out of the way, you can focus on the task at hand, be it website marketing, curating content, or creating a navigation-friendly webpage.
On the back end, Bolt CMS is written using object-oriented PHP code, which is known in the industry for being clean, elegant, and easy to maintain.
Extensions
Though this CMS is a bit bare-bones right out of the box, there are multitudes of Bolt CMS extensions you can add on.
Head to a third-party extension page (conveniently linked to in your extension dashboard), where you can browse through the many available add-ons for help with everything from forms to SEO to brand positioning and beyond. By using extensions, Bolt CMS has managed to preserve its clean and efficient structure.
By including only the basics and allowing the user to add what is needed, Bolt CMS enables users to cultivate a perfectly personalized system that is free of distractions and clutter.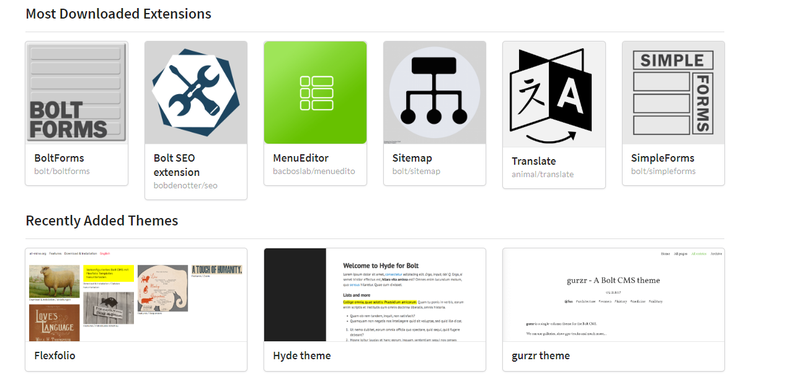 Activity log for transparency
Bolt CMS works like a professional record keeper since coders and web developers built it (a trail of actions is pretty much second nature in that world).
No matter how many users you allow access, and no matter how much work inside the CMS you do yourself, all of that activity is tracked and logged. Not only for accountability, but it can be helpful when trying to get to the root of a problem or when needing to retrace your steps.

Security
Just as object-oriented PHP code lends itself well to a clean and manageable back end, Bolt CMS has the fastest bug fixes and the most secure updates.
Since it was built by and for web developers, you can rest assured that the code is tight and values security. It also uses tried and true coding packages, such as Symfony, which are proven to be stable and well-performing in the security arena.
Recently edited pages log
Who doesn't have a million things on their to-do list at once? Whether you are building a new page, updating for a rebrand, or even just juggling multiple projects, sometimes it's helpful to have a list of what you've worked on most recently.
Plan on diving back into something? Rather than searching through layers of pages to get to it, just check your recently edited list and jump right back in.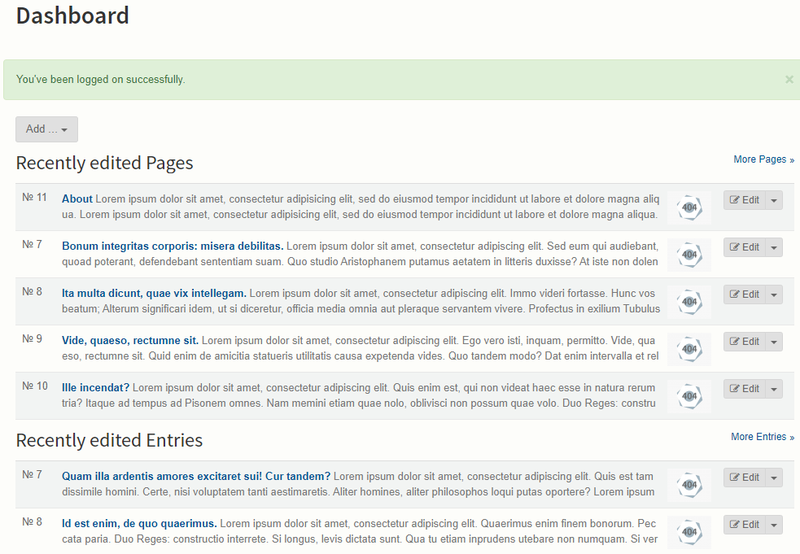 Flexibility
Bolt latches onto the concept of content types, letting you create as many as you need and automatically storing and sorting them into a database, so you can define sections as you see fit. This feature not only allows you to create just what you want, it also keeps your database organized.
---
Bolt CMS's ease of use
Just like its easy-to-follow toolbar, the Bolt CMS live editor is really a thing of simplistic beauty. The whole basis of this content management system is a focused solution free of distractions. It does not have a lot of flashy bells and whistles because Bolt is more focused on doing what it does well.
At a surface level (and even a few layers down), it's pretty easy to use. The toolbar is plainly labeled, and anyone who has used a word processor or a navigation menu before should be able to poke around and edit the pages with zero hassle.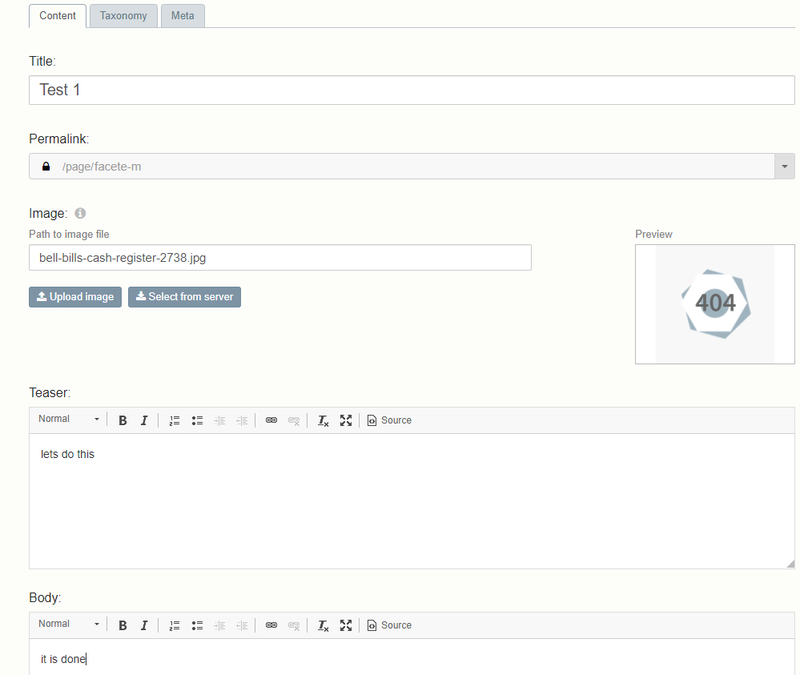 Bolt CMS does show its web developer colors when it comes to its templates. While you can select a full template suite to use at the start, you can also drill down further. Whether that's a plus or a minus depends on your level of coding comfort.
The templates are created with Twig, which is made in the PHP programming language, so you can edit and customize within a template, but you'll need a little coding knowledge to do so.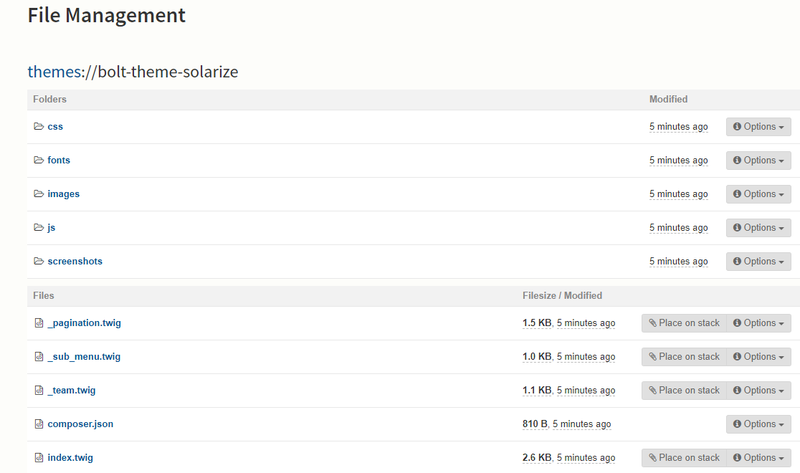 ---
Bolt CMS's pricing
Since Bolt CMS is another open-source option (similar to WordPress), it has always been free, with no plans to change that in the future.
---
Bolt CMS's support
Though it's open source and free, Bolt CMS has a lot of support options. First, you have around you a dedicated community of users and developers, plus online resources. Bolt CMS also offers a help channel in Slack where you can reach experts.
And, if you're using Bolt CMS with your company, they have options to put you in touch with the web development company that leads ongoing Bolt development.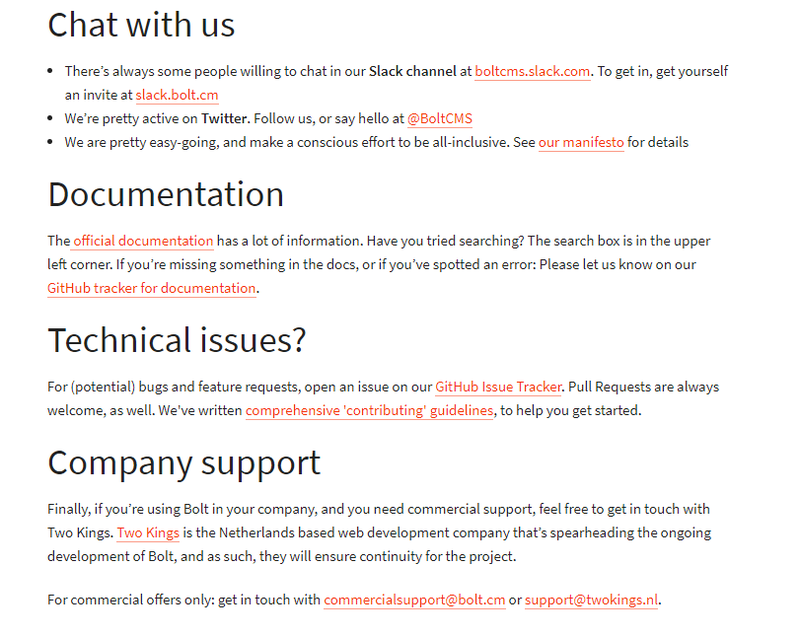 ---
Benefits of Bolt CMS
Bolt CMS is made to help you wade through the clutter. Working with this software keeps you from being overwhelmed or distracted by anything not essential to what you need to accomplish. It is written with a clean and sophisticated code, ensuring top-notch security and performance. Its users are ardent fans and happy to lend a hand for support.
For all of this efficiency and knowledge, you don't have to pay a cent. It's the best of a lot of worlds, as long as your goal is a focused one.
---
Bolt CMS means fewer headaches and more productivity
Without being as overbearing as larger CMSes, Bolt delivers perfectly on what it promises as a neat, encapsulated software. If you have an actual content management or web development focus, this is an excellent choice for a CMS.
---
Frequently Asked Questions
Because it's so streamlined, Bolt is optimized for performance, resulting in fast-loading pages.
What can it do out of the box?
As-is, Bolt is a seamless, basic content editor and publisher. It doesn't waste time wondering what you might need, so it's less feature-heavy. That said, you can visit its available extensions to tailor your system as required.
Bolt CMS relies on Twig language templates that let you code within them to further customize.

If you're looking for a free, user-friendly CMS to build your website, be sure to check out Bolt CMS!
If you're looking for a free, user-friendly CMS to build your website, be sure to check out Bolt CMS!
The Motley Fool has a Disclosure Policy. The Author and/or The Motley Fool may have an interest in companies mentioned.