Looks aren't everything. I had to keep reminding myself that when taking Campaign Monitor for a spin, as it lags behind its competitors when it comes to an attractive user interface.
New kids on the block such as SendPulse and Sendinblue — which were founded in 2015 and 2012, respectively — clearly put much more emphasis on usability and being appealing to the eye, but that doesn't automatically make them better options for your business.
When you put aside its dated appearance, Campaign Monitor email marketing software has a lot to offer.
What it lacks in looks, it makes up for in ease of use. It keeps things simple so that all levels of marketers can quickly get up to speed without a huge learning curve.
It's also a strong option when it comes to feature set, which you can read about in more detail below.
---
Who is Campaign Monitor for?
Campaign Monitor is suitable for all marketers, whether you have never created an email marketing campaign before, or you're an experienced marketer who wants to create complex campaigns.
Its wide range of features — with a few that really stand out, including its autoresponder functionality — combined with its ease of use make it a solid choice.
The user interface is less modern and looks a bit dated compared to some of its competitors, but that doesn't get in the way of creating email campaigns.
---
Campaign Monitor's features
Campaign Monitor includes a robust feature set with a number of standout elements, including the ability to personalize and track transactional emails and the guided creation of autoresponders.
Email editor
Campaign Monitor has a great range of email templates for different purposes, such as product launches, feedback, sales, reengagement, and welcome emails.
Its drag-and-drop email editor is easy to use. Simply add the elements you need and tweak the design. It provides preview options for desktop and mobile and gives you the ability to send test emails.
The scheduling options for the least expensive plan are limited, as you can only send emails now or at a time you choose in the future.
This compares to other email marketing software that lets you send at an optimal time according to past customer behavior or lets you schedule according to your customers' time zone. These features are, however, available in higher-tier pricing plans.
Subscriber management
When adding new subscribers to create an email list, you can choose to import them from other email marketing solutions to make the migration process much smoother. You can customize the sign-up process, changing elements such as:
The success page after they submit the form (optional)
The success page after they confirm their email
The action to take after someone subscribes to a list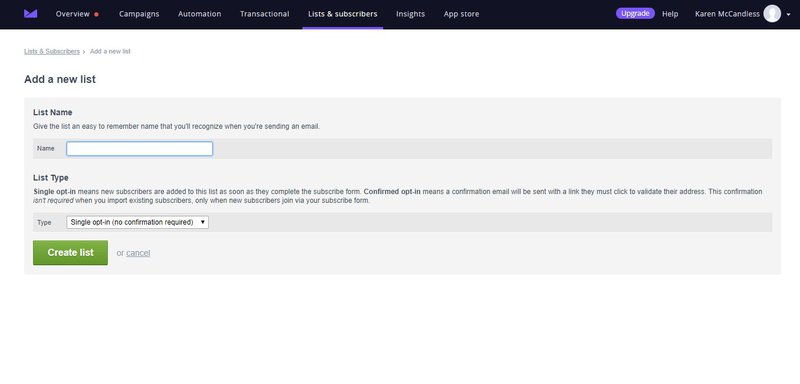 Campaign Monitor also provides sign-up form functionality that lets you grow your subscriber base by collecting customer contact details.
The features that make Campaign Monitor's sign-up form builder stand out include the ability to choose to add subscribers to multiple lists from one sign-up form, the customizable design attributes, such as button design and text, and the custom fields that you can add to the form.
Autoresponders
Autoresponders (Campaign Monitor calls them journeys) are a key part of email marketing, but if you're new to the industry, putting together a series of emails based on customer behavior might seem challenging.
Campaign Monitor can help. It builds autoresponders by guiding you through a series of questions on the industry you work in, your goals (increasing engagement, taking action, or driving conversions), and which customers you want to target: new, engaged, or lapsed.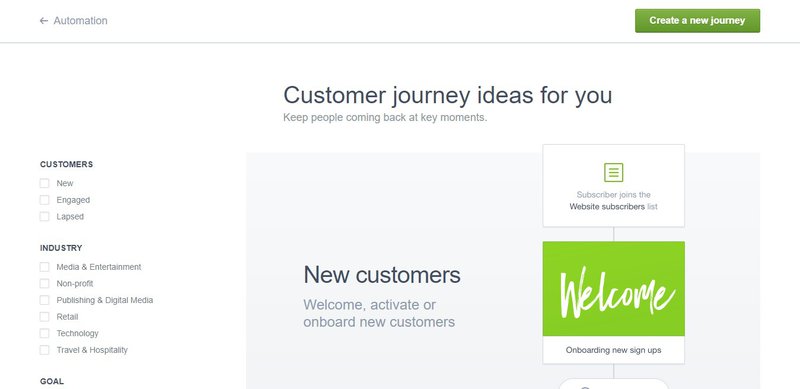 It then creates a series of potential emails you can send to achieve your goals, based on customer actions.
This is similar to Mailchimp's built-in autoresponders, but Campaign Monitor takes it a step further by letting you customize each sequence based on your industry and audience.
Transactional emails
If you sell products online, you'll need to send your customers transactional emails when they make a purchase or to tell them the item is on its way. But often, companies don't measure the success of these emails, such as whether any customers open them, or they don't optimize them to increase opens and clicks.
Campaign Monitor lets you create smart transactional emails that you can design, test, and monitor in the same way as you do with your newsletter, sale, or product-related emails.
---
Campaign Monitor's ease of use
When you first start using Campaign Monitor, it asks a series of questions to find out more about your goals, your email marketing experience, and the size of your email list.
It then tailors the dashboard and actions accordingly. For example, if you don't have an email list, it encourages you to create one from the main dashboard.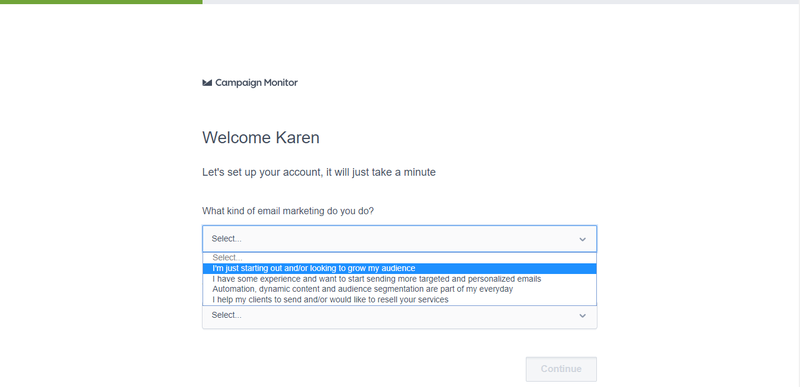 Campaign Monitor suggests a list of actions on the main dashboard to help you get started and take the key actions you need to create campaigns. As you start working on these actions, it displays a checklist of the tasks you've accomplished and those you still need to do to complete the action.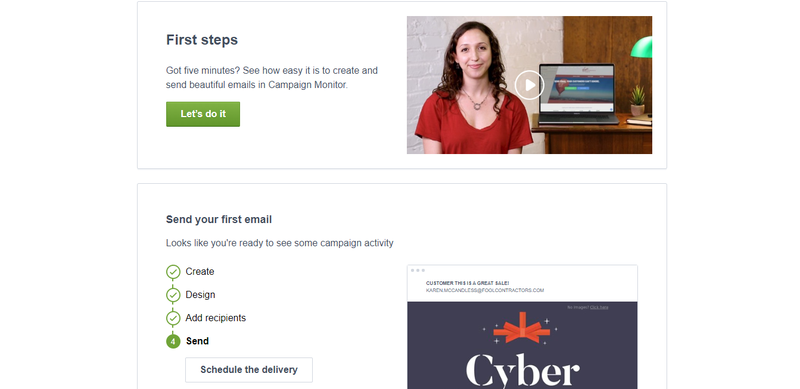 Campaign Monitor's navigation makes complete sense. All menus are named in such a way that even novice email marketers can easily navigate their way around the solution without any confusion.
All email marketing software programs arrange their features differently, but Campaign Monitor makes logical decisions when it comes to feature placement. Case in point: It makes sense that the segmentation functionality is a subfeature in the Lists menu.
There are also multiple ways to carry out the same task, which makes it quick and easy to find every feature. For example, there is a main menu called Autoresponders, but you can also create an autoresponder from within the Lists menu.
---
Campaign Monitor's pricing
Campaign Monitor doesn't offer a free plan, but it does provide a free trial that doesn't expire. The only limitations are that you can't send an email campaign to more than five people or send autoresponders (journeys) or transactional emails.
Campaign Monitor offers three paid pricing plans. The least-expensive Basic plan starts at $9 per month and allows you to send up to 2,500 emails to 500 contacts per month. It doesn't include inbox previews of your emails, timezone sending, or unlimited spam testing.
The Unlimited plan starts at $29 per month and allows you to send unlimited emails to up to 500 contacts per month. It doesn't include the ability to optimize send time by past behavior or pre-built contact segments.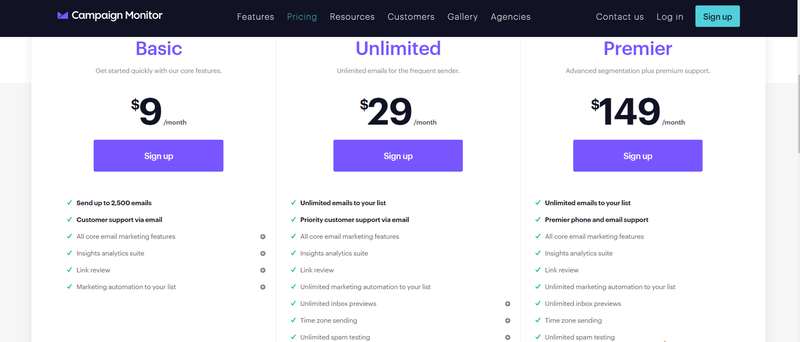 ---
Working with Campaign Monitor support
Campaign Monitor's support options lack a bit when compared to other email marketing solutions. There is no live chat option, and when you click on "Contact Support," you are taken to the Help Center to search for articles there instead of being given email or phone details.
You can submit a ticket only after going through that step.
There is no information on how quickly the team will get back to you when you've submitted a ticket, and there's no phone number to call to get urgent support.
However, if you subscribe to the most expensive pricing plan, you do get access to priority support, which means access to phone support.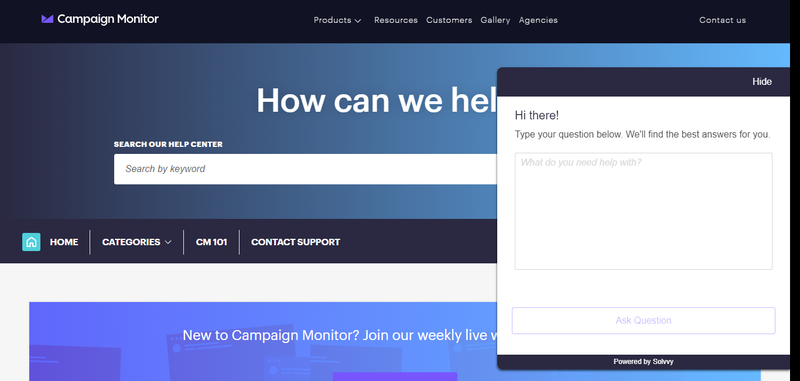 ---
Benefits of Campaign Monitor
Campaign Monitor has simple, straightforward navigation.
It's easy to find all features, which means you can get up and running quickly and get the most out of the solution without having to spend days playing around with it. If you sell products online, you'll love the focus on optimizing transactional emails and tracking their performance so you can understand what works in terms of customer engagement.
---
Straightforward and no frills
Campaign Monitor isn't going to win a beauty contest. Its user interface looks very old-fashioned, especially when you compare it to solutions like Mailchimp, which has worked hard to create a pleasant, user-friendly experience.
But when you look behind the tired facade, you'll be pleasantly surprised by what you find inside.
It's one of the easiest-to-use email marketing solutions out there, because it doesn't try to overcomplicate things. Its menus all have straightforward names, such as "Lists," "Campaigns," and "Insights." It's simple but effective.
Campaign Monitor isn't perfect, though. It has great autoresponder and transactional email functionality, but its email editor is quite basic, and it needs to improve its support options. Overall, don't judge a book by its cover, as Campaign Monitor has a lot going for it.
---
Frequently Asked Questions for Campaign Monitor
Is Campaign Monitor free?
No, Campaign Monitor doesn't have a free plan, but it does offer a free trial for an unlimited duration. You can only send emails to up to five subscribers during the free trial.
Which is better, Mailchimp or Campaign Monitor?
The answer is, it depends on what you are looking for. Both are great solutions with tons of useful solutions, and both are easy to use, which makes them suitable for most marketers. Mailchimp offers a free plan, but Campaign Monitor's paid pricing plans are more affordable. Neither of them excels when it comes to support options, so if you need a lot of help, you might be better served by choosing another email marketing solution.
Does Campaign Monitor have a landing page builder?
No, Campaign Monitor doesn't have a built-in landing page builder, but it does integrate with a range of landing page tools.

Experience the straightforward, easy-to-use features Campaign Monitor has to offer.
Experience the straightforward, easy-to-use features Campaign Monitor has to offer.
---
How Campaign Monitor Compares
The Motley Fool has a Disclosure Policy. The Author and/or The Motley Fool may have an interest in companies mentioned.